---
The Latest News from the Register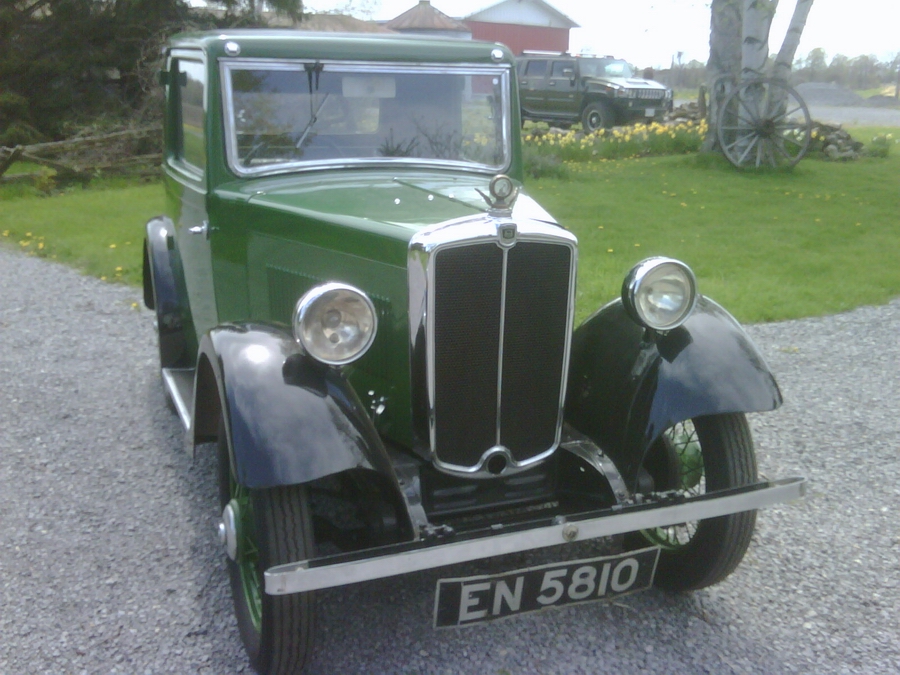 12th August 2017 1933 Maddox-bodied Minor EN 5810 is about to be shipped from Picton, Ontario to VMR HQ in Seattle, USA
where it will receive a full service before being shipped to Southampton and on to Tarlton, Gloucestershire which will become its new home.
There it will be cared for and driven by Peter and Ally Balding. Ian Samuel acquired this unique Minor in 2011 from the Ellingson Car Museum
in Rogers, Minnesota. Ian has now sold it on to Jayne and I and we we will be using it extensively on our annual trips to England,
starting with our 2018 Summer Rally. The original British registration EN 5810 is in the process of being recovered.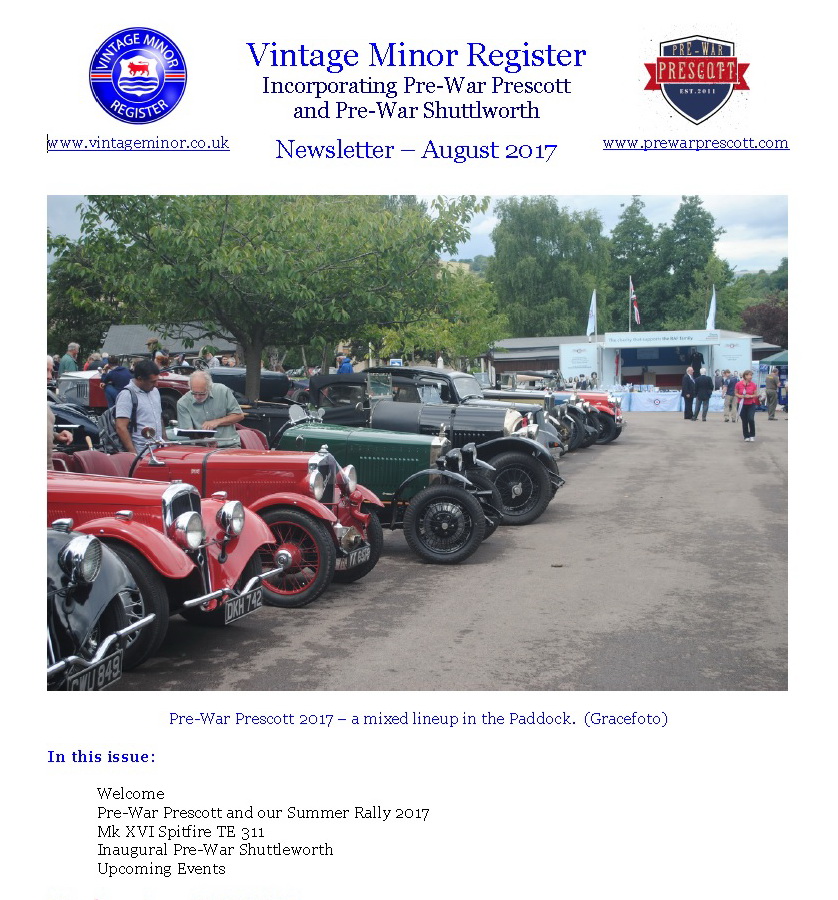 12th August 2017 The August Newsletter was circulated electically today. E-mail us if you didn't receive a copy but would like to.
A copy may also be found in the Members' Area of the website.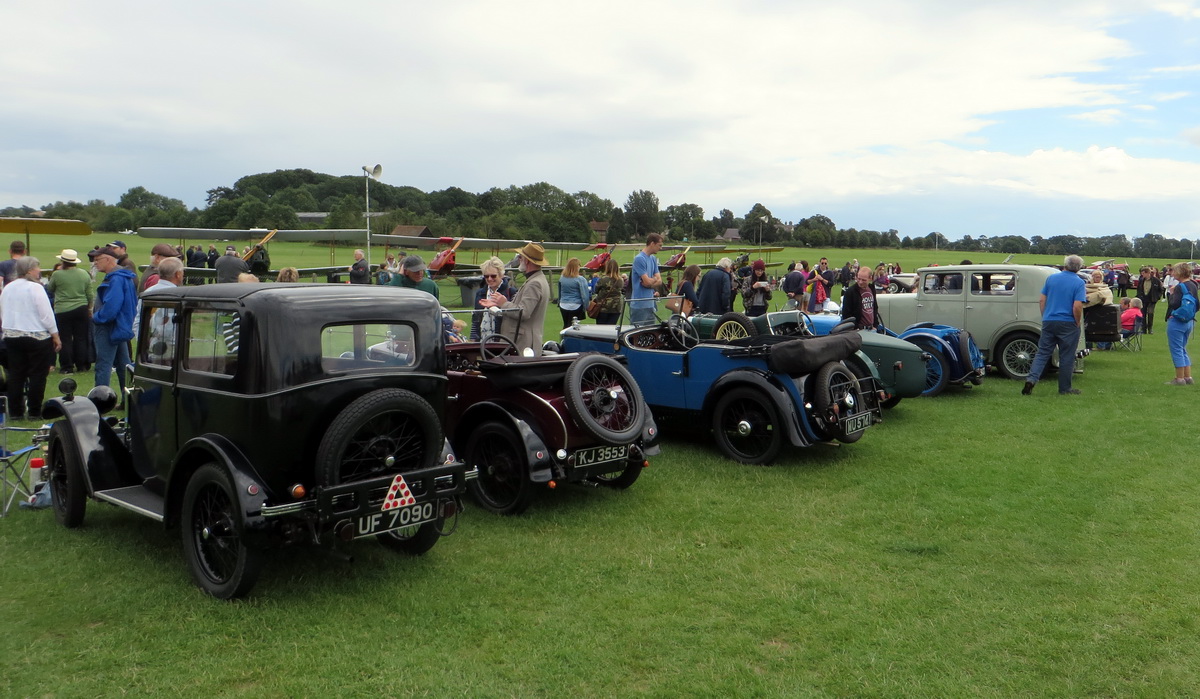 5th August 2017 The weekend after Prescott saw the Register holding its inaugural Pre-War Shuttleworth event in conjunction with the de Havilland Moth Club who were holding
their second annual Gathering of Moths at Old Warden. Four Minors were present out of the entry of around 25 pre-war cars that pre-booked.
Once again, the pessimistic weather forecast put off many of the Moths, but the actual weather was fair and sunny.
Moths and Minors make a good mix, particularly as most Tiger Moths were built by Morris Motors at Cowley! (Photo Keith Herkes)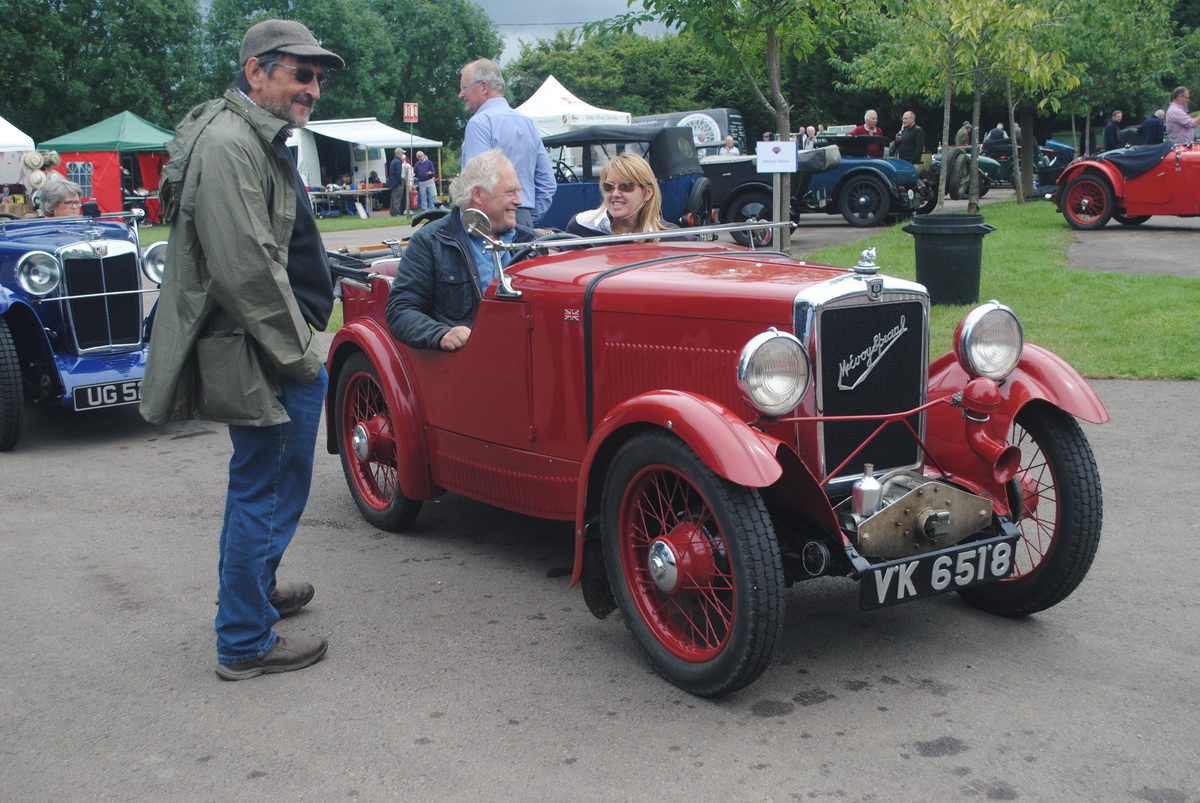 5th August 2017 Just back home from our Summer Rally weekend and getting sorted. It was another fabulous weekend with nearly 200 entries, and 60 cars entered the Sunday run.
The weather forecast was poor but the actual weather was sunny apart from a short period of rain on Saturday morning and a few sprinkles late on Saturday afternoon,
none of which dampened spirits. The forecast put off many, while there was an equal number of cars that turned up on the day without pre-booking.
Sadly, of the twelve Minors booked in, only five showed up. One of those was Sarah Gibson (above) with her 1932 McEvoy, now sporting an original and correct Zoller supercharger.
The mounting plates had been stored at the back of the garage for decades, their purpose completely unknown until the Zoller was acquired, and the mounts lined up perfectly
with the holes in the chassis! The next step will be to connect it to the crankshaft via a fabric coupling. A full report on the weekend will be included in our next Magazine.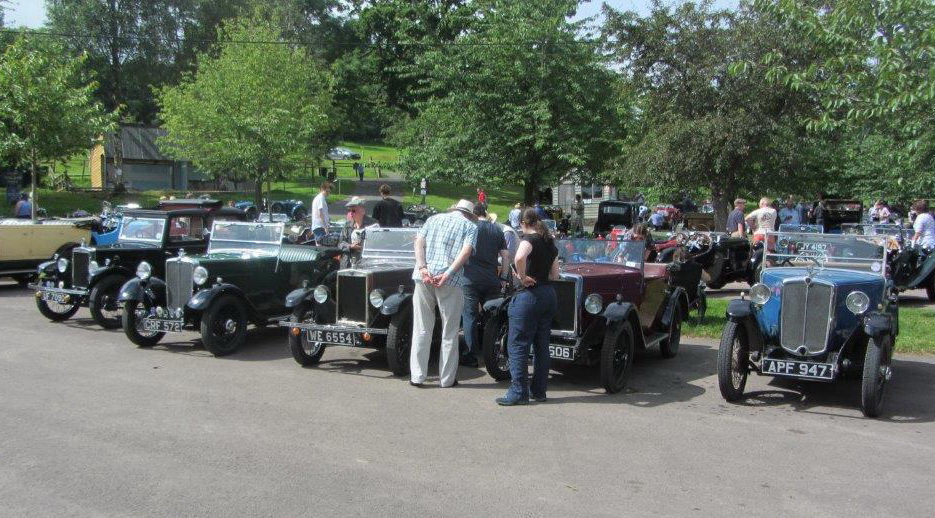 29th June 2017 With just over three weeks go to our Summer Rally weekend and Pre-War Prescott, we have another superb weekend in the making!
As of this morning we already have 14 Minors entered, as well as a record twelve M Type MG's.
We have a total of 149 entries, representing virtually all of the major pre-war marques, plus some fascinating rarities.
We also have a record 58 entries for the Sunday Navigation Rally and parallel Scenic Tour, so a fantastic Sunday is also in store.
If you have not yet entered, please do so at your earliest convenience!
You can enter directly online here.
The Pre-War Prescott website can also be found here.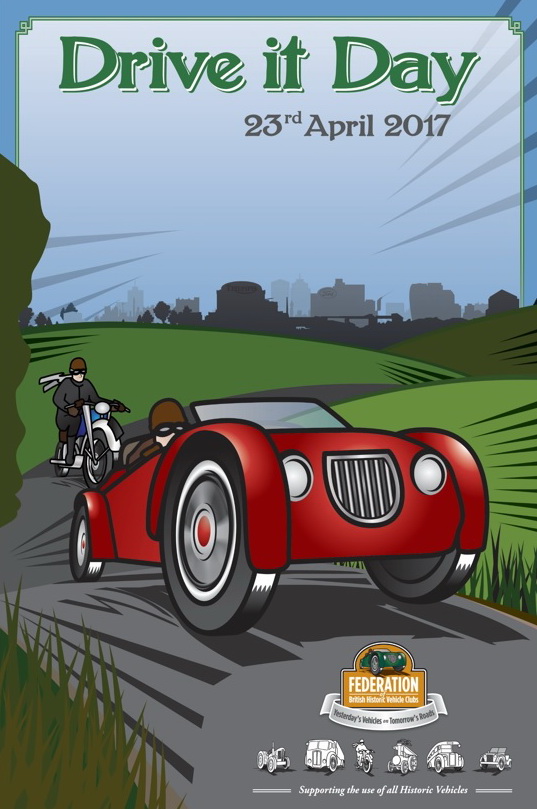 11th April 2017 The Register is a subscribing member of the Federation of British Historic Vehicle Clubs which does so much to preserve our right to use our pre-war cars
on the open road in the 21st century. Every spring, the FBHVC organizes a Drive it Day which gives owners the opportunity to showcase their cars to the general public,
to generate great PR for us all and of course it also offers a great excuse to dust of our cars and perhaps take them for their first run of the year, very probably to the pub!
Thus, all Register members are warmly encouraged to do just that on Sunday 23rd April. Take your box Brownie, take some snaps and send them in to the Register for publishing
in the May Newsletter!
And if you live within pootling distance of Bicester, why not pootle along to Bicester Heritage on the day for their Sunday Scramble.
Our very good friends at Finest Hour Experiences will be offering Tiger Moth flying lessons on site, click here to book your 20 minute flying slot.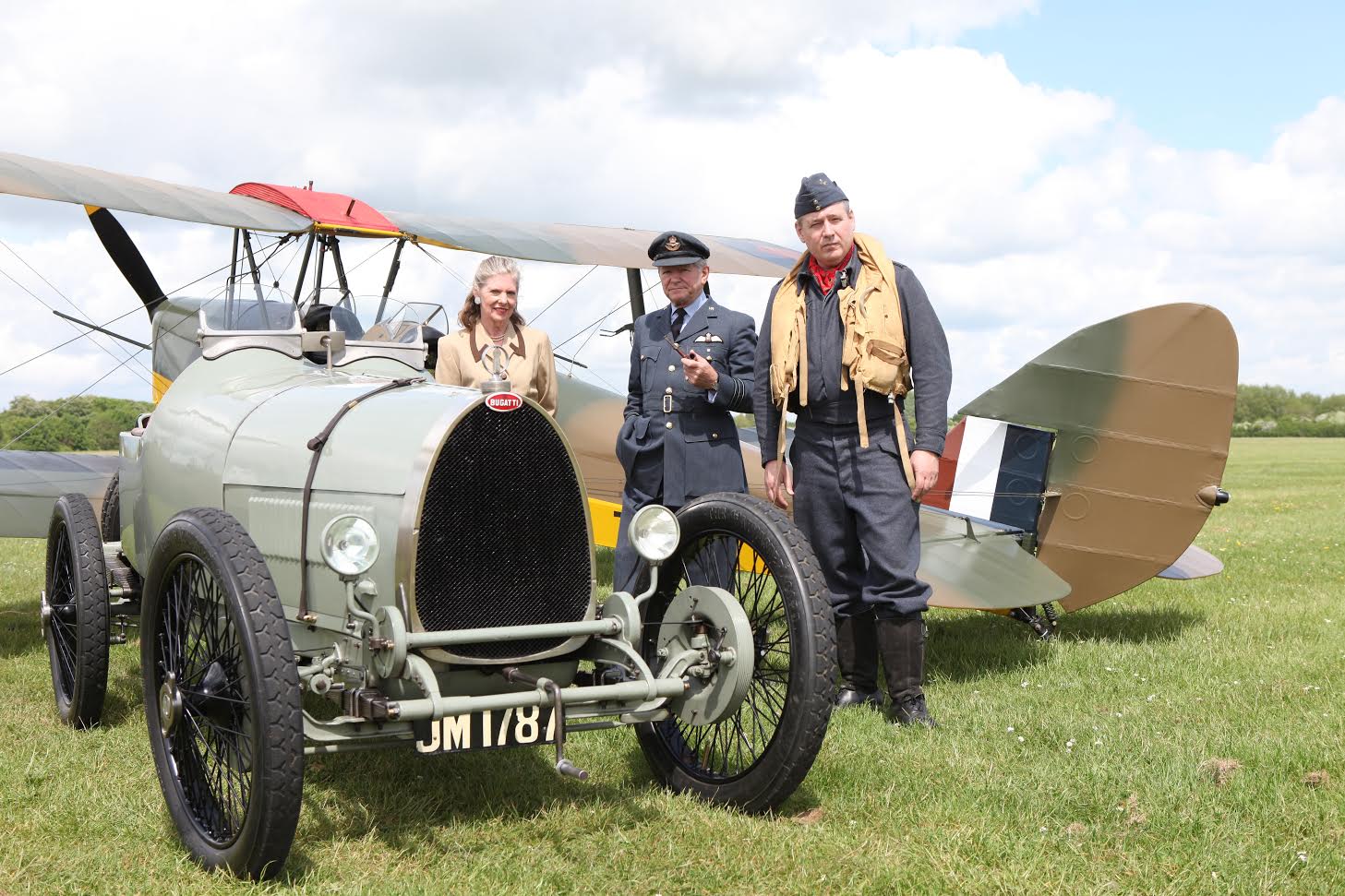 By the way, the FBHVC published their second Newsletter of the year today and a copy may be found in the Members' Area of this website.
Always an informative read.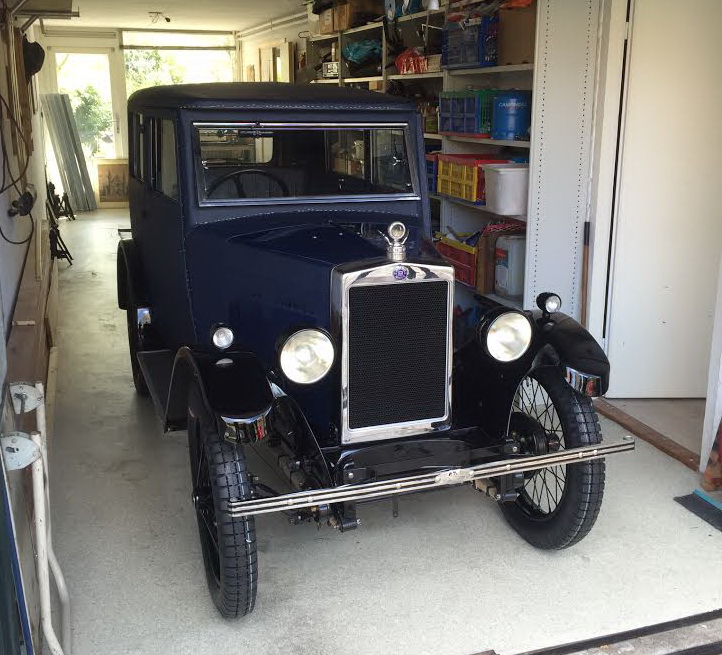 9th April 2017 After a protracted and meticulous restoration with many twists and turns, Halbe Tjepkema's
1929 fabric saloon VG 2007 (M14258) is very nearly ready for the road in Holland.
Left to complete are the wiring, propshaft and carb. andlso the beading and part of the interior but she will be on the road this year!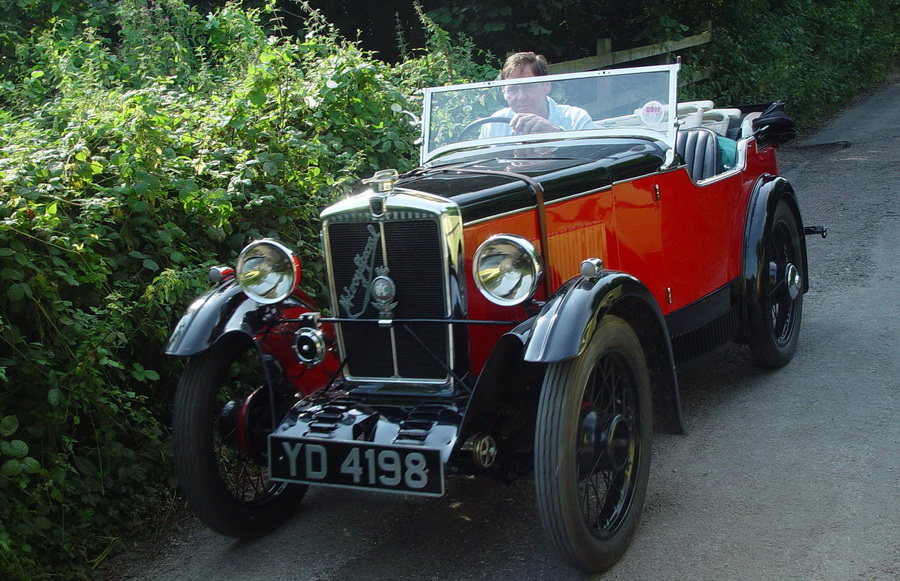 Jim and YD 4198 at Claverton on our 2002 Summer Rally
30th March 2017 Jim Peacop is offering his rare and sporting McEvoy for sale at the Brightwells auction on 5th April. Estimate £15,000 to £18,000.
Here is the catalogue. Jim purchased this car from an advertisement in the Blackpool Evening Gazette in 1962. Fitted at the time with a Morris 8 engine,
he has since fitted a SV Minor unit.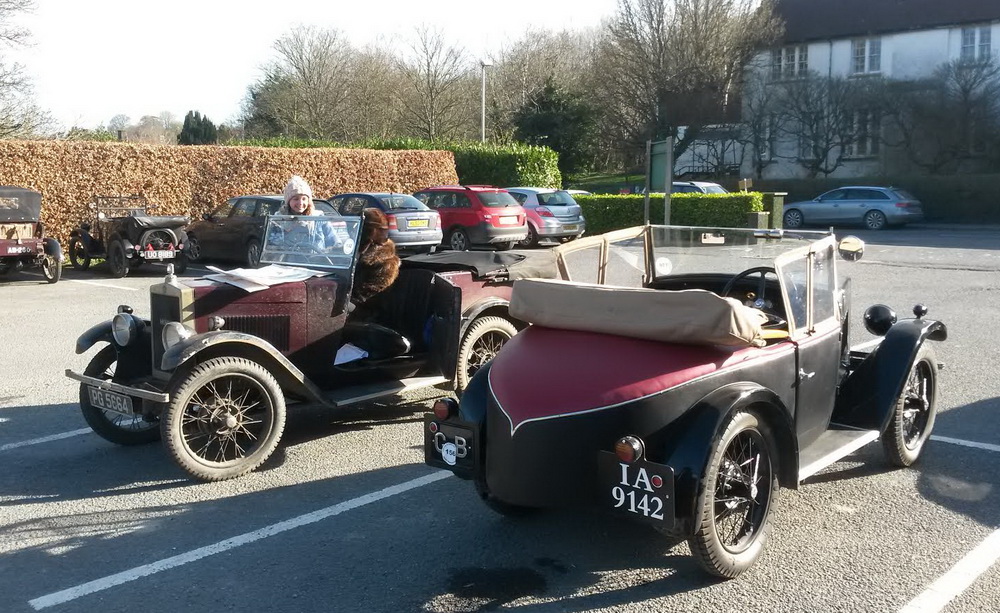 26th March 2017 It has been another fabulous weekend in sunny Wales, where the Light Car Section of the VSCC meet every spring.
New member Alistair Bond entered his Semi-sports which is seen here beside Ben Maeers' tourer 'Dorothy'.
I will be posting many more photos on the forum shortly.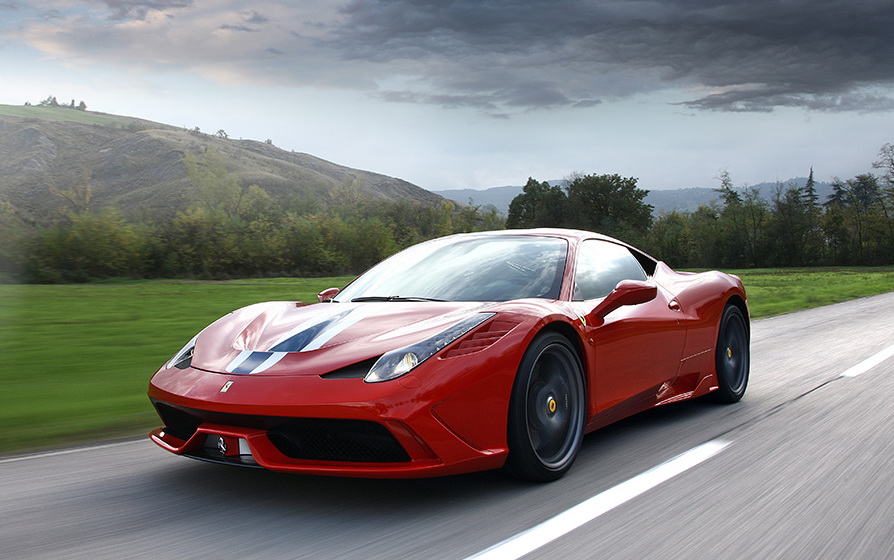 This is YOUR chance to run up Prescott in a Ferrari 458!
25th March 2017 Planning for our Summer Rally and Pre-War Prescott are advancing apace.
We are very excited to announce that Cotswold Motorsport will be bringing three supercars to Prescott to act as Course Cars for the day.
Not only will they act as Course Cars, but we will be holding a raffle on the day, the three lucky winners of which will have the opportunity to run up the hill
in one of these cars, including a fabulous Ferrari 458! The winning tickets will be drawn immediately after the lunchtime auction.
More exciting news! In past years, we have held an auction of donated spares and
automobilia with the proceeds being donated to the RAF Charitable Trust. After discussion with Hereford Vintage Auctions and the Trust,
we can now announce that this year, Hereford Vintage Auctions will be holding a full-blown charity auction with the net proceeds going to the sellers and the commissions
donated to the Trust. Lots are now invited from members and non-members alike and will be posted here, so that everyone can view the lots in advance of the weekend.
We would also welcome donated items as in previous years, and 100% of the proceeds from these will be donated to the Trust.
So this is your opportunity to turn your unwanted spares, automobilia and even your pre-war car into hard cash, and support a very good cause at the same time.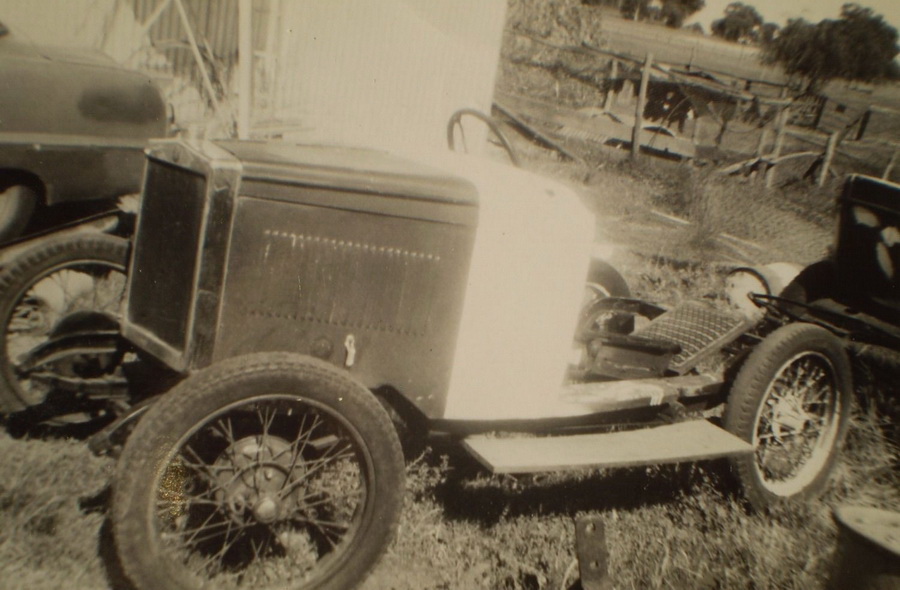 24th March 2017 And this OHC Minor (chassis M16710) is currently being offered on eBay Australia here.
Apparently it has been in storage for 46 years. It was originally shipped to Australia as an export chassis.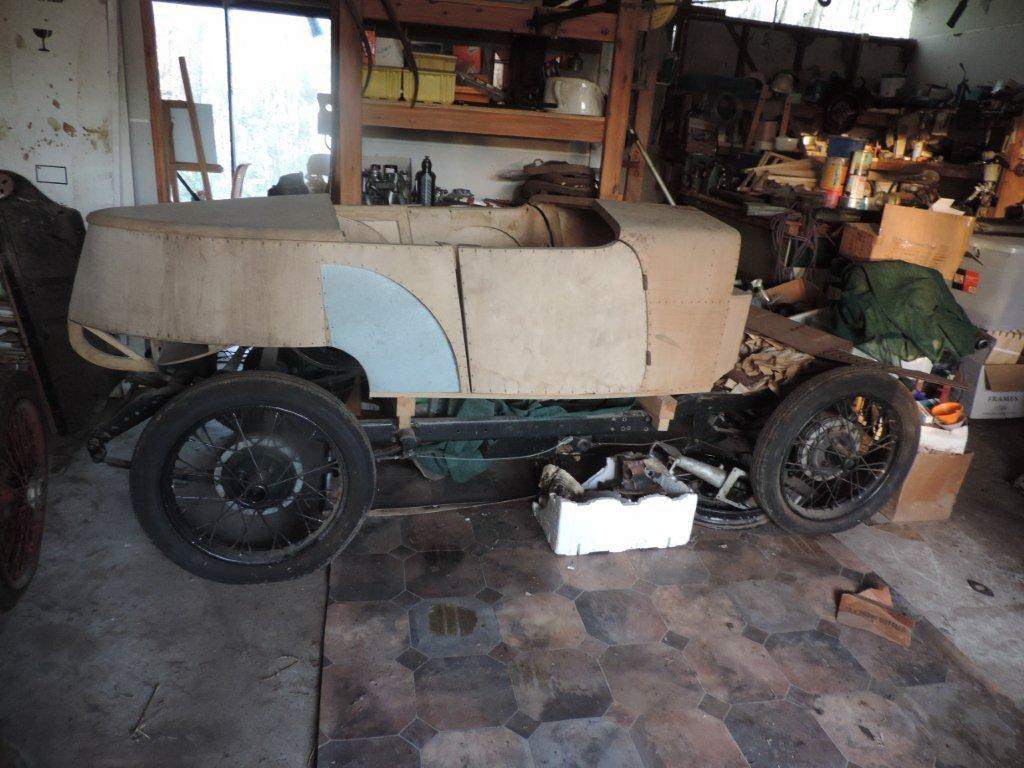 23rd March 2017 This M Type has just been sold by Ken Macken in Australia. 2M/2712 was originally registered BG 168 in England.
Ken bought it from late Mr Brian Flowers (his neighbour of some 33 years). The car was purchased in England in the early 1970's by Rob Dunsterville
for Brian ans shipped out with other pre-war MG's.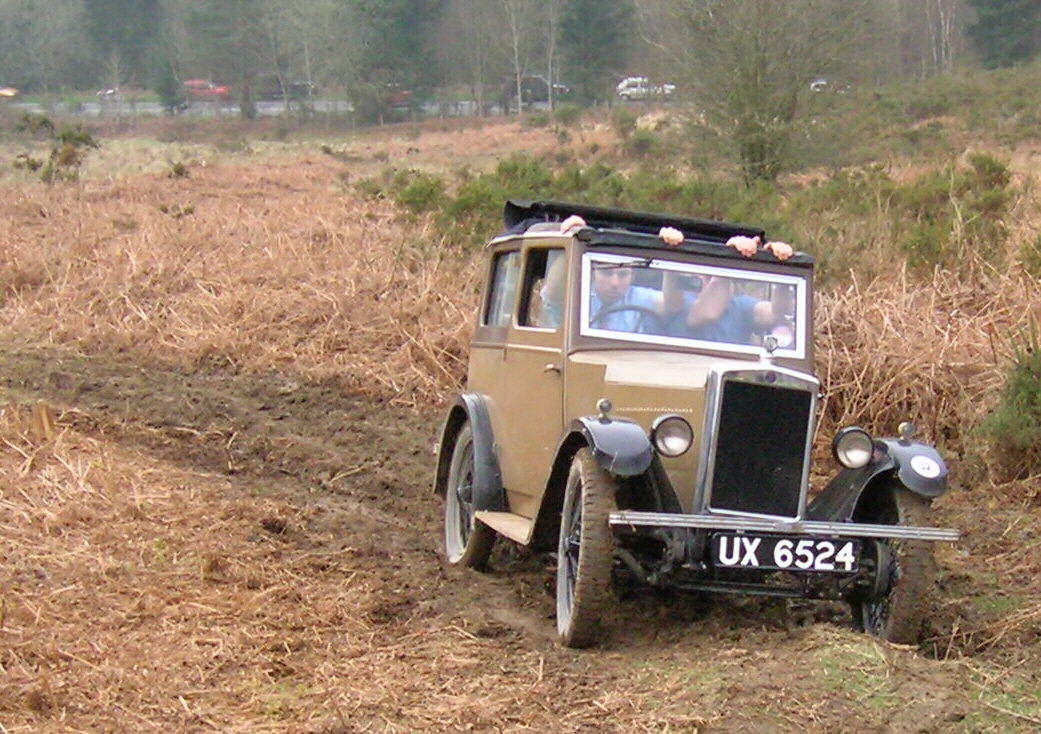 Rear wheels spinning and four hands on the roof. A classic photo of Paul Rogers and his father Barry on the 2005 Light Car Welsh. (Jim Wood)
20th March 2017 Next weekend the Light Car and Edwardian Section of the VSCC will hold their traditional and highly popular Welsh Weekend,
based once more at the Metropole Hotel, Llandrindod Wells. This year, Steve Kent will be entering his 1929 tourer MM 9385, the first event that
this Minor has ever entered. Originally exported to Malta, MM 9385 returned to England aboard the Ark Royal 1954. Good luck Steve!
In all, a very creditable eight Minors plus an M Type are entered.
Saturday will see entrants taking to the roads for a 65 or so mile circular tour on the quiet local roads to a secret destination with some surprises on the way.
There will be short cuts available for the more elderly and infirm (both cars and drivers!), and little in the way of hills meaning that it is ideal for you
to bring out older and less powerful cars. This will be followed in the evening by the legendary Section Annual Dinner and Awards at The Metropole Hotel
in the heart of this scenic spa town. On Sunday everyone will be up early for the Trial, finishing in time for lunch. In a break from tradition the minimum age
or entrants for the Trial has been lowered to 14 subject to the front seat passenger being competent to take control if required and to drive between sections.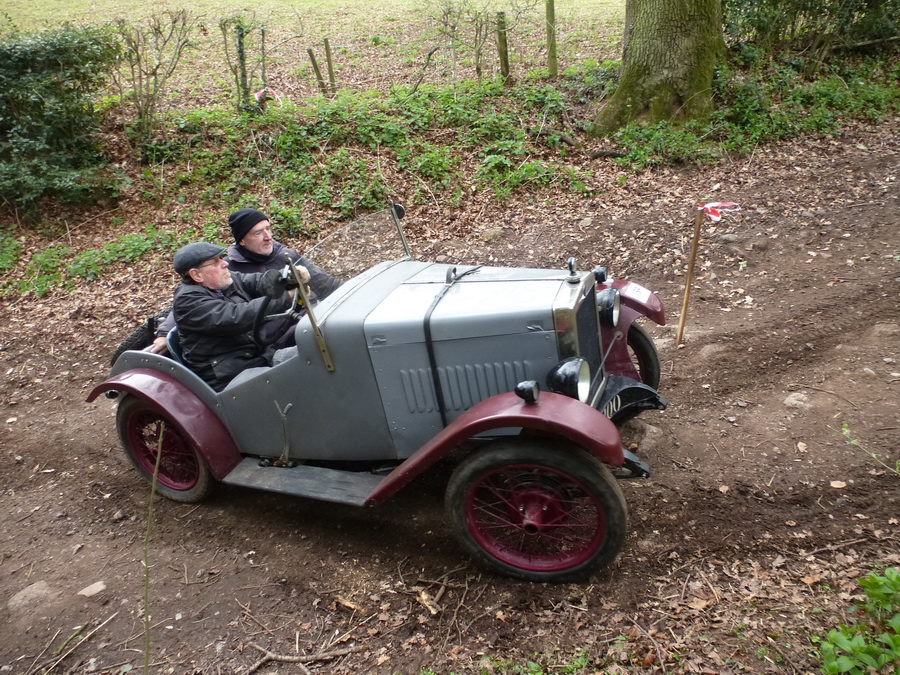 20th March 2017 The VSCC's Herefordshire Trial took place over the weeekend based at How Caple Court near Ross-on-Wye.
Two M Types (those of Davids Rolfe and Rushton) took part. The Minor of Martin Redmond (above) also took part
with Graham Goode driving and Martin bouncing, here seen on Pinford Rocks.
Martin reports, "We had a stunning Saturday, being fairly dry and dropped only 3 points out of an available 210.
Sunday was back to a pretty Morrissey sort of day but reasonable in its way. We are hopeful of getting half way up the results board!"
More great photos from the weekend have been posted on the Forum. (This photo Steve Kent)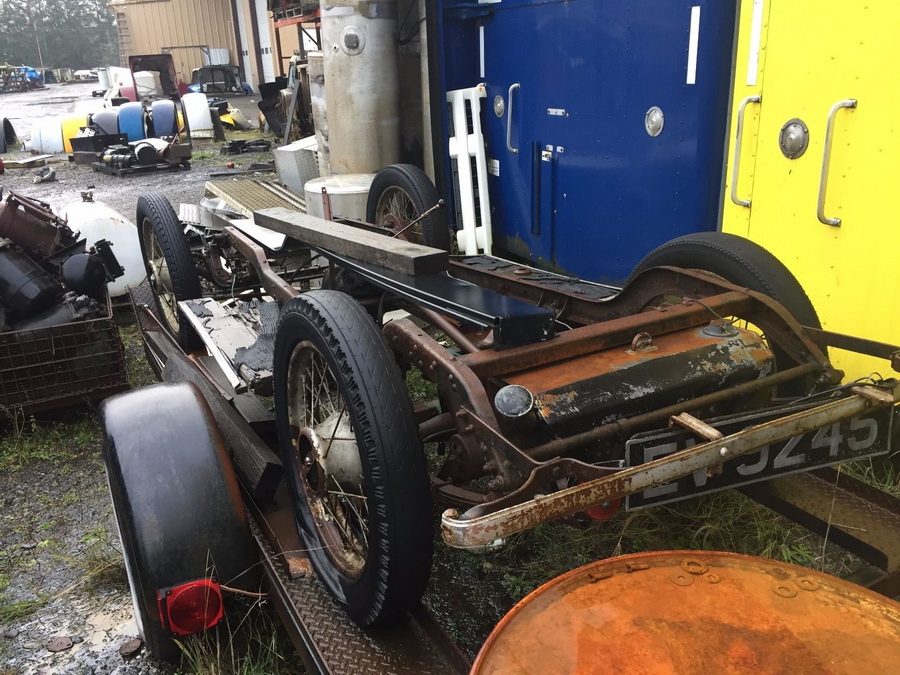 18th March 2017 A forlorn sight. This 1934 Minor saloon is currently being offered for sale in Toledo, Washington State, USA.
It comes with a 1933 saloon body. EV 9245 was originally registered in Essex in early 1934. How it came to the USA is unknown,
and it appears not to have been registered for road use in the USA.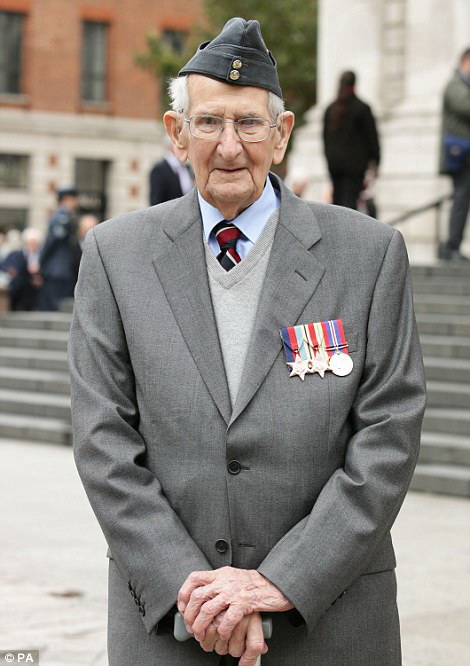 Will Clark 1920 to 2017
This photo was taken on Will's 95th Birthday when he was finally presented with his World War Two campaign medals
by the Chief of the Air Staff, Sir Andrew Pulford at St. Paul's Cathedral, London.
17th March 2017 An old friend of the Register, Will Clark passed away peacefully early this morning in the Queen's Medical Center, Nottingham.
Will was not a vintage car owner, but was an enthusiastic supporter of the Register. He was a World War Two Hurricane pilot who donated the last dozen copies
of his wartime memoirs to the Register to help fund the display by Peter Vacher's Hawker Hurricane at Prescott in 2015.
I have relayed condolences on behalf of all of us to his daughter and family.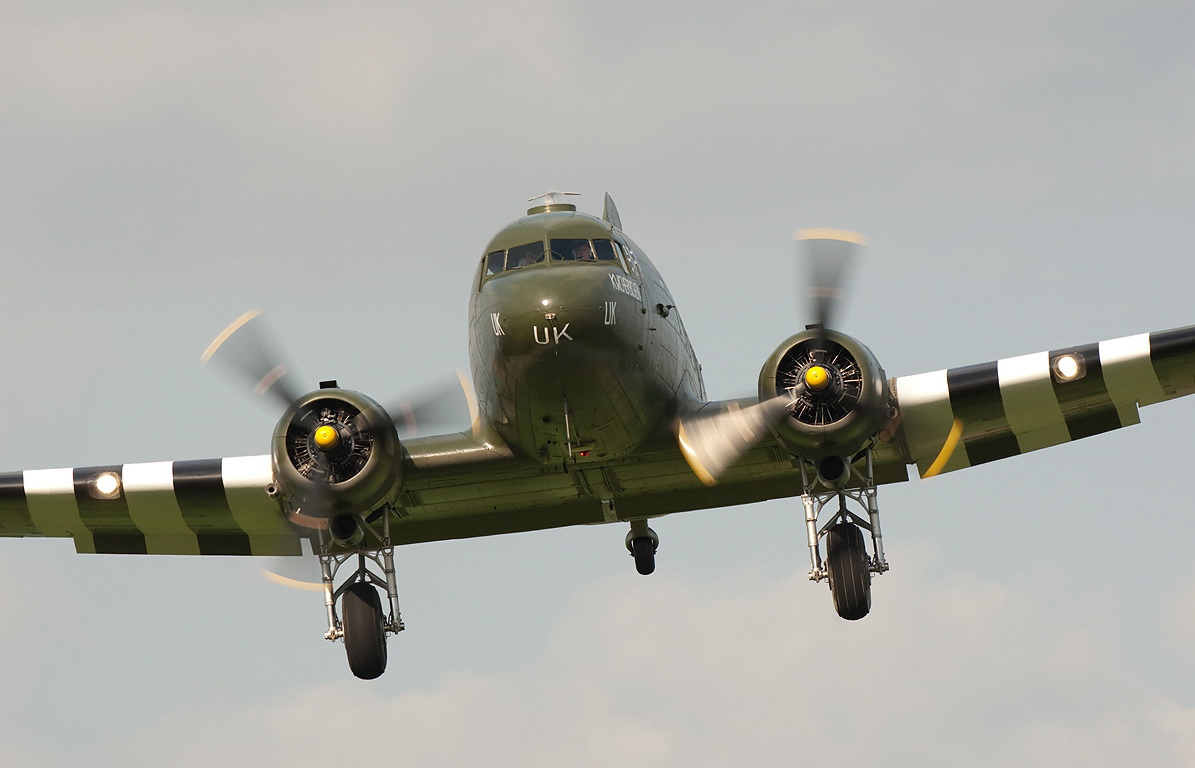 8th March 2017 In past years, we have enjoyed the awesome sight and sound of the RAF Battle of Britain Memorial Flight's Spitfire, Hurricane and Lancaster over Pre-War Prescott.
We can now announce that this year the Flight has allocated us their iconic 1942 Douglas C-47 Dakota ZA947.
ZA947 is currently painted to represent Dakota FZ692 of No 233 Squadron, around the D-Day period in 1944. This aircraft, which was named 'Kwicherbichen' by her crews,
was involved in para-dropping operations on the eve of D-Day and subsequently in re-supply and casualty evacuation missions into and out of forward airfields in the combat areas.
The female nurses who escorted the casualties on these flights became known as 'The Flying Nightingales'.
By the end of 1944, 1,092 stretcher cases and 467 sitting wounded had been evacuated to England by the 233 Squadron Dakotas.
The Dakota will make a stirring sight and sound over the hill on Saturday.
To read more about the 233 Squadron operations, Dakota FZ692 'Kwicherbichen' and aeromedical casualty evacuation in 1944, go here.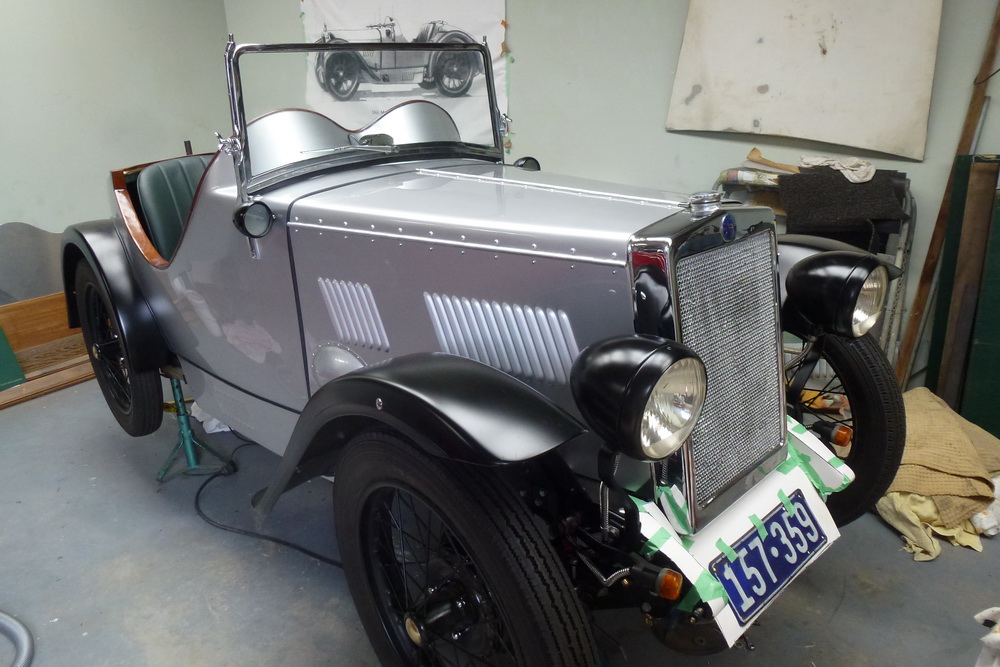 5th March 2017 The superb resurrection of what is believed to be the only surviving 1930 Australian-bodied Morris Minor Bullet is nearing completion in New Zealand.
The restoration is all the more remarkable as the car as recovered from a farm in a decrepit condition, sunk half way up the wheels in mud.
Note the drawing of an original Bullet on the workshop wall. The chassis, M29833, was laid down 27th October 1930
and exported without body to Australia. More images on our Forum.
Morris Minor Bullets were originally created and distributed by S. A. Cheney Motors (Victoria) Pty. Ltd.
Their advert below shows a marvelously art deco rendition of a Bullet at speed.
An example was tested in August 1930 and achieved 62.2 mph over a measured mile.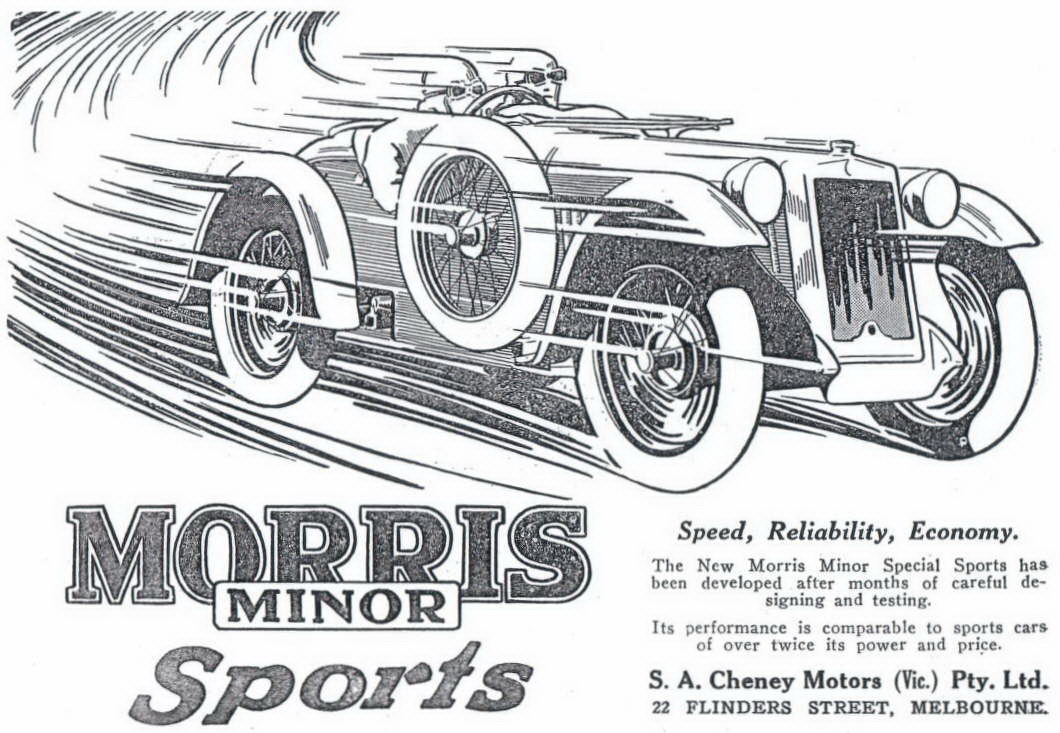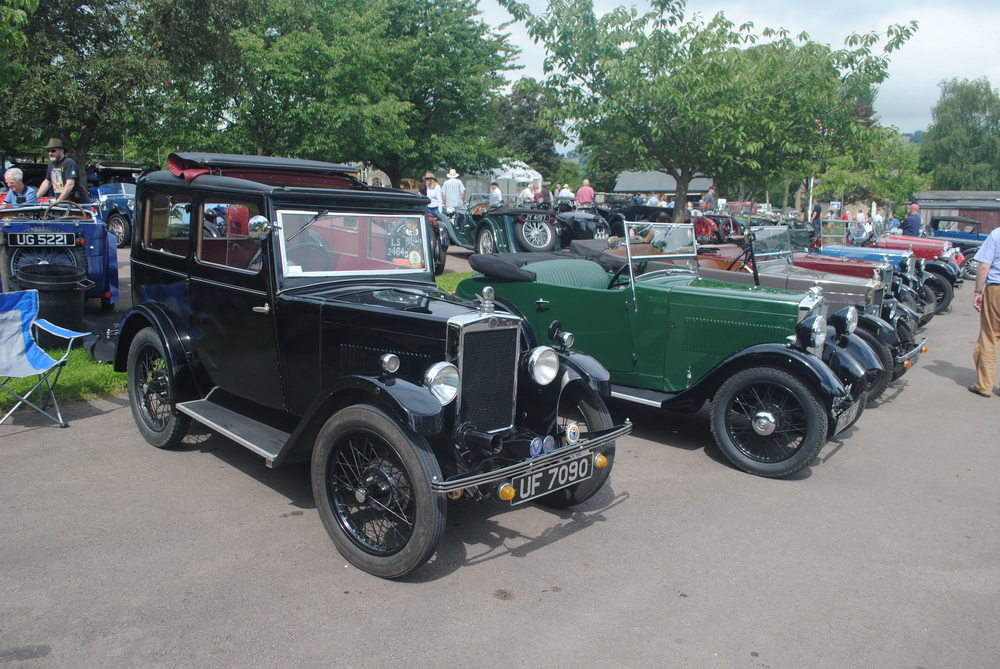 5th March 2017 Entries for our Summer Rally are running well ahead of this point last year. As of today we have forty entries for Saturday at Prescott.
We also have a fantastic 26 entries for the navigation rally and parallel scenic tour on Sunday which is 50% of full capacity. So if you are planning to make a weekend of it,
may I suggest that you get your entry in without delay as we are bound to be fully subscribed long before the weekend.
You can check out the entry list here which is updated as entries arrive.
You can enter online for either or both days here, or download the Entry Form here.
The Summer Rally wesbite can be found here, and the Pre-War Prescott website can be found here.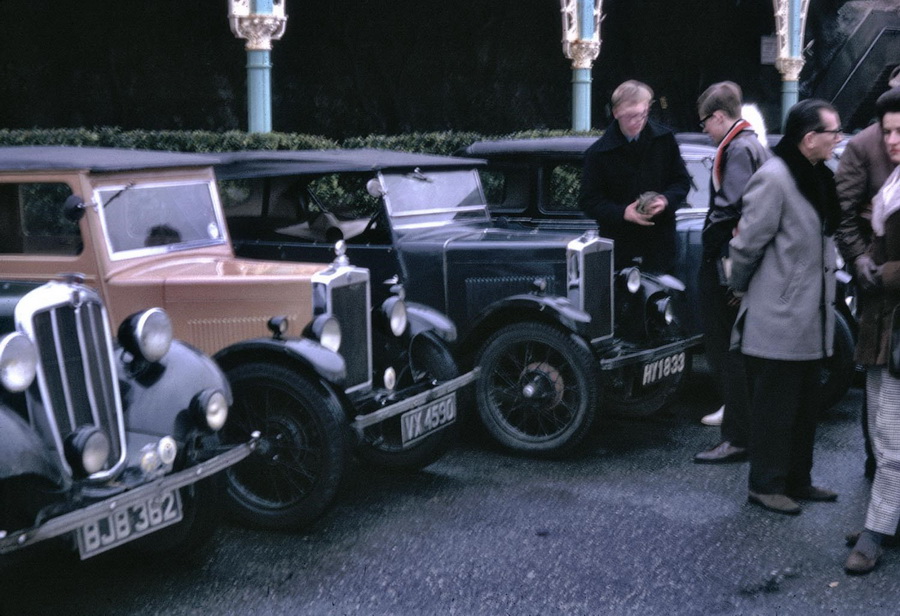 4th March 2017 More OHC tourer news. HY 1833 (M32707) was registered in the spring of 1931 and is currently for sale by Maurice Kirk - the famed Flying Vet.
Maurice has owned this car for many years and was at one point converting it to run on gas! He's selling it to help fund his recent flight in his Piper Cub
to the Cape from Greece during which he lost power and force landed in the middle of nowhere, but was found safe some time later.
Back in the sixties this tourer was owned by Rod King in Bristol and at that time had a collision with a fire engine.
The above photo was taken on Madeira Drive, Brighton on the Morris Eight Tourer Club's London to Brighton Run in 1966.
Left to right – Rod King, Ken Martin with his well-known saloon VX 4590 and others unknown. (Photo - Ken Martin)
It is currently on offer on eBay here. Note that altough chassis M32707 was laid down 12th March 1931, ALL OHC Minors are now VSCC eligible.
The eBay blurb states, "It is now in need of restoration recommissioning. The engine is dismantled but complete less the radiator.
There is a spare engine and gearbox also to go with it."
The photo below shows Rodney King in the tourer at Maiden Castle just after he acquired it in 1964.
See more photos and history on the Forum. A very good car to save. If you buy it, please let us know!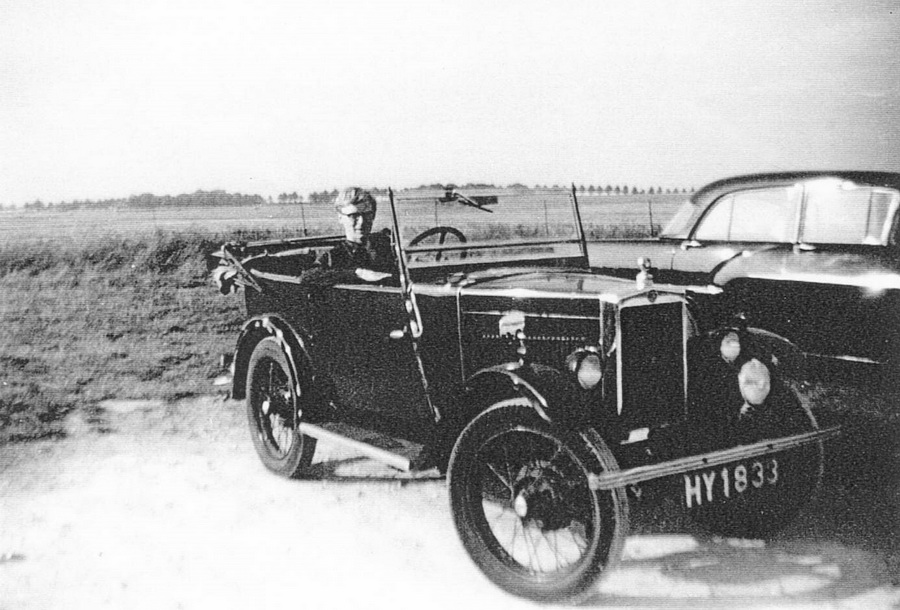 26th February 2017 It is not often that a previously-unknown OHC Minor tourer surfaces - particularly when they are in sound restored condition.
This 1930 example, DV 3600 (M18960), was recently sold by Castle Classic Cars of Wadhurst, Sussex.
Does anyone know the new owner?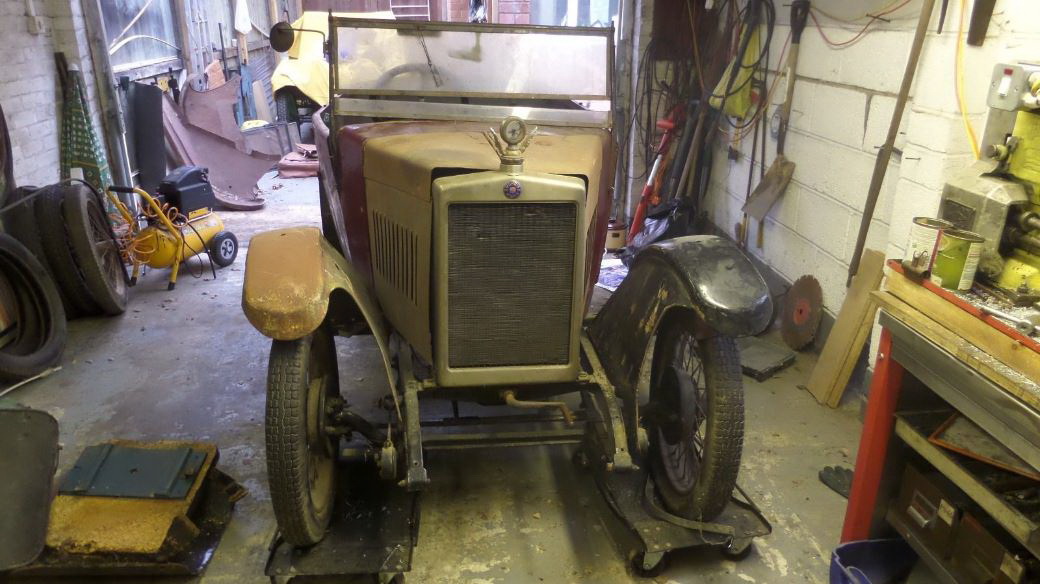 25th February 2017 Also congratulations to new member Paul Brigden on the acquistion of 1929 Minor tourer FL 7665 (M3962) from Derek Tew.
The Minor joins Paul's M Type project in Amersham and in destined for action on our rallies and in the VSCC's Light Car & Edwardian Section.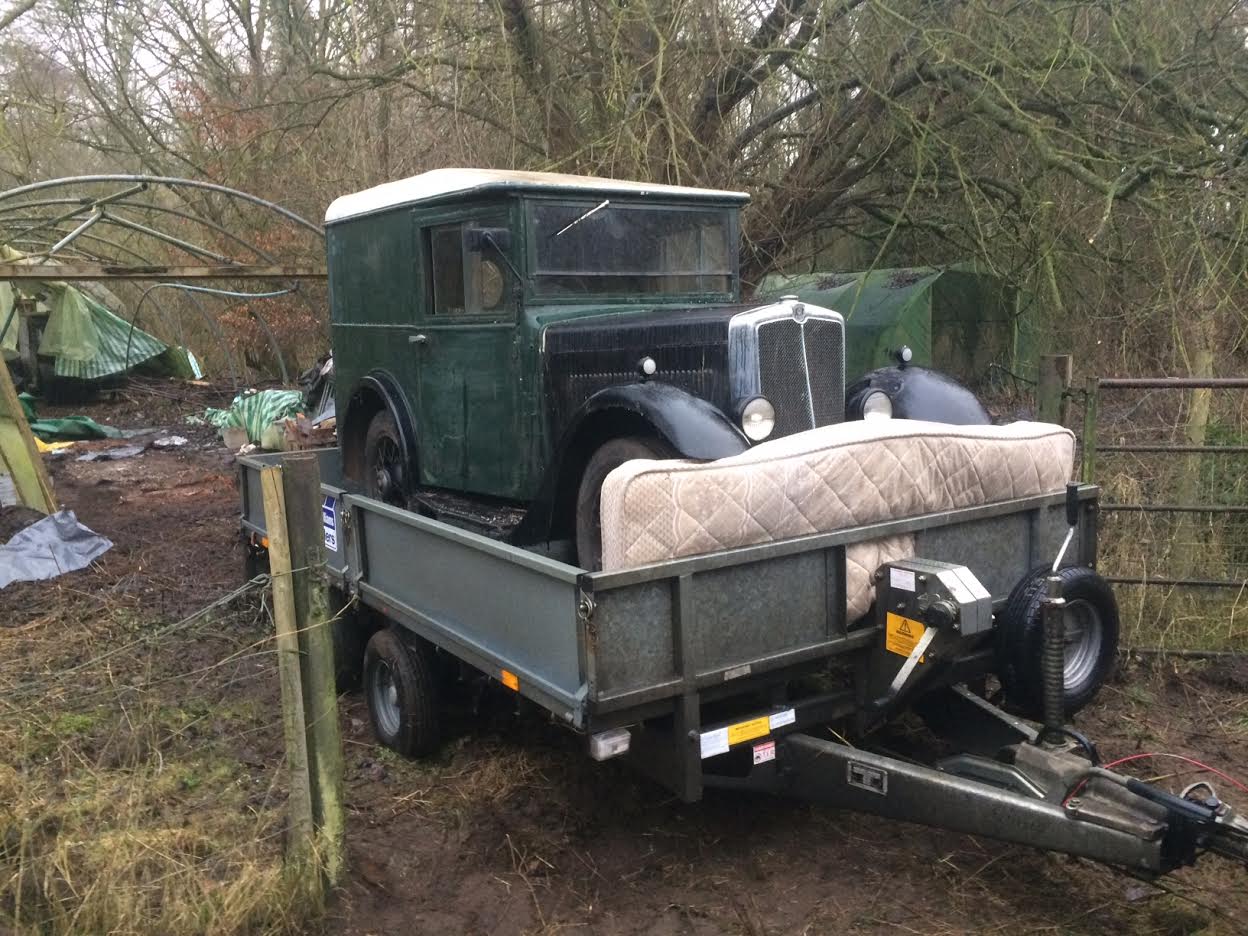 ..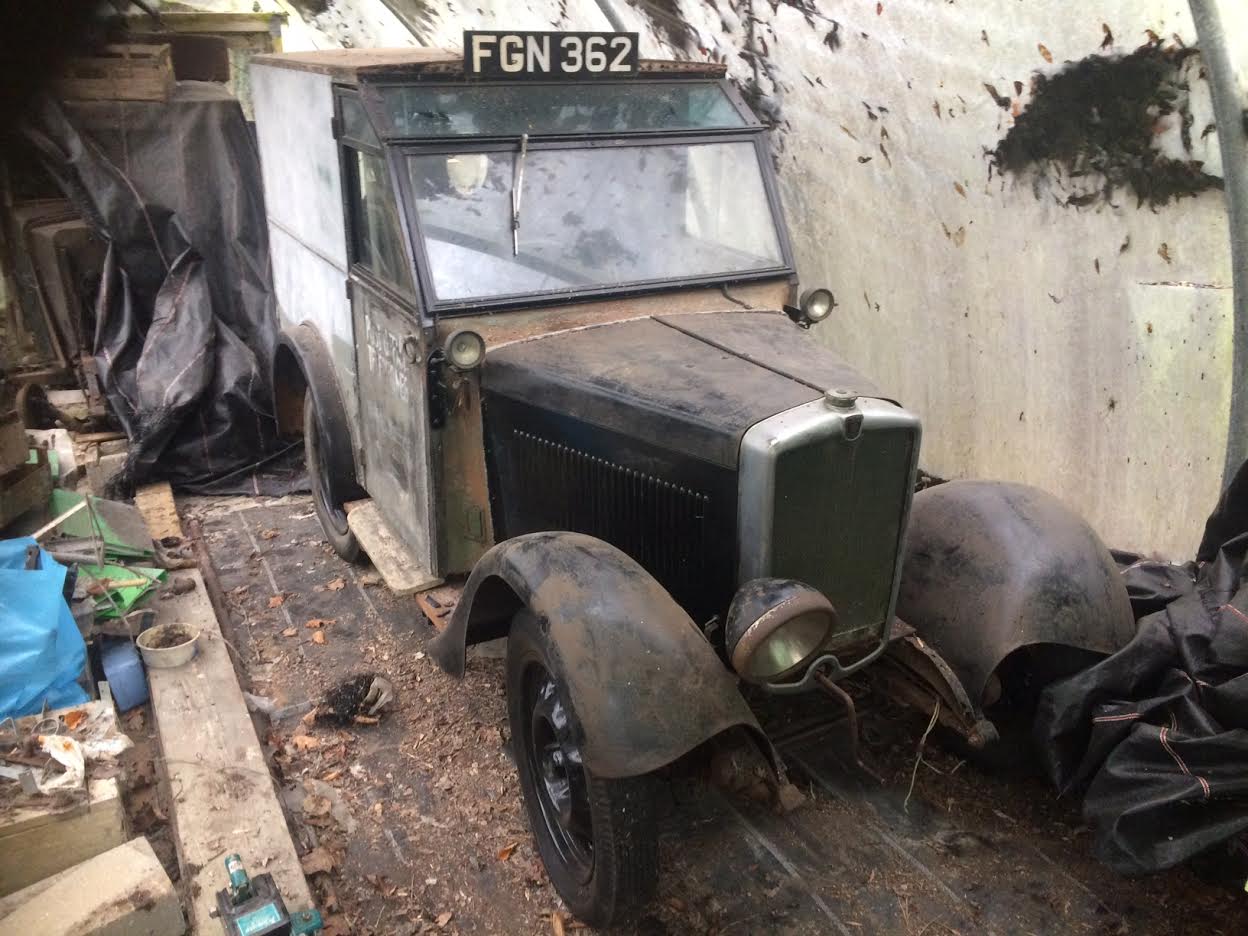 25th February 2017 Congratulations to Peter Vacher on his acquisition of these two Post Office vans from Lester Pearson of Eye, Suffolk.
Members will recall that Peter recently sold his Battle of Britain Hawker Hurricane and has since restored a de Havilland Puss Moth to full flying condition.
The Post Office van on the left (ELO 290) is to be restored for use as a tender vehicle for the Puss Moth.
Peter's wife Polly owns the earliest known surviving SV Minor, chassis SV107.
18th December 2016 Today we welcome two new members to the Register. Roger Tushinghamn has recently aquired an M Type
and Anthony McGarel-Groves, a regular Pre-War Prescott attendee joins with his 1937 Alvis Speed 25 Charlsworth DHC.
Welcome both!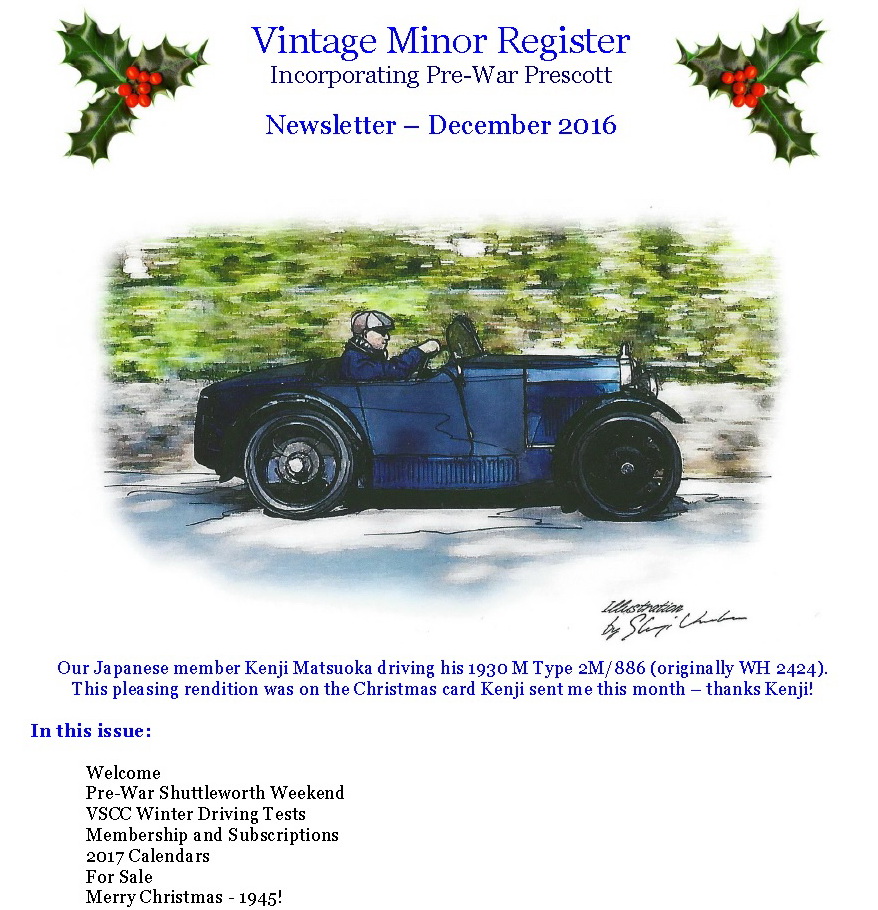 17th December 2016 Today the final Club Newsletter of the year was distributed to all members and our Pre-War Prescott friends.
A copy may also be found in the Members' Area of the website. Contact the Register if you have forgotten the username and password!
This issue contains some very important news regarding a brand new Club event for 2017. The clue is in the image above!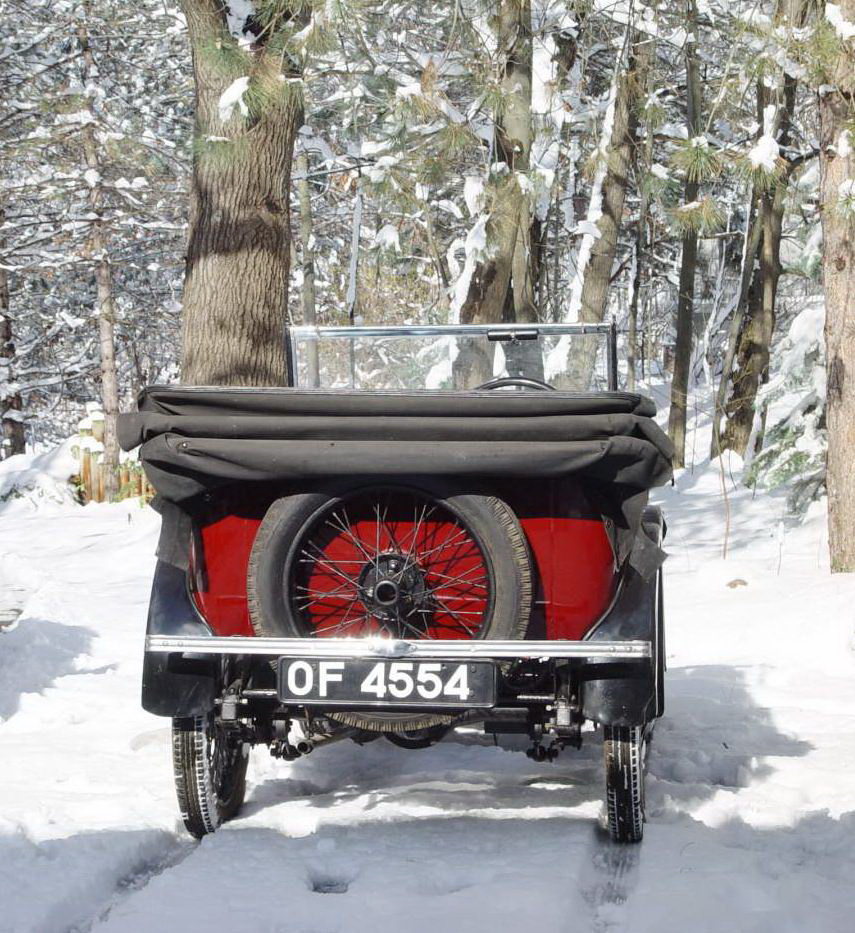 17th December 2016 Here's wishing everyone a wonderful Christmas and a vintage New Year!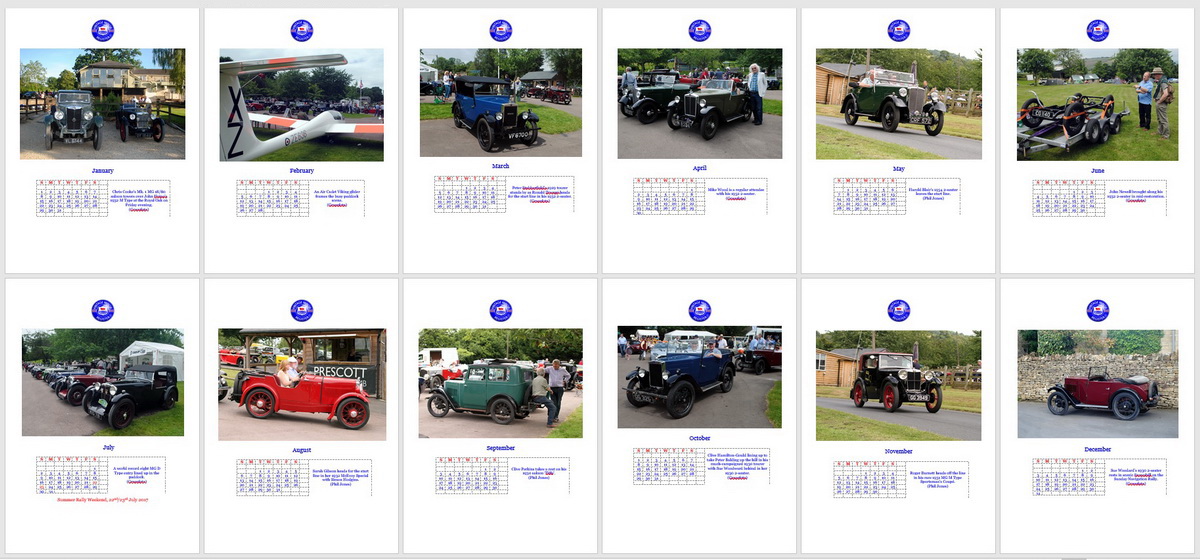 30th November 2016 Today the 2017 Vintage Minor Register calendar was uploaded to the Members' Area of the website.
Both A4 and 8.5" x 11" versions are downloadable as printable Adobe pdf files. Also uploaded today to the Members' Area is the 2017 Pre-War Prescott
2017 calendar - also in both formats. Both calendars feature our 2016 Summer Rally and Pre-War Prescott.
29th July 2016 Today the November Newsletter was launched into the ether and all members should have received a copy.
If not, then members can access this and all our past Newsletters in the Members' Area of the website.
Contact the Register if you have forgotten the username and password!
Also, the latest FBHVC Newsletter has been uploaded to the Members' Area.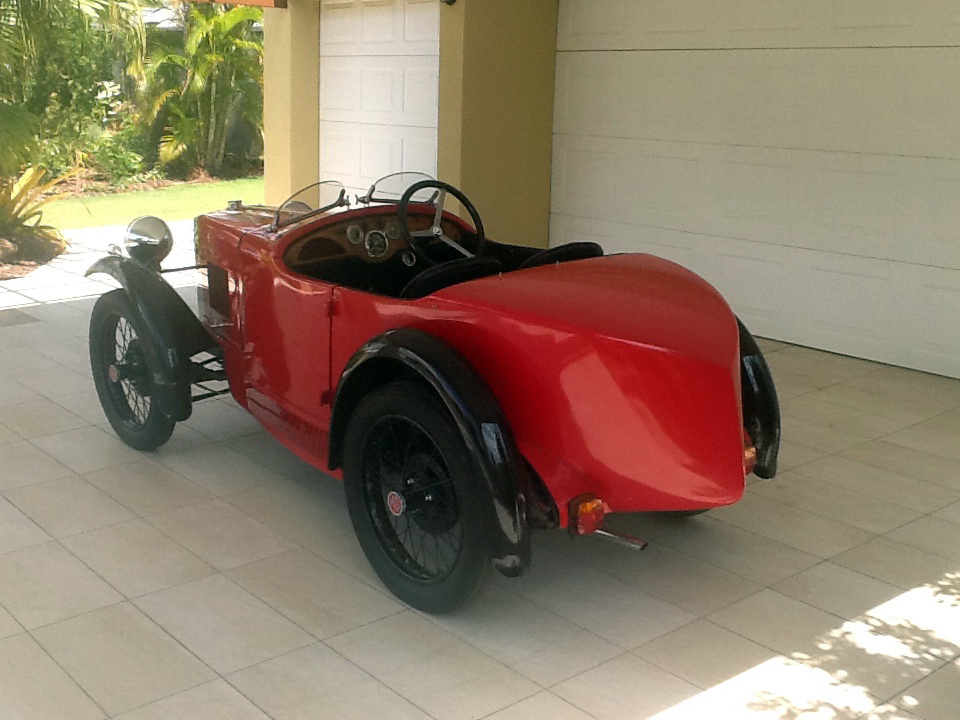 27th November 2016 Today we welcome Bill Fuller of Queensland, Australia to the Register. Bill owns this 1930 M Type export model,
exported as a chassis and Australian-bodied.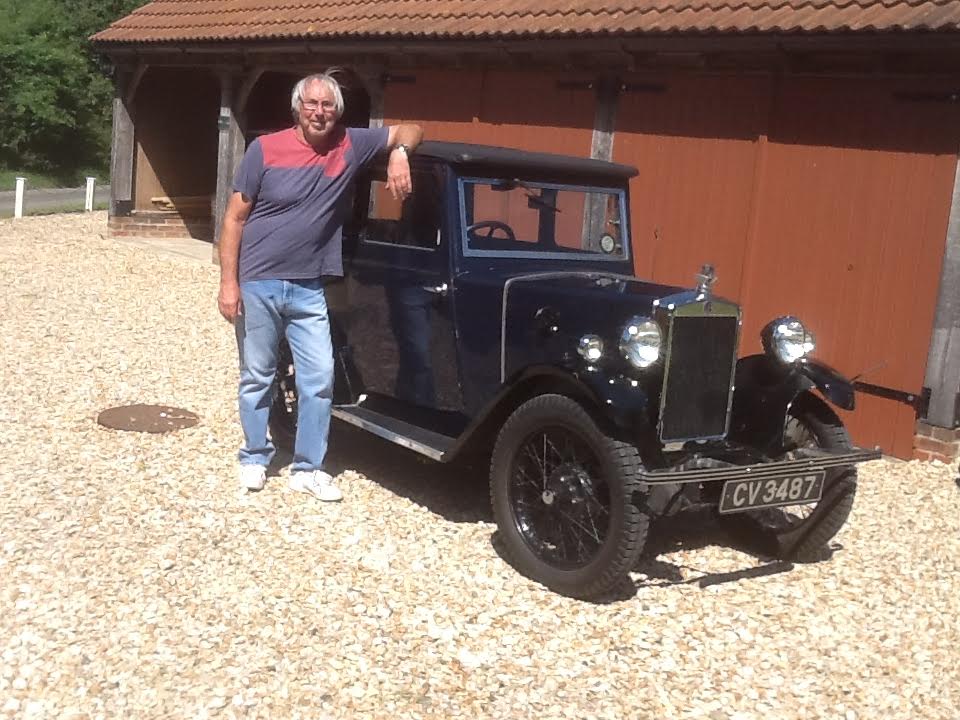 2nd September 2016 Welcome to new member Michael Slater who has acquired Colin Lee's 1930 Minor saloon. Mike is busy working on the car,
sorting hub studs and kingpins, etc. We also welcome new members Richard Prest, well-known in VSCC circles with his Bullnose Morris
and Evie Formhalls of Formhalls Racing and Engineering who regularly supports us at Pre-War Prescott.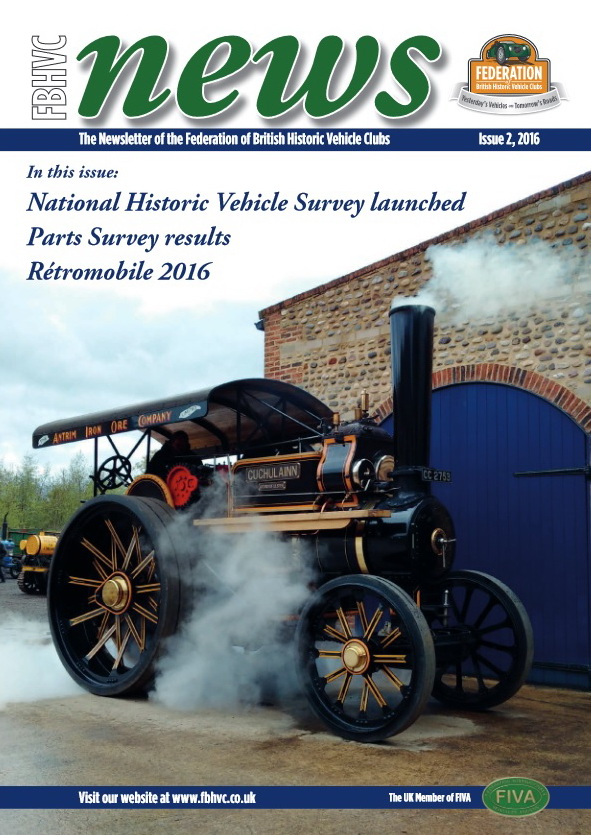 6th June 2016 A reminder that, as a susbcribing member club of the Federation of British Historic Vehicle Clubs, we are automatically subscribed
to their excellent bi-monthly magazine. The latest issue shown here can be found in the Members' Area of this website along with past issues
going back to 2013, when we joined.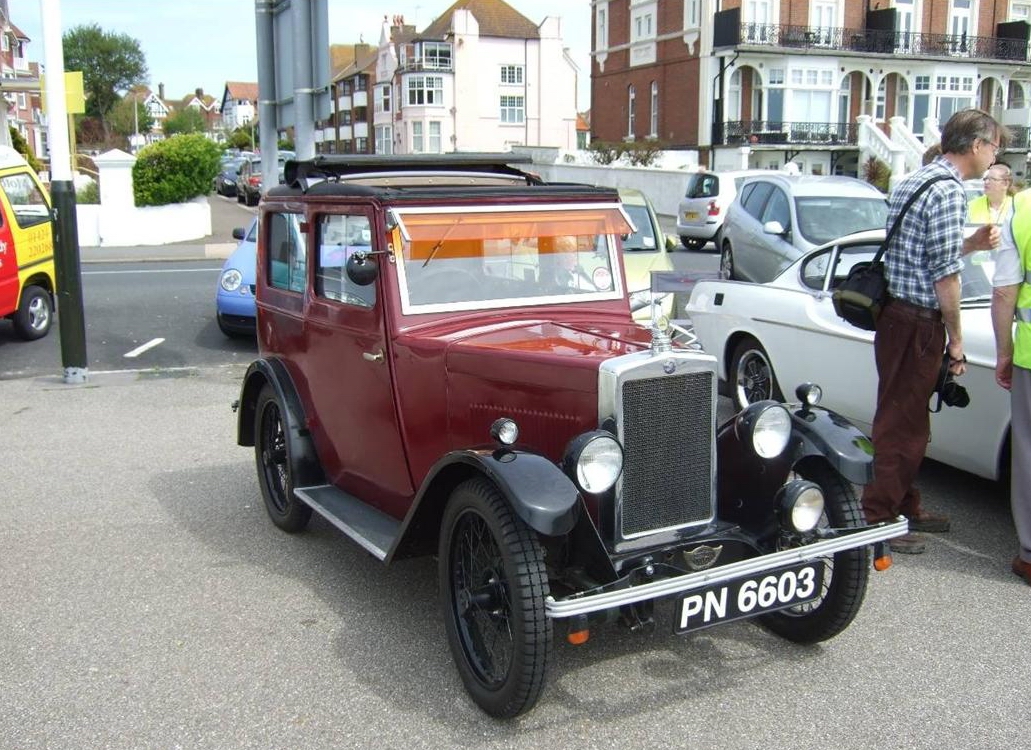 24th May 2016 Today we welcome Stuart Stubbs to the Register. Stuart has acquired 1930 Minor saloon PN 6603 (M28933).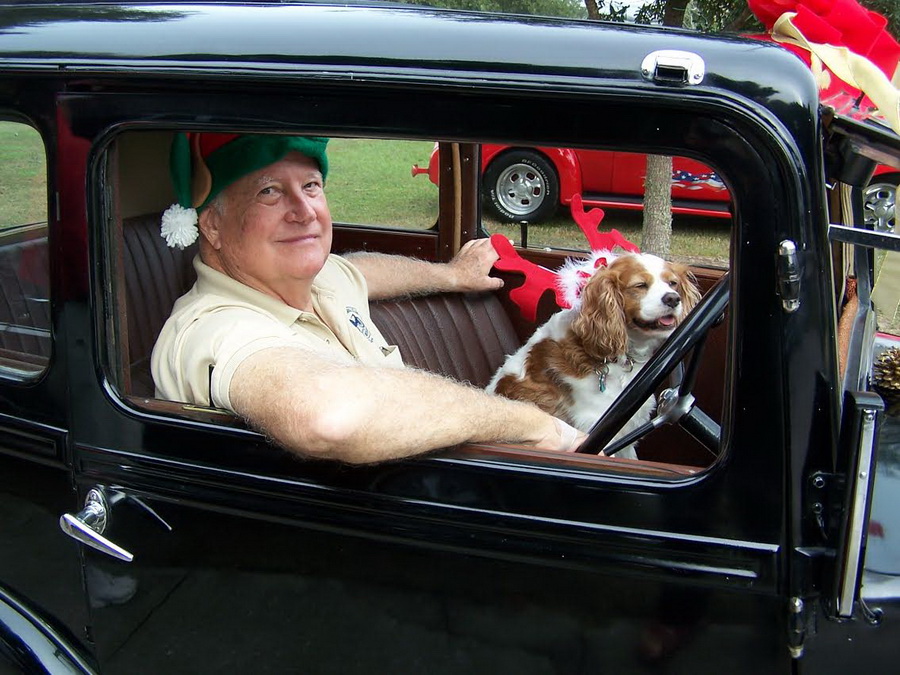 18th May 2016 We warmly welcome Conrad Mershon to the Register. Conrad lives in Florada where he keeps his immaculate 1934 Minor saloon,
with which he has won numerous awards over the years. Conrad shipped APK 552 to Florida 25 years ago.
29th April 2016 And today we warmly welcome Mike Wevill from Devon to membership with his 1934 MG PA. Mike has also entered Pre-War Prescott, so we look forward to meeting him there.
As of today, we have no less than 36 MMM MG's booked in for Pre-War Prescott, so it is going to be a tremendous Morris/MG day.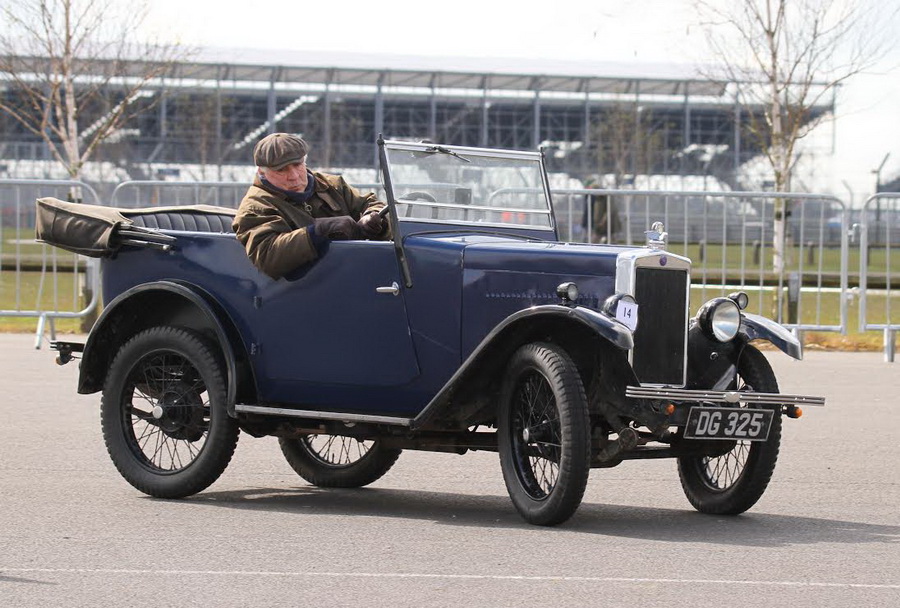 29th April 2016 Congratulations to Clive Hamilton-Gould for his latest driving test success. He gained a Third on the new VSCC AotoSolo event at Silvertsone last Saturday.
AutoSolos are a wonderful addition to the VSCC sporting calendar and are highly suited to pre-war cars. Tests are simple, all-forward affairs and don't include any of the awkward reversing
you can expect to encounter at standard Driving Tests. Clive just beat just beating Mark Garfitt in his 319 BMW. (Photo Phil Jones)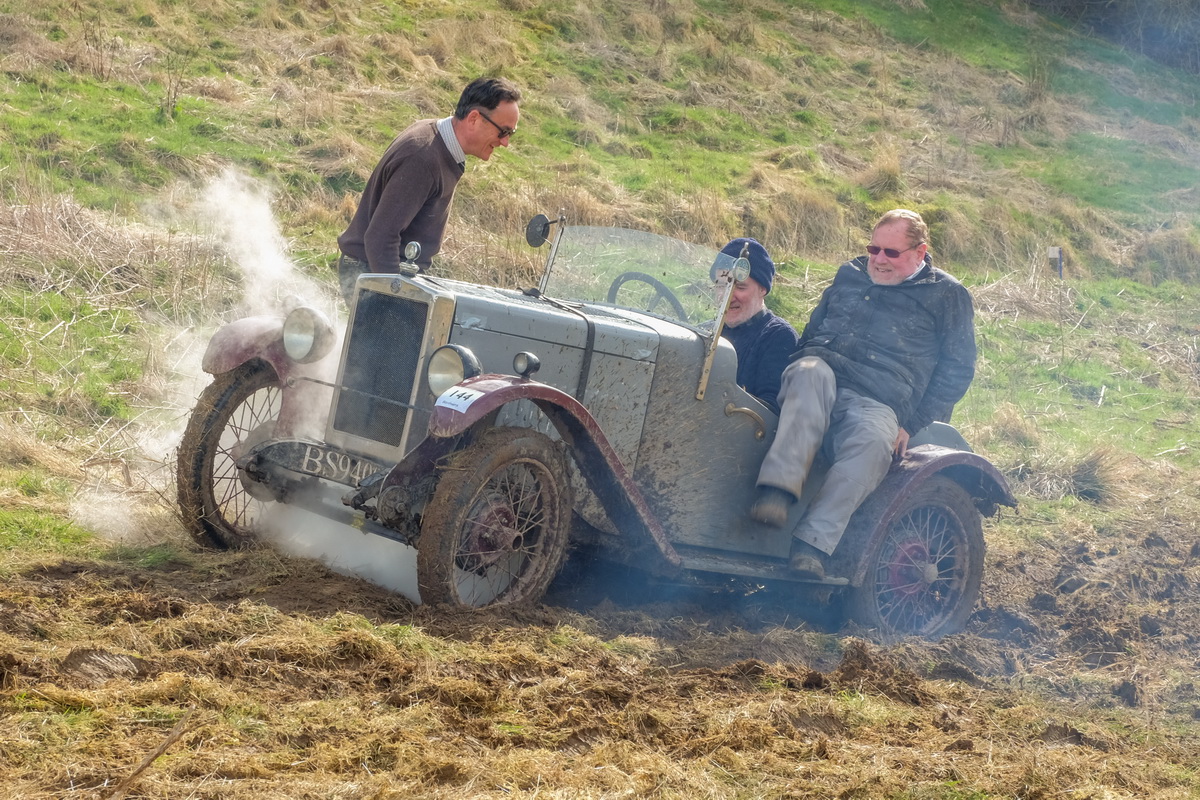 16th April 2016 The final trial of the season saw Martin Redmond out once again last weekend in his Minor Semi-sports special.
Here we see his bouncer abandoning the sinking ship. Scoring 155 points, he was just short of an award. Our new member Charles Gillett gained a First in his Bugatti Brescia,
while David Rushton picked up a Second in his M Type. Thanks to Gary Clarke for this great photo.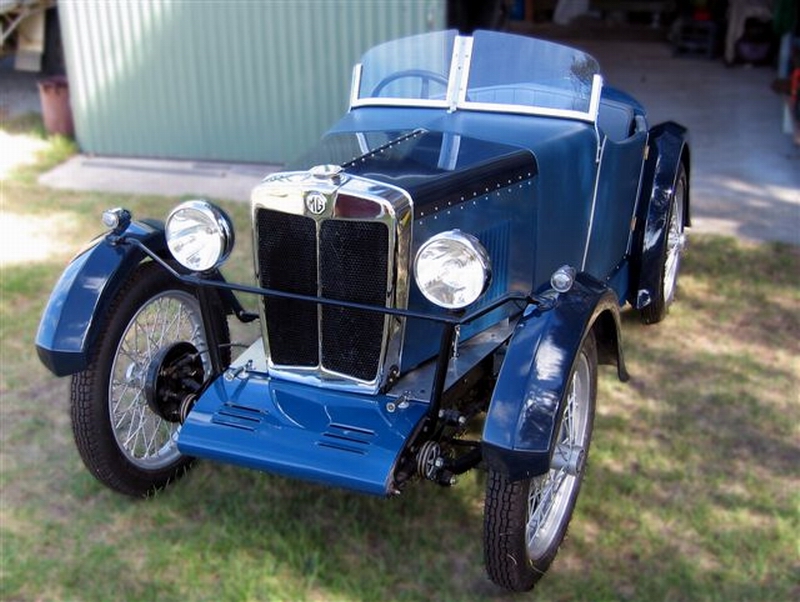 5th April 2016 Today we welcome John Fincher of Victoria, Australia back to the Register with his MG M Type replica built on
OHC Minor chassis M10767.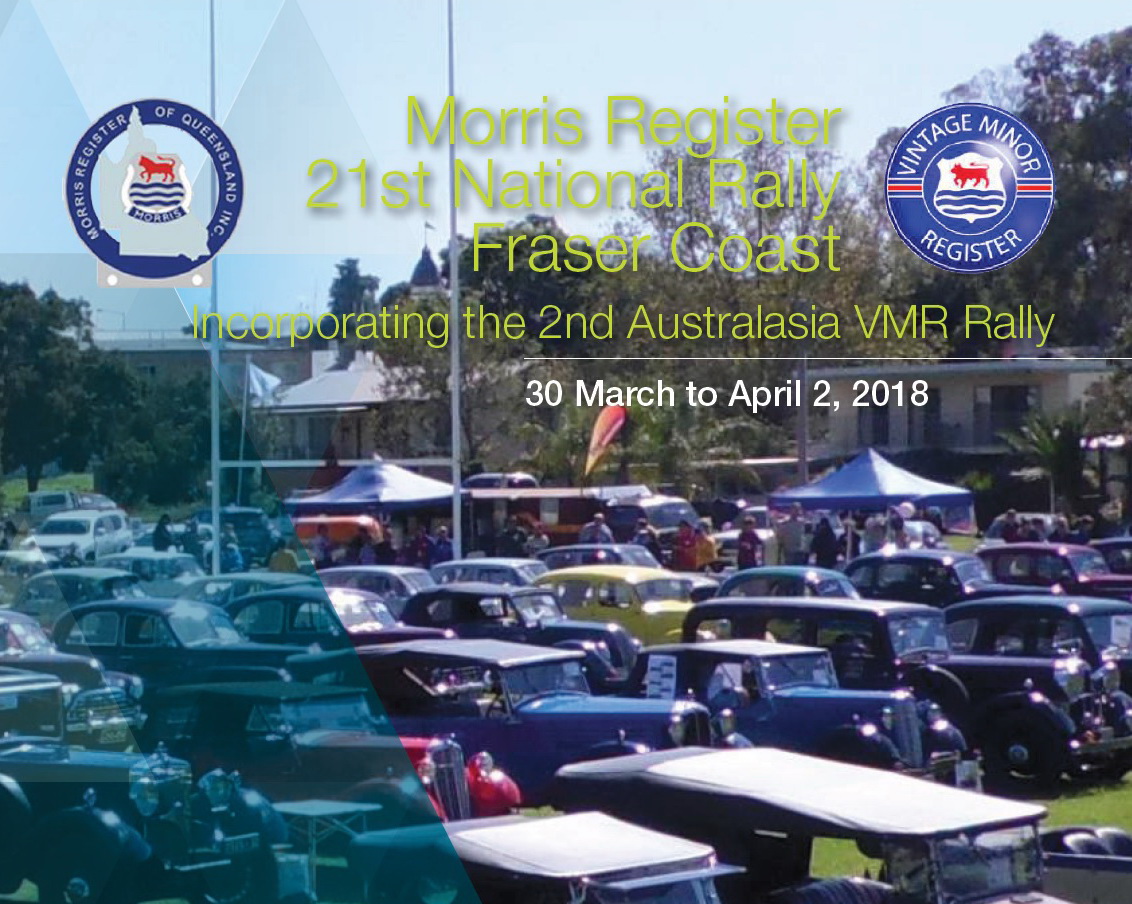 25th March 2016 It's official. The VMR will be holding its second Australasian Rally over the Easter weekend 2018,
in conjunction with the Morris Register of Queensland. All VMR members worldwide are very warmly invited.
There will be much more news anon, but for now, here's the Rally Brochure and entry form.
The Rally will be centred around the incomparable Frazer Coast of Queensland.
Jayne and I are extremely excited to announce that we will be attending in person and look forward
so much to meeting as many members as possible. Save the date - 30th March to April 2nd.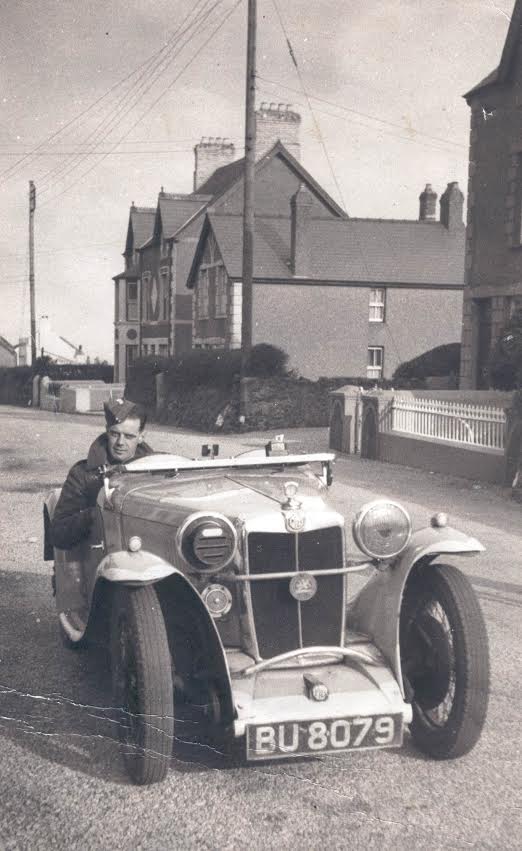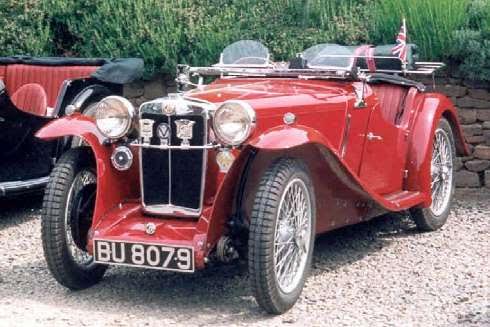 25th March 2016 Today we welcome Roger Davies to the Register with his 1934 MG PA 2-seater (PA0454), looking little changed since the war.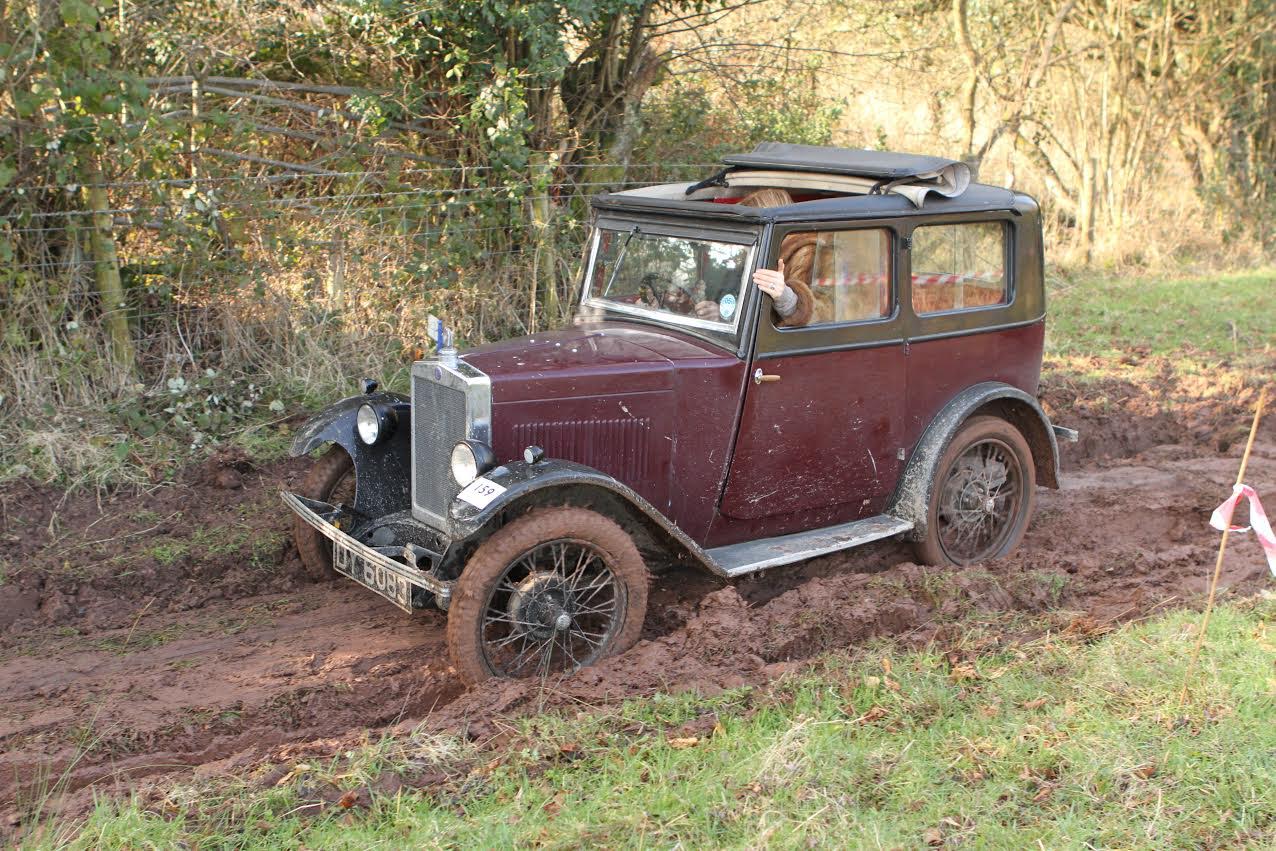 24th March 2016 Today we welcome Charles Gillett to the Register with his 1930 Minor saloon. Here we see DY 8063 in the capable hands of Philip and Christine Parkinson
on the VSCC Herefordshire earlier this month. Since acquiring the Minor, Charles has enetred a number of trials, including last year's Lakeland Trial.
He was unable to enter the Herefordshire, so loaned the car to Philip and Christine for the weekend.
They were second in class after the first day but fell back on the second. Apparently they had not refuelled and had the tap on 'main'
and on two hills the car lost power probably due to lack of fuel as the tank was low and only just above the main.
It is tremendous to see a Minor saloon entering VSCC main club trials once again.
Charles tells us "My other trials car is a Brescia Bugatti, so when I say I enjoy the Morris, I mean it!!"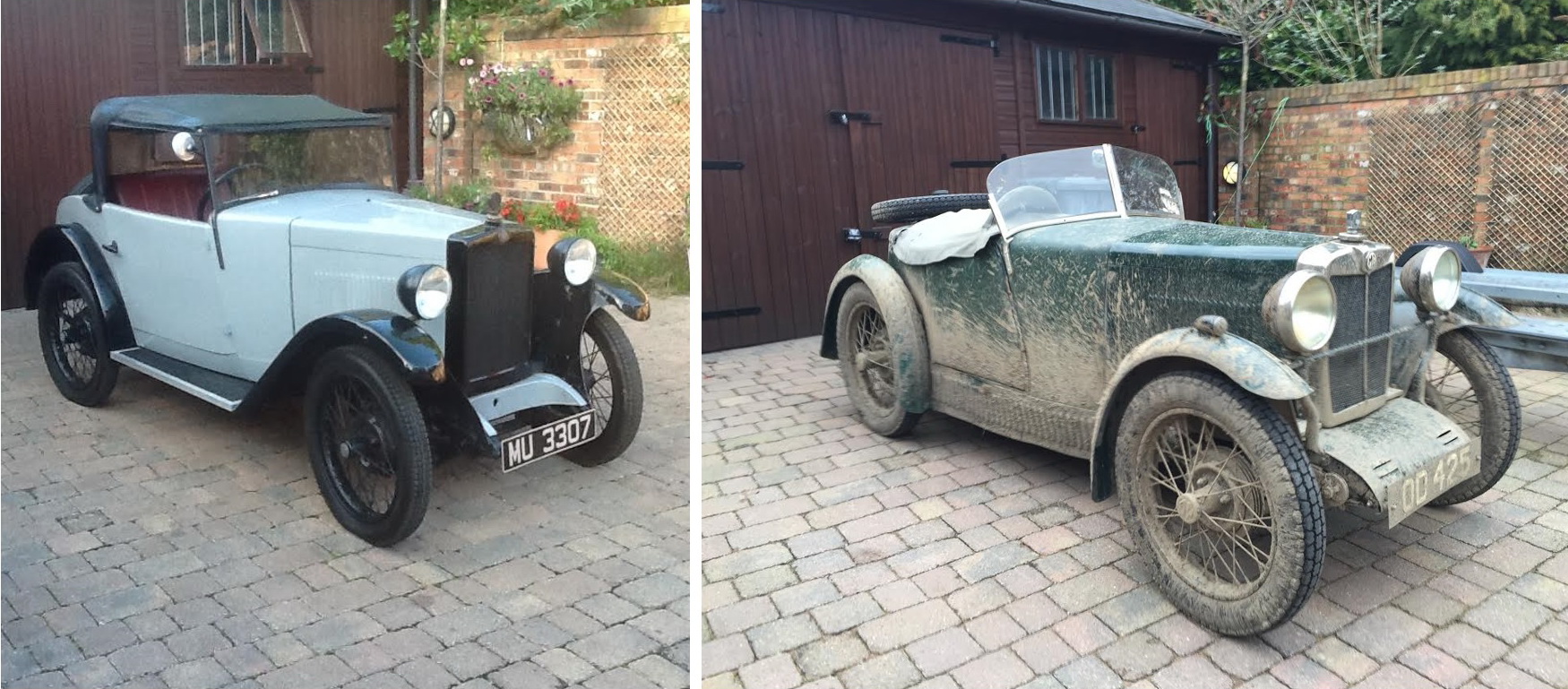 22nd March 2016 And today we warmly welcome Michael Barber with his Hundred Pound Minor and M Type, fresh from the VSCC Derbyshire Trial.

21st March 2015 Today we welcome Peter Woodley to the Register with his M Type 2M/1041 (549 HYM, was originally RB 667).
What a super looking project!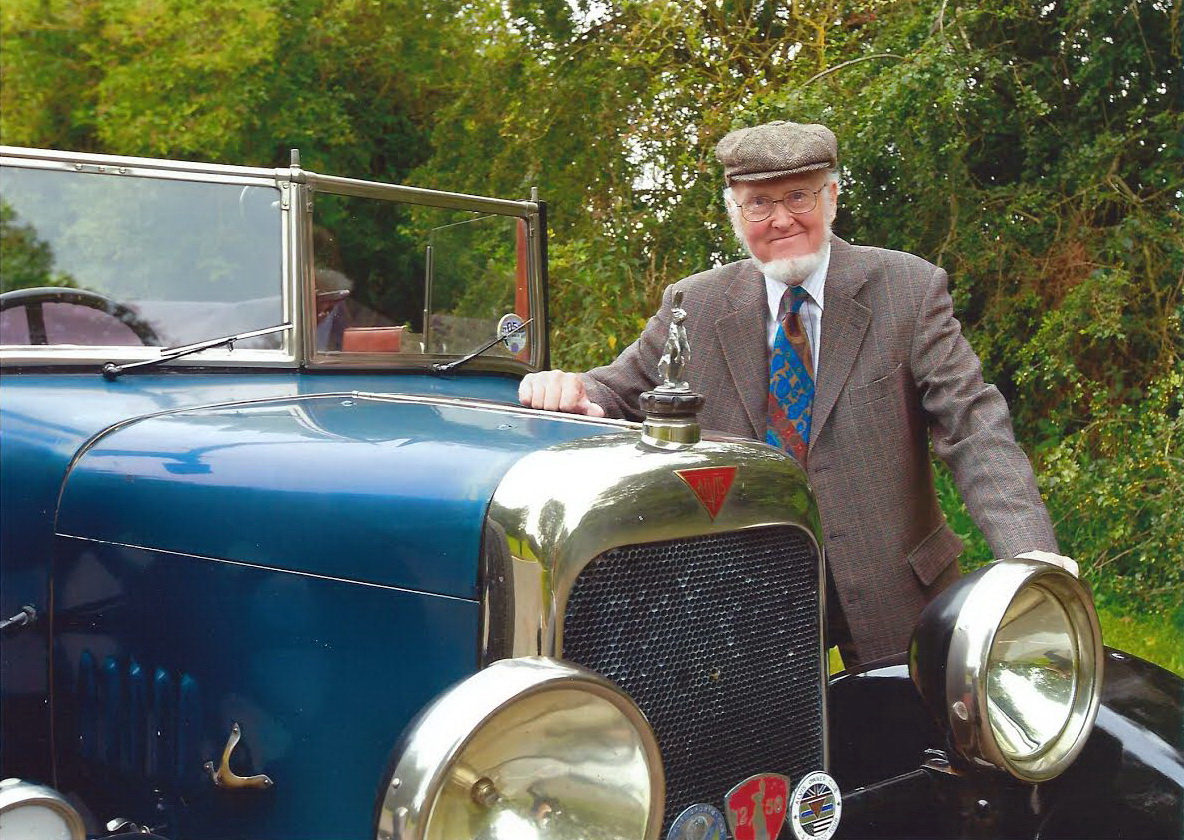 19th March 2016 Today we extend a very warm welcome to Murray Maclean who joins us with his rare and delightful 1929 Alvis 12/50 Doctor's Coupe.
At 88, Murray has owned this car for 52 years and it was used by him as regular transport until he retired.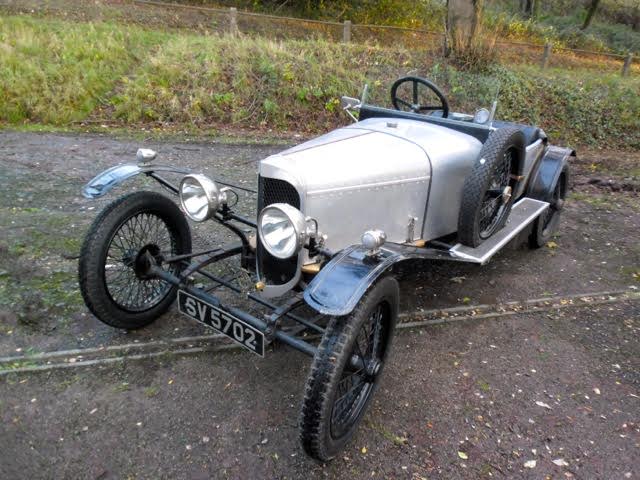 18th March 2016 Today we welcome back Mike Tebbett to the Register. Mike was a founder member with membership no. 28 way back in 2000.
Today he drives this rakish 1921 GN Salmson which he has entered for Pre-War Prescott this year.
Mike is also well-known as the Editor of the VSCC Light Car & Edwardian Section's excellent magazine.
18th March 2016 The March issue of the combined Vintage Minor Register/Pre-War Prescott Newsletter was distributed around the globe this morning,
and can be read here. A copy has been lodged in the Member's Area alongside all previous issues.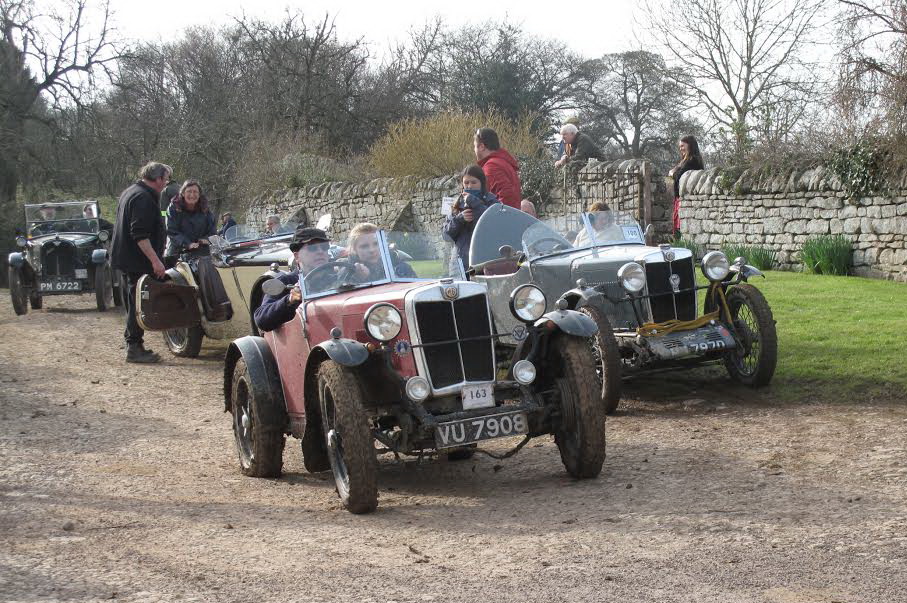 12th March 2016 Following last weekend's successful John Harris Trial in Derbyshire, VSCC competitors head this weekend to the Wye Valley for the next round of the trials season,
the Herefordshire Trial, based at How Caple Court near Ross-on-Wye. Here are the two M entries of Rolfe and Rushton earlier today.
Super spring weather at last!
(Photo David Hinds)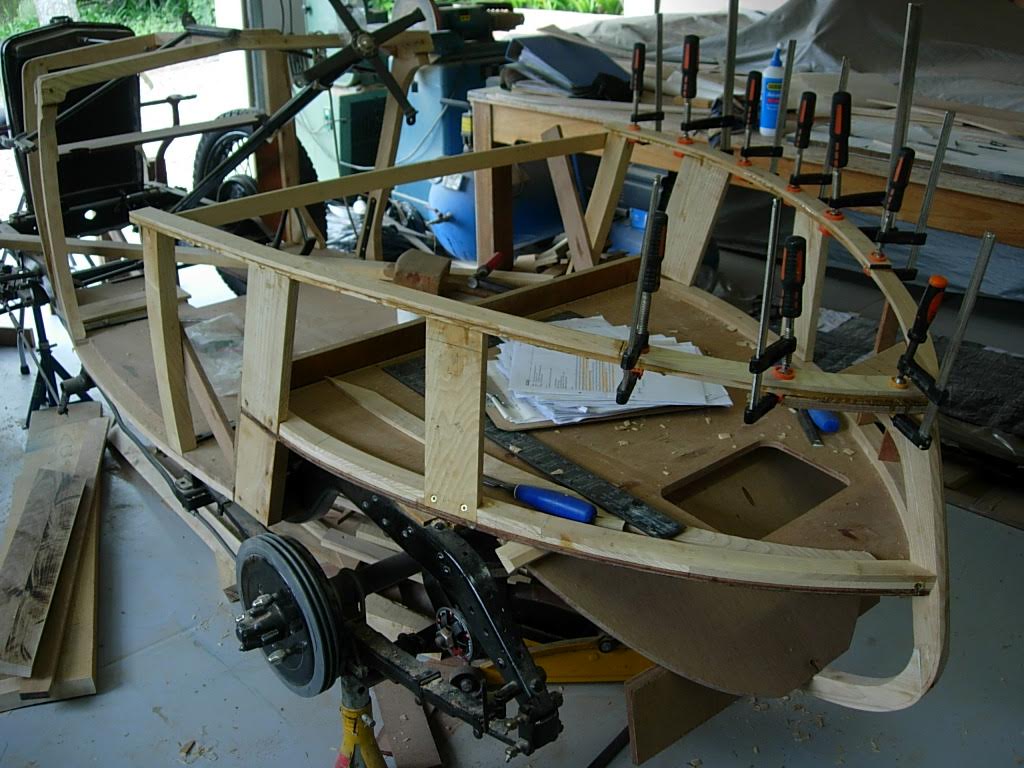 M Type 2/M 700 taking shape in South Africa with owner and new member Tony Lyons-Lewis.
Delivered on 15th November 1929 to Donovan Charles Baird of Wimbledon, London, this car was entered in the Lands End Trial of 1930.
This brings to 52 the number of M Types currently owned by Register members.
8th March 2016 Today we extend a very warm welcome to four new Register members. Keith Fowlie of Hervey Bay, Queensland, Australia has recently acquired Col Schiller's
1929 Minor roadster, chassis Y273, one of the rare Australian export chassis that were sent to Australia at the end of 1929 in CKD form. Keith hopes to have the restoration
complete for our Easter 2018 Rally in Queensland. We also welcome Neville Barraclough of Llanfairpwllgwyngyllgogerychwyrndrobwllllantysiliogogogoch
with his Hundred Pound Minor 2-seater. At first I wondered how I was going to put that on his Magazine address label, but apparently the common abbreviation is Llanfair TH. Phew!
Next up is Tony Lyons-Lewis of Knysna, South Africa who joins us with his 1929 M Type MG (above). Lastly, Murray Maclean joins us with his 1929 Alvis 12/50 which
he expects to bring to Pre-War Prescott in July. Welcome all!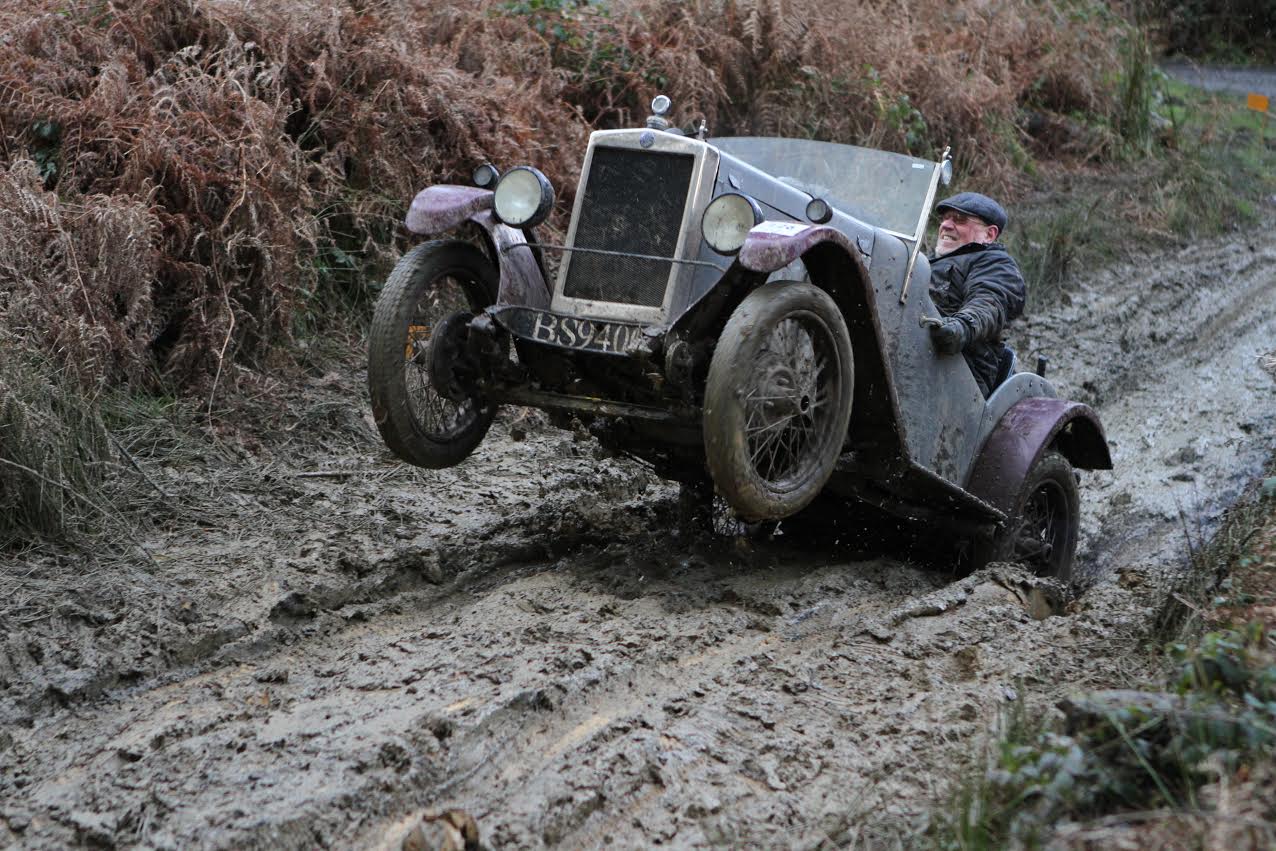 6th March 2016 Mud, mud, glorious mud! A great Phil Jones action shot of Martin Redmond on the VSCC's John Harris Trial in Derbyshire yesterday.
In addition, four M types entered - those of Messrs Dark, Rolfe, Rushton and Barber.
This particular hill included this jump just after the start, and unless you went for it, a low score was assured.
Three M's went for it. Barber lined up, and then changed his mind.
More great Phil Jones shots from the day will be included in our spring Magazine, M 157.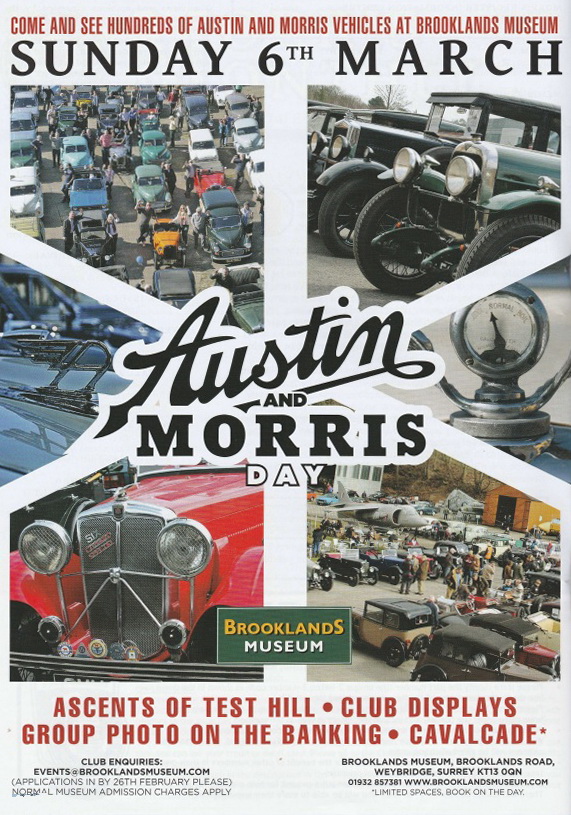 24th February 2016 Don't forget the Brooklands Museum Austin Morris Day on Sunday March 6th.
Full details here.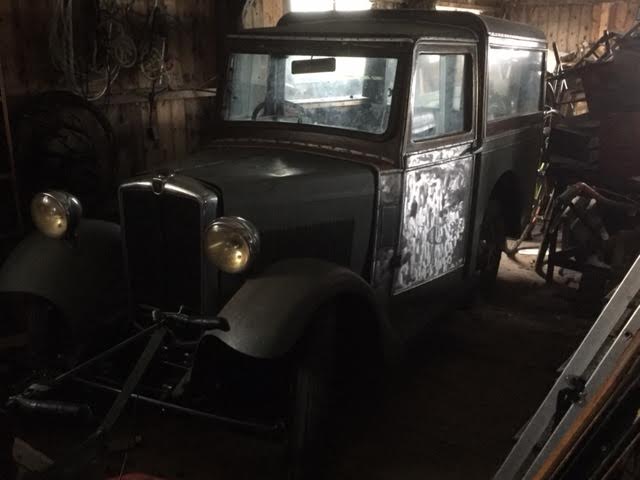 23rd February 2016 Welcome to new member Andrew Fearnley who owns this interesting 1934 Minor shooting brake, and we also welcome Peter Robinson who owns a 1932 Minor pickup,
both vehicles being conversions from saloons. Peter's pickup was seen in the 1999 screen play of Rosamunde Pilcher's 'Nancherrow' as a builder's truck.
22nd February 2016 The February Newslettter was distributed electrically today, and a copy has been lodged in the Newsletters section in the Members' Area.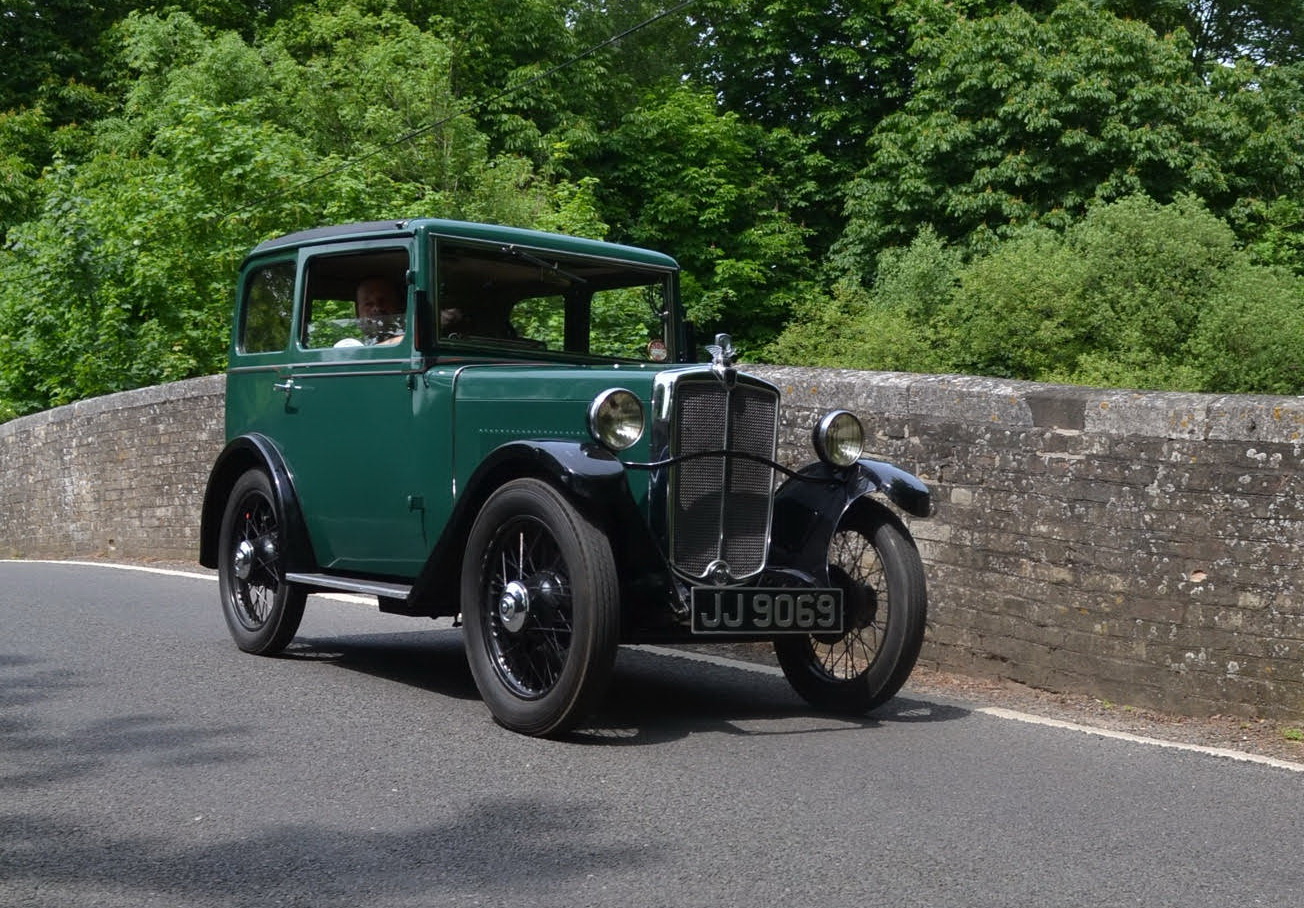 19th February 2016 We welcome Arthur Bell to the Register with his 1933 Minor saloon. Arthur traveled almost four thousand miles in this car last year.
Arthur had been looking for a tourer since 2013, but eventually found this very smart saloon. Welcome Arthur!
(Photo Authur Bell)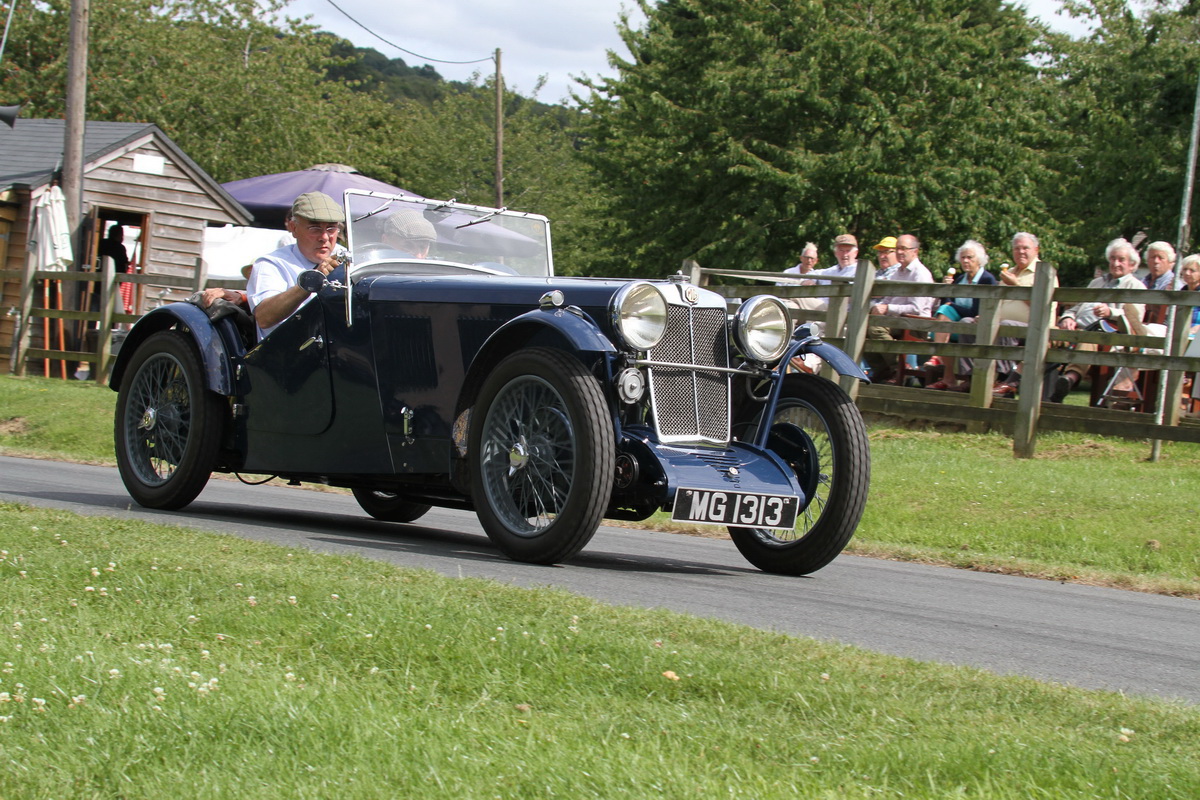 19th February 2016 We extend a warm welcome to Ian Goddard of Leominster who joins us with his 1931 MG F1 (now to F2 specification), chassis F 0283.
Here we see Ian at the wheel as he leaves the startline at Pre-War Prescott last year. Ian also has a P Type in build.
(Photo Phil Jones)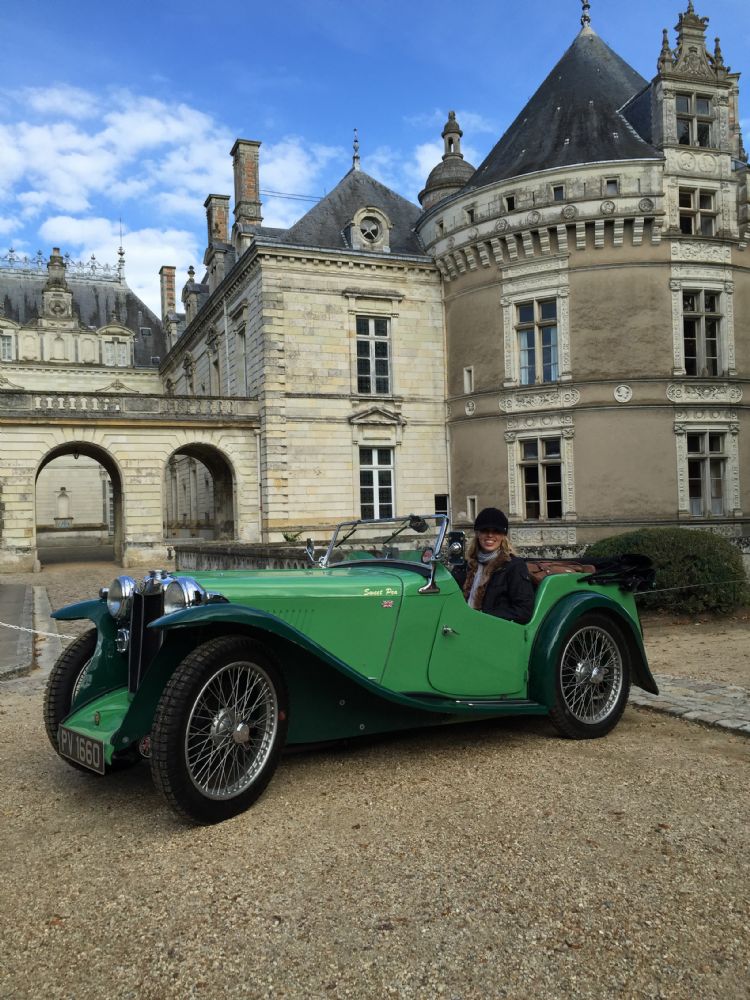 PV 1660 'Sweet Pea' at Angoulême, September last year for le Circuit International des Remparts
19th February 2016 Welcome to Tim Luffingham of Tonbridge who joins us with his 1934 MG PA four-seater PV 1660, chassis PA 1392.
Tim acquired this car early last year.
(Photo Tim Luffingham)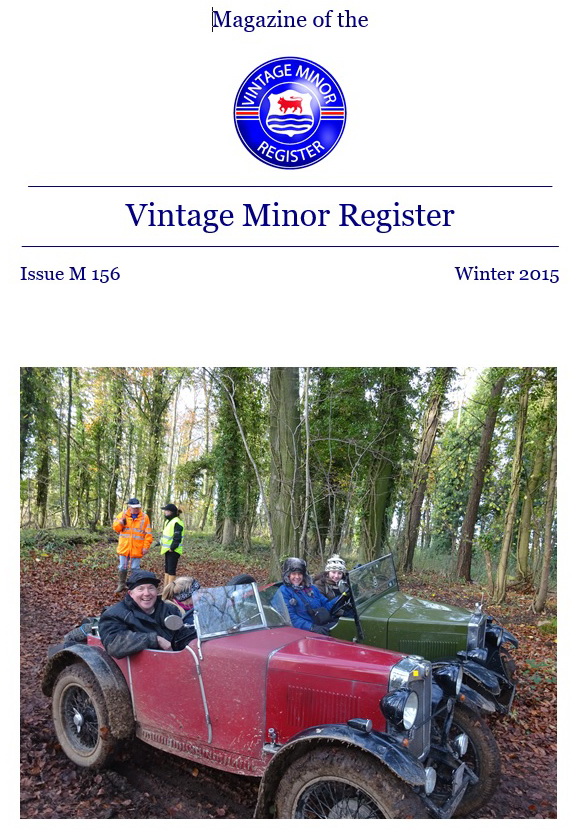 The front cover of our spring magazine features David and Claire Rolfe with their daughters Eleanor and Philippa
enjoying the VSCC Cotswold Trial in November.
12th February 2016 The Winter Magazine was posted worldwide by our new print shop earlier today.
This issue was delayed somewhat by the closure of our previous print shop after over eighty years.
Finding and then transferring the operation to the new printers has taken some time, but we are confident
that the result will be worth the wait. Meanwhile, our spring 2016 issue nears completion and will be deivered
to the print shop by the end of this month, thereby getting us back on schedule.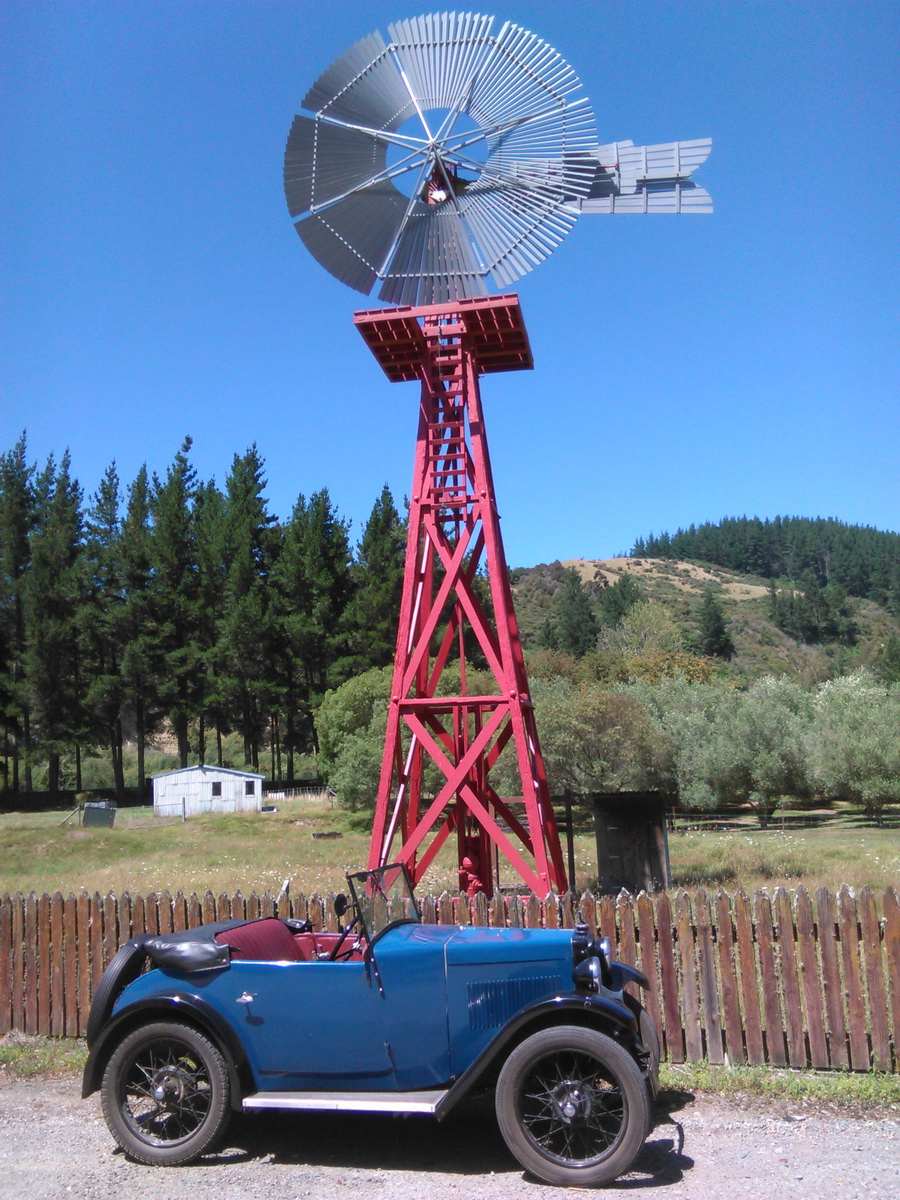 12th February 2016 Peter and Steph Field of Nelson, New Zealand own this early Hundred Pound Minor, chassis SV1012.
This chassis was laid down at Cowley 85 years ago today. To celebrate, Peter and Steph took their car for a Birthday run out to
Belgrove to take this picture beside the restored windmill that pumped water for the Nelson Railway steam trains.
Belgrove was the terminus of the Nelson Railway Line from 1881 to 1899. Road transport continued from there to the West Coast.
Belgrove was an important station until the closure of the line in 1955. Windmills were once a common feature of the railway landscape
and those remaining are visible links with the age of steam locomotives. The Nelson railway line was an important focus for the development
of the province and the Belgrove windmill is one of only two such structures remaining in New Zealand.
A birthday lunch was had in Wakefield where many people asked questions about the Morris. It was a great day.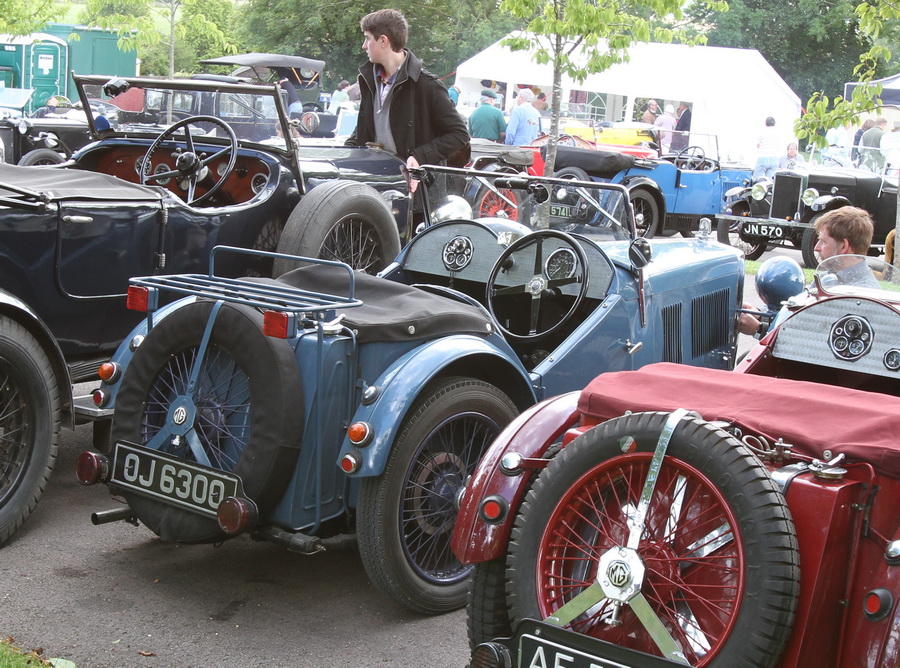 9th February 2016 Today we welcome Ian Davison of Haverhill, Suffolk to the Register with his 1933 MG J2, seen here at Pre-War Prescott 2015.
(Photo Phil Jones)
8th February 2016 We also welcome John Emmett to the Register. John owns this 1932 MG J1 (J0346), seen here at Pre-War Prescott,
as well and a 1932 D Type (D0430) and and M Type (2M/687) under restoration.
John has entered his J1 again for Pre-War Prescott 2016.
(Photo Chris Lambert)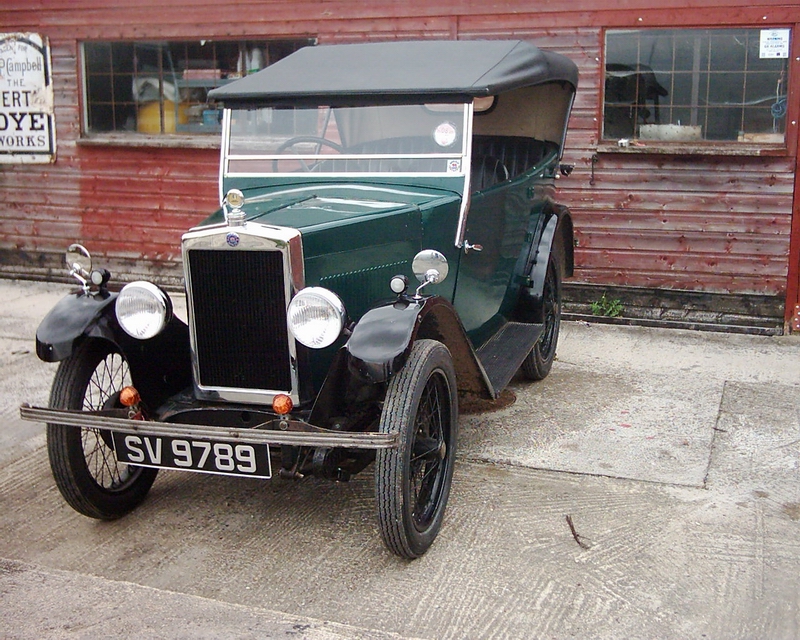 8th February 2016 Today we welcome Jon Streeter to the Register. Jon has acquired this 1929 tourer (M15076) and is currently overhauling the engine
for the coming vintage motoring season. This is the ex-the late Richard Shuker's car that Richard re-imported to the UK from the USA where it
was owned by Arthur Hulnick many decades ago.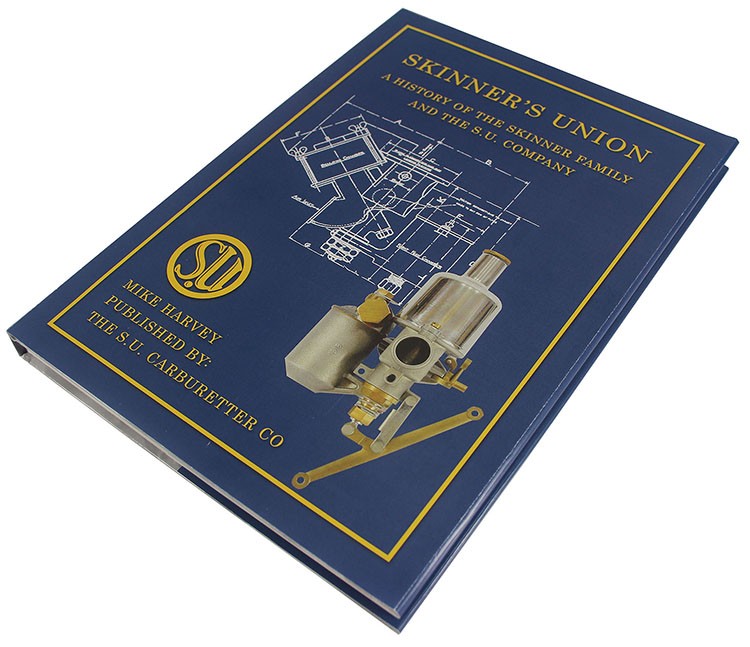 1st February 2016 This fascinating book has just been published by the SU Carburetter Company. In addition to the history of the relevant members of the Skinner family and the SU Company,
the book has two chapters devoted to Barbara and Peter Skinner's hillclimbing and sprinting activities in the 1930s' and includes the details and history of the five Skinner Specials -
three of which survive to this day. Another chapter covers the period leading up to and during World War Two when the SU Company manufactured aero-carburetters
initially for the stillborn Wolseley radial aero-engines which led onto them producing carburetters for the Rolls-Royce Merlin and Griffon and the Napier Sabre aero-engines
for many of the RAF's aircraft. In 1944 the Merlin 100 series engines used in the Mosquito had SU single-point fuel injection.
Order your copy here.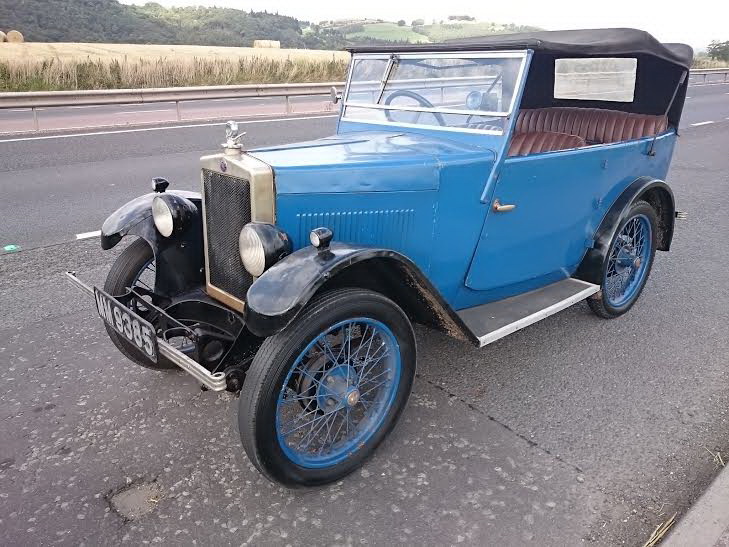 1st February 2016 Today we extend a warm welcome to Steven Kent of Leigh Sinton, Worcestershire who has acquired this 1929 Minor tourer
from member Nick Williams. Its claim to fame is that it was exported new to Malta, then repatriated to the UK in 1954 aboard the Ark Royal aircraft carrier,
whereupon it was registered JBK 920. This number was evidently lost after DVLA computerization and has more recently acquired the number MM 9385.
Welcome Steven!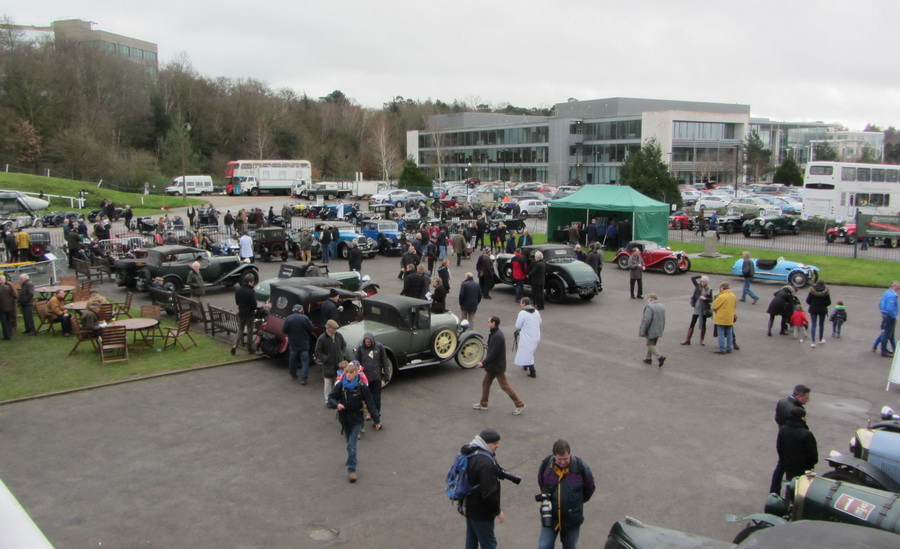 31st January 2016 The VSCC held their traditional New Year Driving Tests at Brooklands today.
The weather was as might be expected in January with drizzle enough to soak the paper instructions by the end of the first couple of tests.
The Brooklands Museum is currently spending millions on new buildings and moving the Wellington hangar off the finishing straight.
This hangar is about to be taken down sent away for repair and then rebuilt in its new position.
Several VMR members competed and a full report will appear in the spring Magazine.
(Photo - Clive Hamilton-Gould)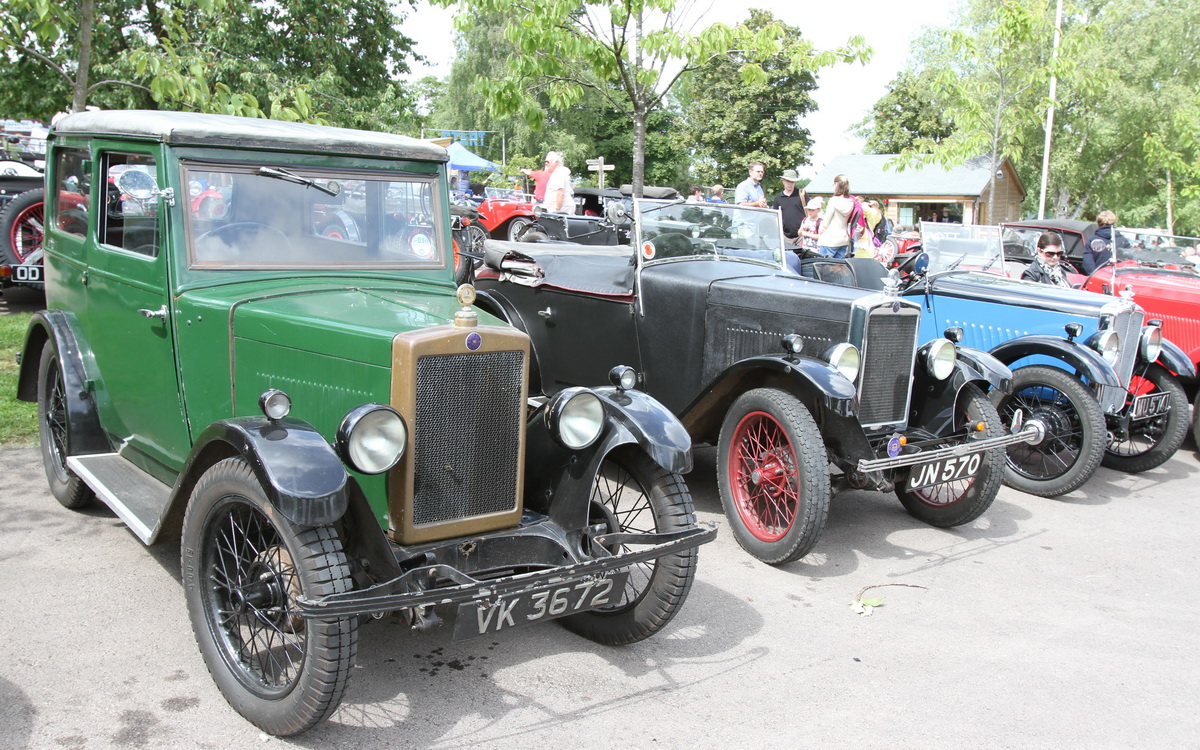 31st January 2016 The 2016 Summer Rally webpage was launched today!
Find the page here and download your Entry Form here.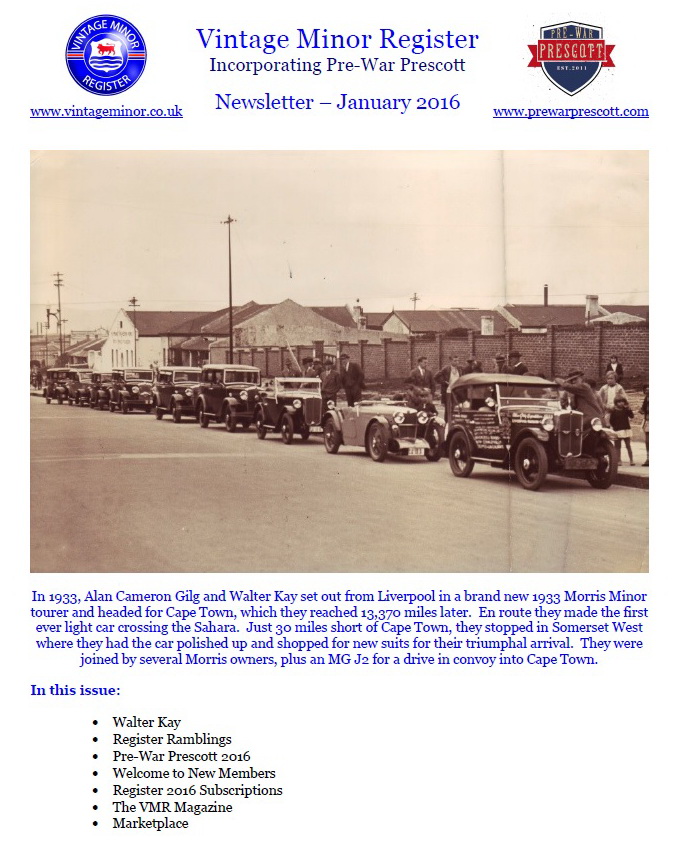 30th January 2016 The January Newsletter was launched into the ether yesterday and a copy may be found in the Members' Area.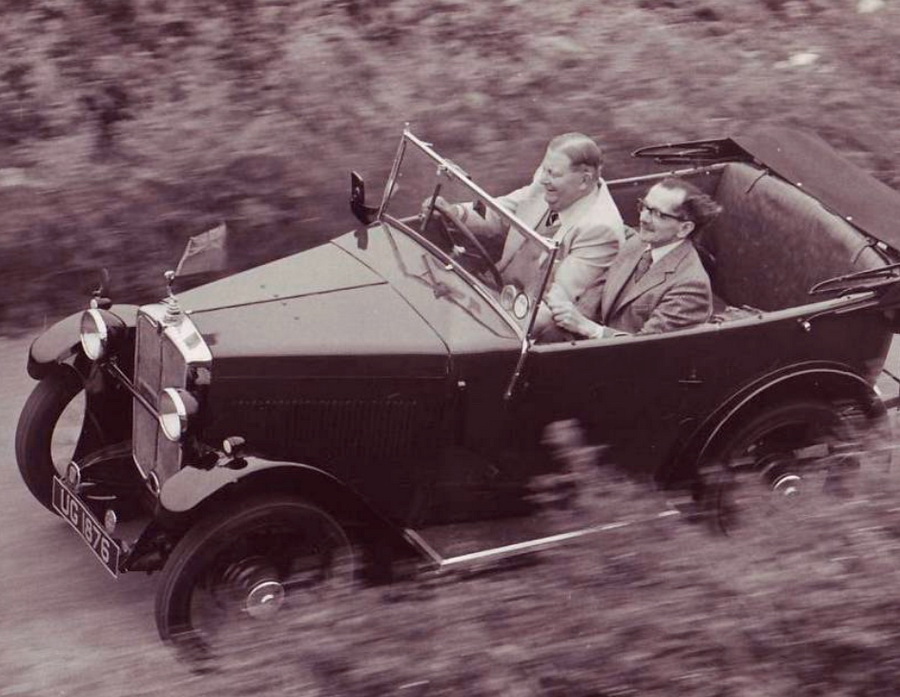 Alan Cameron Gilg and Walter Kay (driving) at speed during the making of the Granada TV documentary 'Once in a Lifetime' in 1978
15th January 2016 We have been contacted by Chris Kay who is the nephew of Walter Kay, who members will know as half of the
1933 Gilg and Kay expedition in a brand new Morris Minor tourer from Liverpool to the Cape.
Alan Gilg and Walter Kay lost touch after the expedition and only met again in 1978 when Granada TV made their documentary TV programme of the expedition
entitled 'Turn Left, the Riffs have Risen'. After that reunion, the families lost contact again. The Register has been in contact with the Gilg family for several years and now
another Gilg and Kay reunion is a very real prospect - 38 years after the last one! Chris has an additional wealth of photos and memorabilia relating to
his uncle's fascinating life and the expedition. Follow this breaking story as it unfolds on our Forum.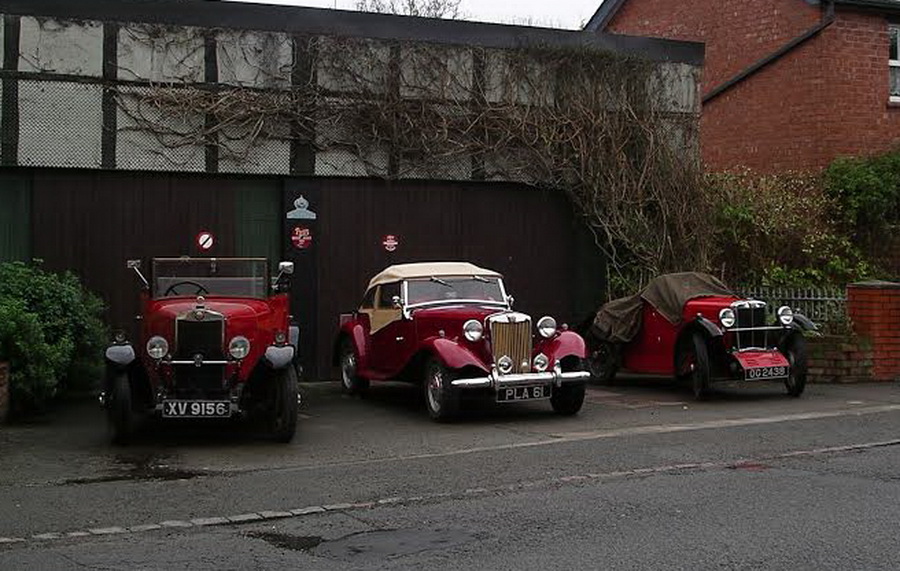 1st January 2016 Next up, David Hinds 'took' his M Type to the New Inn at Pembridge today. Actually, this is David's garage - opposite the pub!
His house is appropriately named Garage House.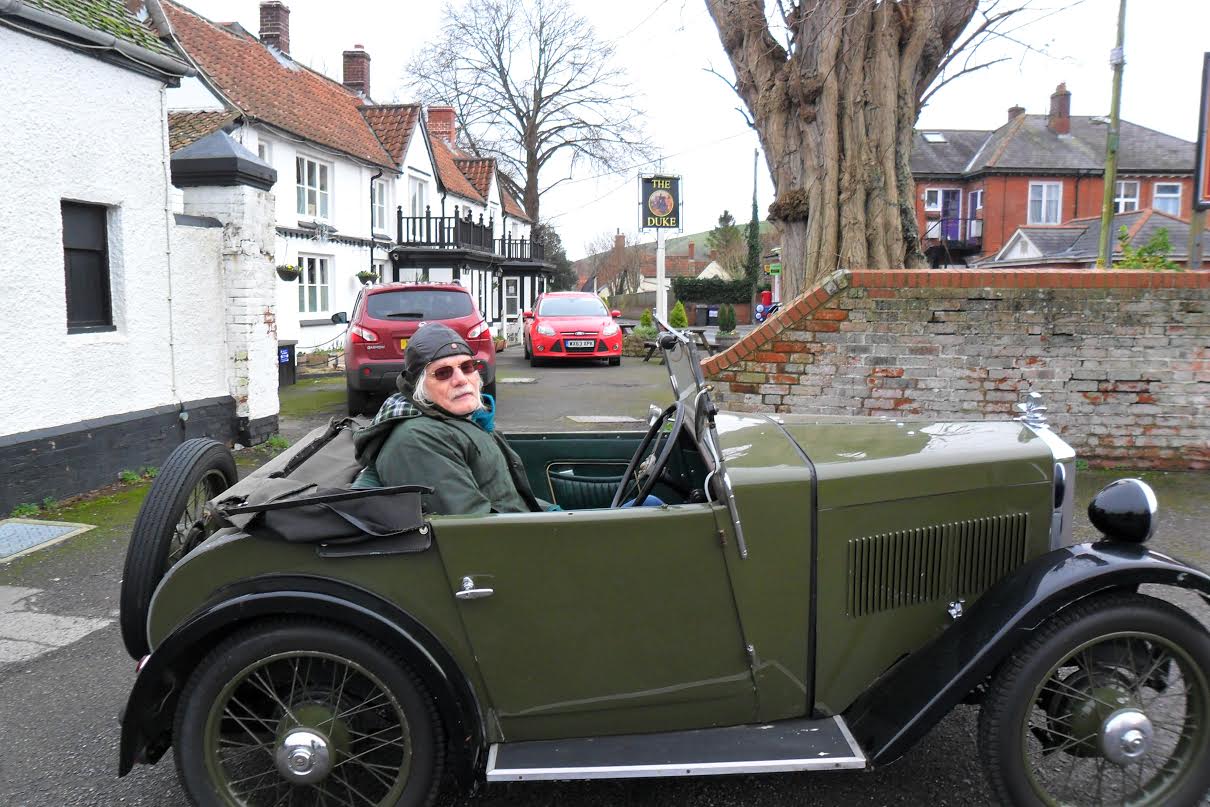 1st January 2016 Meanwhile, it was somewhat colder in England! Here's a well-wrapped Mike Wood at The Duke at Bratton near Westbury in Wiltshire
in his slightly later 2-seater 'Henry'. Mike reports, "After the mildest December on record, New Year's Day started very cold and has turned wet this afternoon."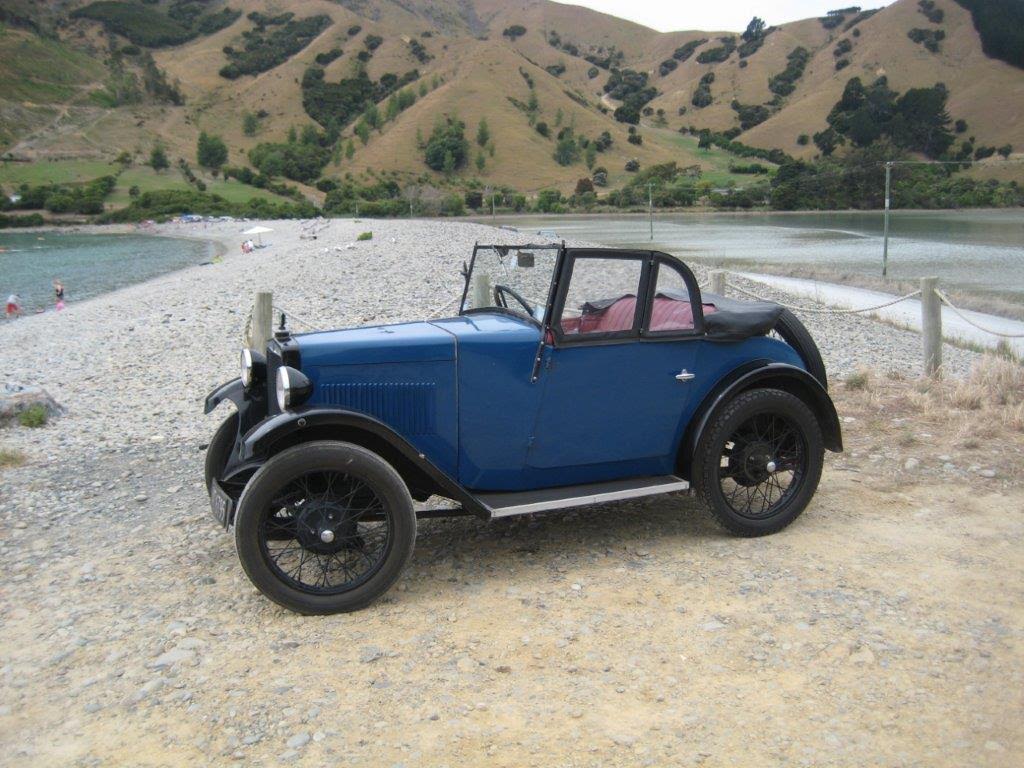 Peter Field's 1931 Hundred Pound Minor (SV1012) at Cable Bay, New Zealand, New Year's Day 2016.
1st January 2016 Since New Zealand is one of the first countries to greet the New Year, it was perhaps appropriate that the first images of 2016 would come from there.
Peter Field who lives in Nelson near the north end of South Island reports:
"Hi Ian, A response to your request for pictures on Jan 1 2016. This afternoon we went on a family picnic with the Minor to Cable Bay, 20 miles from home.
It was a beautiful day with 25 degree C temp. A great place for fishing and swimming, the bay is so named because in the late 1800s it was the terminal for the
first telephone cable between Australia and New Zealand. The picture above shows the boulder bank across the bay with open sea to the left
and a to the right, with a mudflat that is only covered with water at high tide."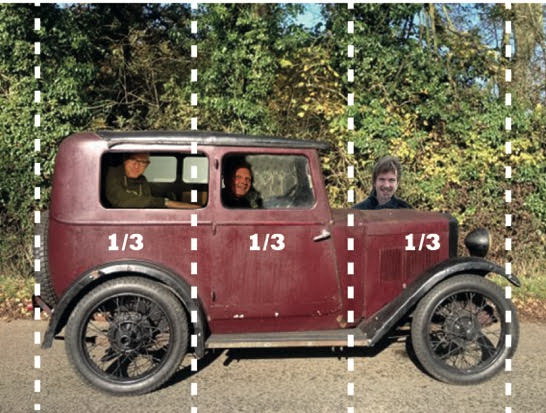 11th December 2015 We extend a particularly warm welcome to our newest member, Albert Koolma of The Hague, Holland.
Albert today became our 500th Register member. He and two friends have just bought this Hundred Pound Minor and,
as you can see, share it equally. (That's Albert in the rear seat.) Albert's other car is a 1933 MG J2 (below) with which he entered Pre-War Prescott
in July as part of the Dutch MG contingent organized by the Dutch MG Workshop. Welcome Albert!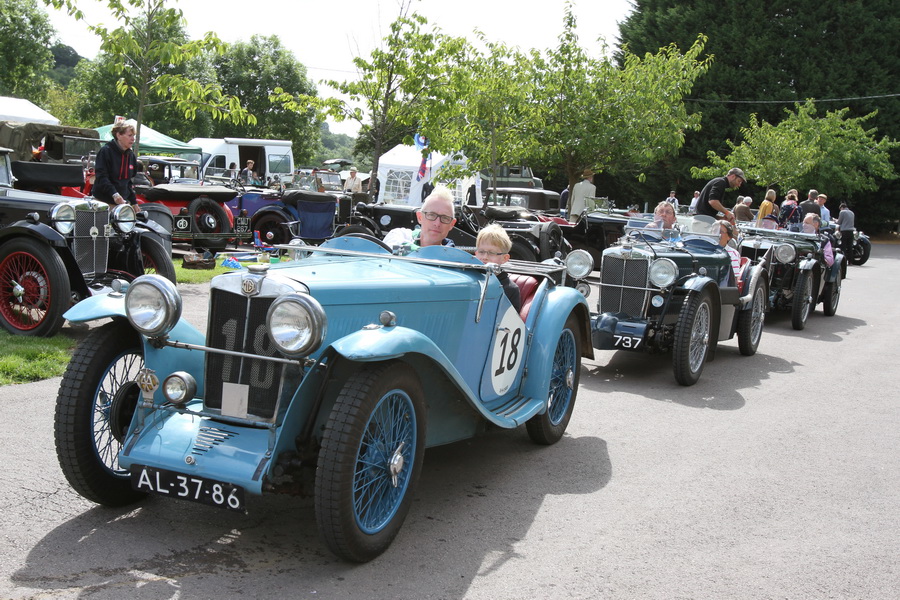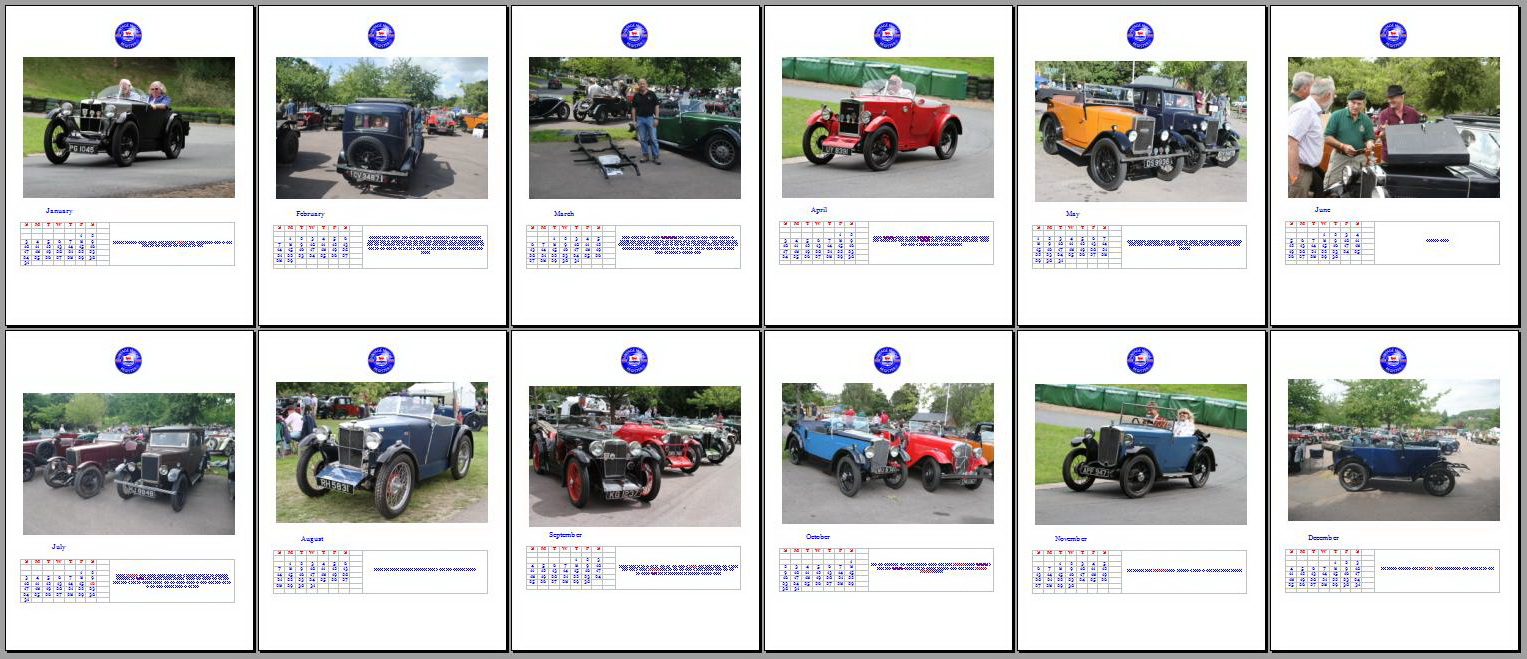 11th December 2015. The 2016 Register calendar has now been sent to every member and is also downloadable from the Members' Area of the website.
The 2016 calendar features fine images from our 2015 Summer Rally. If you would like a hard copy, please contact the Register.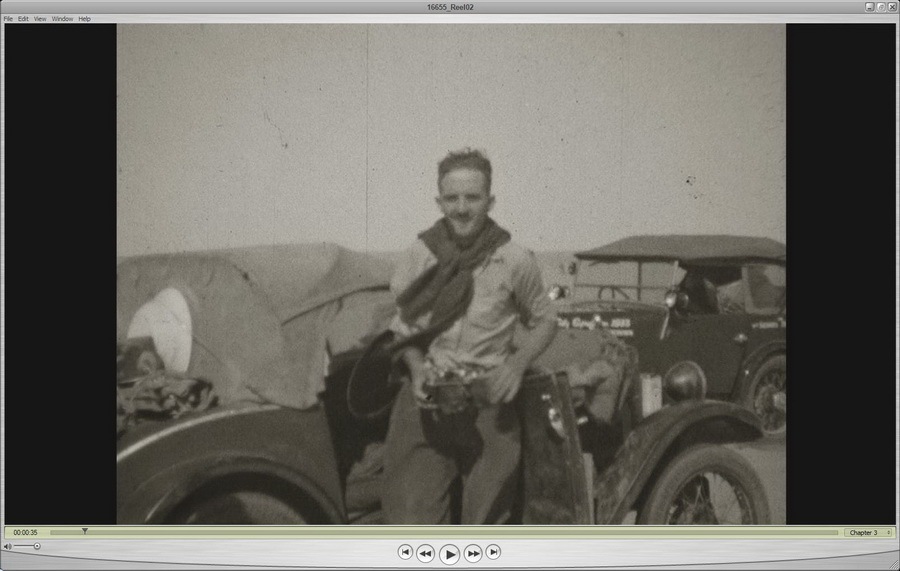 The historic moment when two Minors met in the middle of the Sahara. A screenshot from Disk 2.
29th November 2015 How about this for a unique Christmas gift? At long last we are now able to offer complete sets of the original 8 mm cine films taken by Cameron Gilg
and Walter Kay on their record-breaking Liverpool to Capetown expedition in 1933 in a brand new Morris Minor tourer. These original and fragile films were lost in the seventies
when Granada TV made a documentaty of the expedition. After years of searching, the originals, still in their pre-war leather suitcase, were rediscovered
in a film archive in the Midlands and have now been digitally re-mastered, preserving them for all time. The Vintage Minor Register is delighted to be able to offer
the complete set of films which fill no less than seven DVD's. The set comes with a free copy of the 1970's Granada TV documentary.
The complete set of eight DVD's is yours for £40 including worldwide shipping. If you would like to order a set, please contact the Register.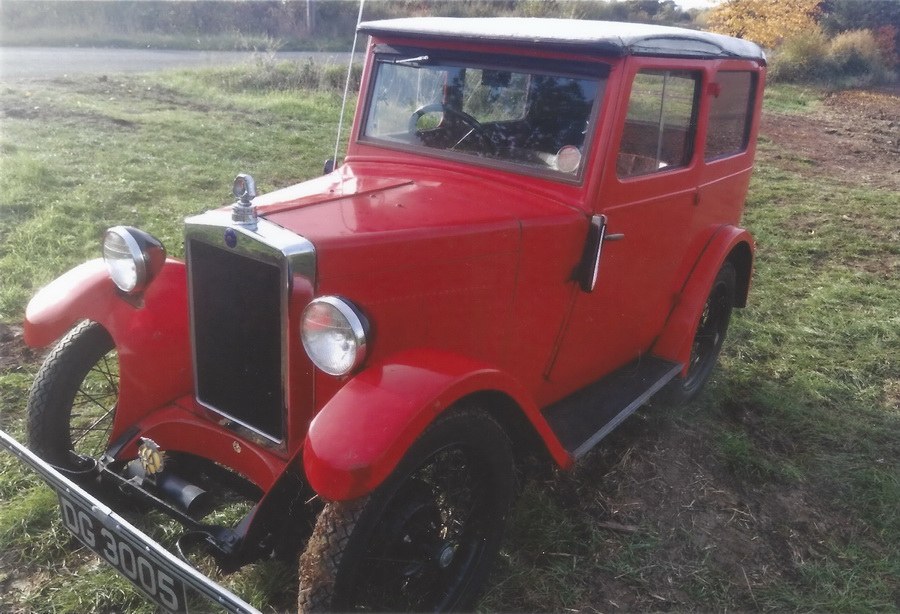 27th November 2015 Joining us today is Alan Filby with his 1931 SV Minor saloon DG 3005 (SV4383).
Alan purchased this car for twenty five pounds from Wyboston Garages Ltd, of Bedford on 11th July 1957
which means that he has owned and driven it for 58 years. Is this a Minor ownership record?
Welcome Alan!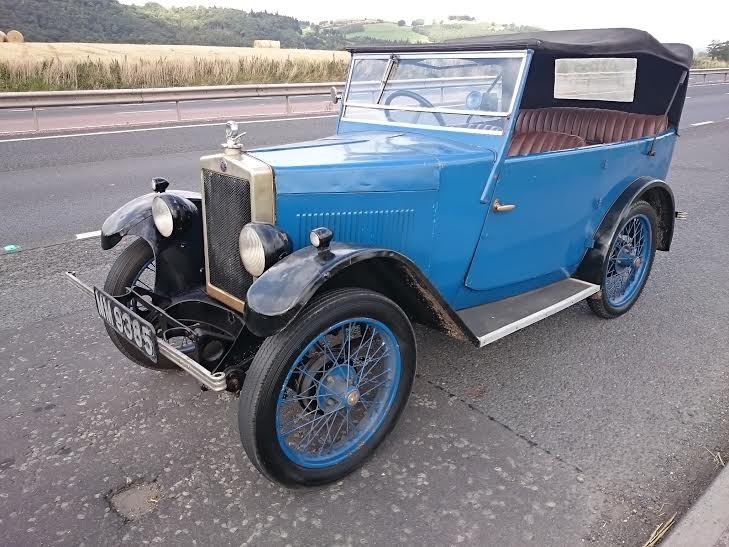 Among our recent new members is Nick Williams who has just acquired MM 9385 - a 1929 tourer with an interesting history,
including being repartiated to the UK from Malta in 1954 aboard the Ark Royal.
21st November 2015 After the rush of the Summer Rally, things have been quiet of the last couple of months, but that is about to change
as we start the run-up to 2016. Our 2016 Summer Rally is set for 16th/17th July and entries will be open by the end of November.
In anticipation, the Pre-War Prescott website is undergoing a complete upgrade at www.prewarprescott.com.
We have had a host of new member since July and many are listed in the Autumn Magazine that should be with every member in the next few days.
Welcome, one and all! Also in the next few days, the 2016 subs forms will be sent to everyone.
Your continued support of the Register is very much appreciated.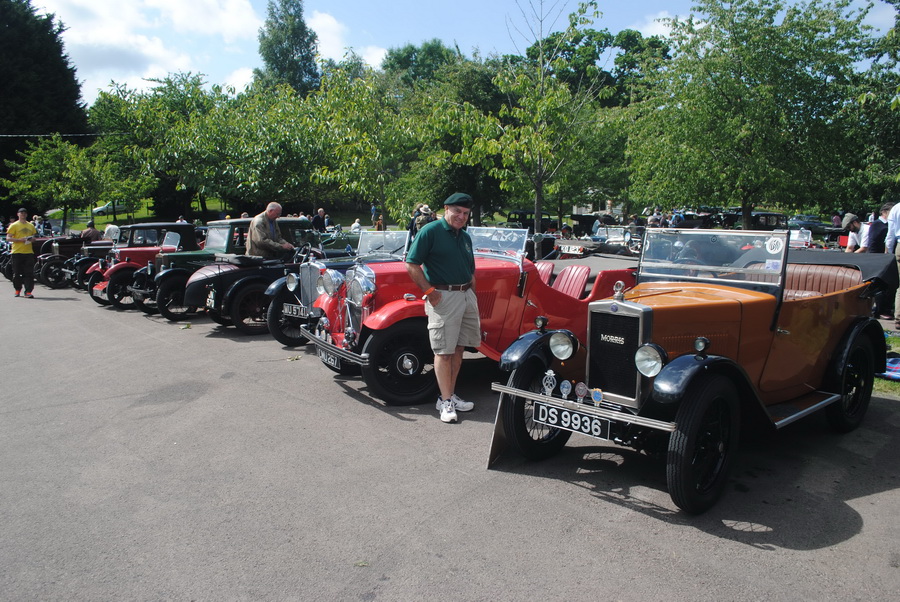 26th July 2015 Just arrived back in Seattle yesterday after a hugely successful Summer Rally. We gathered over 150 cars at Prescott on Saturday
and followed this with a record entry of forty on Sunday for the Enigma Navigation Rally and Scenic Tour. We were incredibly lucky with the weather,
with only a brief shower mid-morning on Sunday. In particular, we had a lovely summer evening for the Hawker Hurricane display on Saturday evening
where 168 members and guests witnessed a superb aerobatic display by R4118. We also welcomed five new members to the Register over the weekend.
A full report on the weekend will be included in Magazine M 155.
5th July 2015 We extend a very warm welcome to Tim McLoughlin who joined the Register this week.
Tim has driven post-war Minors for ten years or so, and his daily drive is a 1954 Minor. But he has decided to take the plunge
and acquire a vintage Minor. We are actively helping him with his search!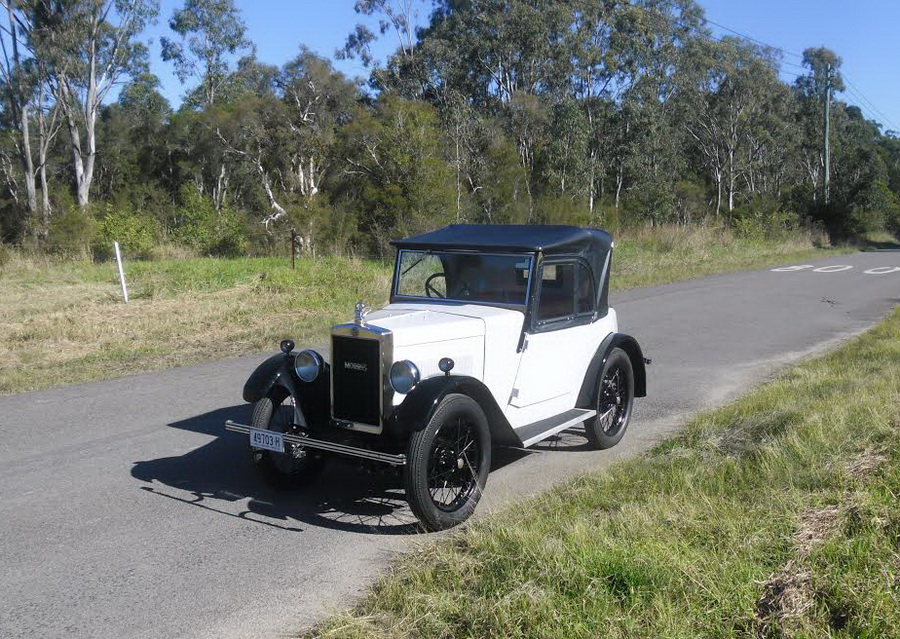 5th July 2015 Down in New South Wales, Ewan Lambess has completed the monumental restoration of Y329 - one of those rare late 1929
chassis that were exported by Morris Motors in 'knocked' down' form to avoid Australian import duties. What makes this a monumental resotration is
the fact that when Ewan acquired the car, it was a derelict chassis- in two pieces! It was cut in half sometime in the fifties
and the rear was made into a trailer. Nice job Ewan!
There are many more photos of the restoration on on Fourm here.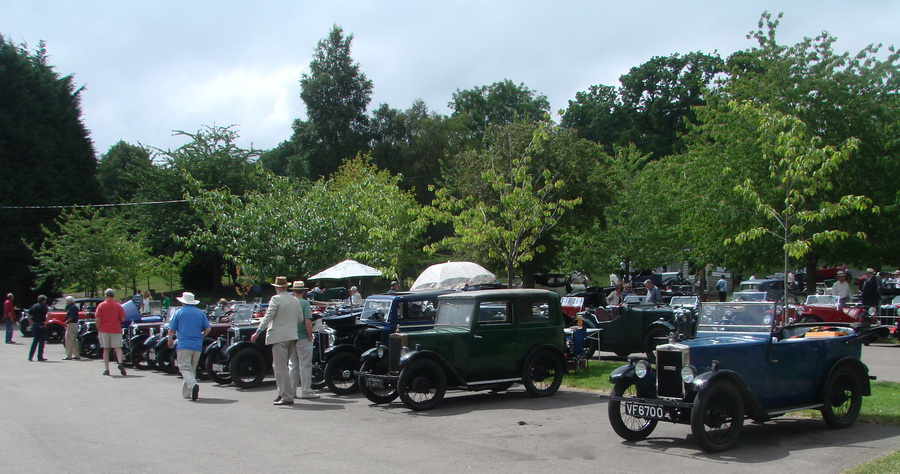 4th July 2015 Our Summer Rally is two weeks today! We are expecting another record turnout. The 14-day weather forecast is looking great,
we have a superb entry of around 140 cars with more arriving every day. We have 142 tickets taken up for the Saturday
evening Battle of Britain Victory Party where the highlight will be the display by Battle of Britain Hawker Hurricane R4118.
We also have a superb 40 cars entered for the Sunday Navigation Rally and Scenic Tour.
Jayne and I are flying to London a week today and can't wait to meet everyone again!
If you have not yet entered - with or without your car - do so IMMEDIATELY!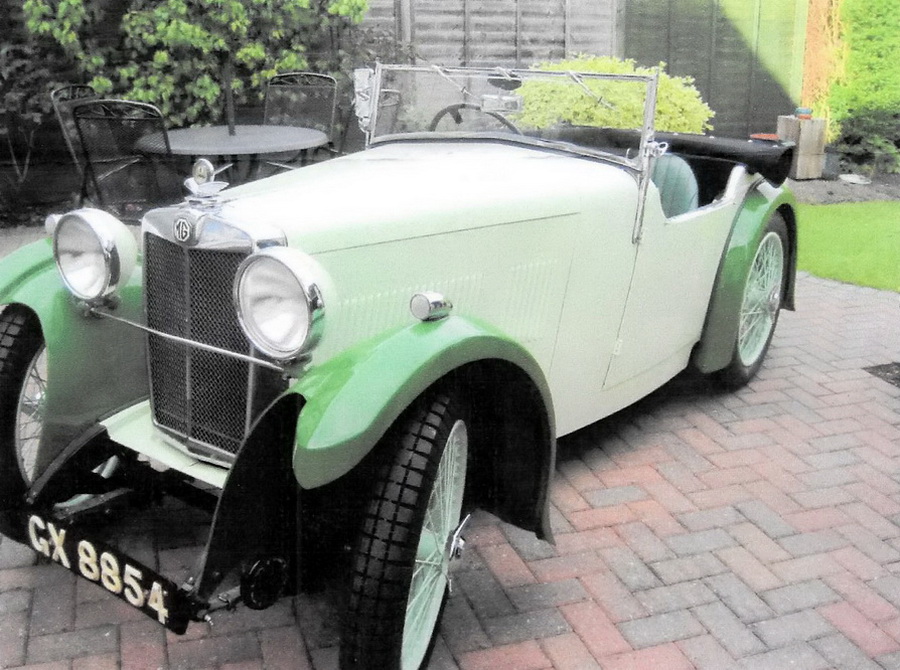 1st July 2015 We extend a warm welcome to Gerry Annett and his 1932 D Type MG. Gerry has booked in for Pre-War Prescott
and is taking advantage of the discounted entry fee for VMR members. We look forward very much to meeting Gerry at Prescott.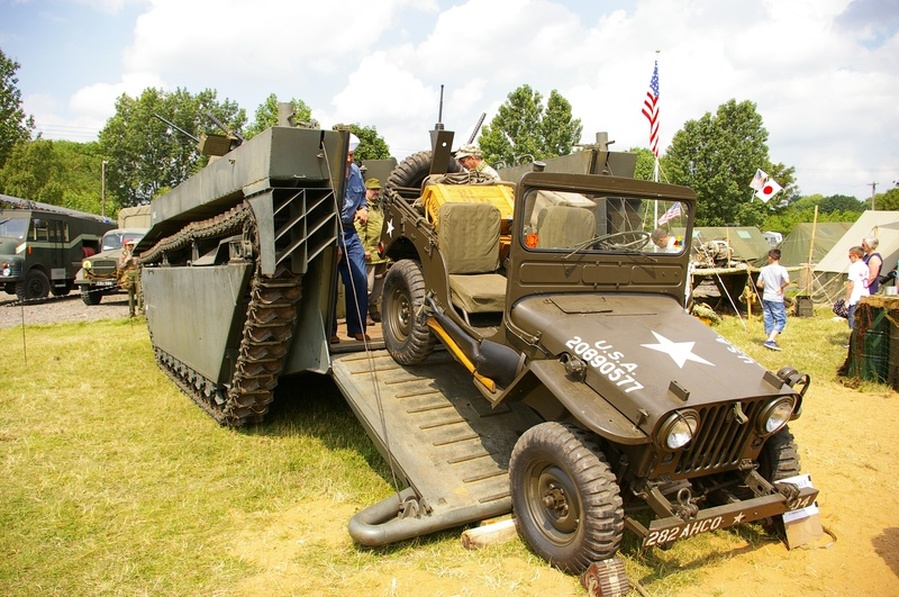 18th June 2015 Our Summer Rally is one month today! Planning is going extremely well for our biggest and best rally ever which will include for the first time
a convoy of World War Two military and RAF 'heavy' vehicles. These will be coming to us from the Ashdown military camp near Evesham.
So don't be surprised if you are met by the Military Police on the gate when you arrive! If you are planning to come along for the Pre-War Prescott Garden Party
and day of untimed climbs on Saturday 18th July and/or the Navigation Rally or Scenic Tour on Sunday 19th, then please get your entry in without delay
so that we can arrange to get your tickets to you in good time. If you are entering the Navigation Rally, you will need Ordnance Survey map 150 (any edition),
but if you are entering the Scenic Tour, your Tour Handbook will contain easy-to-follow route instructions. And don't forget our Friday evening informal reception
at the Shutters Inn in Gotherington – just a couple of miles along the lane from Prescott. All most welcome!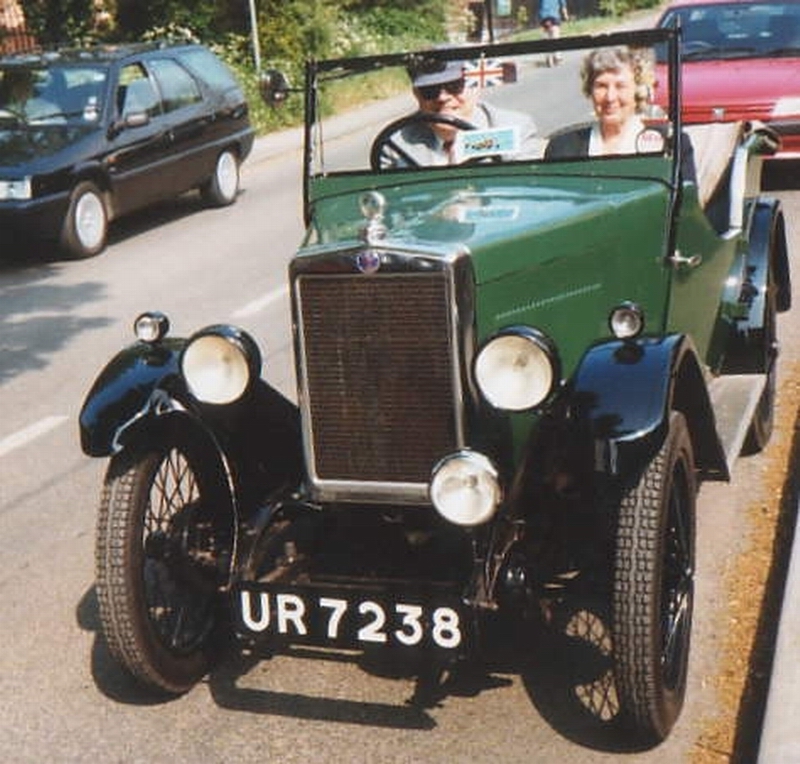 29th April 2015 We are saddened to have to report the loss of another member. Peter Widdison, aged 80 was
a founding member of the Register with membership no. 21. Here he is seen with his modified but much-traveled
and beloved OHC tourer. He also owned a Family 8 saloon. It was through Peter that we were able to track down the late Olive Willats'
fabric saloon which now lives at VMR HQ. I have passed on our sympathies to his family via his daughter Diana.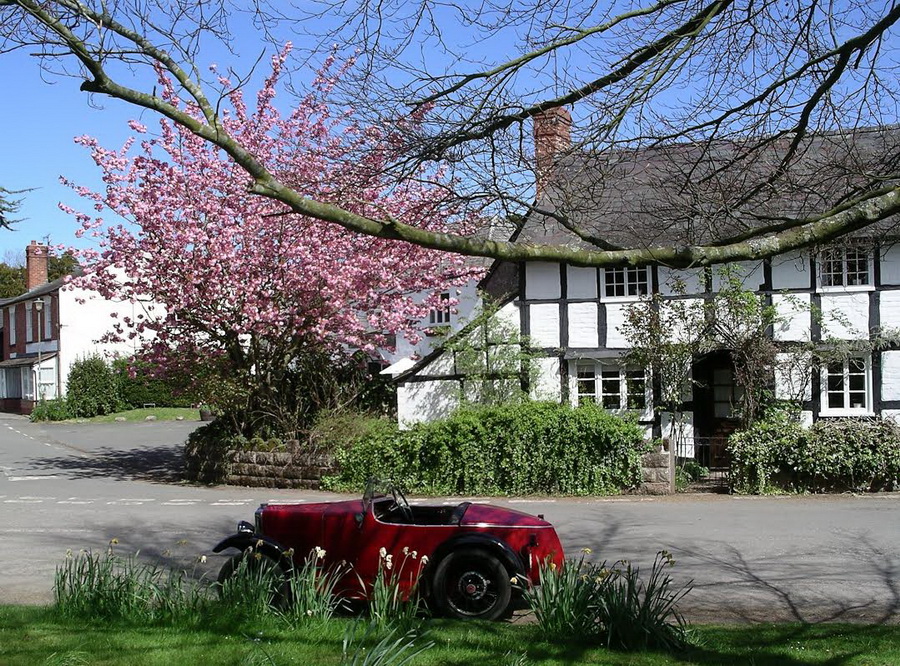 27th April 2015 Yesterday's Drive-it Day brought out several Minors and M Types - including David Hinds and his M, seen here on a halt
in Dilwyn, just west of Leominster. Photos of other cars out and about yesterday have been posted by members on our forum.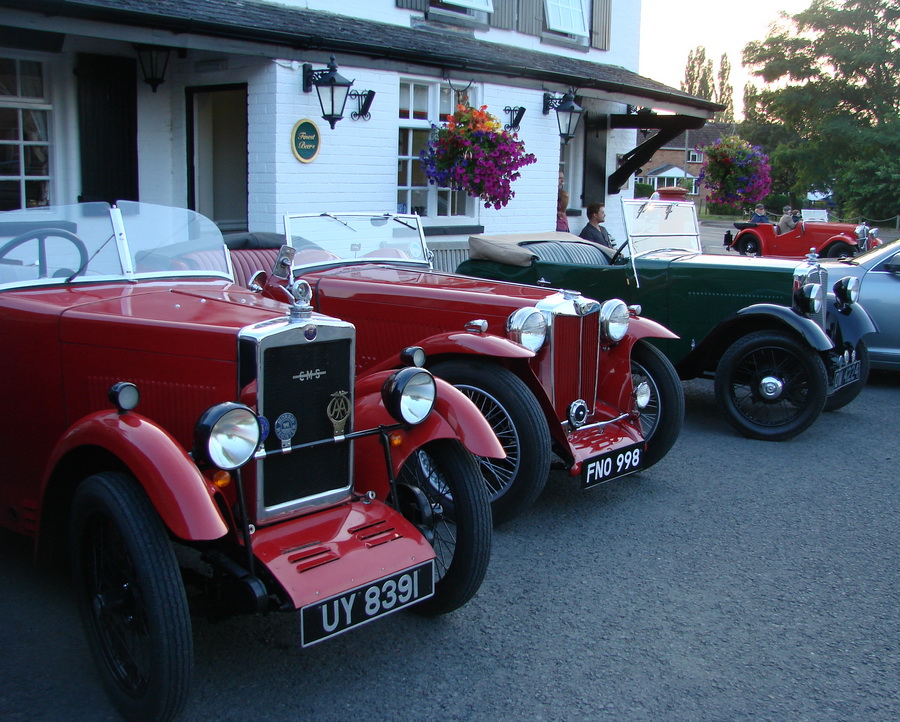 20th April 2015 A quick reminder that THIS SUNDAY 26th April is Drive-it Day!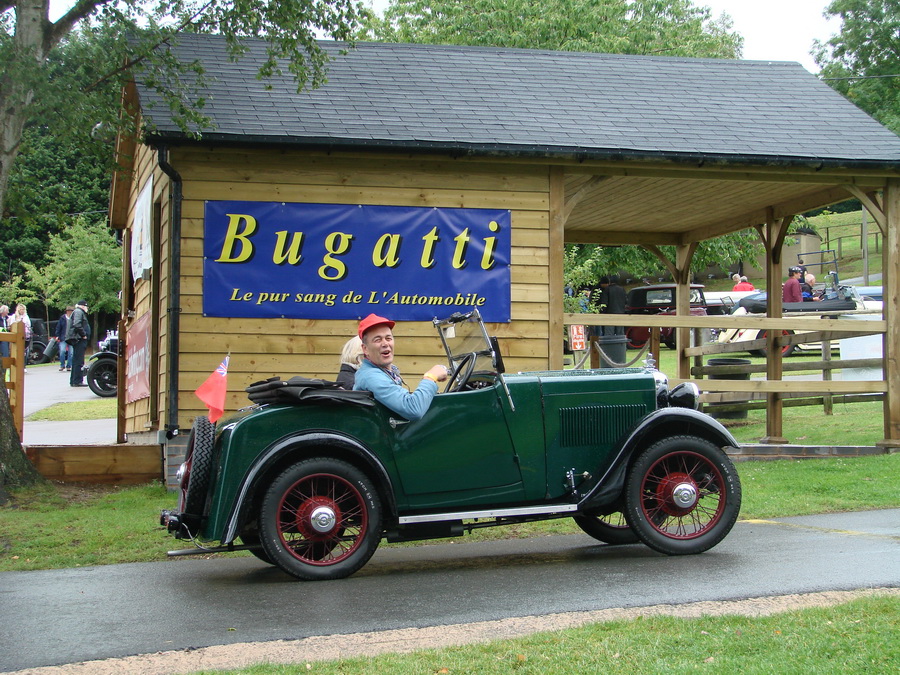 12th April 2015 It is with great sadness that I have to report that our member and stalwart supporter Andrew Batey died yesterday aged 68 after a battle with cancer.
Andrew owned this 1934 Minor which he has brought to our Summer Rallies many times and this year he was planning to bring his 1939 Morris 8 series E tourer,
and we had jointly prepared a feature article on the car for the Prescott rally programme.
He was one of the first to enter this year and was greatly looking forward to the weekend again.
Andrew and I were both involved in the Falklands campaign in 1982 - I was in the RAF and he was in the Merchant Marine -
hence the Red Duster flying proudly from his Morris above. Condolences on behalf of the club to his wife and family.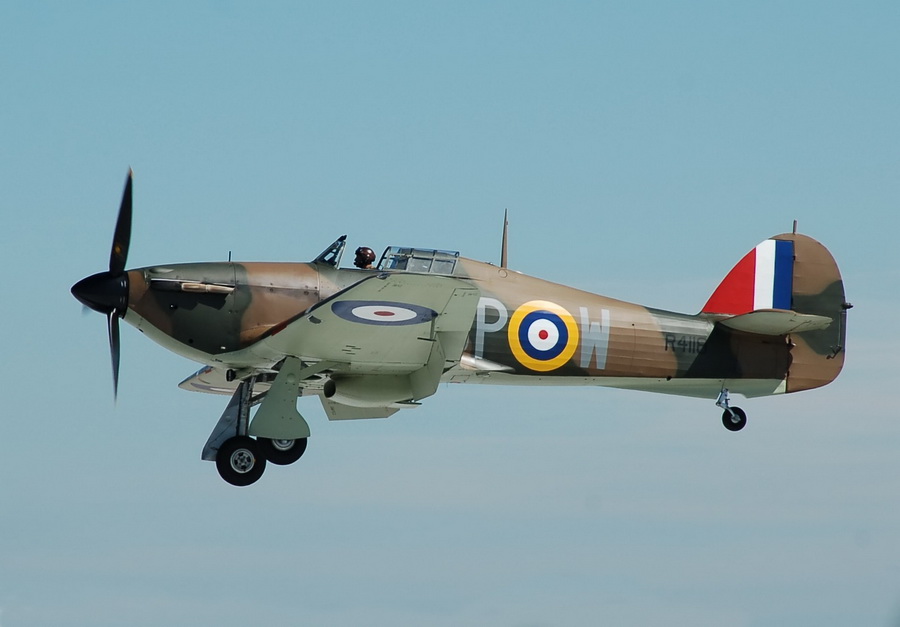 1940 Hawker Hurricane Mk. 1 R4118 arrives at RAF Fairford for RIAT 2014
11th April 2015 Tremendous news! We have secured Hawker Hurricane R4118 for our Battle of Britain 75th Anniversary Victory Party in the evening of Pre-War Prescott!
With 49 combat sorties, five enemy aircraft destroyed, and being itself shot down in the Battle of Britain, Hurricane R4118 is regarded as the most historic
British aircraft to survive in flying condition from the Second World War. Even more significantly, this historic aircraft is currently for sale and 2015
may very well be the last time it is seen in the UK! Owner Peter Vacher is an old friend of the Register and his wife owns the Hundred Pound Minor
on display at the National Motor Museum at Beaulieu. The aircraft will be coming to us from RAF Fairford and giving a full aerobatic display!
Do NOT miss this tremendous party and very possibly one of the last chances to see this British icon in the skies over England!
The Hurricane will not be the only visiting aircraft this year. During the lunch break, we also have a historic pre-war Tiger Moth displaying for us!
Full details and entry form may be found here.
Per ardua ad astra!
5th April 2015 Happy Easter! Here's Janie and Phil Shepherd calling in to visit Clive Hamilton-Gould on their way south yesterday to catch the Isle of Wight Ferry.
See more images here of their trip in aid of Macmillan Cancer Support as their trip progresses.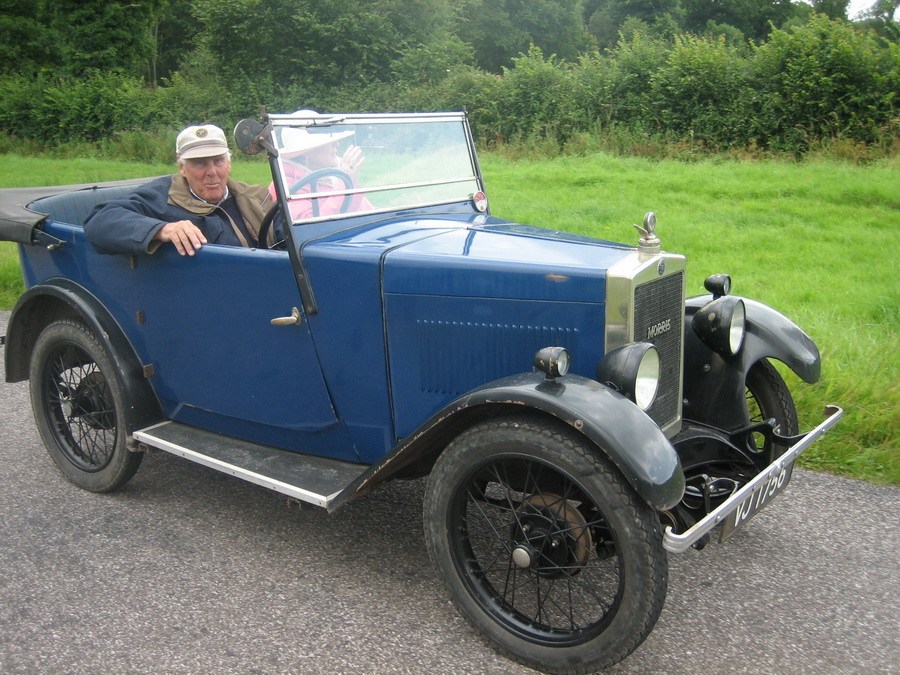 Brian Maeers in his beloved 1929 tourer 'Prudence'. This photograph was taken shortly after Brian purchased the car in 1998.
3rd April 2015 Brian Maeers' daughter Janie and her husband Phil are about to set off this weekend from Market Harborough in Leicestershire
to circumnavigate the Isle of Wight in order to raise funds for Macmillan Cancer Support, in return for the support they provided to the family during Brian's illness.
Brian died of cancer 19th December 2013 after little warning. Janie has launched a JustGiving fundraising website that can be found here
and we encourage everyone to consider supporting Janie by making a small donation to this extremely worthy cause.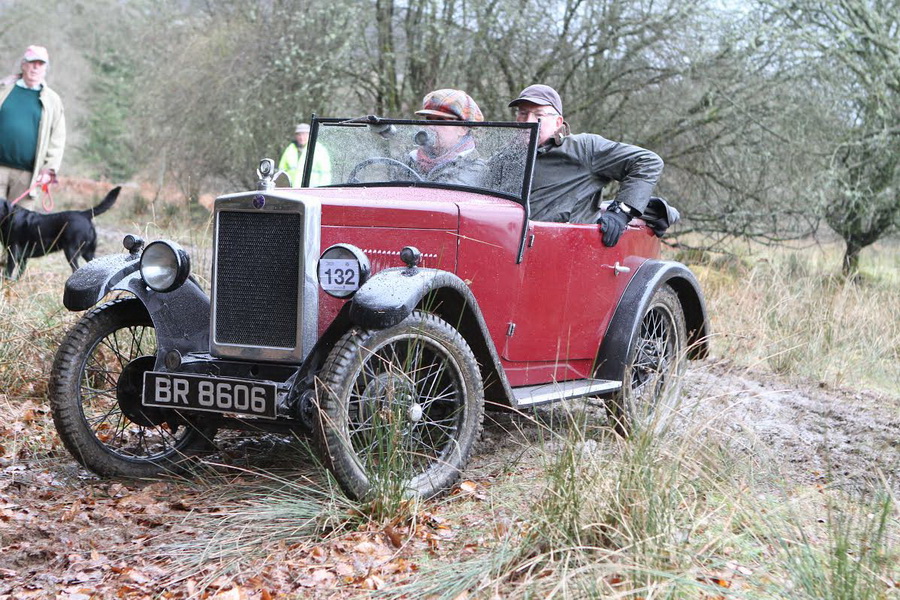 29th March 2015 Sue and Richard Woodward on the VSCC Light Car Section's Welsh Trial earlier today. A great action shot by Phil Jones.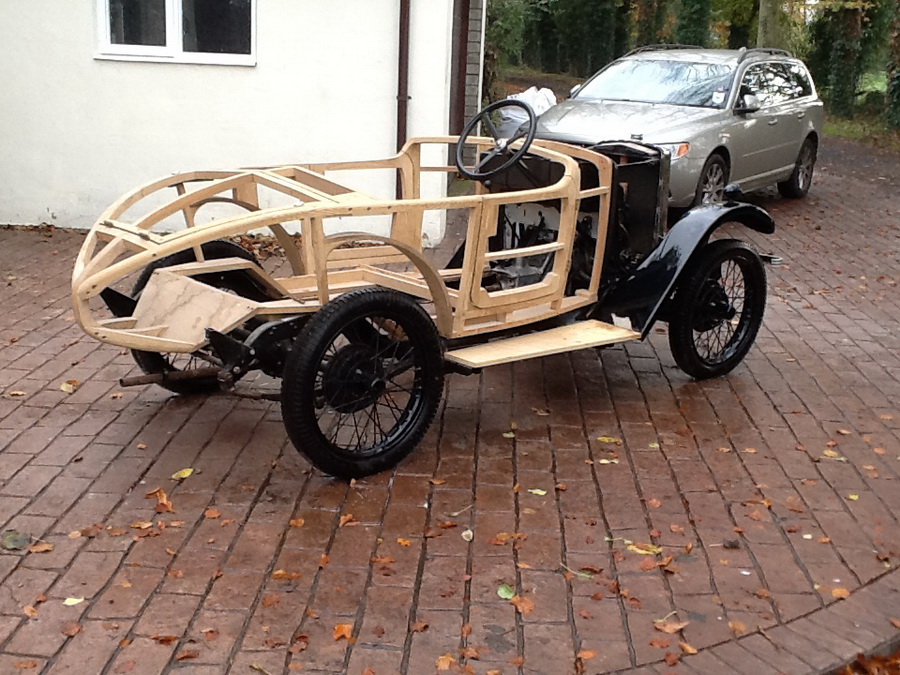 28th March 2015 Up in Yorkshire, Tony Gamble has run out of space for all his Minors - again! So he is putting his very interesting 1930 CMS replica project out for offers.
It is registered (V5C) VG 3260, with chassis no. M30850. The chassis was laid down 25/11/30 as a saloon. T he car is fitted with a new Enrique Llinares ash frame
and is the standard model with standard Minor wings and running boards, making it a very stylish car indeed. These standard models were offered by CMS with either
steel paneled or fabric covered body's, so the car could be correctly completed in either material. Further photos may be found on the Forum.
Contact the Register for Tony's contact details if interested.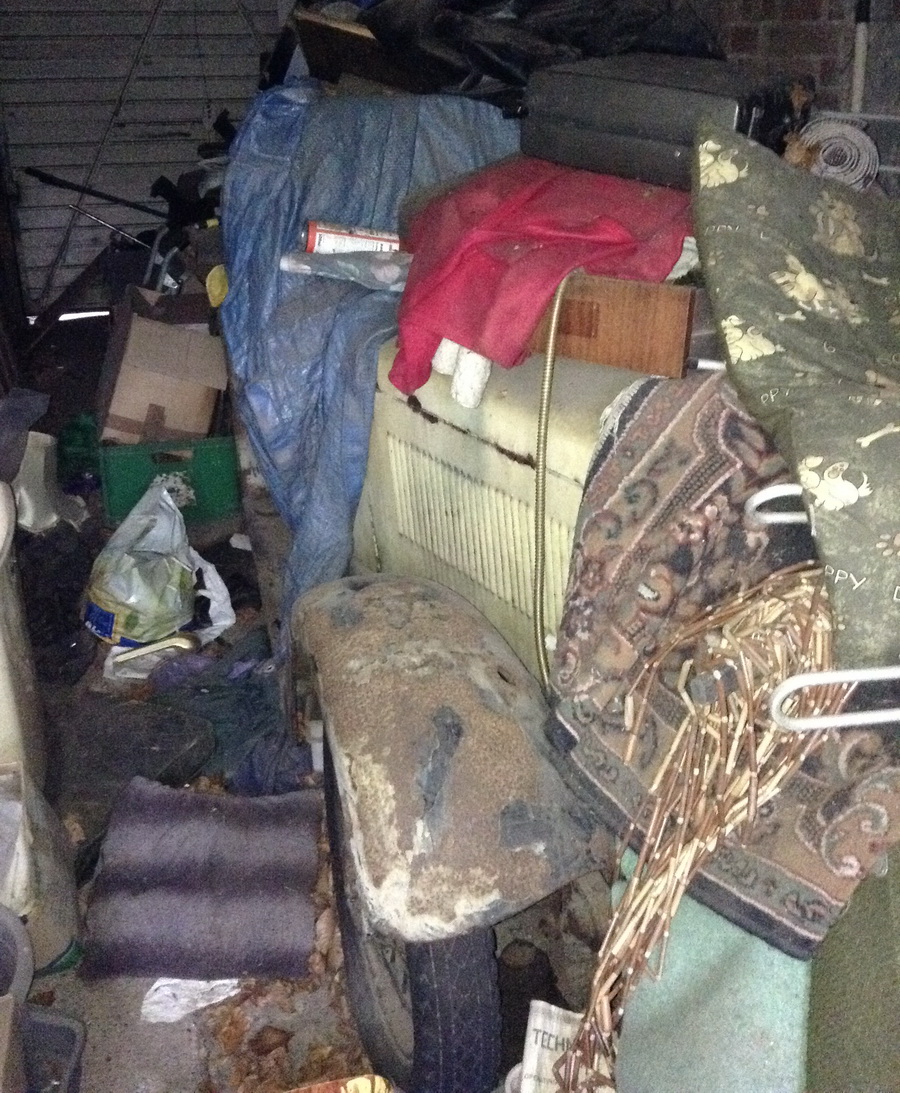 1st February 2015 And still they turn up! This 1934 Minor 2-seater, JA 4208, has just been discovered in a garage in Aldridge near Walsall in the West Midlands.
Dave Holland was clearing out his late grandfasther's house when he opened the garage to find a slumbering Minor.
His grandfather bought the car from a Mr. John Mackley in 1969 and ran it until 1975, which is the last sime it saw daylight - exactly forty years ago.
David is looking for a good home for the car. More details can be obtained via the Register.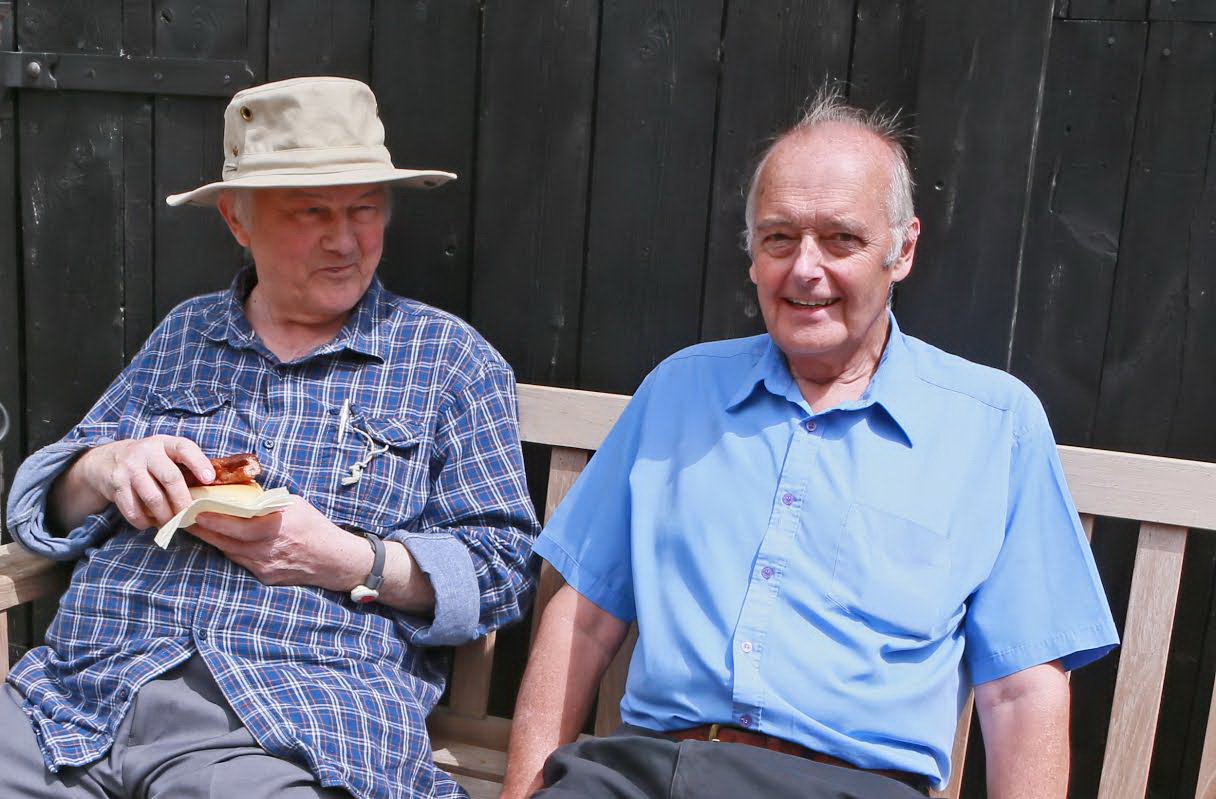 VMR Honorary Members past and present. The late Robin Barraclough (left) and Peter Seymour
1st January 2015 HAPPY NEW YEAR to all our members and their families worldwide!
We are delighted to announce that we have a Register New Year Honours List this year!
As many of you will know, we sadly lost our Honorary Member Robin Barraclough in December.
But we are very pleased to announce that the Morris historian Peter Seymour, a longstanding friend of Robin
becomes an Honorary Member of the Vintage Minor Register today.
In 1959, Peter commenced a 5-year engineering apprenticeship with Morris Commercial Cars Ltd. in Birmingham.
By 1974, he had risen to work in the Service Marketing Department of Leyland Cars, Cowley, on special projects.
By 1976, he was a Distributor Development Executive with Leyland Vehicles Exports Ltd., resident in Singapore covering the Southern Hemisphere
and in 1981 became General Manager of Trans International, Singapore, the John Deere distributor for Singapore, Indonesia and Burma.
In 1983, he returned to the UK, becoming Managing Director of Vicarys of Battle Ltd. (his family's retail motor business),
a position which he still holds. The company was awarded a Morris franchise in 1924.
Over the years, Peter has provided us with a wealth of historical Morris material for our Magazine.
Welcome Peter!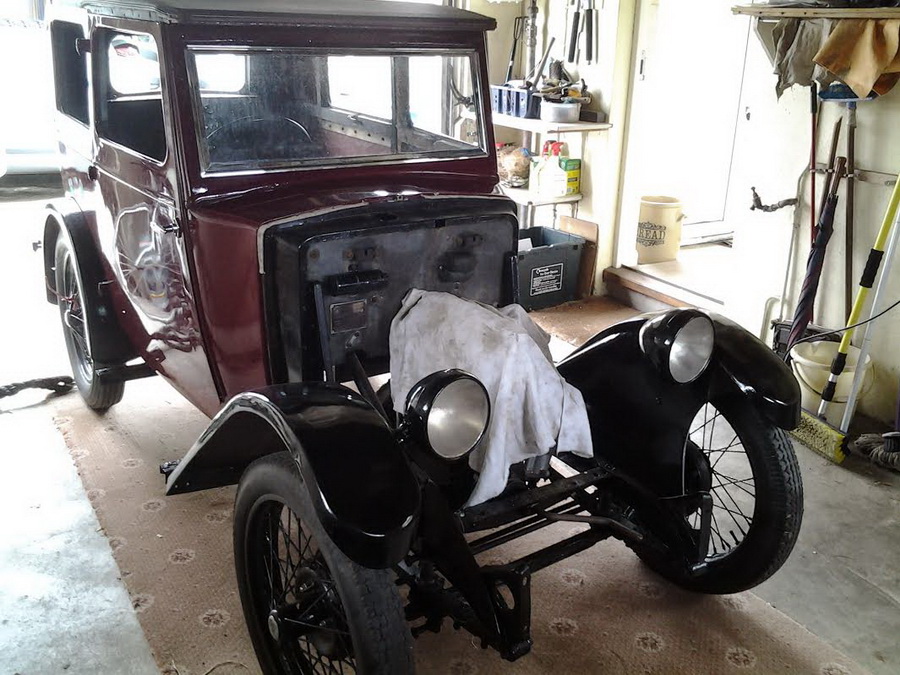 29th December 2014 Down in Seaton, Devon, recent new member Alan Dolman is making superb progress with his 1930 saloon BF 6638 (M28190).
He acquired the kit of parts from Tony Gamble which included the chassis and a saloon body that had been restored by Steve Lewsley and is now assembling
the whole into what will be another vintage Minor that will be put back on the road before long. Well done Alan!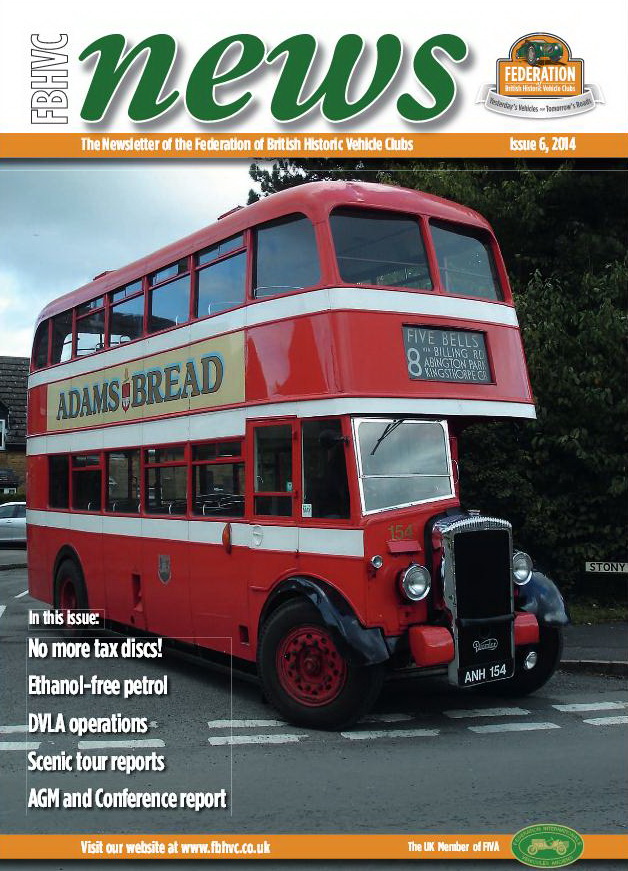 28th December 2014 More holiday reading! The sixth and final FBHVC Newsletter of 2014 is now available
to members in the Members' Area. The Vintage Minor Register is a proud member of the FBHVC, and all
FBHVC Newsletters are archived on this website as a service to our members, part of whose subscription supports
the Federation and its vital work to ensure that we can continue to enjoy our cars on the open road.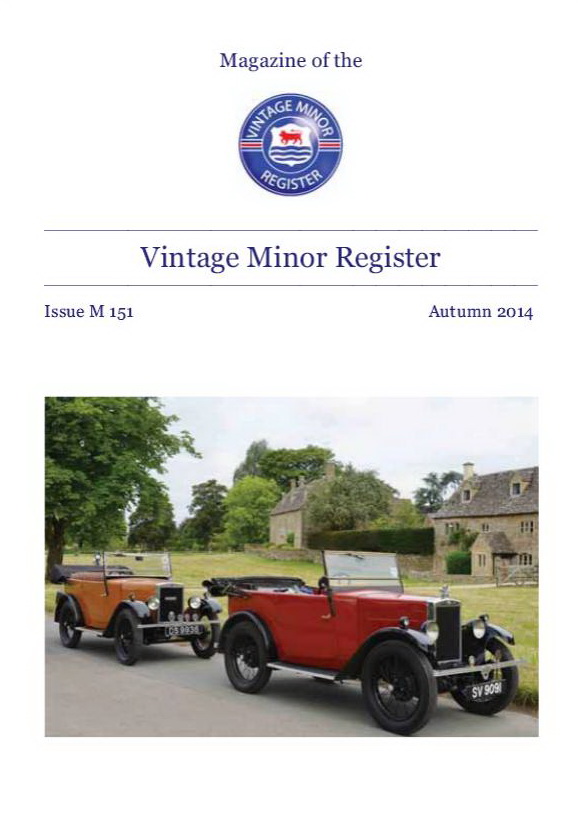 26th December 2014 Magazine M 151 is at the printers and will be with every member shortly.
In the meantime, here is a low resolution print proof version so you have something to read over the holidays!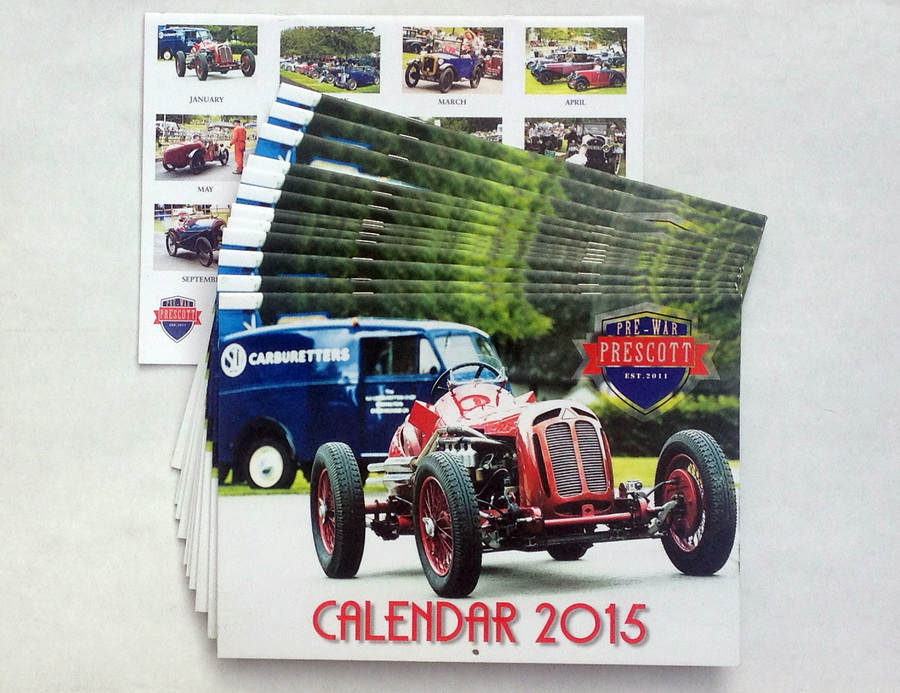 8th December 2014 The Register magazine is now being printed in the UK, and our new printers - Stanley Hunt Printers Ltd. have produced
this outstanding 2015 calendar for us, depicting the very best professional images captured at Pre-War Prescott since the inauguration
of the event in 2011. These calendars are now available for £15, including worldwide postage, with £1 from every sale being donated
by the printers to the RAF Charitable Trust. To secure your copy, simply contact the Register by e-mail for ordering instructions.
Order now for delivery before Christmas!
6th December 2014 The December Newsletter was distributed electrically today. A copy has been archived in the Members' Area of the website.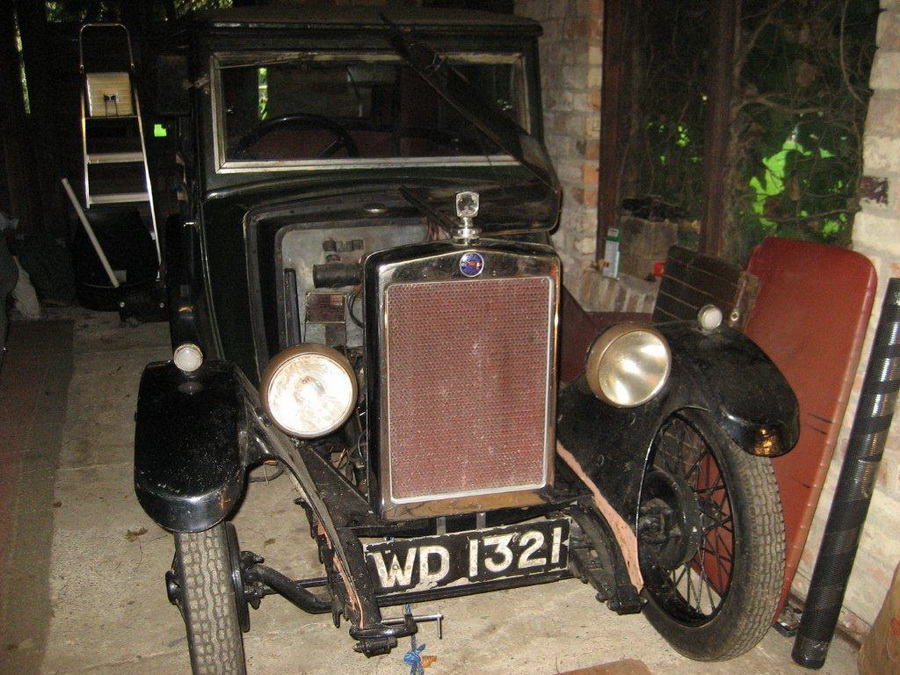 1st December 2014 Welcome to new member John Balson who lives in Maidenhead. John has recently acquired this 1930 Minor saloon WD 1321 (M24783)
from David King who has now permanently emigrated to Canada. David has completed much work on the car over the years, including a full engine overhaul,
so John hopes to have this fine vintage Minor back on the open road without undue delay.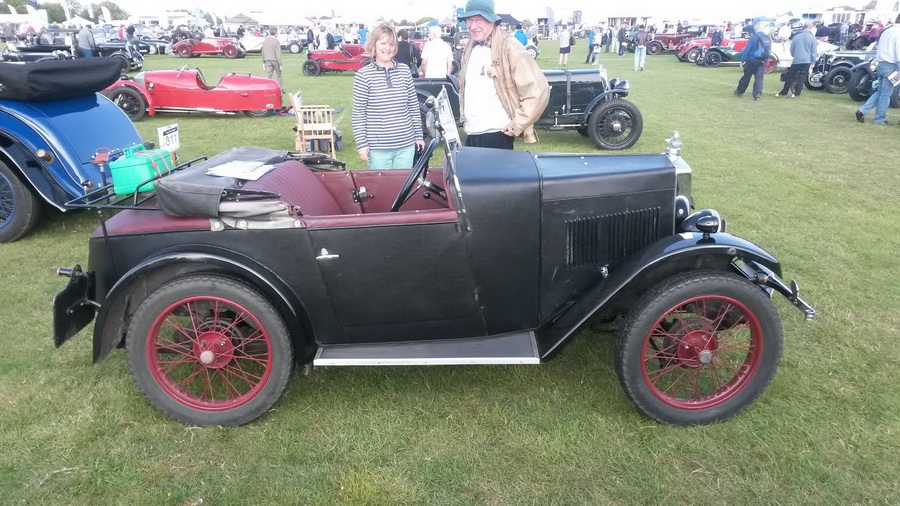 14th October 2014 Mike Jones sent in some pictures of his 1930 Semi-sports at the Kop Hill hillclimb in the Chilterns.
He is seen here in the paddock with Helen Barnard, the wife of the organizer.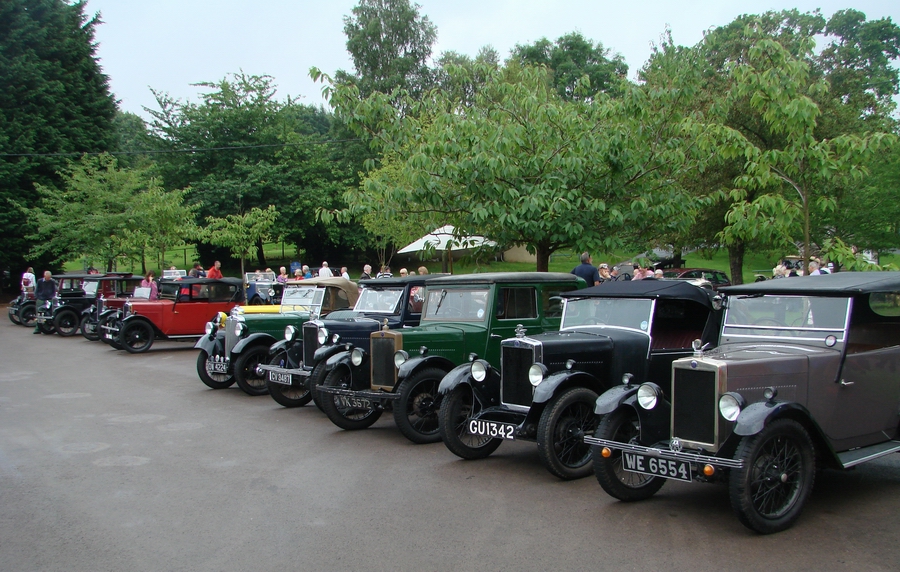 14th August 2014 Getting back to normal (whatever that is!) after a super visit to England and of course our Summer Rally, Pre-War Prescott
and a hugely enjoyable VMR Lakeland Weekend. Prescott was superb again this year. In spite of the Biblical deluge in the morning, we had a record attendance
all round, including no less than twenty Minors. Thanks to everyone who came along, and in particular all of you who helped marshal the day and man our tent,
sometimes in trying conditions! A full report will be included in the Autumn Magazine - M 151.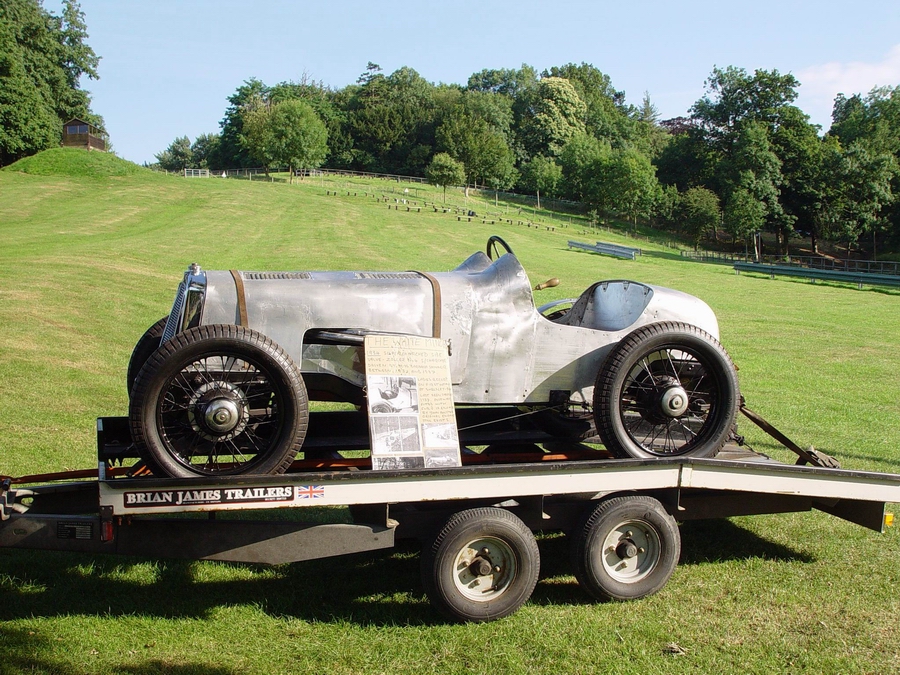 The partially-restored White Minor at VMR Prescott, 2005
10th July 2014 First off, sincere apologies for the lack of updates lately - planning and preparation for our trip to England and our Summer Rallies has swamped all else.
However, we do have some very significant late-breaking news regarding our Summer Rally at Prescott. SU Carburetters will not only be bringing their
Skinner Triangle Special once again (the car based on the original 'Red Minor'), but also this year, the White Minor, campaigned so successfully in the thirties
by Barbara Skinner. This car has been the subject of a protracted and meticulous restoration for many years by David Baldock. Although not running quite yet,
the car now features its 'new' engine - an heroic recreation of the original blown SV Minor engine. It is believed that this will be the first time the pair of historic Skinner Specials
have been united since 1937! A number of Skinner family members will also be joining us on the day, including Annabelle Swain (Barbara Skinner's daughter),
Richard Skinner and other family members, as well as several people who have been closely associated with the White Minor over its long history,
and also by author Mike Harvey who is about to publish the authorized history of SU.

3rd June 2014 Further to the June Newsletter, the Lakeland Weekend has been RE-INSTATED.
Currently there are three MMM MG's entered plus a fifties Morris owned by Register member Mike Taylor.
If any other Register members would like to join us at Loweswater - in a Morris, M or modern, do get in touch.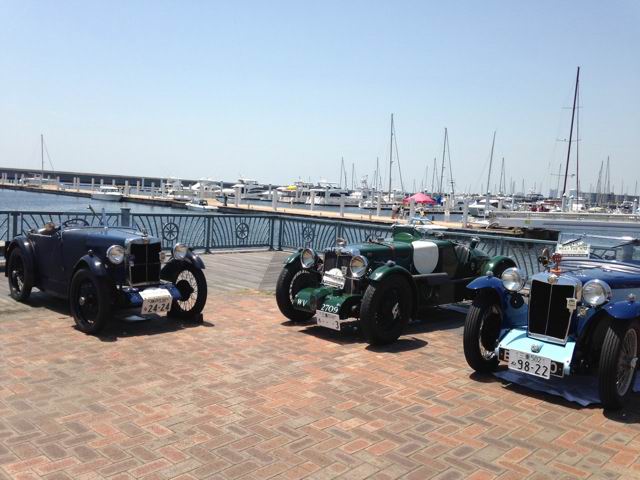 3rd June 2014 Every year, the third Saturday of May is the day for the Meet The M.G in Japan. This year, 17th May was the day for that gathering.
It was the 25th Meet The M.G. and MG 90 was also celabrated -marking the 90th Anniversary of the first MG.
This year, the overseas director of the MGCC-UK, Mr.Paul Plummer joined this gathering.
The venue was the Shin-Nishinomiya Yacht Harbour as usual. It was a beautiful day, and 33 MGs including three MMM gathered
from all over the country. Kenji Matsuoka's M Type (left) joined this gathering sporting its new VMR badge.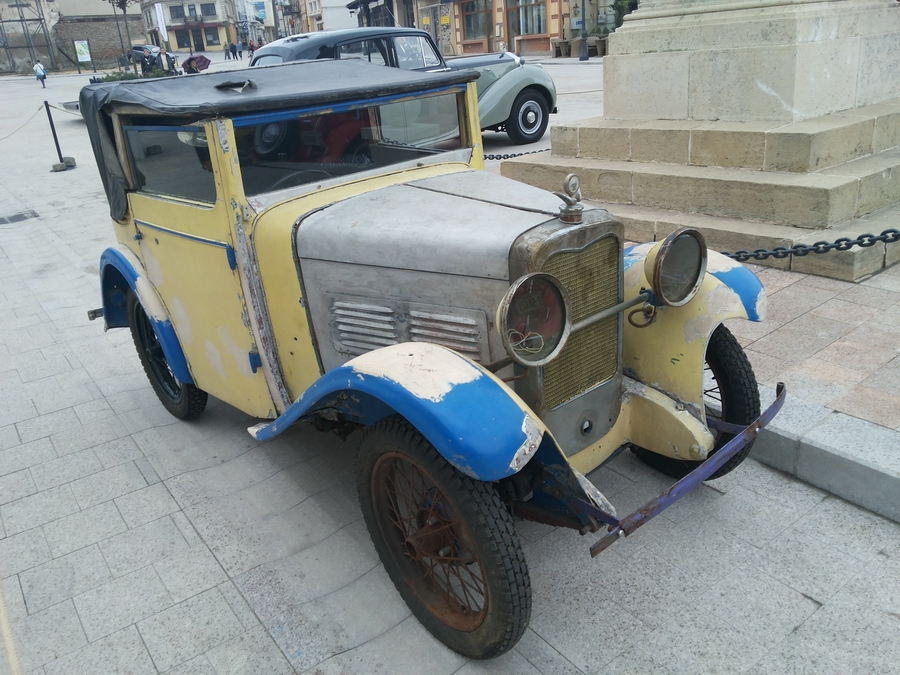 12/5/14 Many years ago, the Register was in correspondence with certain individuals in Romania regarding a
unique 1928 Morris Minor that was built for the King Michael (Mihai) of Romania. The car was a gift for him, when he was aged 9.
It left Cowley as a chassis (chassis MM1078, engine 990) and received its special coupe coachwork built in Austria.
The car is now to be shipped to the UK for restoration and the Register has been asked to provide guidance and assistance.
We look forwared very much to doing so.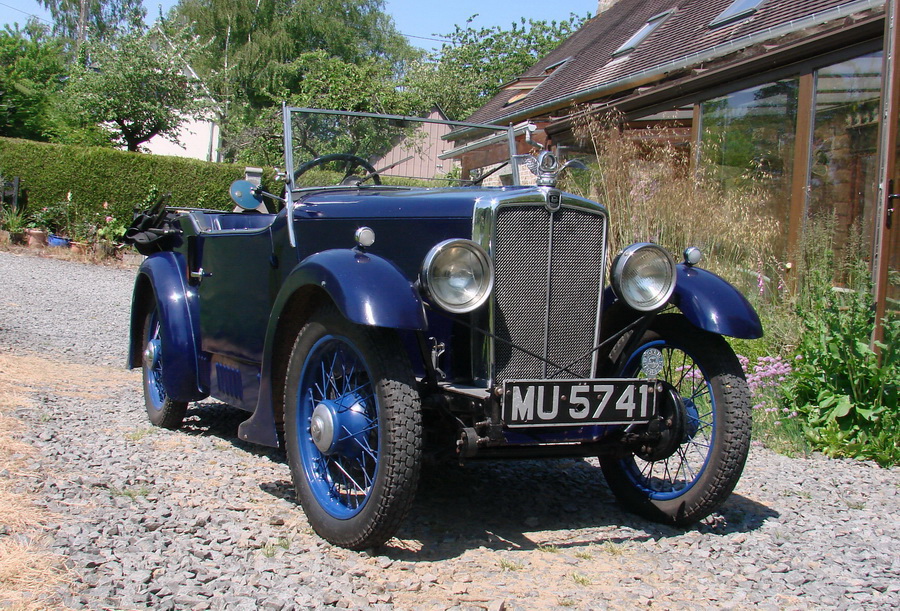 27/4/14 The big news from the Drive-it Day weekend was that Ian Harris, owner of a rare Cunard-bodied Morris 10/6 Special
traveled to France to meet John Seddon and returned today as the proud new owner of John's Calshot-bodied Minor.
We are delighted to report that the car is safely back in the UK and taxed and insured.
And best wishes to John in his retirement, and who wishes to remain a member of the Register.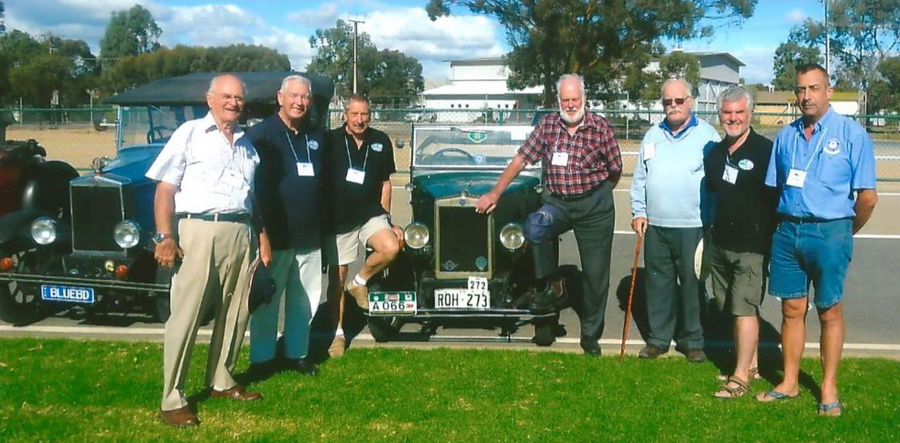 Seven VMR members attended the 2012 Morris Register of Australia's Rally. John is third from the right in this photo.
John's 1929 Minor roadster, seen here, took home the Minor trophy.
23/4/14 As mentioned below, we lost John Wien-Smith, a founding member (number 10) of the Register recently.
In 2001, John received award from The Sporting Car Club of South Australia, for 50 years of membership.
He also found out that he had been made Life Member of the UK Morris Register after 25 years of membership.
His father was an early member of the Sporting Car Club of SA, and ran a single-cylinder 1904 De Dion Bouton.
John still owned that vehicle until his passing, and some time ago shipped it to
the UK to join in with The London to Brighton Run.
We send out sincere condolences to John's family.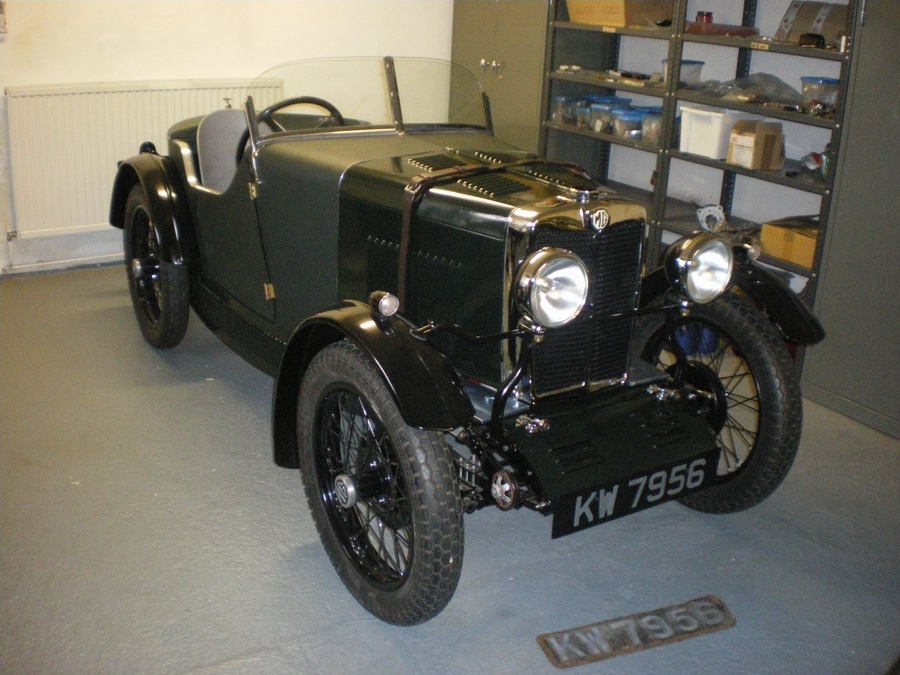 22/4/14 Nigel Stroud's heroic restoration of 12/12 rep. KW 7956 (2M/927) is nearing completion near Chipping Norton and he hopes to have the car ready for our Summer Rally.
This is the ex-Tim Miller car, and was a wreck when Nigel acquired it. The car joins Nigel's other slightly earlier M Type PO 1357 (2M/734).
Great job, Nigel!
From left to right are Gary Kingston, Ewan Lambess, Ted Pavitt, and Max and Jane Dawkins
22/4/14 The Australian Morris National Rally was held at Forbes NSW over the Easter long weekend.
92 Morris vehicles ranging from 1913 through to 70's examples turned up, including four pre-war Minors - three OHC and one SV.
Max and Jane Dawkins were there with their blue buckboard, Ted Pavitt with his white two-seater, Ewan Lambess with grey 2 seater and Gary Kingston with his green side valve tourer.
Saturday was an all day display day followed by a 140 km run on Sunday. We're pleased to say that all Minors behaved themselves and completed the day with no issues.
It was sad to hear of the passing of VMR Member John Wein-Smith of South Australia who had a very original '29 Minor.
John was founding member number ten of the Register.
Thanks to Ewan Lambess for this report and photograph.
10/4/14 Today the April Newsletter was launched into the ether worldwide, and a copy has been archived in the Members' Area of this website.
Also archived today was the latest FBHVC Newsletter which can also be found in the Members' Area.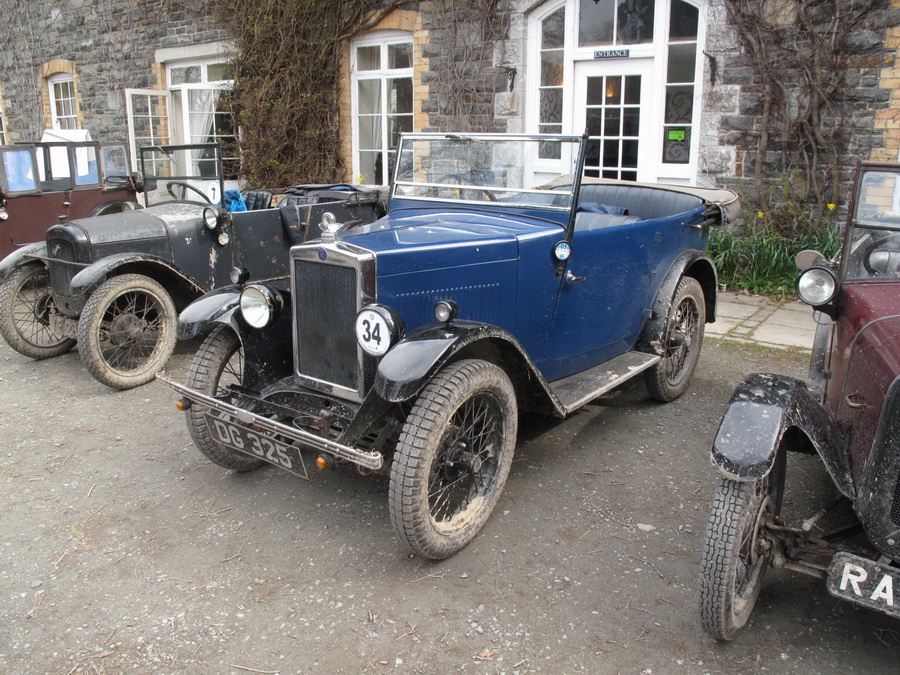 2/4/14 And hearty congratulations to Clive Hamilton-Gould and Sue Woodward who both thrashed the hoards of Austin Sevens with their Minors at the Light Car Welsh!
Clive in his 1930 Minor tourer DG 325 was the overall winner of the sporting trial, beating ALL the Austin 7's - and all others including the GN's.
And Sue also achieved a 1st Class Award and the Winifred Boddy Trophy for being the top scoring lady driver.
This is another fantastic Minor triumph that shows just what our cars - and our members - are capable of!
(Photo - David Hinds)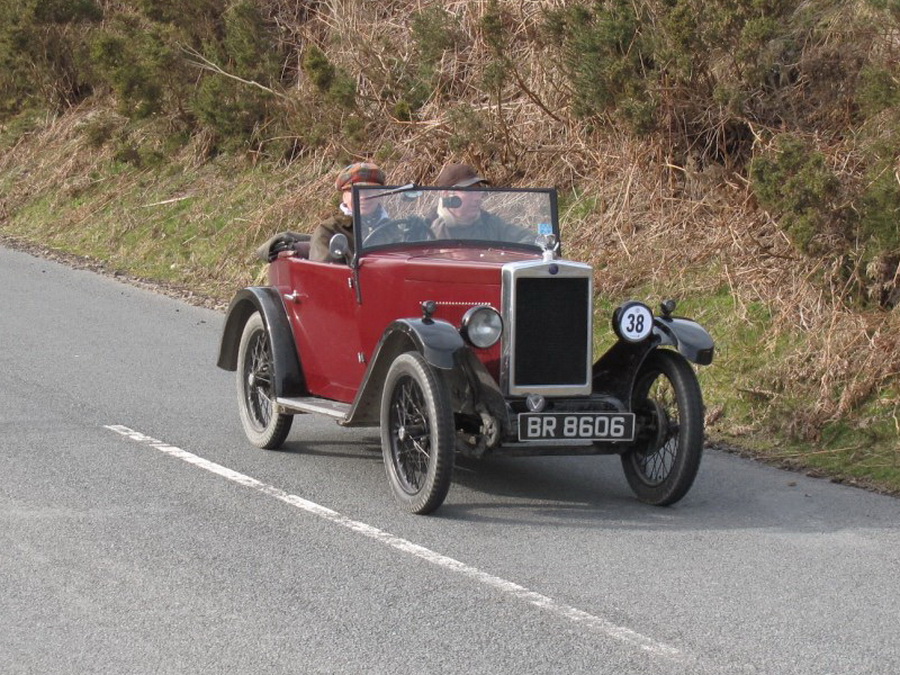 29/3/14 The VSCC Light Car Section is gathering in Wales for their traditional Welsh Weekend this weekend. Here are Sue and Richard Woodward,
recently returned to the UK from overseas RAF postings enjoying themsleves in the Welsh countryside once again.
Today's roue took the light car crews on a punishing 130 mile route as taken by the 1924 Light Car trial 90 years ago.
Clive Hamilton-Gould is also entering his 1930 Minor tourer this weekend, and also Alan Webber with his M Type.
An excellent day out was had by all in lovely springtime sunshine - at last!
(Photo - David Hinds)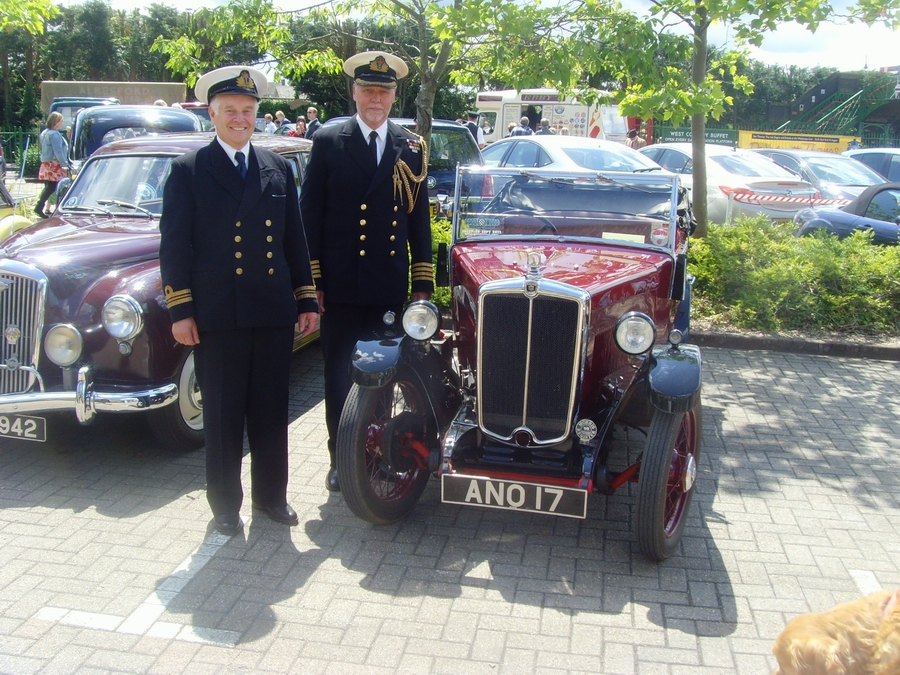 ANO 17 and some boating enthusiasts

25/2/14 And today Philip Young also joins us. Philip has just acquired the rare 1933 tourer ANO 17 (SV30864) which has been a regular attendee of our Summer Rallies with Clive Holland.
If you recall, this car is identical to that driven by Gilg and Kay from Liverpool to Cape Town in 1933 and we were delighted to show the car to the Gilg family at Prescott
in 2012 and 2013. It is particularly apposite that Philip has acquired the car as he runs the Endurance Rally Association and recently broke the record for the drive from Cape Town to London
his Fiat Panda (with the same size engine as the Minor). He was so inspired by the story of the Gilg and Kay Expedition detailed by the Register that he went straight out and bought the Minor!
We look forward to seeing ANO 17 once again at Prescott in July with its new owner. And of course the Gilgs will be there to meet him.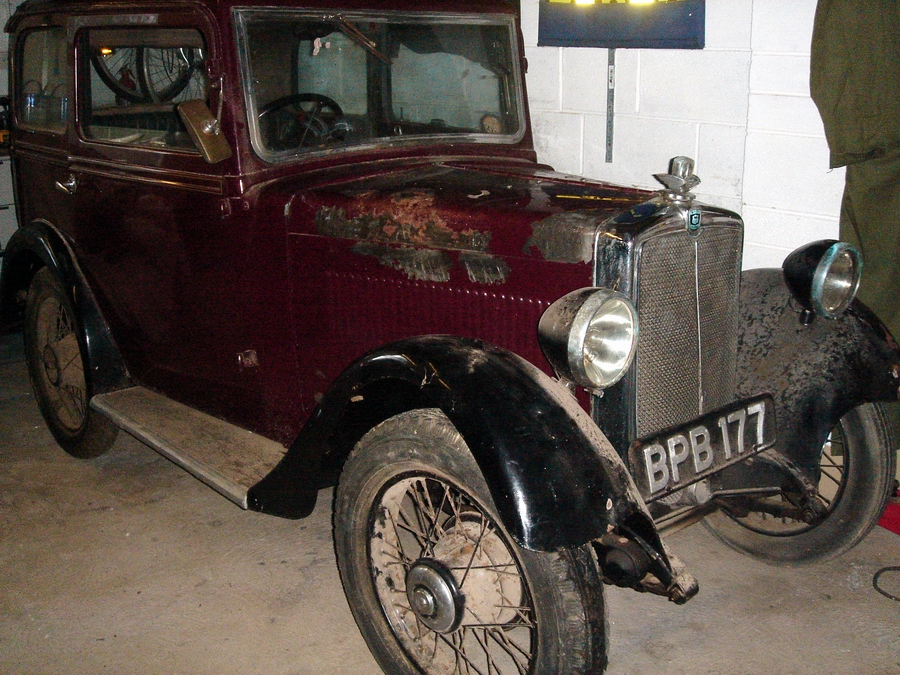 Tony Gaston's 1934 Minor has spent most of the time since 1962 laid up, but is about to receive a new lease of life
25/2/14 We are delighted to welcome Tony Gaston who joins us with his 1934 Minor saloon BPB 177 (SV35916).
This car had been off the road since 1962 when it was purchased by Tony's father-in-law in 1974, partially rebuilt and painted maroon.
It attended the Yeovil Festival of Transport in 1982, '83 and '84 when half shaft broke. It was repaired but was then laid up until
Tony's father-in-law died recently and BPB 177 was passed on to Tony.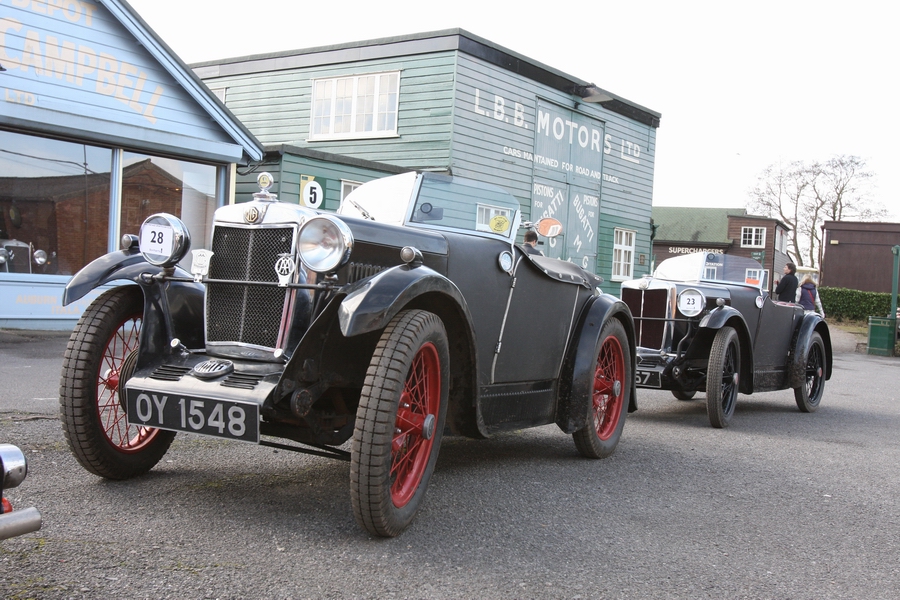 4/2/14 The 2014 vintage motoring season kicked off last Saturday with the VSCC's Driving Tests at Brooklands.
Three VMR members took part - Clive Hamilton-Gould in his 1930 Minor tourer, and John Haine and Nigel Stroud in their M Types.
Here we see John's 1932 M Type with Nigel's 1929 model behind. (Photo - Phil Jones)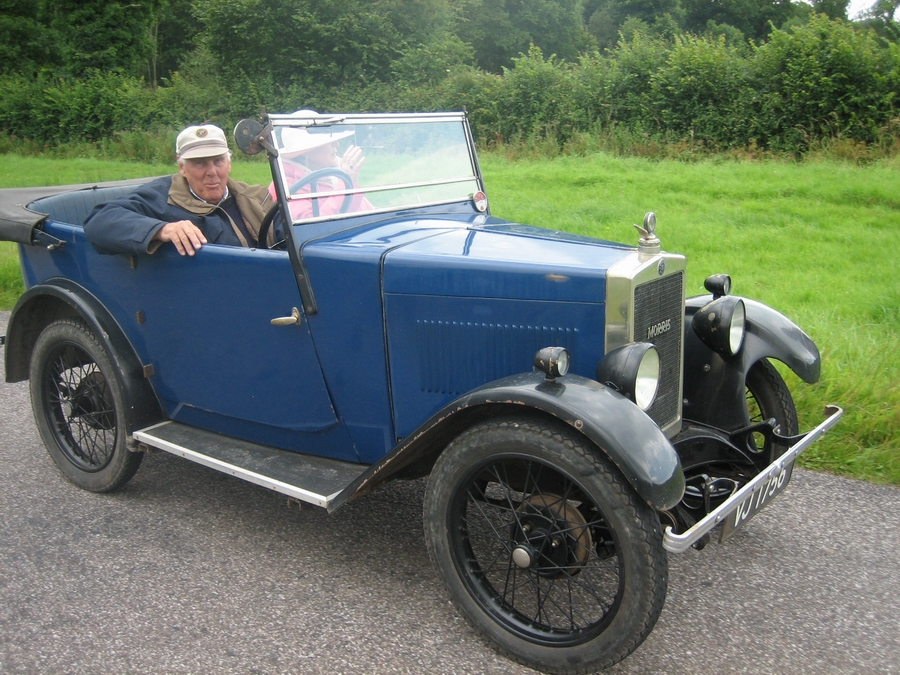 19/12/13 It is with deep sadness that we must report that Brian Maeers passed away last night.
Brian was diagnosed with cancer shortly after our rally at Manor Farm in July.
We have lost a towering character and great proponent of the Morris Minor.
To Heidi, his children, grandchildren and all the family we send our sincere sympathies.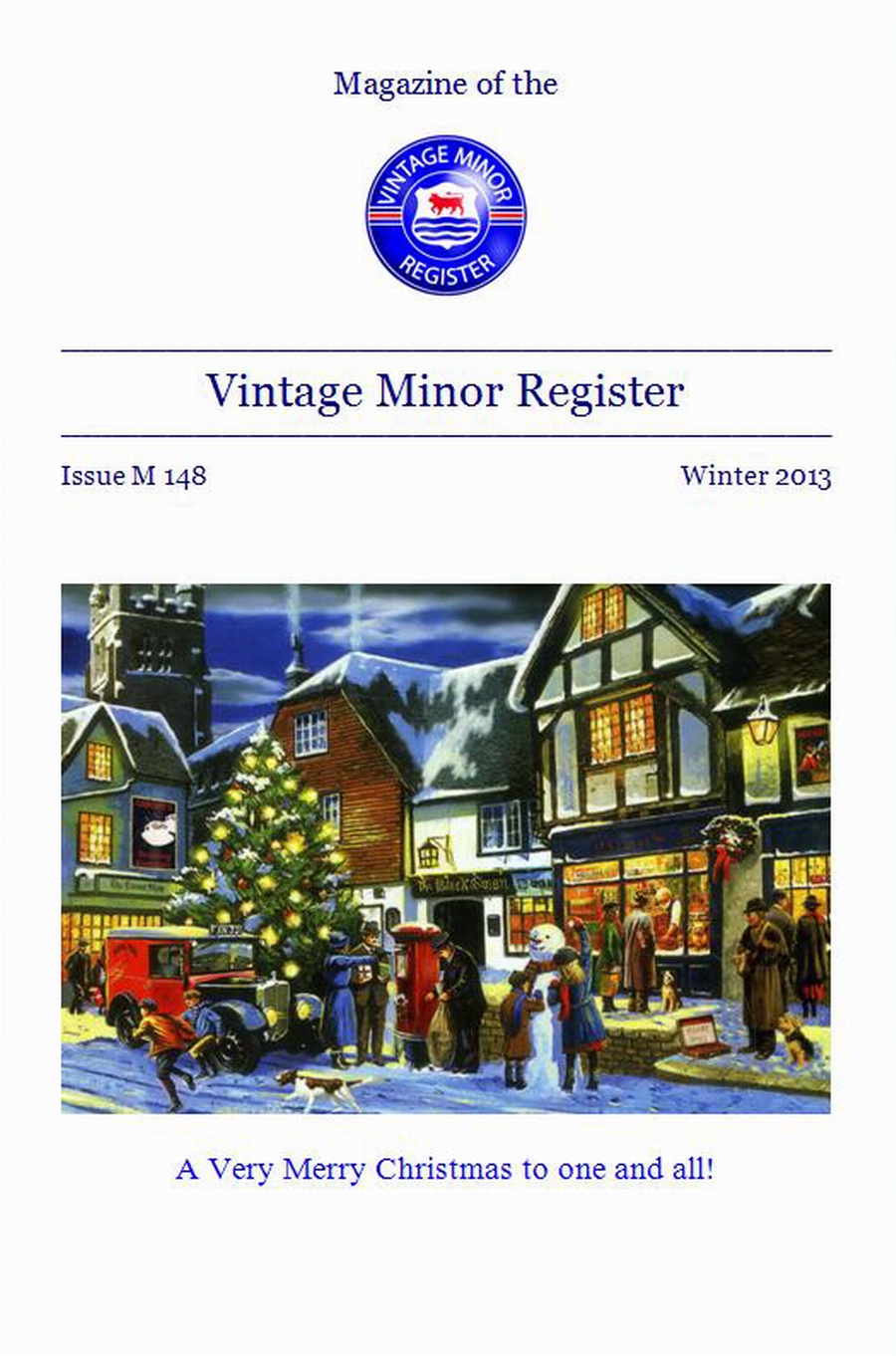 9/12/13 Our Winter Magazine is being packed and is about to ship worldwide. Your copy should be with you in time for a good Christmas read!
The cover depicts 'The Last Collection Before Christmas', a delightful seasonal rendition by Kevin Walsh.
Inside there are all the usual articles, plus a major feature on the completion of the Minor Genome which
analyses the entire Minor production from 1928 to 1934. There is also a fascinating article written by Cameron Gilg for the
Vacuum Oil Company of South Africa's house magazine 'The Gargoyle', recounting his Expedition from Liverpool to Cape Town in 1933.
As a special Christmas treat for everyone - members or not, here is the print proof copy of the Magazine.
If you are not yet a member of the Vintage Minor Register, but would like to join us and receive our Magazine quarterly,
as well as our monthly Newsletters and other Register services, simply complete and return the 2014 Membership Form.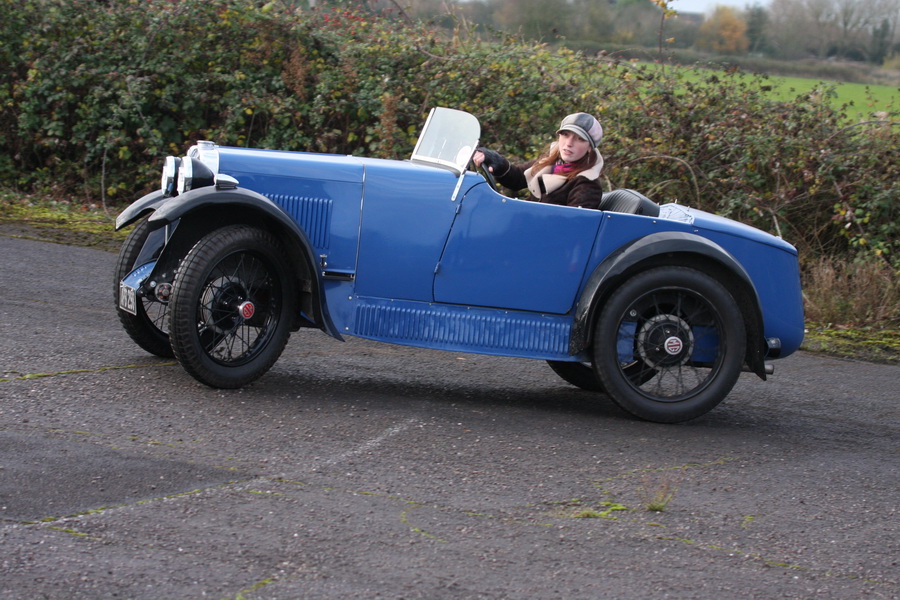 8/12/13 Rachel Bolton-King in her late steel paneled M Type APB 298 at the VSCC's Winter Driving Tests at
St. George's Barracks, Bicester, Oxfordshire yesterday. For some reason this car wasn't registered until 3rd January 1933,
resulting in it being given the three letter, three digit number.
(Photo Phil Jones)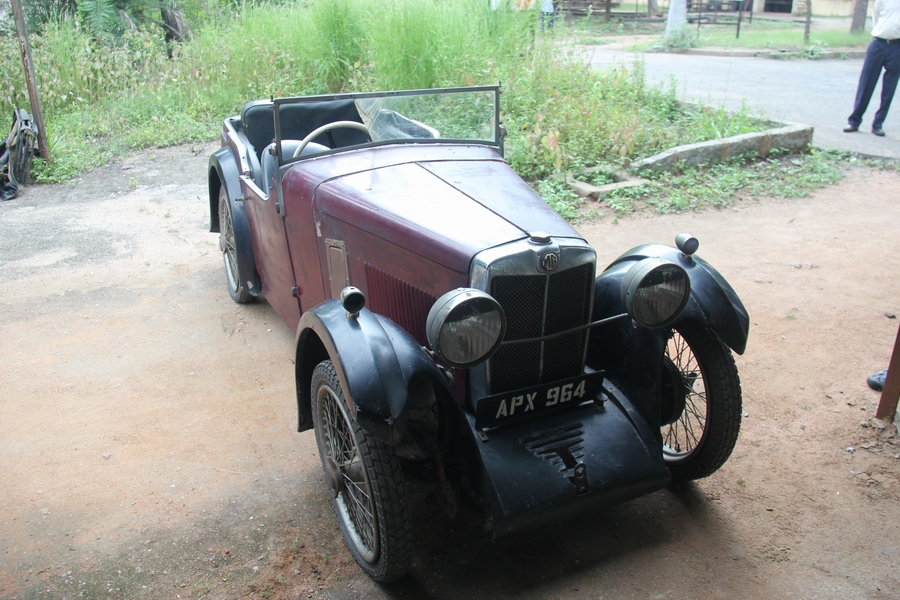 6/12/13 And still they keep turning up! This highly original 1931 MG D Type has just surfaced in India. With chassis number D0401, this car is owned by
Venkatram Reddy in Hyderabad. The car has been in the family for some thirty years and is to be restored. Apart from the dashboard and instruments,
the car is in amazingly original condition. Thanks to Ted Hack of the MG D Group for this story.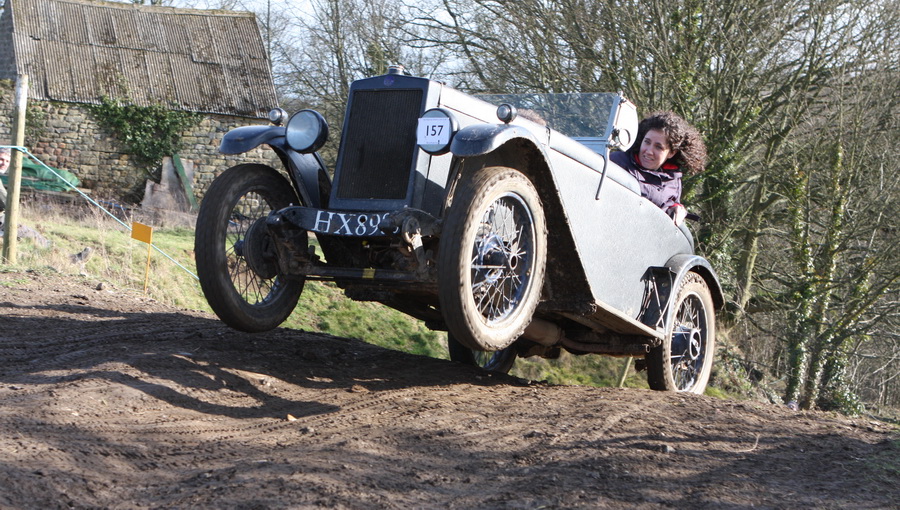 28/11/13 Here's wishing our far-flung membership a Happy Thanksgiving from VMR HQ!
(Martin Redmond's Semi-sports special on the VSCC John Harris Trial - photo Phil Jones)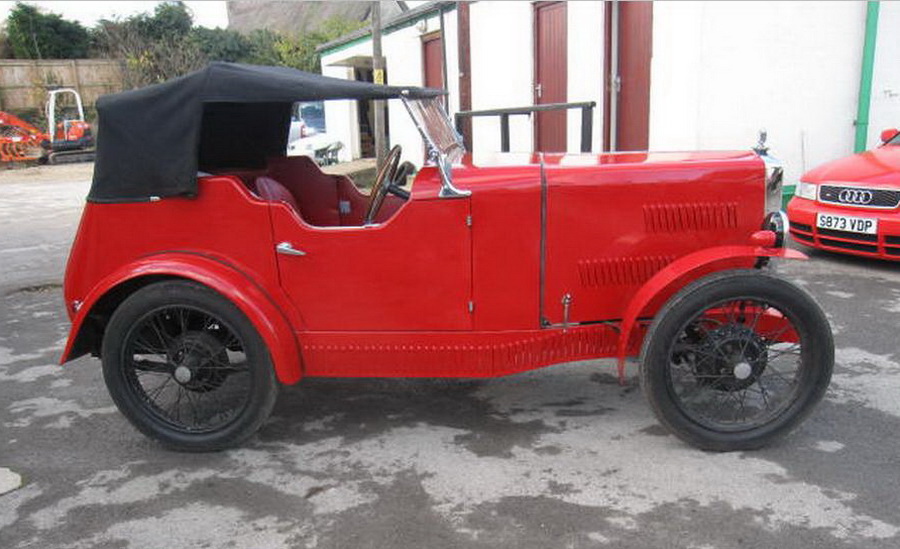 22/11/13 We extend a warm welcome to Peter Oliver who owns this 1933 SV Minor. Fitted with a post-war Morris Minor engine which required
the radiator to be pushed forward and a number of other bodywork modifications, there is no hiding the Jensen origins of the body.
Whether this was originally a Jensen Special or a McEvoy Special is currently under detailed investigation.
Either way, this is a very rare Minor indeed. Much more can be read about this car on our Forum.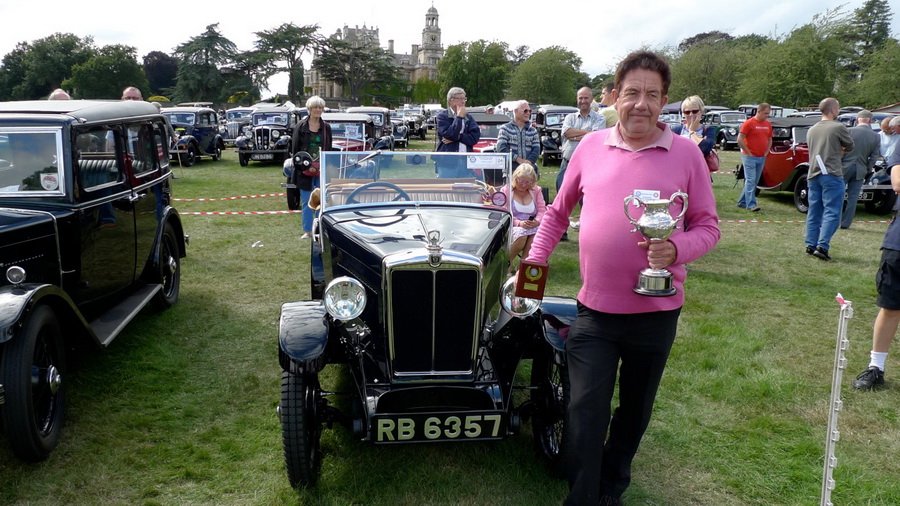 21 11/13 Today we welcome Mick Roberts who owns this extremely nice 1932 Minor 2-seater.
Here we see him winning the best Minor award at the Morris Register's Thoresby Hall Rally earlier this year.
Congratulations Mick!

Spectacular and secret Loweswater in the far corner of the Lake District.
16/11/13 Today we launch the 2014 VMR Lakeland Weekend, to take place over the weekend of 26th/27th July next year.
We will be spending a very relaxed and enjoyable few days based at the Grange Country House, Loweswater, in the far north-west of the Lakes,
far from the madding crowds of Windermere and Ambleside. Preliminary details may be found here.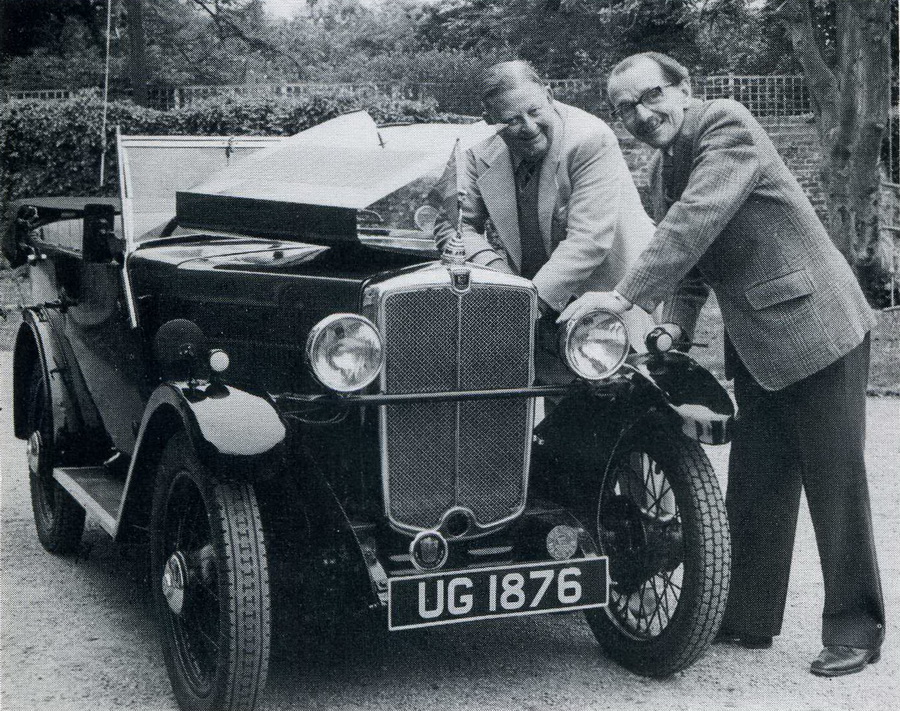 16/11/13 In 1976, television producer Barry Cockroft made a documentary about the Gilg and Kay Liverpool to Cape Town expedition for Yorkshire TV.
During the making of the documentary, Gilg and Kay were reunited for the first time since 1933.
The programme shows the pair meeting at Gilg's country home and motoring in this 1933 Minor tourer - an identical model to that used
in the expedition. It also includes many fascinating 16 mm cine film clips from the expedition.
The programme, titled 'Turn Left - the Riffs have Risen', was shown twice on ITV as part of the 'Once in a Lifetime' series.
We showed the programme at our Summer Rally this year in the Clubhouse at Prescott where it captivated the audience.
We are delighted to announce that the Register can now offer DVD copies of this historic documentary
for £20 including worldwide postage. Please contact the Register if you would like a copy.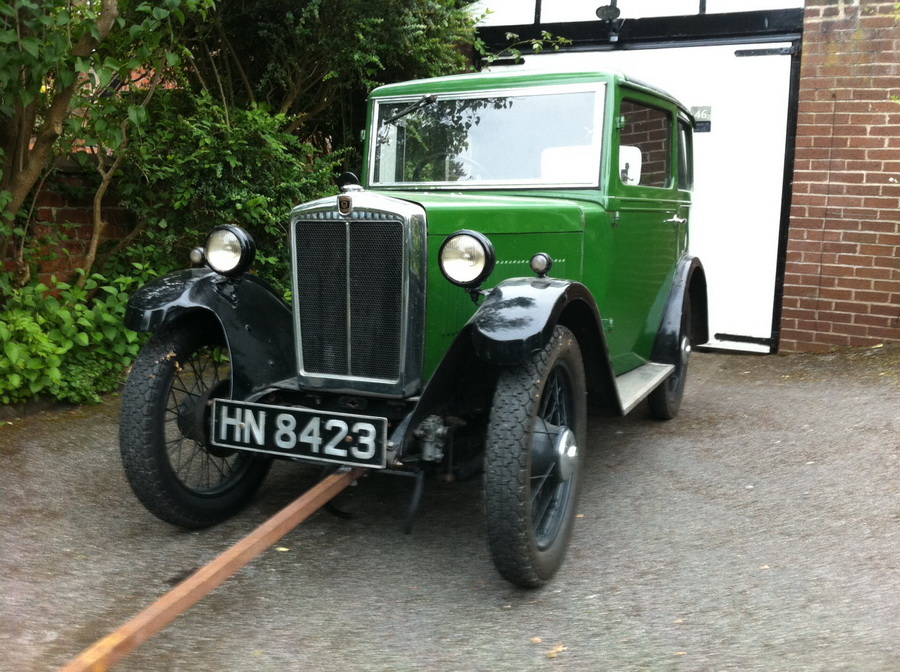 16/11/13 Up in Southport, Martyn Griffiths has this very tidy 1932 saloon (SV14602) for sale.
It's in nice original condition, lots of patina and the interior is mainly original. The engine was rebuilt in the winter of 2011.
It has a 4 speed box, and Martyn is asking £4,500 for the car which makes it very good value.
Contact Martyn for more details.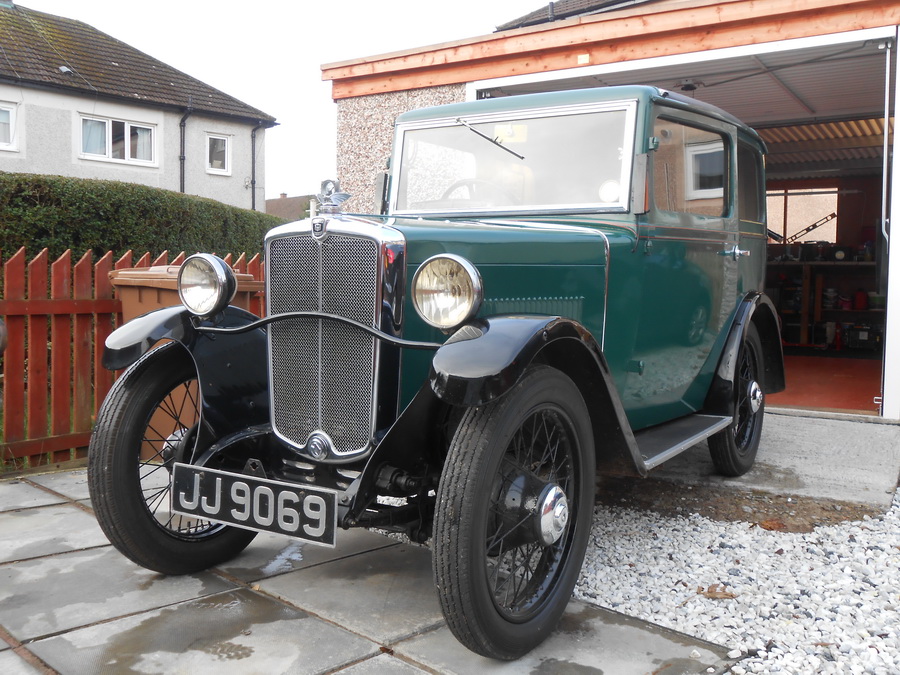 15/11/13 Today we extend a warm welcome to Kenny Moffat of Motherwell, Scotland who collected JJ 9069 today.
JJ 9069 (SV26797) is a very smart 1933 saloon that was auctioned by Bonhams back in 2010, but has recently been offered for sale
through Bonhams again, due to the passing of the elderly owner. Welcome to the Register, Kenny!
14/11/13 Congratulations to Derek Chatto on the acquisition of his 1931 M Type, MG 1930 (2/M2620).
Derek has a couple of year's work ahead of him, but intends using the car for trials. This M was originally registered JV 291.
12/11/13 Today we extend a warm welcome to Eddie Torr of Rotherham, South Yorkshire who joins us
with his 1932 Minor saloon JK 2439 (SV18796). Eddie recently acquired this car and is currently restoring it apace.
He reports that someone has previously painted it with a yard brush! It is being repainted black and maroon.
Welcome, Eddie!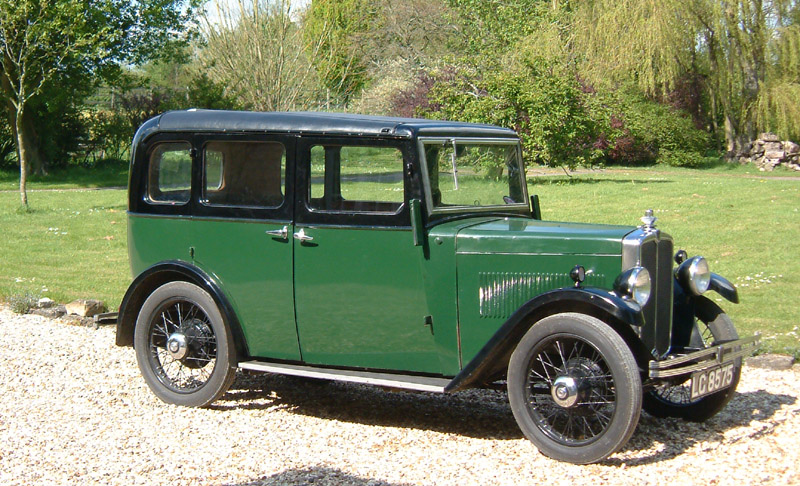 12/11/13 The ex-Hamish Orr Ewing 1932 LWB OHC Family Eight is up for sale - in Japan.
Hamish carried out a sympathetic but expensive restoration of this very original car back in 2005 including a new Phoenix crank and rods before offering the car for sale.
In M 119, Hamish reoported, "It now goes quite well - quicker than an unmodified Minor, but not of course compared to a Minor with similar mods.
Where would we be without Mike Dowley?! All this has cost lot of money and is quite uneconomic, but if one is going to make economic judgments one wouldn't own
this sort of thing to start with. I have a great affection for these cars because, when in the Army in 1946, I bought one for £30 to visit my then girl friend.
It was a completely dependable little car. These cars were far superior to the Austin 7 on which, like so many of my generation, I learned to drive,
in my case around the roads on our property in Perthshire, at the age of 12. The Austin's clutch and brakes were atrocious and the engine wouldn't pull the skin of a rice pudding!"
Since then Hamish, a past Chairman of Jaguar Cars, has campaigned his Derby Bentley at VMR Summer Rallies, including Pre-War Prescott this year.
Hamish sold the car in 2005, after which it was sold on to the current owner in Japan.
Find the full details of the Family Eight here - if you can read Japanese!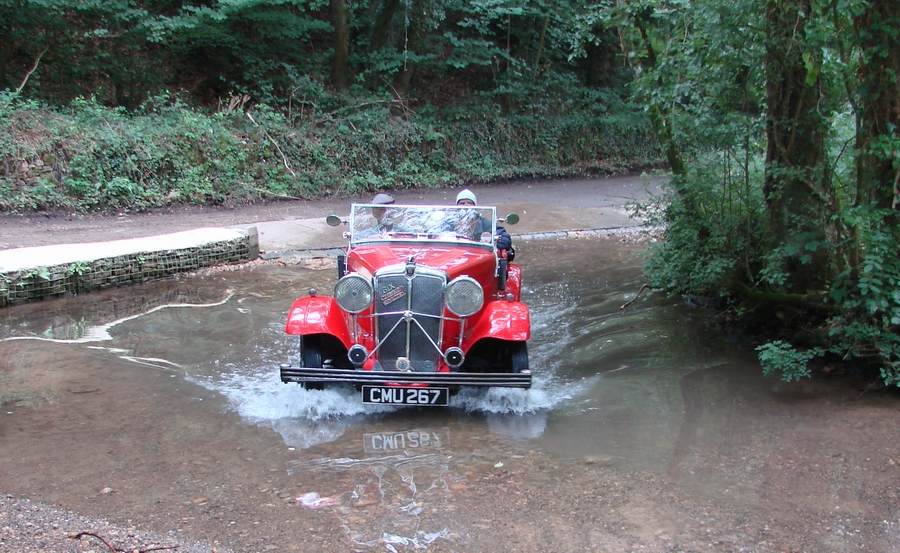 5/11/13 Ian Harris (seen here on a VMR Summer Rally in his 10/6 Cunard Special) lives in Hitchin, Hertfordshire
has supplied our spares needs for many years. His latest catalogue of Minor/M Type spares may be downloaded here.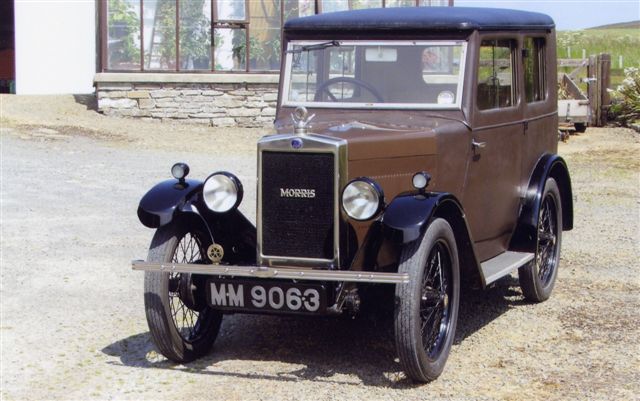 4/11/13 A very significant opportunity has arisen to acquire an outstanding vintage Minor.
Albert Spence, founder member no. 20 of the VMR lives up on Orkney and is reluctantly selling his 1929 Minor fabric saloon MM 9063 (M11282).
Albert has owned and driven this car since 1986 and it comes with much history. The car has had a total body off restoration and is very sound.
The engine has recently been rebuilt by Sports and Vintage Motors and is about run in by now.
Reason for Sale - due to his age Albert is down-sizing his collection to his 1932 M Type MG and 1926 Cowley Tourer.
Interested parties should call Albert on 01856/771295 without delay.
1/11/13 The November Newsletter was circulated by e-mail today. A copy may be found in the Members' Area.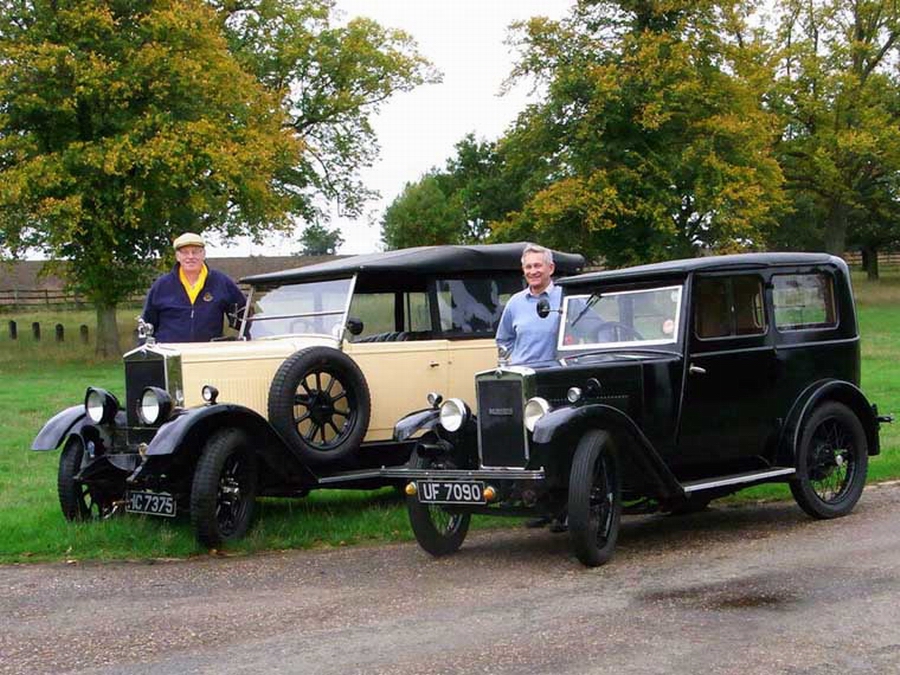 21/10/13 Little and large. Meanwhile, a little further north in the quiet Northamptonshire lanes, new member Martin and Jean Gregory exercised their 1930 saloon
and were joined by a friend with his 1927 Oxford tourer. This was the first real outing that Martin had given the car - 23 miles without incident.
First stop was a wonderful church in Whiston (built in 1534 and hardly changed since) and then off to Castle Ashby for coffee. Then a stop for photos on
Yardley Chase with Castle Ashby as the backdrop on our way to the Rose and Crown at Yardley Hastings for lunch. The party then returned to
Castle Ashby to see the gardens before driving home for tea.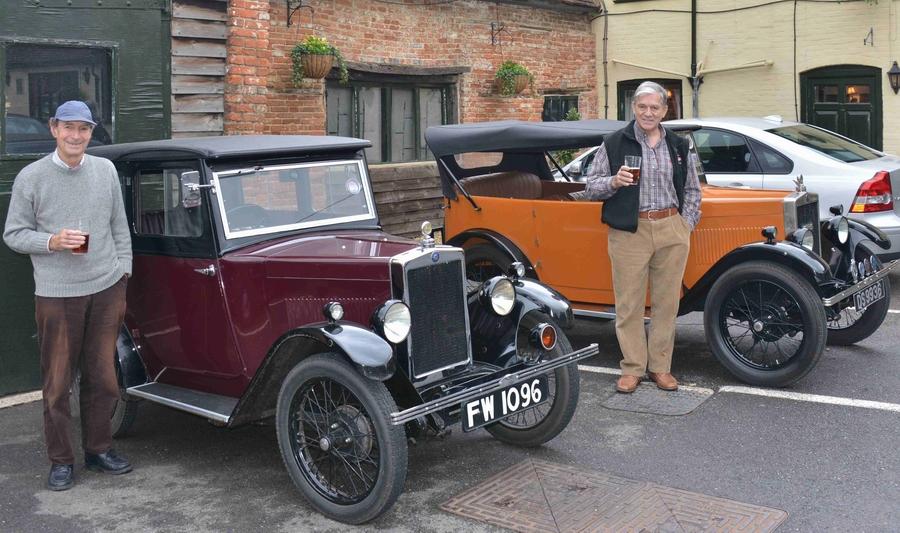 21/10/13 Glass half full? VMR members Pat Guthrie-Jones (left) and Peter Hills with his Minor tourer at the Phoenix yesterday.
Pat is a local man, but Peter drove down from Putney for the meet. Peter's 'Out of Africa' car is named Chiriappala
(which is Bemba for the one with no hair, i.e. a tourer!). A milestone was recorded, DS9936 passing the 5,000 mile mark since restoration,
which, Peter says, may not seem much since 1992, but the car was off the road for a few years with a damaged diff.
and then spent the last nine years garaged while Peter was in India.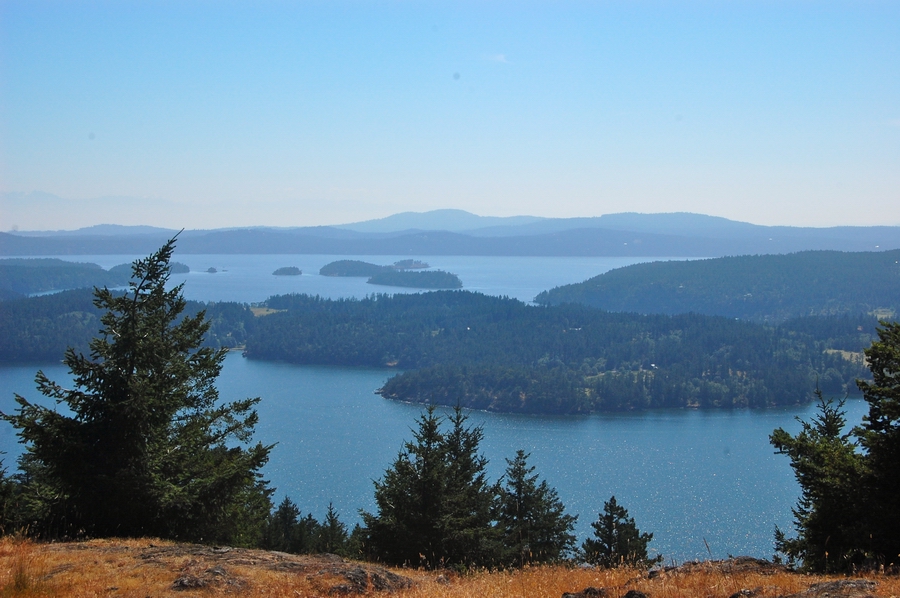 The spectacular San Juan islands from Orcas Island, one of the stops on our Two Hemispheres Rally in the Pacific Northwest in August 2015.
3/10/13 The second in our monthly Two Hemispheres planning Newsletters was circulated today and a copy may be found in the Members' Area.
(The October VMR Newsletter has also been uploaded to the Members' Area this afternoon.)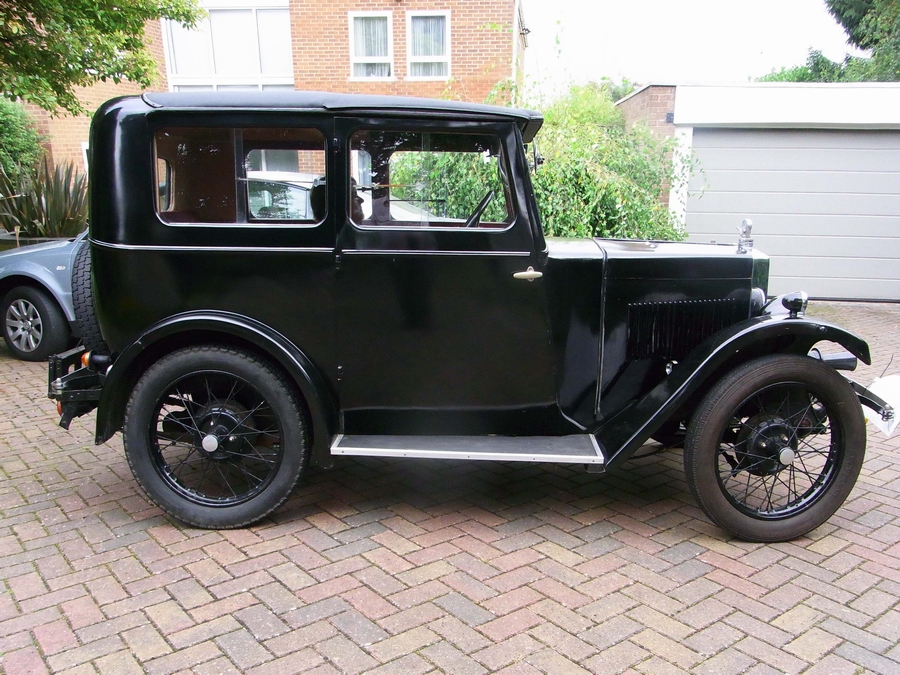 17/9/13 We are delighted to welcome Martin Gregory to VMR membership. Martin has acquired the ex-James Wheeler, ex-Tim Brown and Elina Helenius
1930 Minor coachbuilt saloon UF 7090 (M31579). Martin lives in Weston Favell, Northampton. Many moons ago, Martin onwed a very early Hundred Pound
Minor 2-seater with chassis number SV306, which is, apparently, still extant on a SORN. More about this car in M 147.
Welcome, Martin!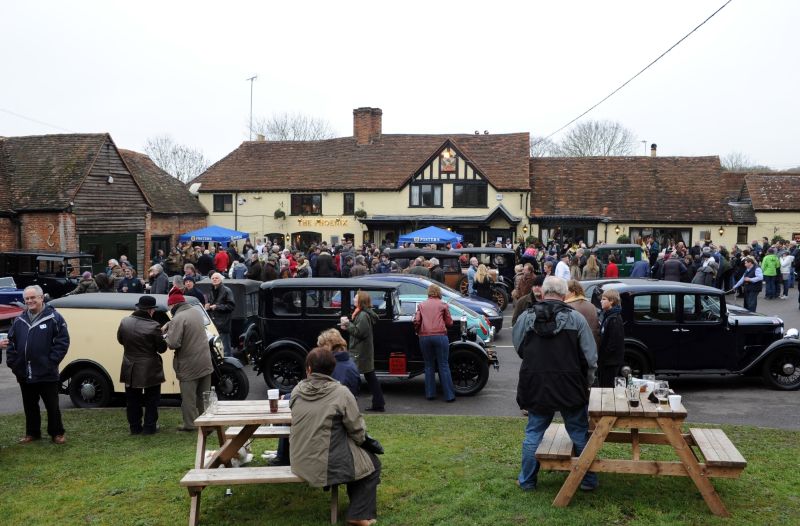 5/9/13 The date for our autumn pub meet at The Phoenix, Hartley Wintney, Hampsire will be Sunday 20th October - the week before the clocks go back.
Please make a note of the date. Of late, turnout at our spring and autumn pub meets has been quite disappointing, so please make a real effort to come along
in your Minor, M or modern if you are within striking distance. This is the pub where the Vintage Sports-Car Club was founded in 1934, and they have been meeting there ever since.
5/9/13 Today two Newsletters were circulated to members by e-mail - the September VMR Newsletter and the first of what will become monthly Newsletters
providing news, information and updates as the planning for our 2015 Two Hemispheres Rally progresses.
Both Newsletters may be found in the Members' Area of the website.
8/8/13 The latest FBHVC Newsletter was received this morning and has been uploaded to the Members' Area of the website.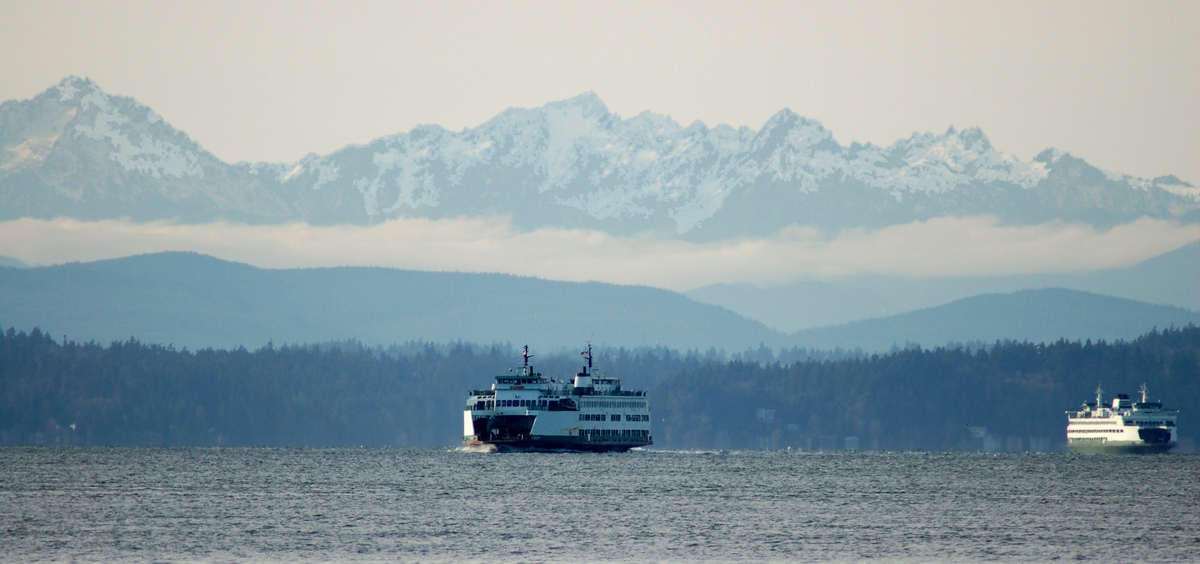 Washington State car ferries connect Seattle and the Puget Sound with the San Juan Islands and Vancouver Island
1/8/13 The Vintage Minor Register is extremely excited to announce The Two Hemispheres Rally, 2015.
We are planning a rally right here at VMR HQ in Seattle! One of the unfortunate aspects of the Register is that we have two main communities of members –
one in the UK and Europe, and the other in Australia and New Zealand. Apart from one or two visitors, it has never been possible to truly bring
our antipodean members into the mainstream of our events.
Until now.
This will be the 2015 VMR Two Hemispheres Rally. Here's the basic plan. It is possible to fit six of our cars into a 40' container – by double-decking the container,
thereby dramatically reducing shipping costs. We therefore plan to ship at least one container from England and at least another from Australia/New Zealand
in order to gather a dozen cars or more here in the Pacific Northwest for at least two weeks of concentrated rallying and touring, with the possibility of extending
over four weeks for those who wish to stay longer. We will be visiting and touring the incomparable San Juan Islands where we will take a whale watching trip
to meet the resident Orca pods, crossing Stevens Pass in the dramatic Cascade Mountains to visit the German town of Leavenworth and the beautiful Lake Chelan.
We will cross Puget Sound to visit the Olympic Peninsula and mountains, we will visit Paradise, high on Mount Rainier, to see the incredible alpine flowers among the glaciers
and we may also get up into British Columbia and Vancouver Island. And much, much more in this most spectacularly scenic corner of North America.
VMR HQ will host numerous social events during the rally and full maintenance facilities will be available onsite – as will a couple of spare Minors and several moderns
for those not able to ship theirs (we would welcome any members – with or without their cars). The Register will shortly be initiating a regular Two Hemispheres Newsletter
to interested parties, so if you would like to be included in the circulation list (and with absolutely no obligation!), please simply e-mail the Register.
Detailed planning can then get under way, but in the meantime, we can promise that this will be the rally of a lifetime for those able to make it.
And of course we will welcome members from across the US, Canada and elsewhere, and provide all possible logistics support where required.
Much more news as plans develop.
1/8/13 The August Newsletter was distributed electrically last night and can now also be found in the Members' Area of the website.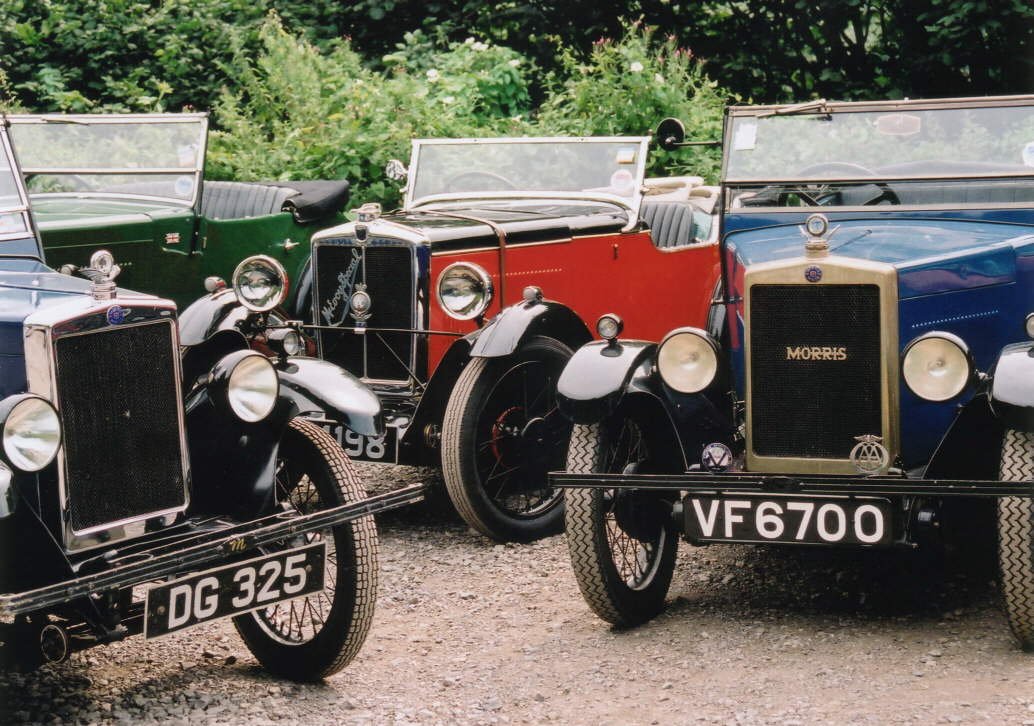 31/7/13 After eight years of research at Gaydon, the original Morris Minor production records have been completely computerized by the Register.
The OHC and SV Minor 'Genomes' are finally complete and available for study in the Member's Area of the website. They record chassis build data
for OHC chassis MM101 to M39199 and SV Minor chassis SV101 to SV47332.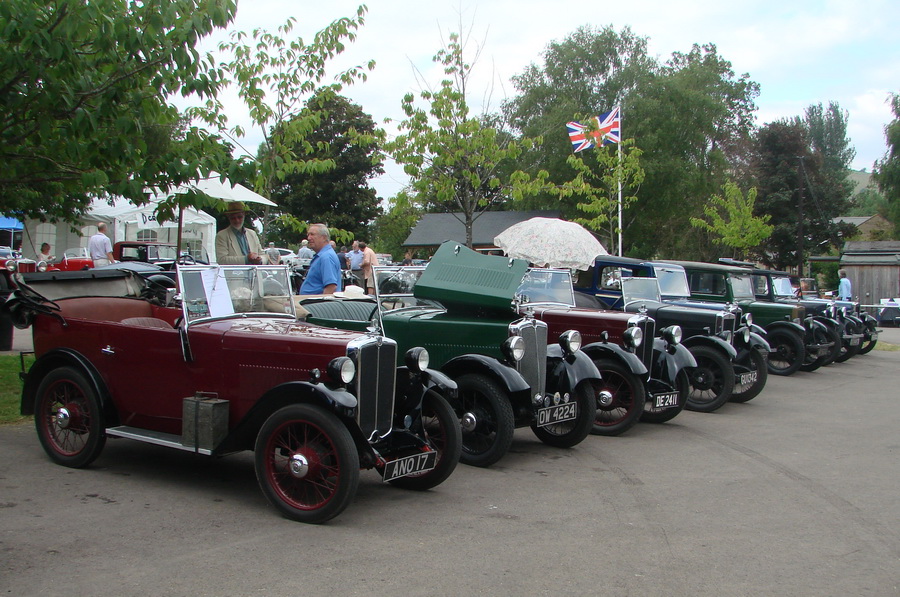 28/7/13 Just back from a fabulous two weekends VMR rallying in the UK. The Midland Weekend at Brian and Heidi Maeer's Manor Farm was superb,
as was Pre-War Prescott and our Summer Rally. Huge thanks to everyone who attended - particularly those who marshaled, of course. Special thanks go to Brian Maeers
for hosting the superb Midland Weekend and for loaning Jayne and I one of his tourers for the weekend, so that we could take part. Both weekends enjoyed
the superb weather of this record-breaking July. Around 160 Edwardian, vintage and pre-war cars gathered for Pre-War Prescott and there were 495 climbs
of this historic hill during the day. Full reports will be included in the Autumn Magazine, M 147. Peter McFadyen's images of the Prescott weekend may be found here.
Now the planning gets into top gear for 2014!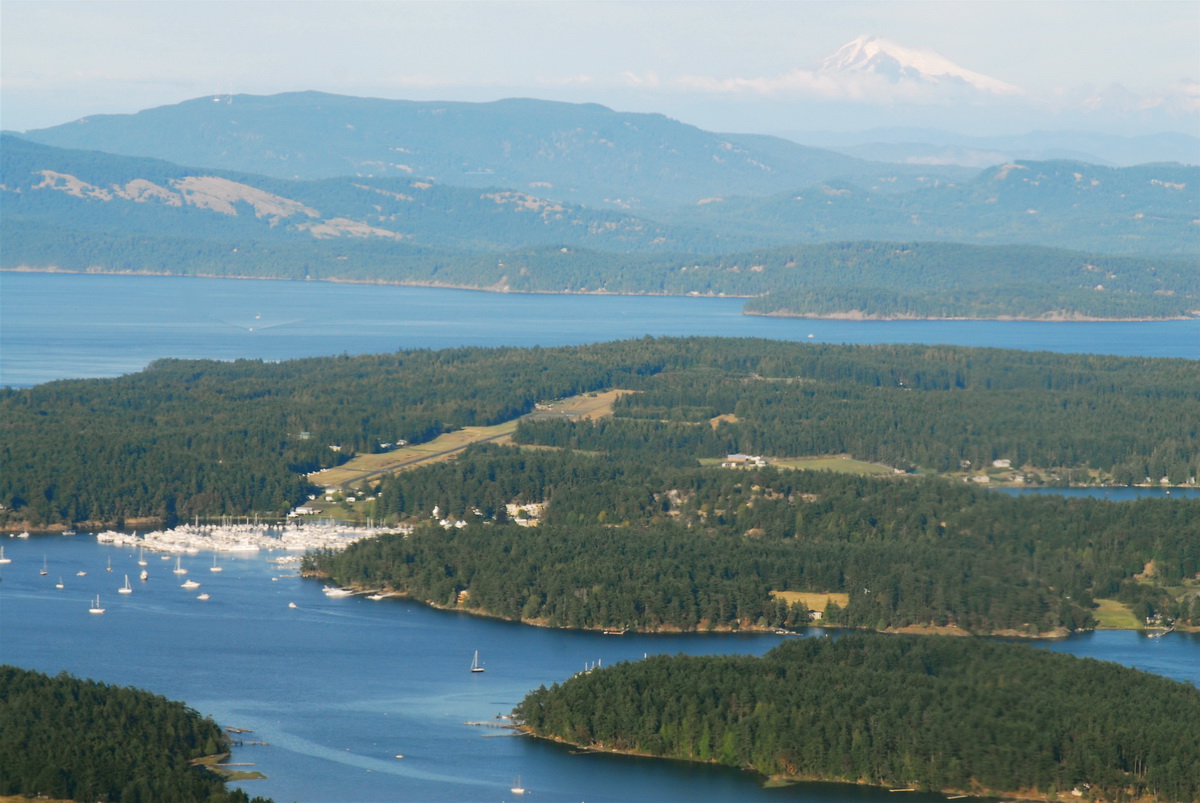 6/7/13 We're all set for the Midland Weekend next weekend and our Summer Rally including Pre-War Prescott the following weekend.
Jayne and I fly to England (via Frankfurt!) next Thursday and will be in the Cock Inn, Peatling Magna in the evening after driving down from Manchester airport.
So what on earth has the above photo to do with these weekends? Absolutely nothing, except this will be the venue for a VERY special VMR gathering in 2015.
Much more after we get back from England.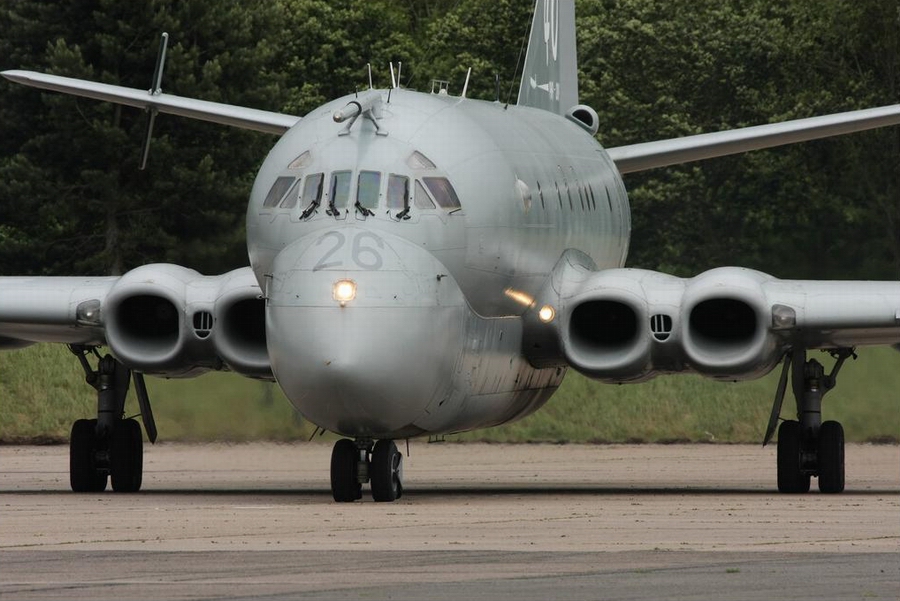 6/6/13 Nimrod - the Mighty Hunter! This is the first production Nimrod, XV226, c/n 8001 which is preserved at the Cold War Jet Collection, Bruntingthorpe.
We'll be visiting the Collection during our Midland Weekend in July. XV226 is special to me as it was one of my aircraft when I was an Engineering Officer on 42 Sqn.,
RAF St. Mawgan during the late seventies/early eighties. I'm planning to give rallyists an informative tour of the aircraft - not to be missed! We will also be able to get up close
and personal with the other aircraft in the Collection, including a Victor, Hunter, Canberra, Comet, 2 off Lightnings , Starfighter, Mystere, Sea Vixen,
4 off Buccaneers, 4 off Jet Provosts, Super Guppy, Iskra and a Jaguar. We will also be able to park our cars close to the aircraft for photos.
If you have not yet entered, but would like to do so, full details of the weekend and an Entry Form may be found here.
30/5/13 The May Newsletter was distributed by e-mail to all members this morning (just in time!) and has been archived in the Members' Area.
If you are a member and did not receive the Newsletter, please let me know.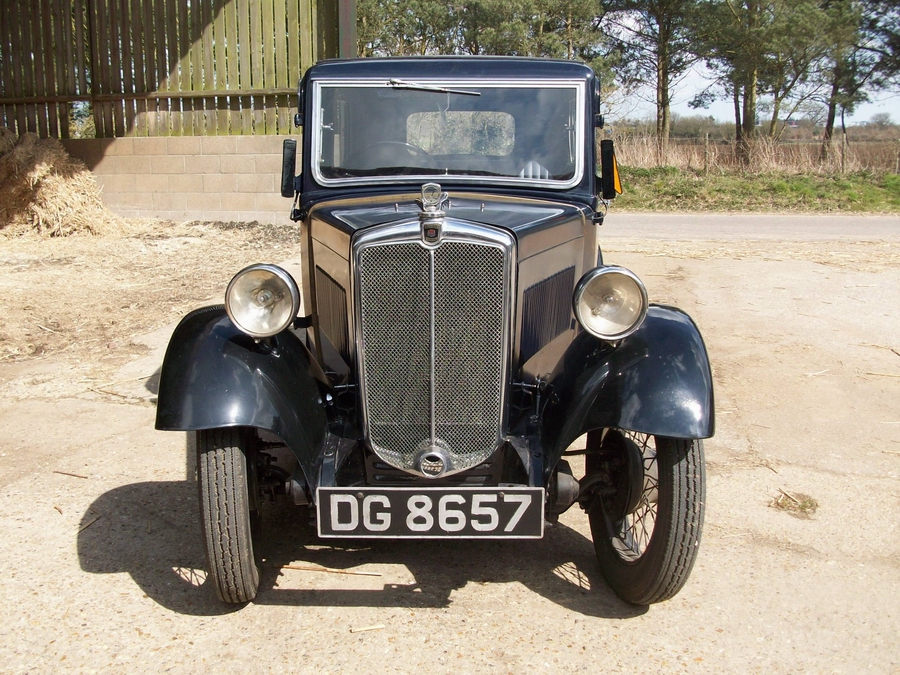 10/5/13 And also welcome to Andy Brown who joins us with his equally smart and original 1934 saloon, recently acquired from Register member Richard Mace.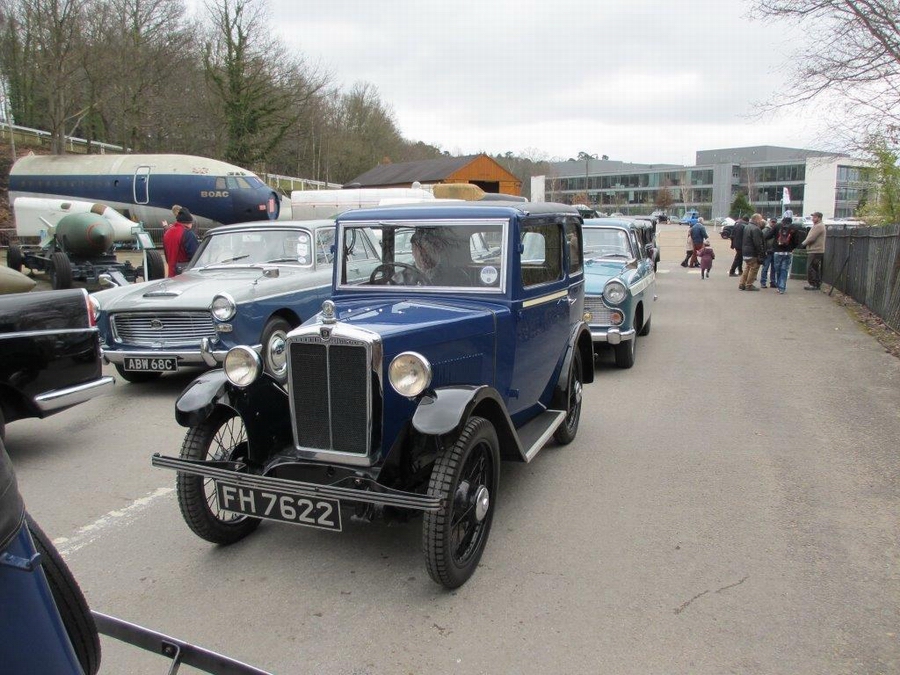 10/5/13 Welcome to new member Paul Critchley who owns this very smart and original 1932 saloon which he recently purchased.
The above photo was taken at Brooklands during their annual Austin/Morris Day in March.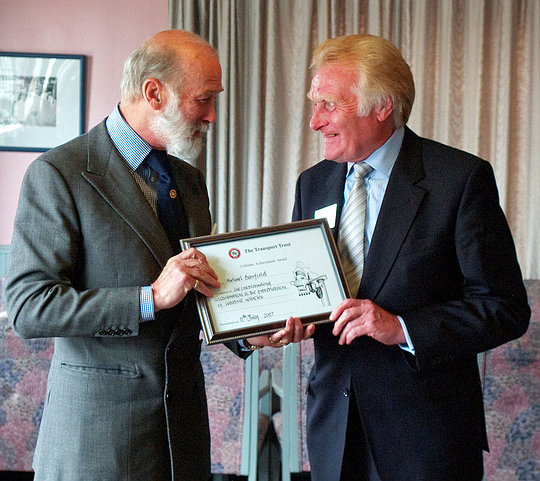 VMR member Michael Banfield receiving the Transport Trust's Lifetime Achievement Award from Prince Michael of Kent in July 2007
3/5/13 Yesterday I learned of the sad passing of one of our members - Michael Banfield of Staplehurst, Kent.
Michael joined our Register just last year when he acquired the highly original Minor 5 cwt. Van PJ 5453 from Steve Johnstone.
We send our sincere condolences to his family. Michael's obituary may be found here.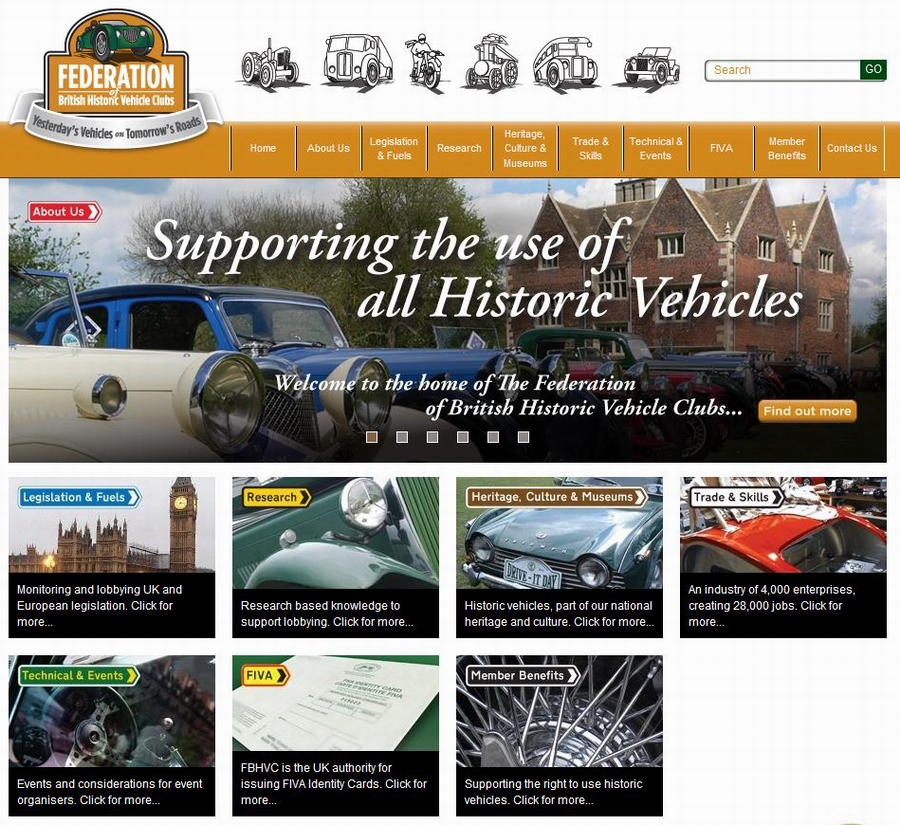 3/5/13 We are delighted to announce that the Vintage Minor Register has been accepted as a member of the Federation of British Historic Vehicle Clubs.
The FBHVC exists to uphold the vital freedom we enjoy to drive our historic cars on the open road. It does this by representing our interests to politicians,
government officials and legislators, both in the UK and (through the Federation Internationale des Vehicules Anciens) in Europe.
There are over 500 subscriber organisations representing a total membership of over 250,000 in addition to individual and trade supporters.
Membership of the Federation further raises the standing of our Register and will bring many important benefits to our members in the future.
2/5/13 Those of you who are following the Gilg Expedition diary (link above) will notice that tomorrow, the diary will reach its one hundredth page.
The Gilg's diary of the trip is developing, day by day, into a fascinating insight into life in the thirties in the Dark Continent - a look back to another age.
Eighty years ago today, Gilg and Kay had reached Eldoret in Kenya on their way to Cape Town. Here they met up with this 1932 model Minor tourer.
Notice the handy bathing facilities at their hotel!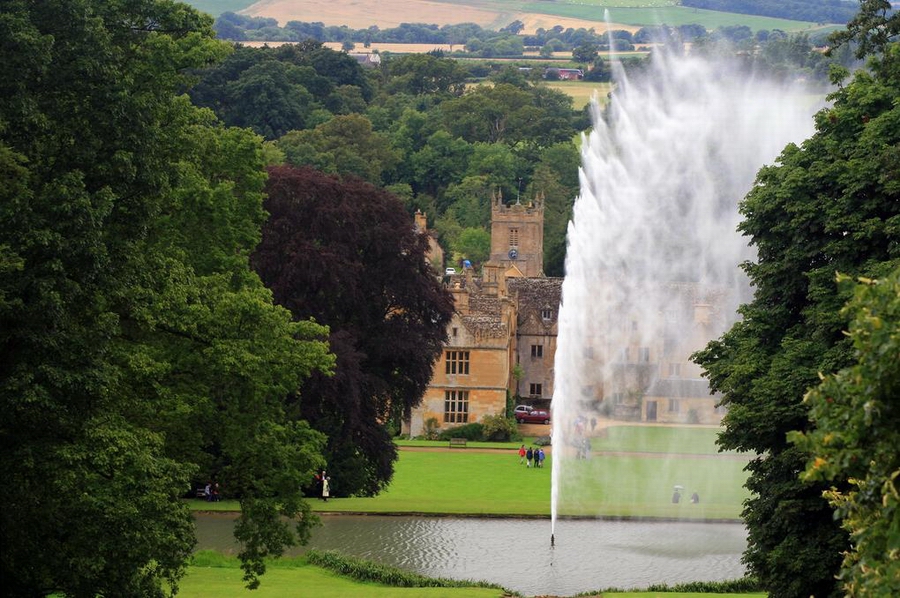 30/4/13 We are very excited to announce that our 2013 Summer Rally Navigation Tour and parallel Scenic Tour (Sunday 21st July)
will conclude at the spectacular Stanway House, home of Lord Wemyss. Rallyists from last year will undoubtedly remember the incredible 300 ft gravity fountain,
and His Lordship has very generously offered to run it again - twice - for us this year at the conclusion of the day. NOT to be missed!
Entry to both events is open to all pre-war cars, and an entry form may be downloaded here.
30/4/13 This the perfect time to pick up a vintage Minor for the coming motoring season. Right now, there is a mouthwatering collection of
vintage Minors on the market - including four OHC saloons (two very much on the button and two projects, including the above car
currently being offered by Tony Gamble), three Semi-sports (one in concours condition and two projects), a concours Cunard Calshott, a Maddox and a McEvoy.
Take your pick! These can all be found on our Marketplace page. If anyone needs any further information on any of these cars,
please contact the Register - we'd be delighted to help.
And incidentally, the CMS (see 26/4/13 below) was successfully auctioned in Ireland yesterday for 7,000 Euros. A bargain for someone!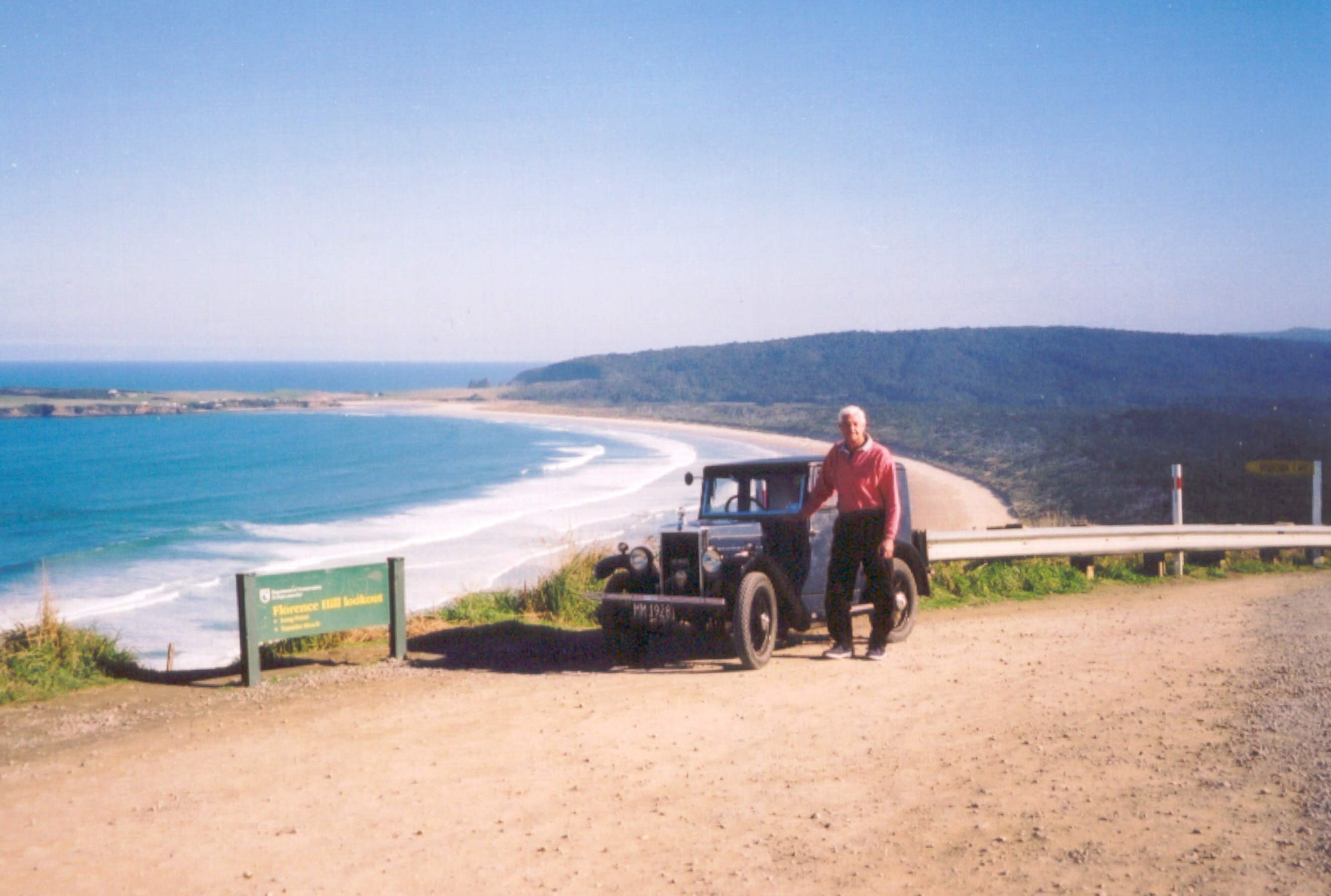 27/4/13 (In New Zealand!) Today marks the 80th Birthday of our Founder and Honorary Member Jack Blyth. A resident of New Zealand, Jack
has been a Minor stalwart for decades. He flew from New Zealand to be at our inaugural Summer Rally in 2001, and famously bought a suitcase of spares for members!
Ten years ago, to mark his 70th Birthday (and the 75th Anniversary of the Morris Minor), Jack took his fabric saloon on a 1,400 mile circumnavigation
of New Zealand's South Island. In the summer of 2005, we sent our son William to New Zealand and Austraila for his 18th Birthday.
William stayed with Jack who took him all over South Island and gave him a very special holiday, for which William will always be very grateful.
To mark Jack's 80th Birthday, here are some of the articles that he has provided for the Register's Magazine over the years.
Happy 80th Jack!
M103 - Jack Blyth's Fabric Saloon
M 108 - Jack Blyth planning his South Island Circumnavigation
M 111 - More Planning
M 112 - Outside front cover
M 112 - Jack Blyth's South Island Tour
M 115 - Jack Blyth's West Coast Tour
M 116 - Outside front cover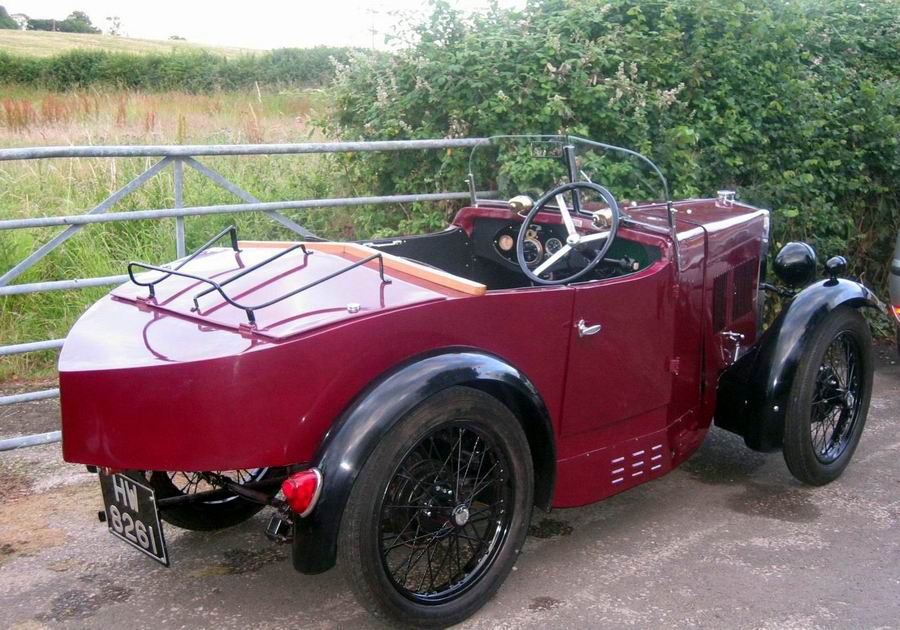 26/4/13 The ex-George Bryne, ex-Tony Foot 1930 CMS Special (M20036) is to be acutioned in Ireland by Mealy's next Monday 29th April.
George acquired this car in a poor state in December 1992 from D Page who had owned it since 1973. He then undertook a complete restoration.
The rear of the car is non-standard, but nevertheless, this is a rare opportunity to pick up a genuine vintage Minor special.
Auction details may be found here.
26/4/13 The April Newsletter was lauched into the ether today and has also been uploaded to the Members' Area of the website.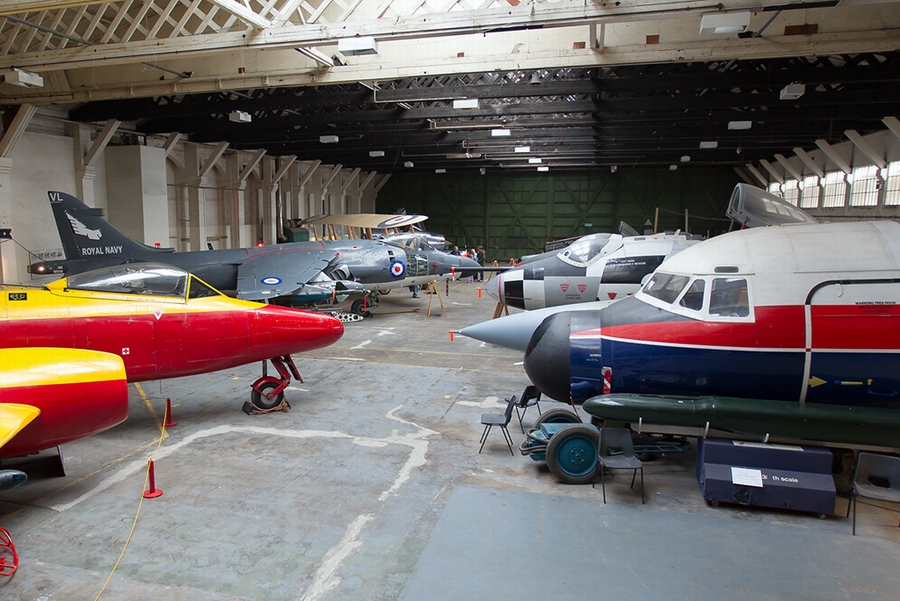 23/4/13 This year's VSCC Light Car Section's Summer Navigational Rally and Tour will be based at Old Sarum Airfield, SP4 6DZ
(accessed via MR184/150335), one of the oldest First World War airfields (& museum) still operating.
The LCES invites you to arrive on Saturday 22nd June from 10 a.m. and see the afternoon Vintage Aircraft Fly-In and/or
explore some local attractions, e.g. Salisbury Cathedral, English Heritage Stonehenge plus Old Sarum Hill Fort,
or Saturday's Gurston Down Speed Hill Climb (20% discount arranged) before supper at the airfield restaurant
from 7pm with a band. On Sunday there is a 70 mile Navigational Rally with light
mental stimulation - or a Tour for those wanting to admire the scenery
close to the cathedral City of Salisbury, with a lunch stop.
Download the regs and entry form here.
Let's see if we can gather a strong VMR entry for what is certain to be a truly splendid and varied weekend.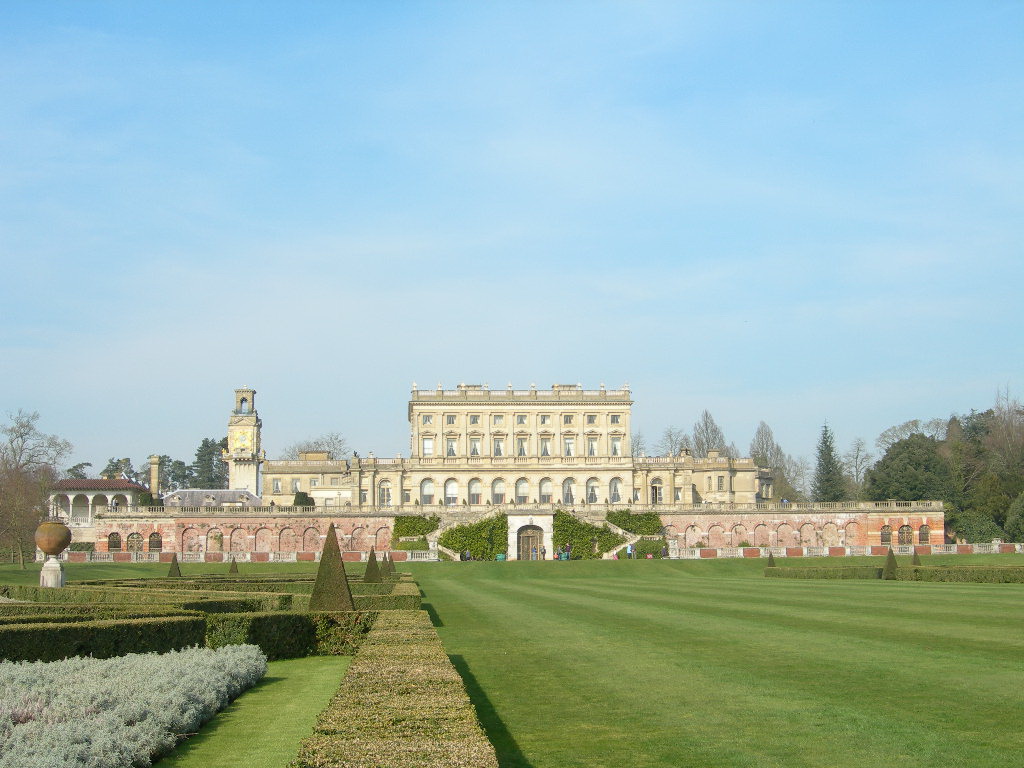 Cliveden from the gardens
18/4/13 This Sunday, thousands of vintage, pre-war and classic cars will take to the roads across Britain to demonstrate our love of our vehicles to the wider world
in a massive PR exercise which can only be good for our movement.
The Vintage Minor Register has a Drive it Day meet planned in conjunction with our friends at the Bean Car Club at Clivedon House on the Thames near Windsor.
We have been told to arrive between 10 a.m. and noon, as the general public are allowed in from noon, and we must stay until 3 p.m. (seems reasonable).
Not a good idea to bring dogs, as they are not allowed in the grand avenue (where we park) or the formal gardens. Everyone is welcome to explore the estate;
refreshments can be purchased. Feel free to bring a picnic. Anyone wanting to attend needs to contact Howard Martin who is co-ordinating with Cliveden National Trust,
at h_h_martin@hotmail.com or call him on 01628/522421
If you are not within striking distance of Cliveden, then if at all possible, please get the Minor or M Type out this Sunday and take it for a spin – perhaps a trip to a pub lunch
at your local or to one of the many gatherings being organized across the country. And please take some photos and send them on for the Magazine.
And if your car isn't roadworthy – why not get it out, give it a clean, fire it up if the engine runs, or generally do a few jobs on it.
Further information on Drive it Day may be found here.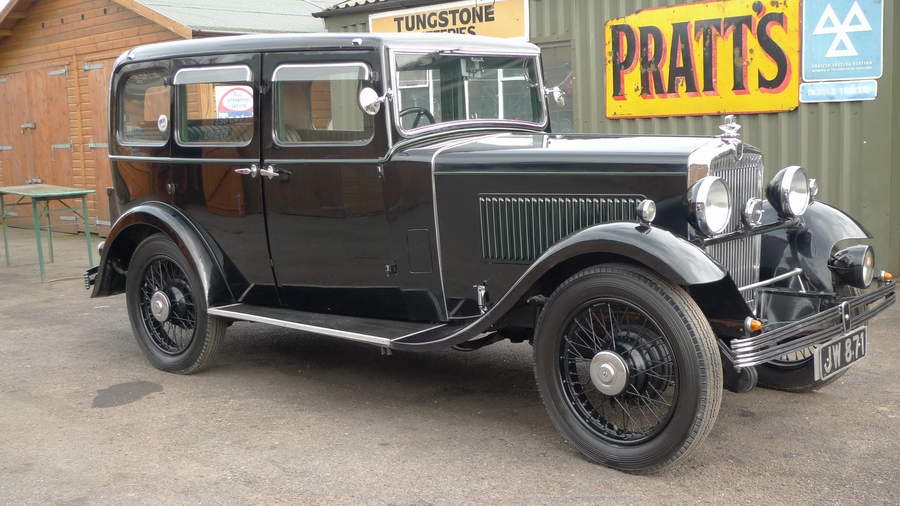 9/4/13 Not a Minor but a Major! Member Col Schiller of Cambooya, Queensland has recently acquired this superb Morris Major in the UK and has entered it
for our Summer Rally and our Midland Rally in July. He will be traveling from Australia with his wife and two daughters to join us.
See you there, guys!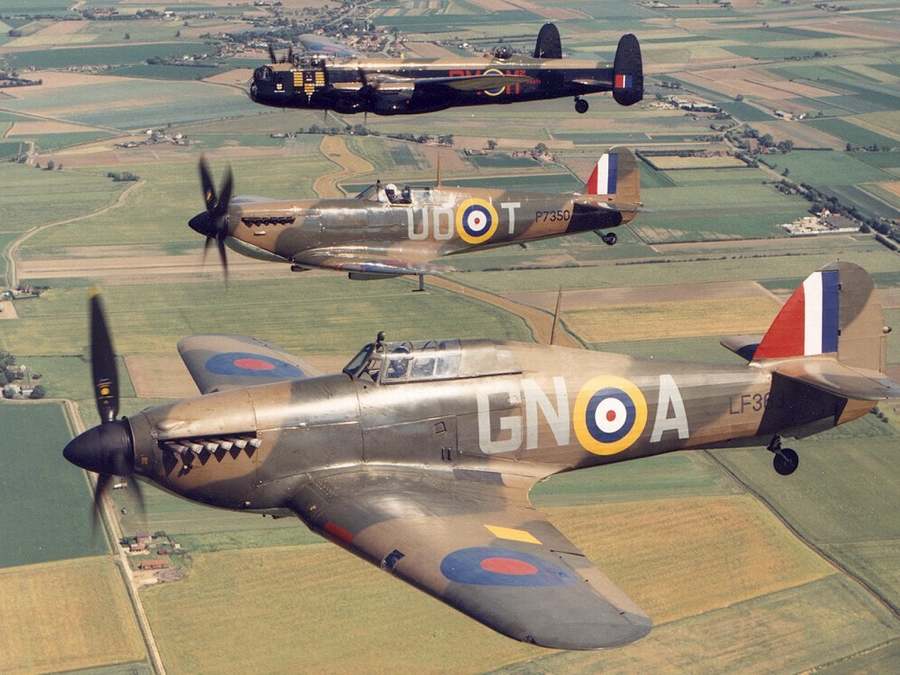 19/3/13 We are extremely excited to announce that, for the third year running, the Register has been awarded a flying display by the RAF Battle of Britain Memorial Flight for our Summer Rally.
In 2011, we were lucky enough to secure a display by the RAF Battle of Britain Memorial Flight's Avro Lancaster - one of only two flying survivors in the world.
Last year, the skies over Prescott were graced by a Spitfire Vb from the Flight, and I just heard this morning that this year, we have been awarded a display by a BBMF Hurricane IIc.
Although the Spitfire became the iconic fighter of all time, the Hurricane was the workhorse of the Battle of Britain in the summer of 1940.
The image above shows one of the two BBMF Hurricanes in the foreground, then the Spitfire and the Lancaster furthest from the camera.
Put the date firmly in your diary - Saturday 20th July.
Per Ardua Ad Astra!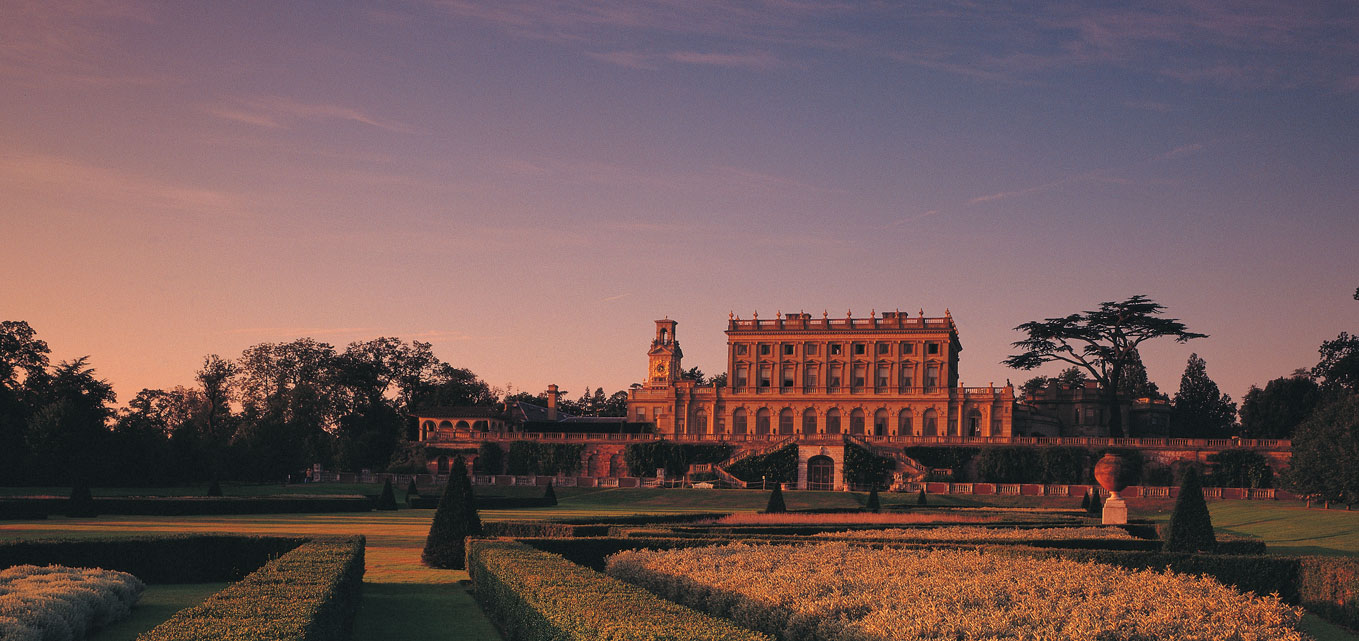 17/3/13 We are delighted to announce that, on Drive-it Day Sunday 21st April, we will be joining the Bean Car Club at the spectacular Cliveden House,
near Windsor in Berkshire and one-time home of Nancy Astor. With 376 acres of National Trust gardens to explore, it is difficult to imagine a better spring day out.
Watch this space for further details of the day as they are finalized.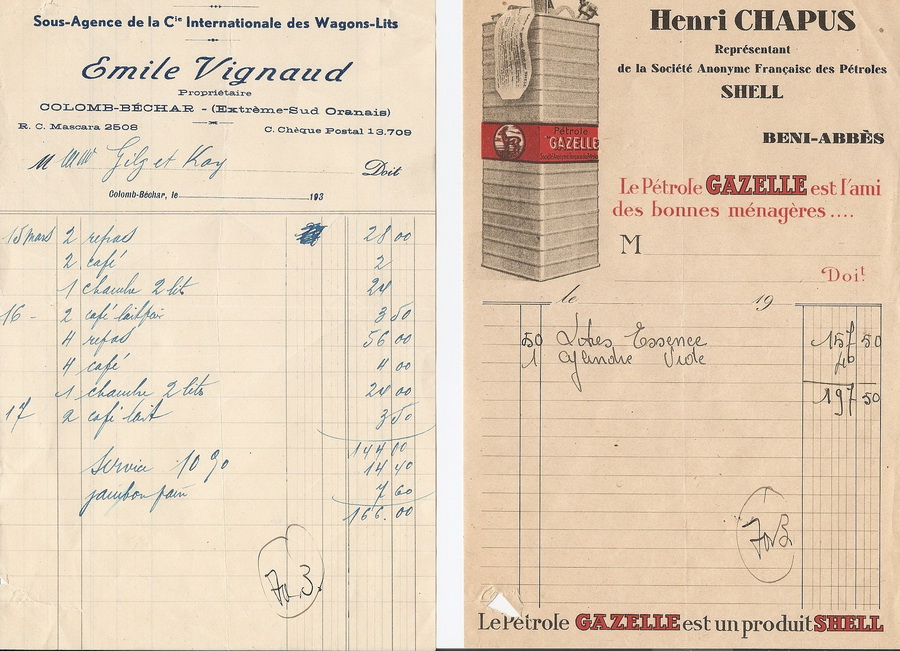 17/3/13 Eighty years ago today, things were getting interesting for Gilg and Kay as they began to tackle the Sahara crossing.
Apart from Gilg's diary, he kept every piece of documentation from the expedition and these are being systematically scanned right now.
For example, here are their hotel and petrol bills for 'last night'. After 43 days on the road, the expediton is becoming a real challenge for a Morris Minor.
We are posting Kay's diairy entries, eighty years to the day after they were written, here.
2/3/13 IMPORTANT ANNOUNCEMENT
The Morris cars Centenary is nearly upon us.
This just in from Robin Barraclough - foremost Morris historian and VMR Honorary member:
Dear Ian, The first Morris car was despatched from Cowley on 29th March 1913. To celebrate a hundred years of car making in Oxford,
Lady Tanya Field has organised a run and display at Oxford. (To give you some background, Lady Tanya is the daughter of the 9th Earl of Macclesfield
and is an enthusiast. The 7th Earl was chairman of W.R.M.Motors Ltd. which made the first Morrises at Cowley i.e. Morris borrowed money off the Earl).
The cavalcade organised by Lady Tanya is not a Bullnose Club event. The event has the support of BMW and the official Oxford Tourist Guide.
If you Google "Morris Centenary Cavalcade" you get the details given below:
"40 Oxford built vehicles will assemble early morning of the 29th March at MINI Plant Oxford. The Bullnose and MINI will be waved off to go to Hollow Way
where they will start an re-enactment of when the first ever Bullnose left Hollow Way on 29th March 1913. However, instead of driving to London as in 1913,
they will drive to Nuffield Place to join the Bullnose Morris Club's celebrations. The 40 vehicles will then leave MINI Plant Oxford to drive to the City Centre
to form a static display for the day taking a route that will pass by as many significant places as possible, including the Nuffield Needle,
old North and South Works, Hollow Way, the Nuffield Hospital and the Longwall garage."
The important Morris models of which the cavalcade is in need is a good example or two of the first generation OHC and S.V. Minors.
Could you suggest any owners who might like to take part? Presumably they would be in the Oxford area. Lady Tanya can arrange secure storage
if required for the cars and/or trailers. The event will attract plenty of TV and press coverage.
Hope you can help. Pity you do not live in England!
Robin
We have an OHC Minor, but are in URGENT NEED of a SV Minor.
Who will support this historic event and fly the flag for Minors and our Register?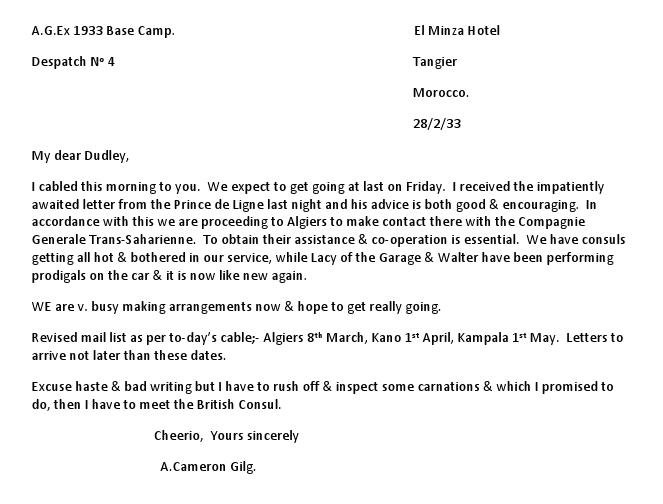 28/2/13 On this day 80 years ago, the Gilg and Kay Expedition, who had been waiting in Tangier, received the impatiently awaited letter
from the Prince de Ligne providing vital information on the way ahead. So they are now ready to head for Cape Town.
Kay's expedition diary entries are being updated daily here.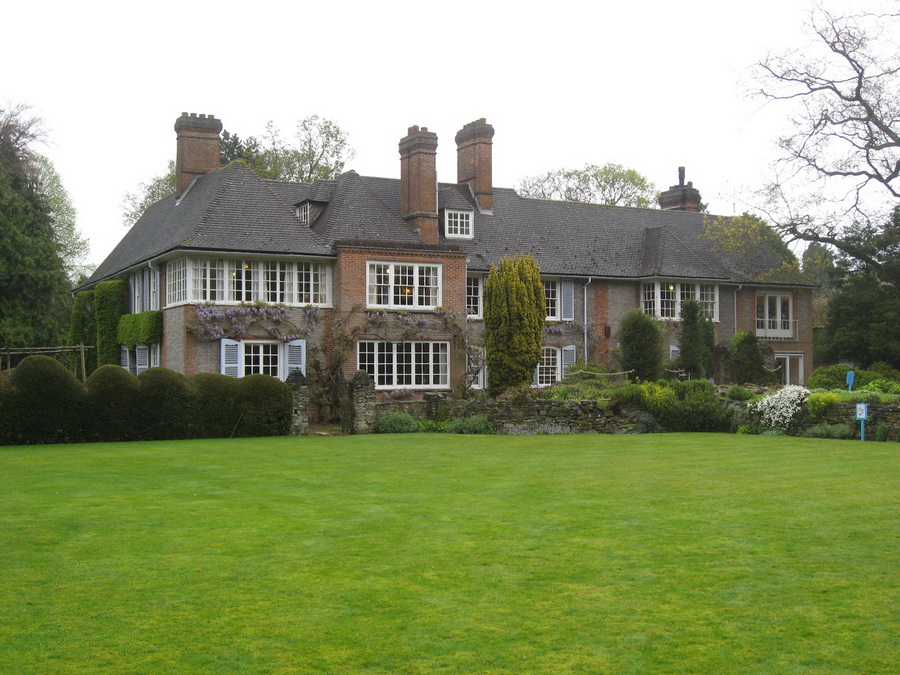 24/2/2013 We have been invited to join the Bullnose Morris Club at Nuffield Place on Good Friday, 29th March with our Minors/M Types.
The first ever Morris left the work on 29th March 1913 - exactly a hundred years ago on this day.
An optional lunch at the Oxford Thames Four Pillars Hotel is also available.
If you would like to attend, please dowload the entry form in two parts - here and here - and return them directly to the BNMC.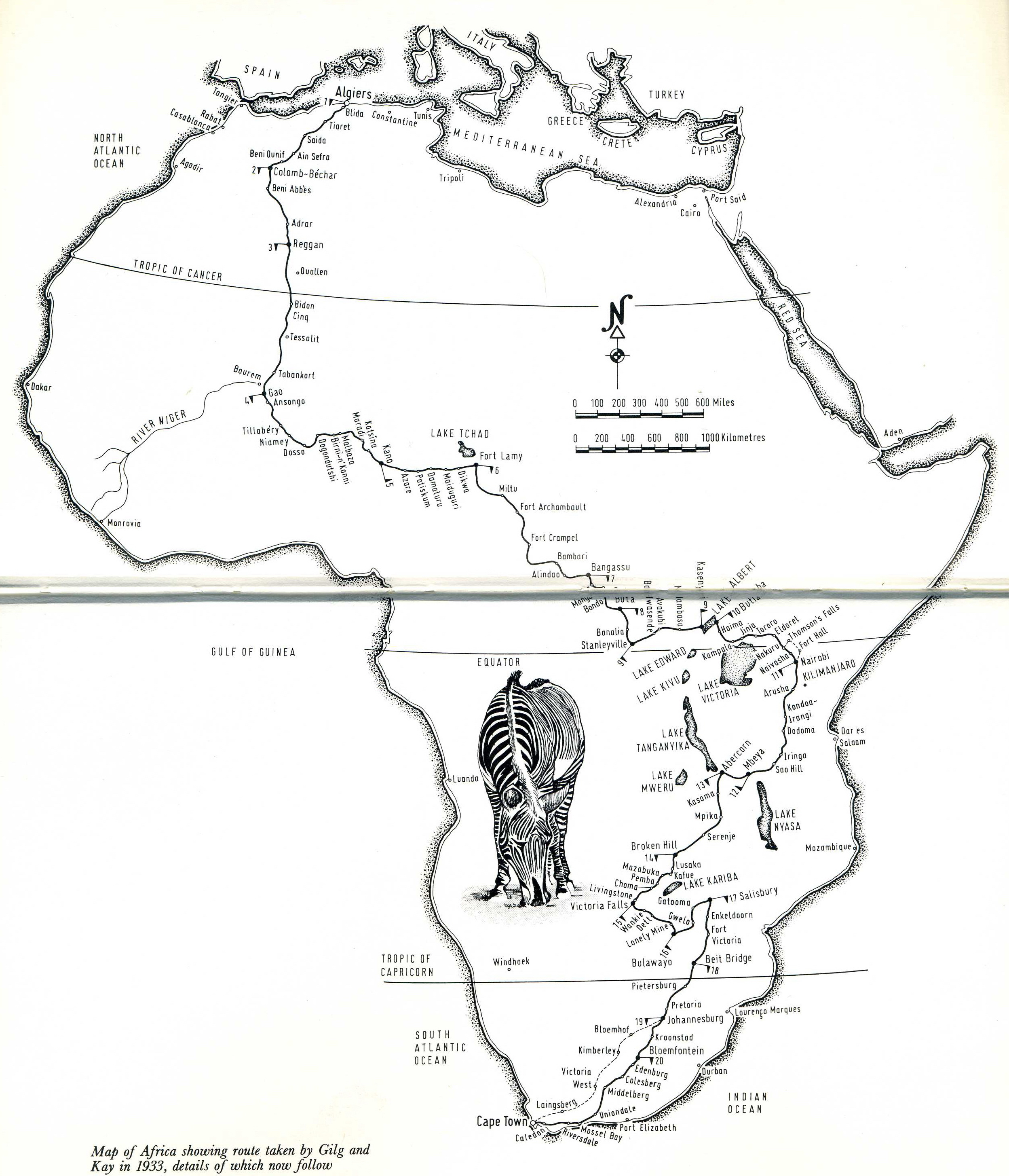 1/2/13 On this day eighty years ago, two restless young men left Liverpool in a 1933 Morris Minor tourer.
They would not rest until they reached Capetown. The incredible story of their record-breaking expedition
will be told in words and pictures on this website - day by day. Follow the story here.
Sincere thanks to the Gilg family for providing diary entries and other documents relating to the expedition
from their father's trip records.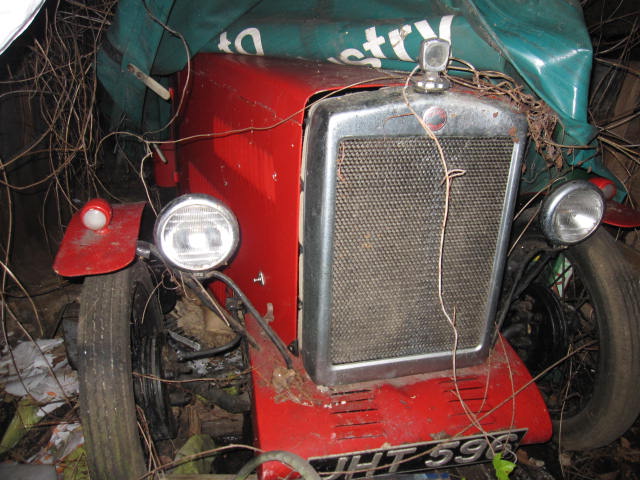 30/1/13 And still they keep turning up - the latest in a never-ending series. This SV Minor has just surfaced in Oxford.
It has been highly modified, including Family Eight 9" hydraulic brakes - for good reason.
Under the bonnet lurks a 918 c.c BMC A series engine that apparently gives it 'scorching' performance!
We look forward to seeing more of the car once it has been sprung from its lair.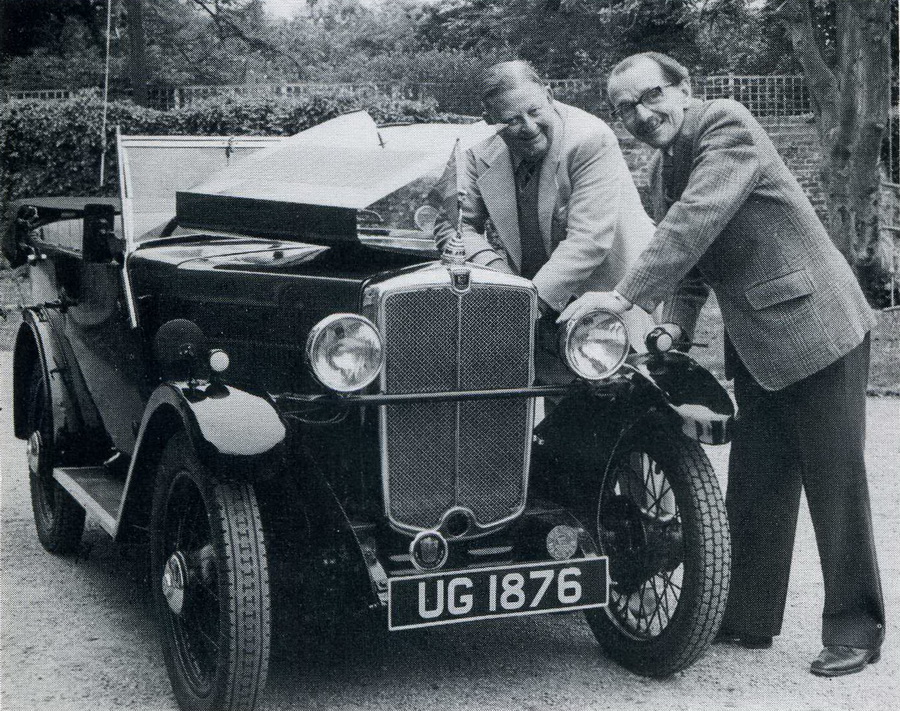 19/1/13 In the summer of 1933, two Englishmen - Cameron Gilg and Walter Kay - drove a Morris Minor tourer from Liverpool to Capetown
becoming the first light car to achieve such an epic journey, including crossing the Sahara. Gilg maintained a daily diary of the trip and
his family have carefully transcribed each daily entry. 2013 is the 80th Anniversary of the trip and so we will post each day's diary entry
here - exactly 80 years to the day after they were written.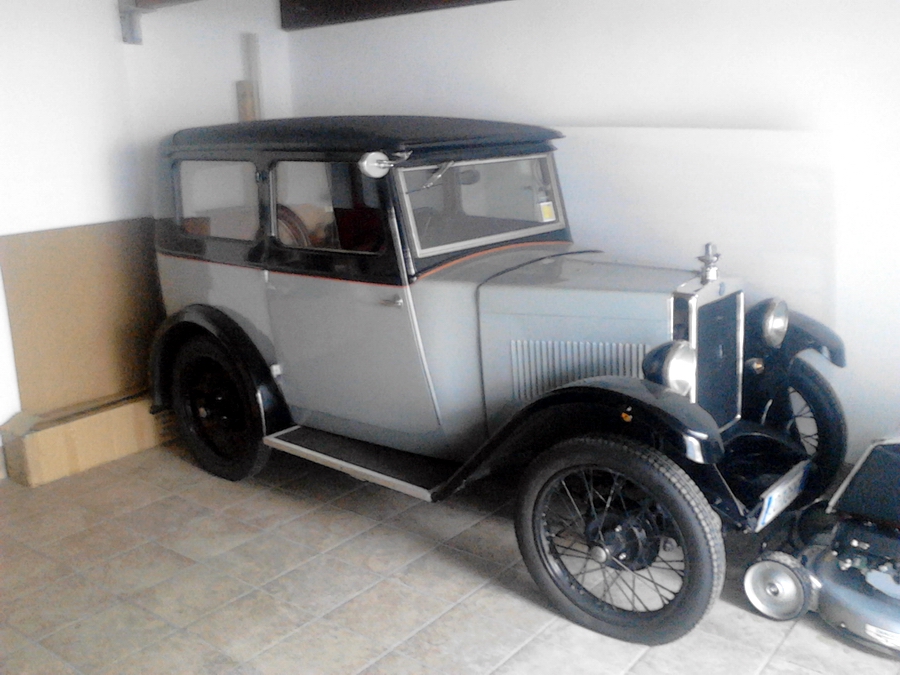 15/1/13 This 1931 SV Minor (chassis SV1641) is being offered for sale in Italy by Gian Paolo Cheula who has just inherited it and wants to pass it on.
Gian Paolo is looking for around € 12,000 and can be contacted at g.cheula@libero.it.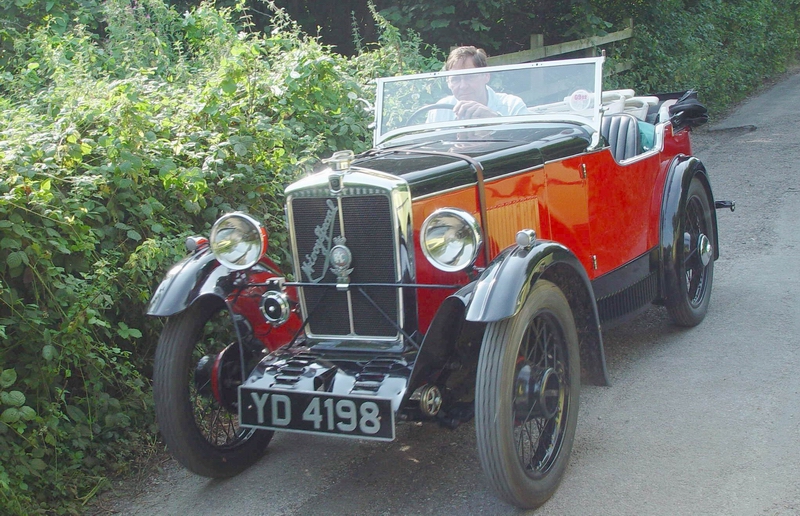 10/1/13 Jim Peacop is auctioning his 1932 McEvoy Minor at Brigtwells in Leominster on 6th March - details here and here.
This is a great opportunity for someone to pick up a rare and delightful Minor.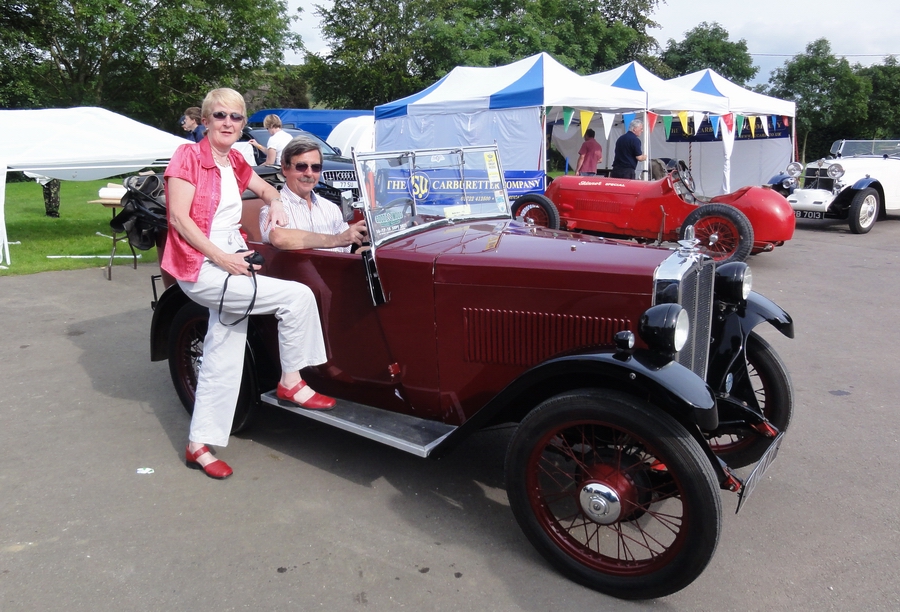 Joyce and Andrew Gilg at Prescott last July, trying out Chris Holland's 1933 tourer for size (photo - Chris Holland, with Joyce Gilg's camera!)
10/1/13 2013 marks the 80th Anniversary of Gilg and Kay's epic drive from Liverpool to Capetown in a new 1933 Minor tourer.
The Gilg family were our Guests of Honour at Pre-War Prescott last July and they brought along all of their father's arrtifacts from his trip,
including his trip diary. The plot was hatched there to transcribe that diary and post it on this website - each day - exactly 80 years after the trip.
The trip actually began on February 1st 1933 and lasted 158 days until July 7th, but the diary starts before then and so, to set the scene,
the introductory pages have been posted on our forum and lead up to the collection of the car from Cowley. Later this month, I will be setting up a separate
web page for the entire diary as the year progresses and post daily as the diary entries progress day by day through 1933.
Watch this space for further news.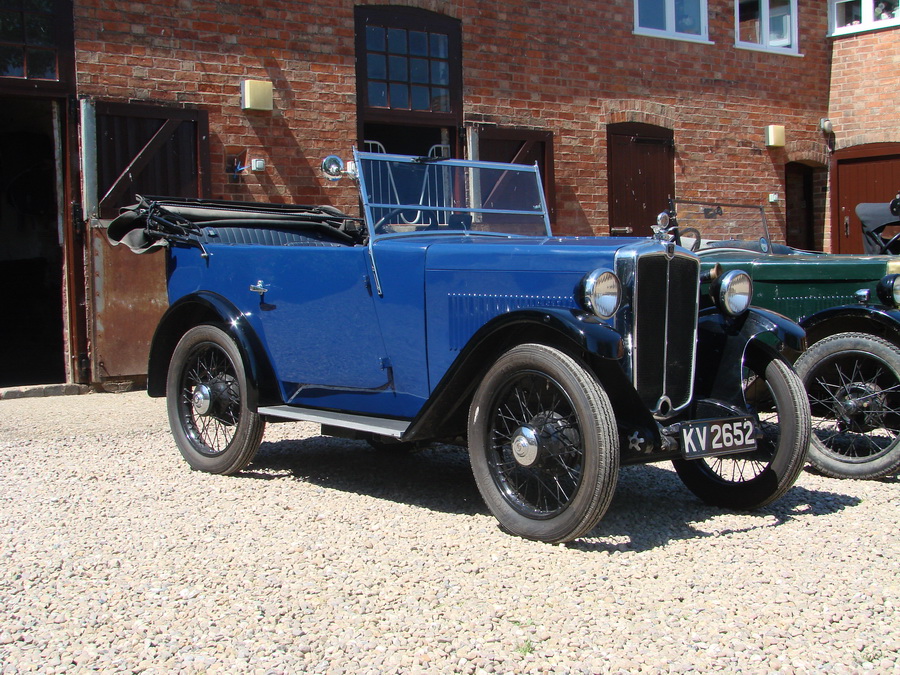 5/1/13 First of all - a Happy New Year to one and all! We kick off 2013 by welcoming Arthur Campbell to the Register with his rare
1932 (1933 season) Minor four-seater tourer. Arthur is a friend of Brian Maeers, which explains everything!
Here we see KV 2652 at Brian's Manor Farm last July when Brian was getting the Minor road-sorted for Arthur.
27th November 2012 Today we welcome new member Phil Sowry of Epsom Downs who joins the Register with his 1930 M Type MG 493 (2M/1425).
Phil was recommended by Dave Cooksey who will receive ten pounds discount on his 2013 subs for referring a new member - thanks, Dave.
Phil is a family friend of Dave's and commented on his membership application, "I should have joined a decode ago"!
(He has owned the M since at least 1964, according to Register records.)
Never too late, Dave - welcome at last!
4/11/12 The Hundred Pound Minor MU 3307 (see 20/10/12 below) is now being offered for sale by the Vintage Petrol Pump Company
who are asking £4,950 for her. Contact Roger Baker for call him on 01947/895289 for more details.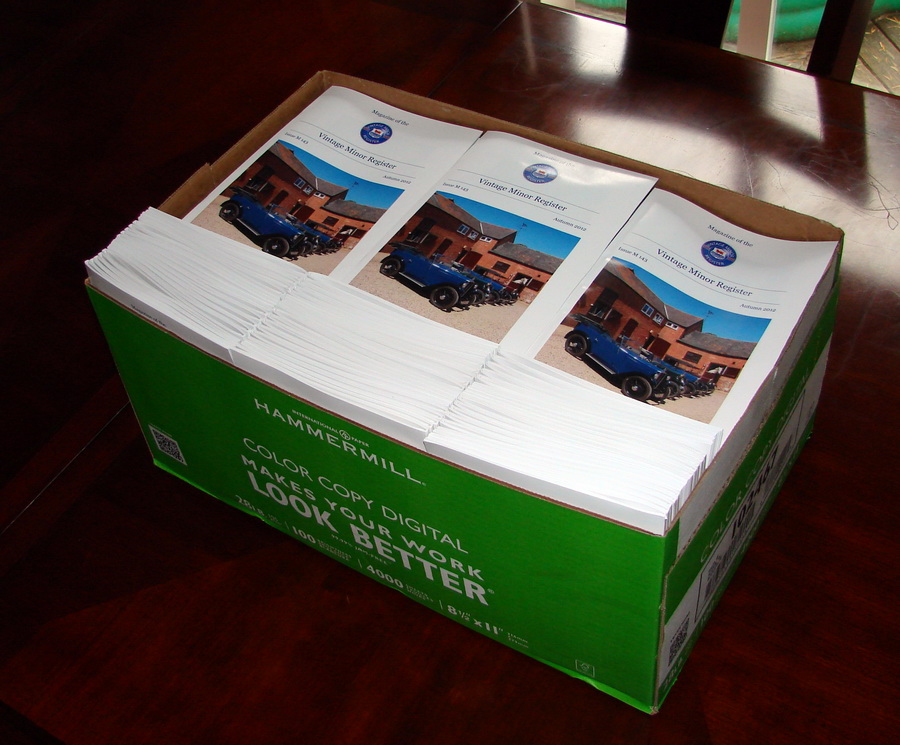 28/10/12 250 copies of the Autumn Magazine M 143 hot off the presses of Northwest Fine Art Printing today.
These will be winging their way to eighteen countries early next week.
M 144 will be with all members in time for Christmas.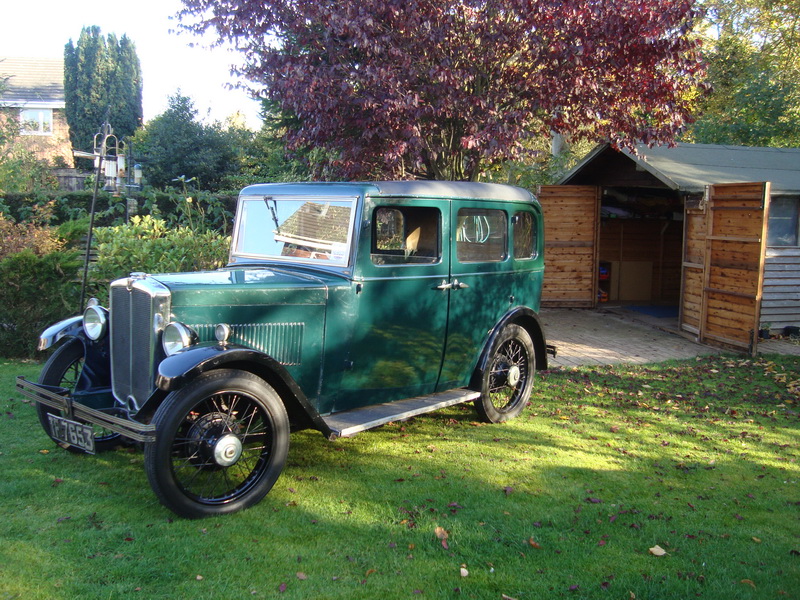 27/10/12 And congratulations to new Register member Martin Watts who collected this Lancashire-registered
1932 long-wheelbase Family Eight TF 7653 (M36187) from Jim Peacop's Mouldsworth Motor Museum today.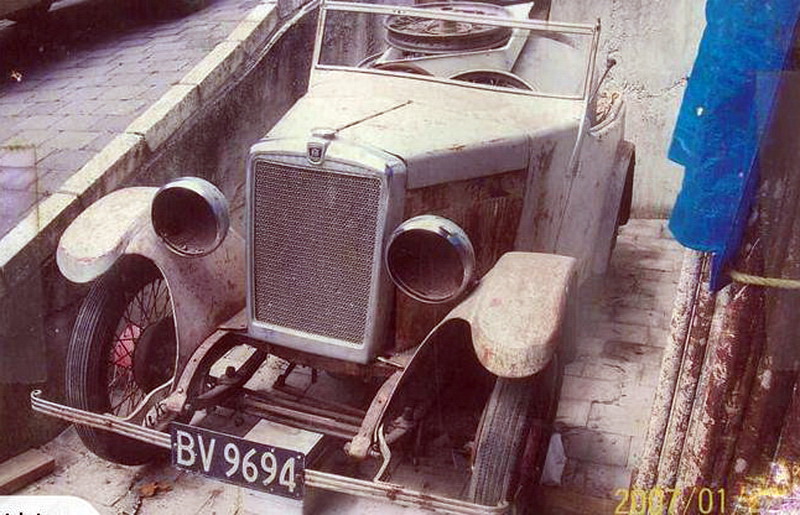 27/10/12 And still they turn up! This time in New Zealand where this '1928' Minor is being offered for sale.
Notwithstanding the 1932 season radiator, the windscreen suggests that this is indeed be a very early tourer.
More information here.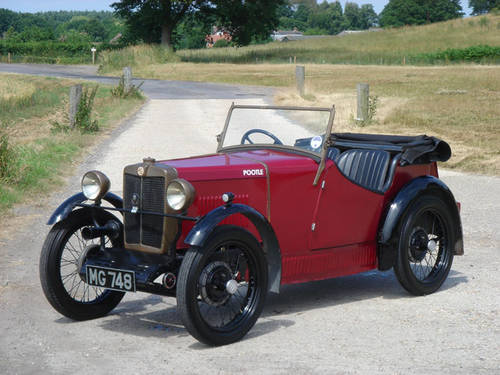 20/10/12 Congratulations to new Bedfordshire member Peter Newbery who has acqired the 1930 M Type MG 748 (2M/1506), nicknamed 'Pootle'.
Originally built 16th April 1930, the car was modified in the forties in the fashinable J2 style seen here.
Peter has owned an MGB for 18 years, but has never owned a pre-war car, so he is looking forward to the new experience.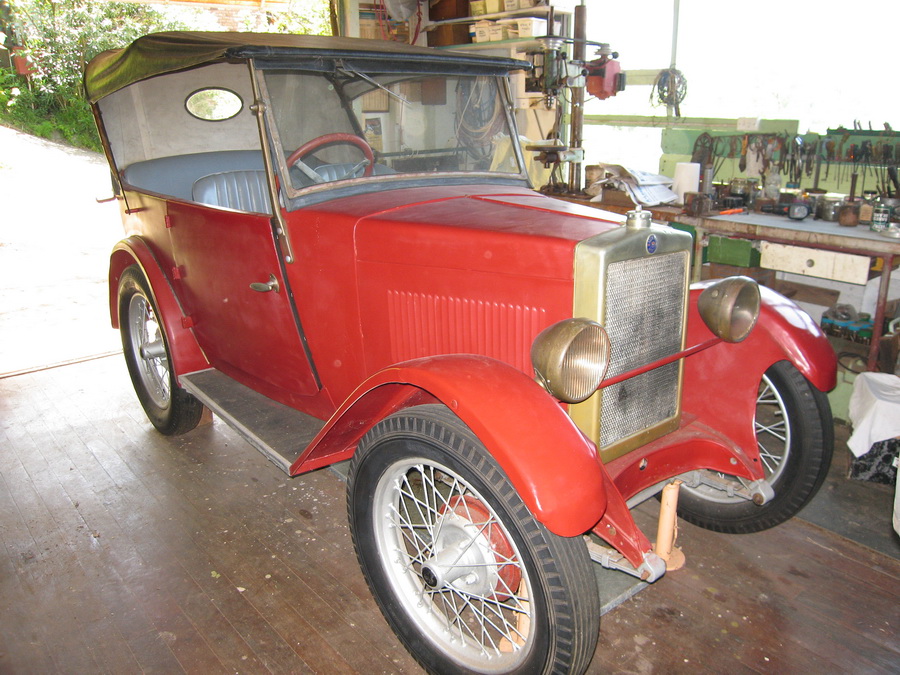 20/12/12 And still they turn up! This 1928 OHC tourer is being offered for sale in Sydney, Australia, having been in the same family for seventy years.
The owner reports: "The car gave us very good service, and both myself and my brother learned to drive on it the 50's.
The car has been up on blocks for about 15 years and we now think it is time to sell it to a good home. A restoration project was
carried out about 10 years ago and even though there is some finishing off to be done, the car is complete and almost in running conditon.
A 4-speed gear box is fitted. There are a lot of spares such as engine, 3-speed gear boxes, axles and diffs. which would also be included in a sale."
Contact the Register for further details.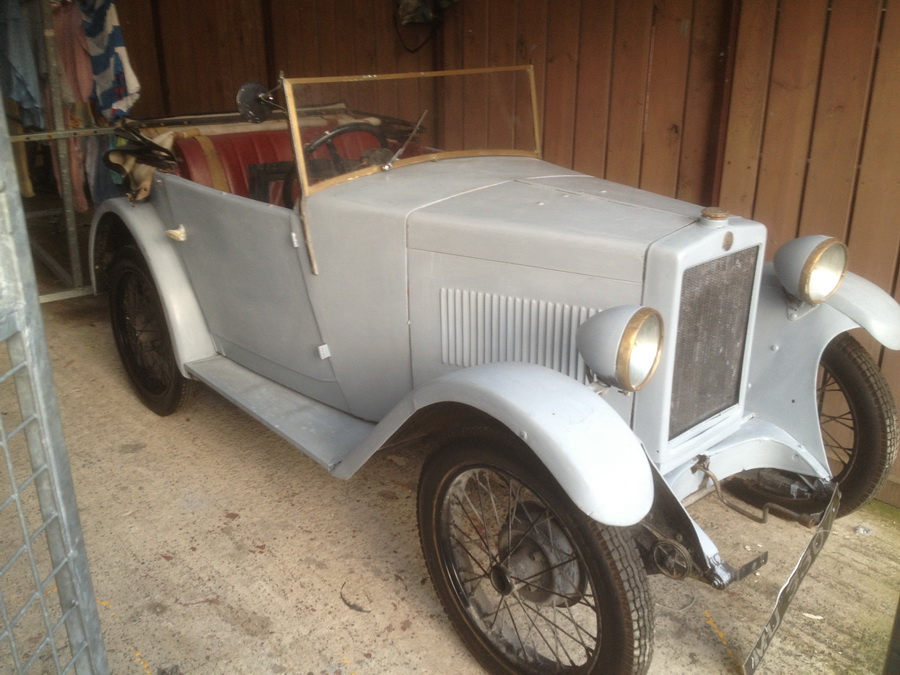 20/10/12 Minors continue to come out of the woodwork. This 1931 Hundred Pound 2-seater and is available to interested parties.
MU 3307, chassis is SV2129, still fitted with original engine 2894. It is now in primer and needs finishing but is a fairly tidy car
and turns over with good compressions. Contact the Register for further information.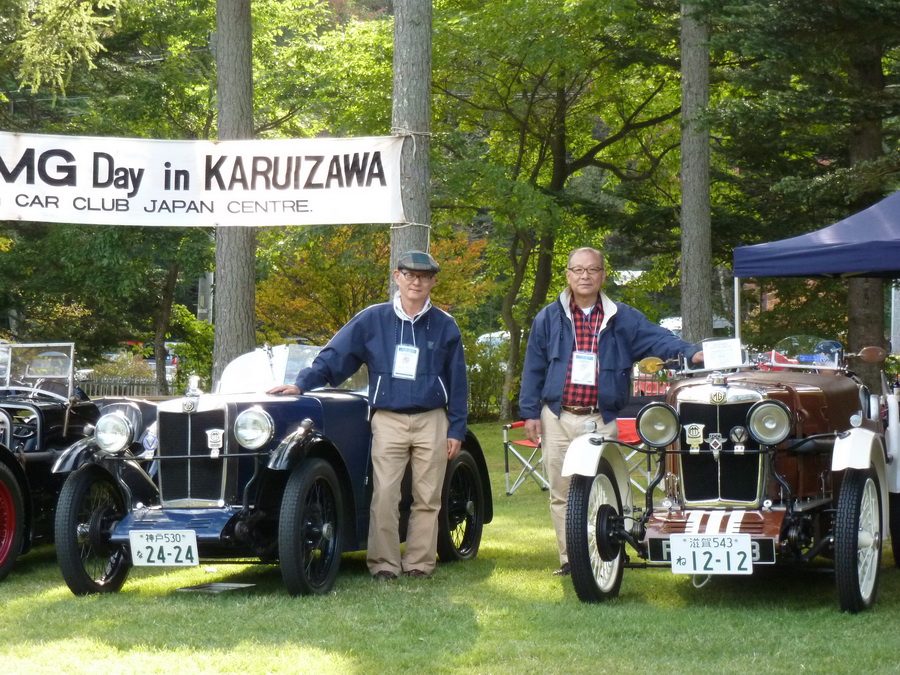 20/10/12 We have two very enthusiastic Register members in Japan - Kenji Matsuoka (left) and Shinichi Nagatani (right).
On 13th October, the 28th MG Day was held at Kajimanomori Hotel in Karuizawa under the auspices of the MGCC Japan Centre.
The MG Day is the biggest MG gathering in Japan and has a long history since 1973. The 1st and 2nd meets were held in Tokyo, then they moved to Karuizawa
where there is a historic health resort near Tokyo. For the last six years, the MG Day has not been held. Many MG enthusiasts in Japan have waited
for the the restart of the MG Day, so more than 70 MGs gathered from all over Japan this year.
Among them were eight MMMs including Kenji's and Shinichi's M types.
Other MMMs were two J2s, one PA, one PB, one C and one K3.
(Photo: Kenji Matsuoka)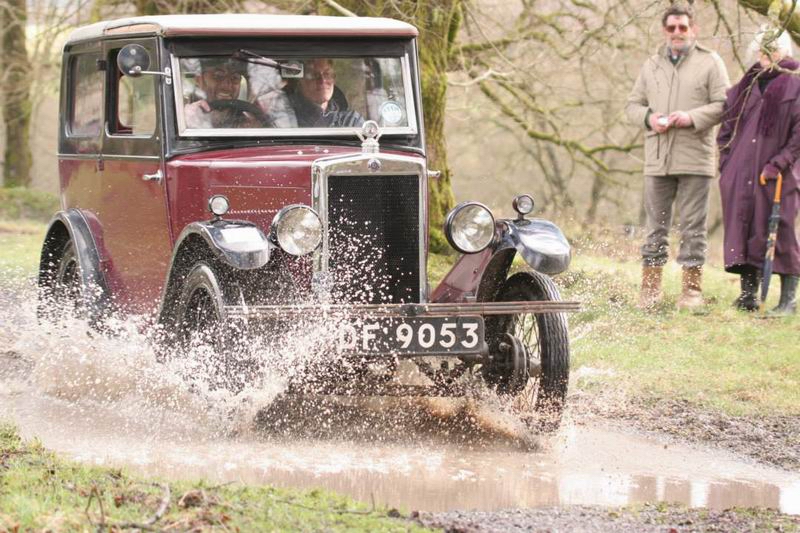 19/10/12 Today we welcome John Denton to the Register. John has acquired the ex-Paul Harris, ex-David Brown, ex-Jeremy Evans
1929 Minor saloon DF 9053 from a dealer in Northern Ireland, who at one point reently was planning to dismantle this car for spares!
It is great to see this car back in the Register and in such good hands.
And in other great vintage Minor news, Derek Tew has acquired the 1929 Minor tourer FL 7665 - see 30/9/12 news item below.
Derek is known to many for his work at Gaydon and as a Wolseley man.
17/10/12 The Vintage Minor Register has been working over the years with the British Motor Industry Heritage Trust at Gaydon to
transcribe and computerize the original manuscript Cowley production records for the Morris Minor. The resulting data has become known
as the Morris Minor 'Genome'. We captured the data for the vintage Minors several years ago, but have always wanted to expand the initiative to the
sidevalve Minors. We started earlier this year to record the production data for the SV Minors, recordng data for the first 18,340 SV chassis.
We have now extended this to chassis number SV32246 - almost to the end of the 1933 season production, and look forward to completing the
entire Minor 'Genome' in the New Year. This is a monumental task that takes weeks of careful and accurate onsite work and all of this data is made available
to Register members online in the Members' Area of this website. As a Register, we will continue to strive to make historical data
available to members wherever it can be found.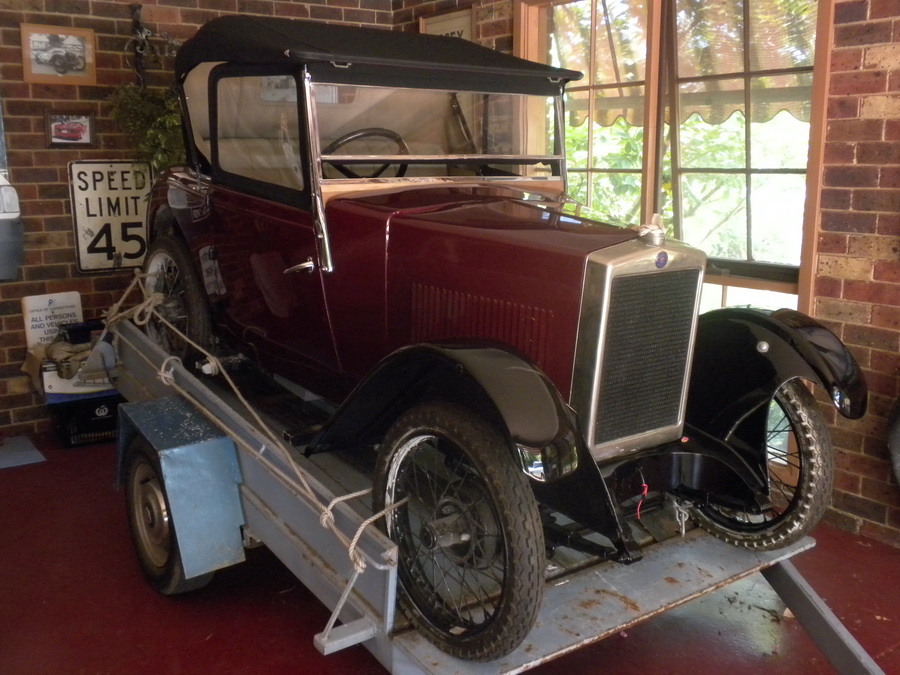 16/10/12 Today we warmly welcome to the Register Peter Purcell of Melbourne, Australia who has restored this 1929 Ruskin-bodied roadster.
You will appreciate his monumental achievement when you see what he started with.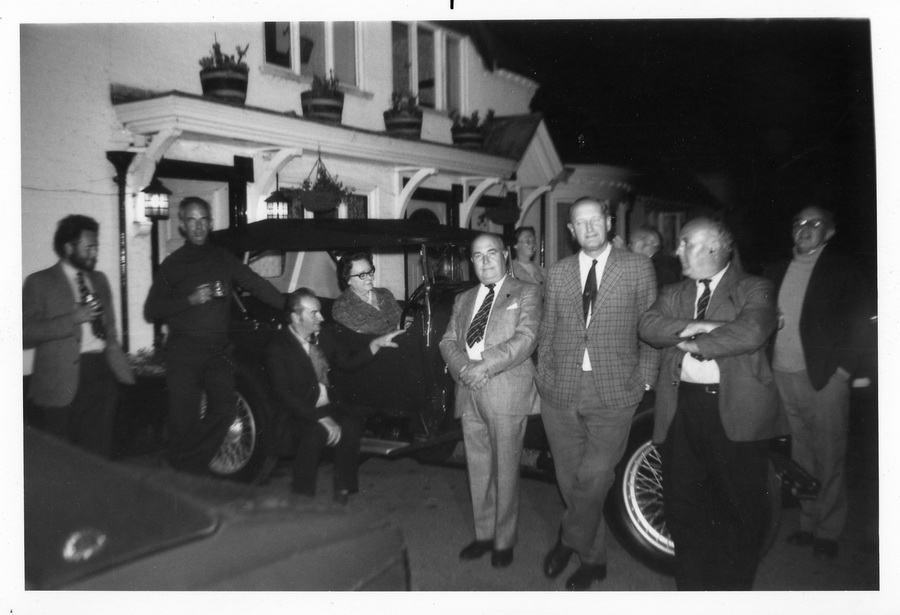 The VSCC was founded at the Phoenix, Hartley Wintney in 1934 when the landlord was Tim Carson.
The club has been meeting there monthly ever since, on the first Thursday of the month.
Here we see a gathering at the Phoenix of several VSCC heroes of the late sixties. Many will recognize the faces.
Left to right: Jim Wyman - Arthur Jeddere-Fisher (co-founder with Bill Boddy of the VSCC Light Car Section) - Jock Chamberlain (on the running board)
- Pam Dear - Russell Wilson-Kitchen - Peter Hull - Dudley Gahagan - A N Other (any ideas?)
No longer with us. Happy days.
(Photo courtesy of Peter Harris)
15/10/12 Two upcoming events. First, on Sunday November 18th, a VMR-hosted MoT Emancipation Meet at the Phoenix Inn, Hartley Wintney
to celebrate the day that the MoT will be dispensed with for pre-1960 cars. All and every pre-1960 car warmly welecomed - MoT'd or not!
Second, a New Year's Day meet at the Crooked Billet, Honey Hill near Wokingham, in association with the Bean Car Club.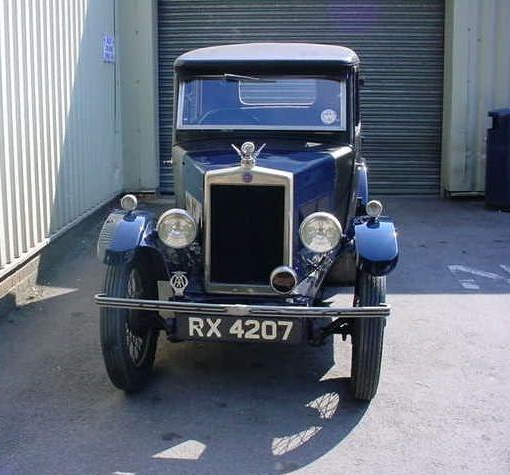 13/10/12 Today we welcome new member John Hall of Kidderminster who has acquird the ex-Bunn Collection
1929 fabric saloon RX 4207 (M4322) which was auctioned by Bonhams last year and subsequently offered by Arun Motors.
RX 4207 was first registered in Berkshire on 10th April 1929.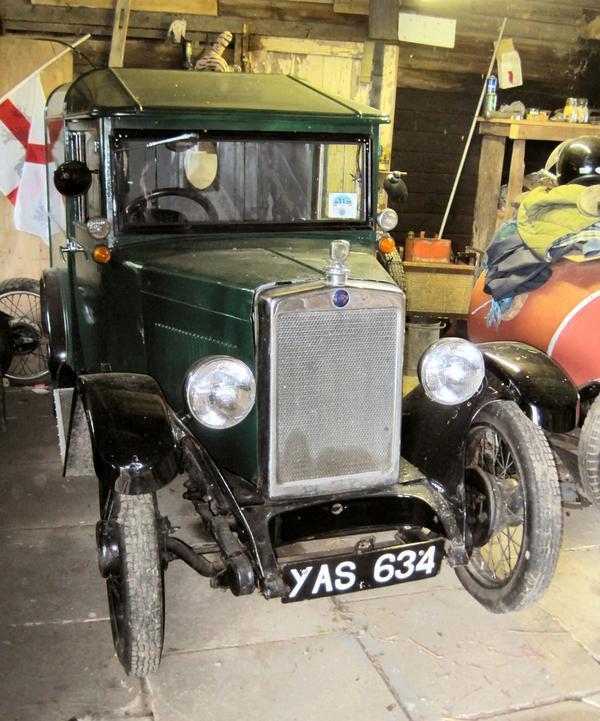 13/10/12 This 1933 SV Minor 5 cwt. van, chassis SV26830 is to be auctioned next Saturday 20th by Cheffyns in Cambridge.
Find details here.
6/10/12 The date for Pre-War Prescott 2013 was officially established thisi week as Saturday 20th July.
This sets the date for our 2013 Summer Rally - 20th/21st July. Start making plans!
5/10/12 The October Newsletter was distributed by e-mail yesterday and can also be found in the Members' Area of the website.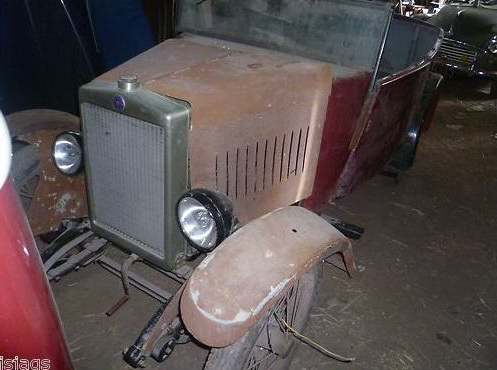 30/9/12 Nickel radiator tourer projects don't come up very often these days, so here's a super opportunity for someone to pick one up at a reasonable price.
This Peterborough-registered 1929 tourer was being restored by a garage owner in Cornwall back in 1981 when I was posted to RAF St. Mawgan.
He was making a poor job of it and so I pestered him to sell it to me. After about a year, he relented and so I advertized my Austin 7 fabric saloon project
in Exchange and Mart, sold it and went back with the cash - only to find he'd sold it to someone up in Preston the previous week!
I have been searching for it ever since. This just shows how a restored car in sound, running condition and unknown others more recently.
View it on eBay here.
29/9/12 After a break of about four years, VMR HQ now has high-speed internet that permits use of Vonage VOIP telephone service.
One of the features of this service is that we can take advantage of a pseudo telephone number in the UK.
Members in the UK can therefore call this number, paying only for a local call, and be connected directly to VMR HQ in Seattle.
The pseudo number is Oxford (01865)/593089 and should take effect within 24 hours from now.
Members in Europe and elsewhere can also call this number and pay for a call to England, which may be cheaper than calling the USA.
Please feel free to give call with your news or questions - evenings or weekends, just remembering that we are 8 hours behind Oxford time!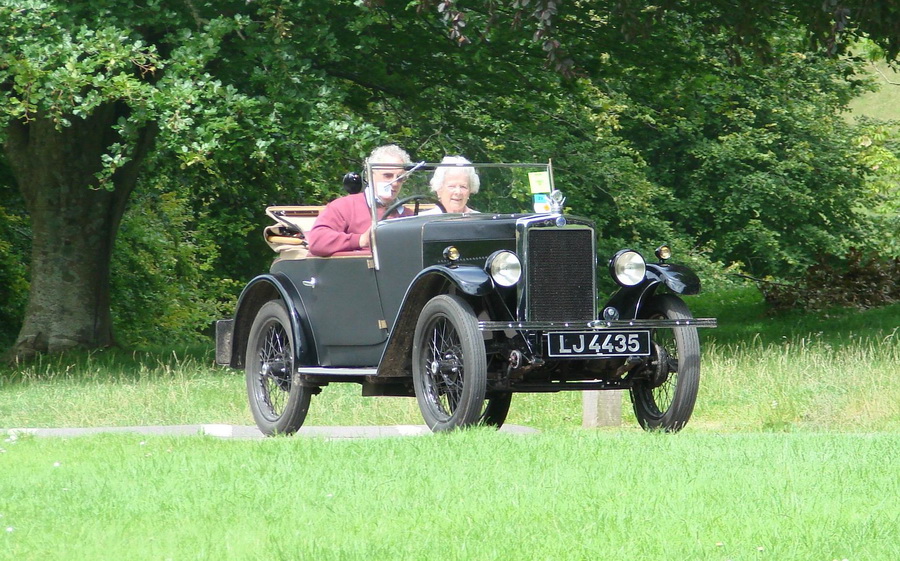 29/9/12 The ex-Captain Angus Hambro Semi-sports, LJ 4435 is being offered for sale by the current owner - who is too tall to fit in it with the hood up!
This vintage Minor is probably the finest and most historic Minor in existence today. The perfect mount for VMR and Light Car events.
Contact the Register for comprehensive details.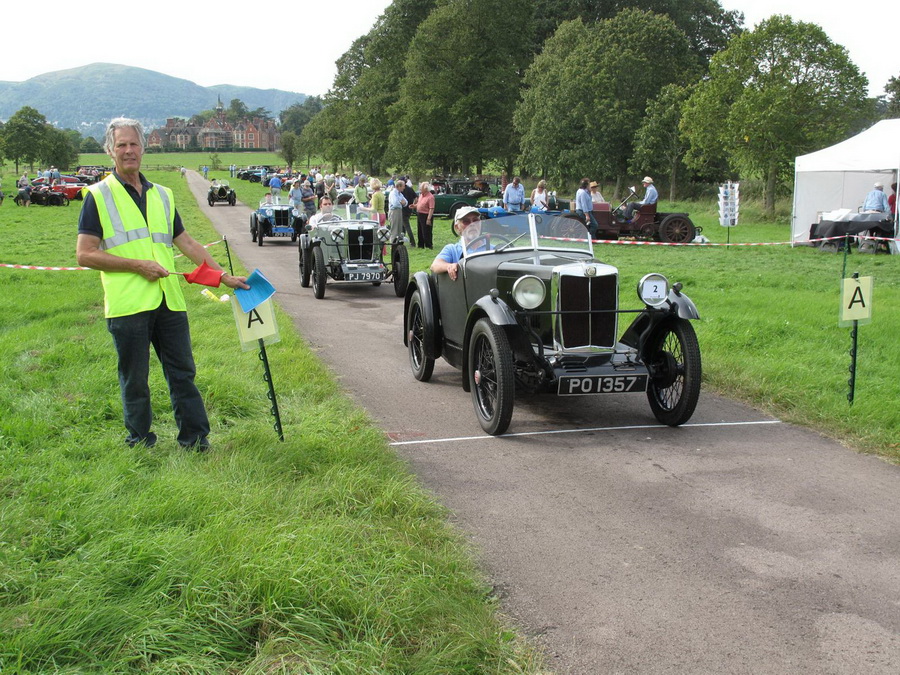 9/9/12 And today was VSCC Madresfield, held since 1947 on the mile-long drive of Madresfield Court and with the gorgeous backdrop
of the Malvern Hills. The M types entered held the end up well in the Standard Sports Car Class. 5% of the total field were M types,
and 25% of Class A (Standard Sports Cars) were M's. Owen Bolton's 1932 car APB 298, 2nd Class award, Nigel Stroud 1929 car PO 1357
and David Rushton 1932 car PJ 7970 both 3rd Class awards. (The 1st Class went to a Bugatti Type 22.) All subject to official confirmation.
In Class A the M's held off opposition from the likes of Hornet Special, Frazer Nash, a PA and TA.
Thanks to David Hinds for the report and photo.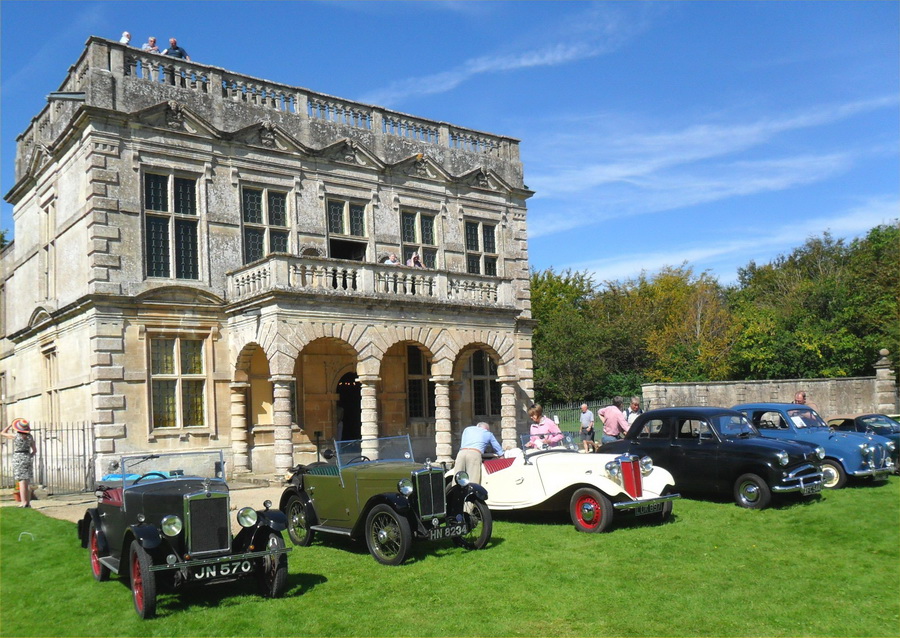 9/9/12 And here's the lineup! A brace of Minor 2-seaters - Mike Jones' OHC, and Mike Wood's SV flew the VMR flag at Lodge Park yesterday.
Mike Wood reported that a great day was had by all, and the National Trust made them very welcome.
(Photo: Mke Wood)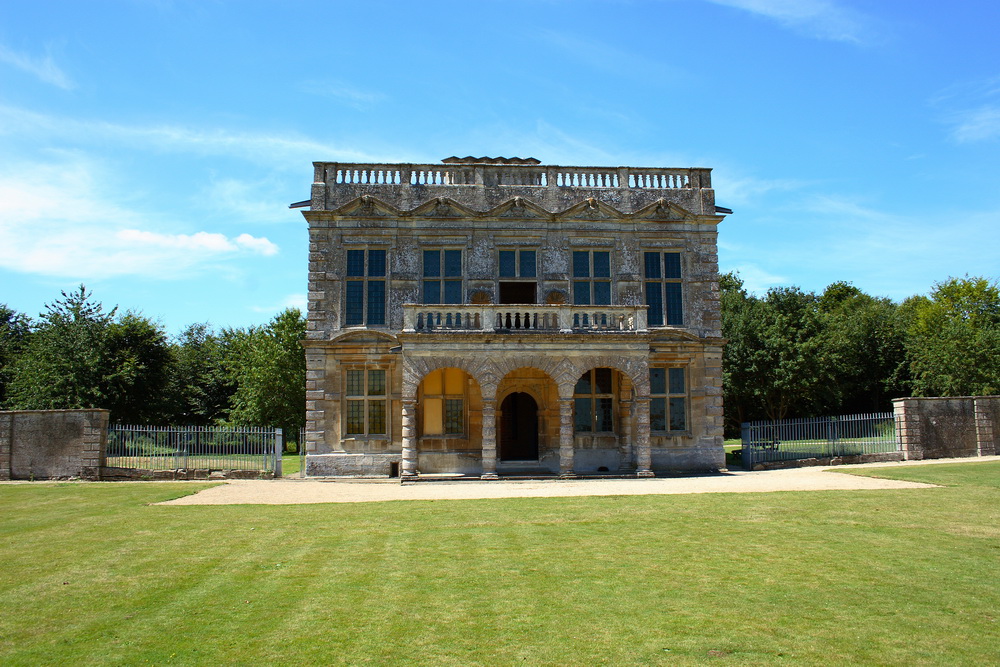 18/8/12 As part of the 2012 Heritage Open Days on Saturday 8th September, the National Trust has invited the Register to put on a display
of our cars at the magnificent Lodge Park, Sherborne, Gloucestershire. We visited Lodge Park during our Summer Rally last month,
where there was a clue for the Navigation Rally in the grounds. So far, two members have declared, but the more we get, the better.
The NT will give us free entry and allow us to line up our cars on the lawns in front of the Lodge for a great photo opportunity.
If anyone else would like to come along, please e-mail the Register for further details and co-ordination.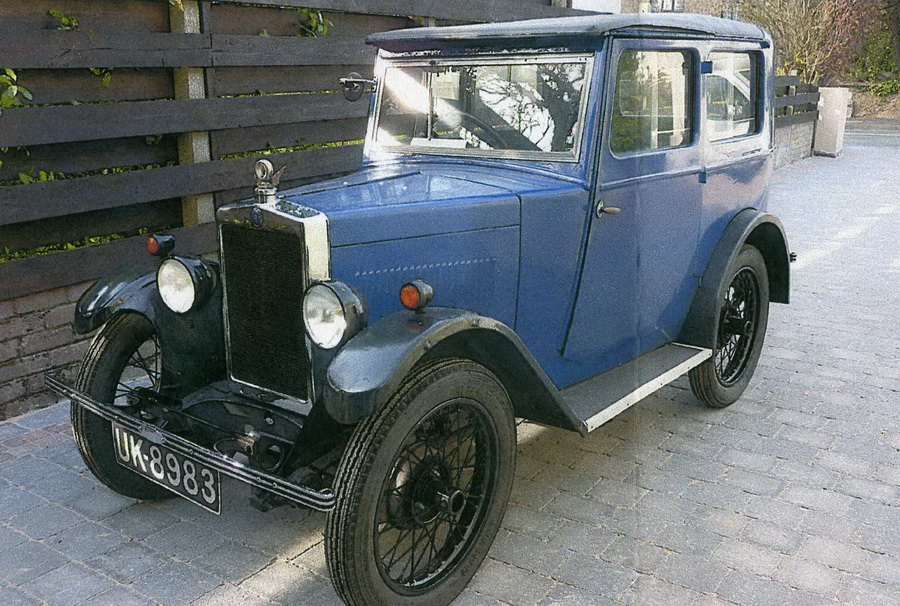 5/8/12 Today we welcome Derek Russell and a very special vintage Minor to the Register.
Derek, who lives in the Isle of Man has acquired the late Harry Edwards' 1930 Minor saloon UK 8983.
Harry restored this car back in the sixties, took it to the Morris Register's rally in the seventies and it was then put into the garage until his death.
It will be splendid to see this Minor out and about in future, once it has received a little road sorting.
Derek's only regret is that the number plate will have to be relinquished, as the car will be receiving a Manx plate shortly.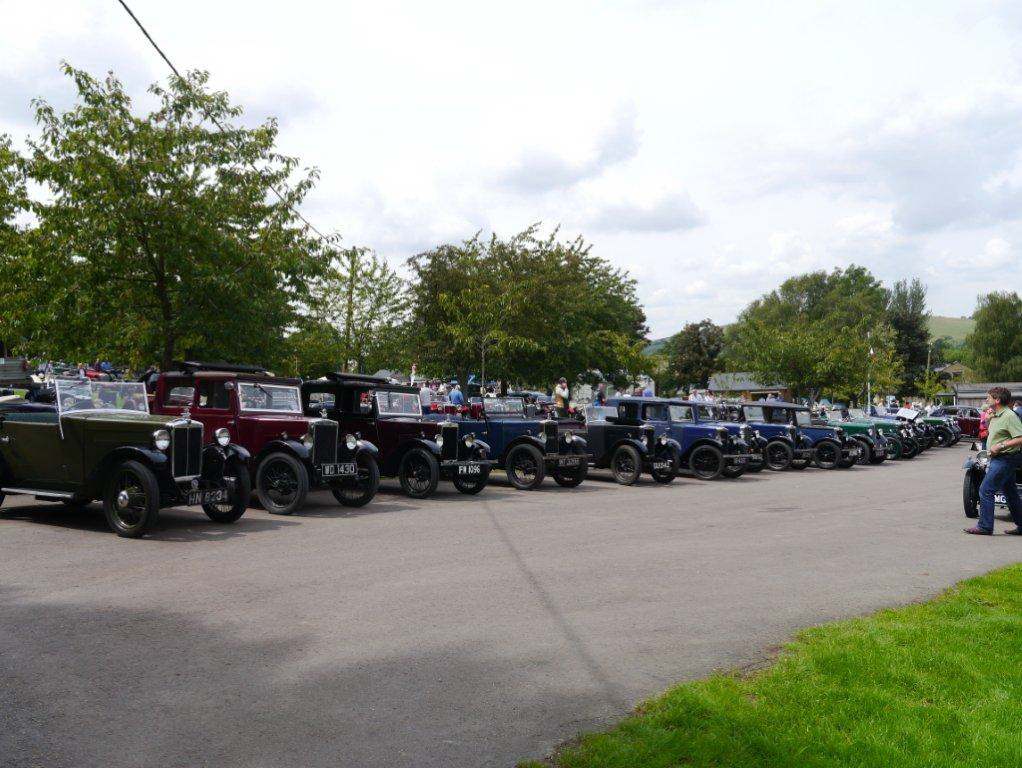 The Minor line at Prescott (Photo: John Nagle)
4/8/12 Arrived back in Seattle last Tuesday to a project crisis at work, a vicious bug picked up on the flight back, and now 105 degree heat,
so it is taking a bit of time to get back to the usual routine! Jayne arrives back on Monday.
What a superb two weekends! Prescott and the Summer Rally enjoyed two completely dry, warm days, and I lost count of the people who told us how lucky we were!
Prescott was amazing - around 150 entries and 16 or 17 Minors (I haven't had time to do the final count yet) - either way a post-war world record!
And the Northern Weekend was definitely the best-kept secret of the year. What a superb weekend! Just four Minors, plus others (like us) in moderns,
but the focus of the weekend was a social one and it was great to meet so many members for the first time. John Pallister and Peter Brock did a superb job of planning
and the scenery of the Dales could not have been more dramatic. The Sunday lunch stop at the Tan Hill Inn (the highest pub in England) was truly unforgettable.
Sixteen of us sat down to dinner together in Romaldkirk on Saturday night where many new friendships were forged.
Thanks to everyone involved in both weekends - you know who you are. Now to start planning next year's rallies - and we cannot wait!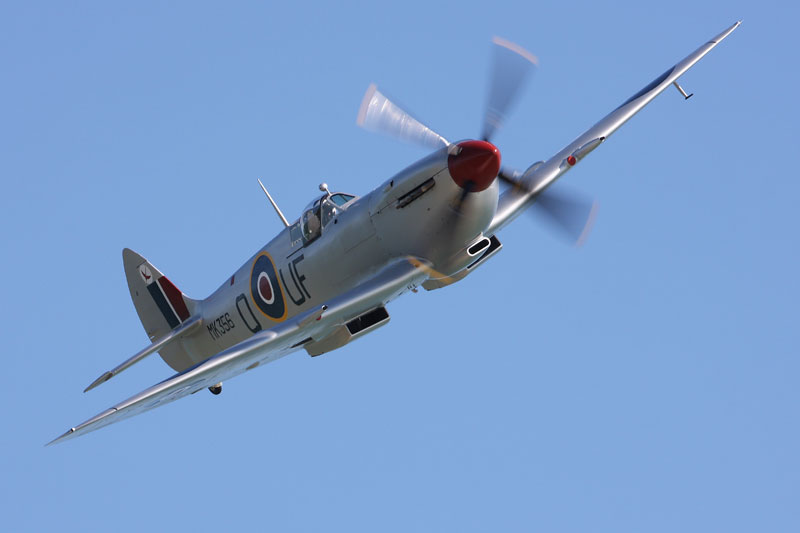 The Battle of Britain Memorial Flight Spitfire is scheduled for 1410 hrs over Prescott.
18/7/12 Wednesday morning, and Jayne and I are just about to leave for the airport to fly to London for our Summer Rally,
Pre-War Precott and our Northern Weekend. We have the best ever lineup of VMR cars booked in to Prescott and a very
strong entry of other cars - around 130 in all with a very large MMM contingent.
And after seemingly-endless rains lately, the weather forecast is looking GREAT!
We're both really looking forward to meeting as many members as possible over the coming two weekends.
If you have not booked for Prescott, and want to come along, just turn up at the gate, which opens at 9 a.m.
If you have not booked for the Sunday Navigation Rally or Scenic Tour, just turn up at Prescott this Sunday morning at around 8, with the off at 9.
If you have not declared form the Northern Weekend, just either turn up at the Rose and Crown, Romaldkirk on Friday evening (27th),
or on the village green on Saturday morning.
See you all soon!
12/7/12 Peter Brock has completed the route planning for our Northern Weekend 28th/29th July and he has assembled two superb touring routes for us -
one for Saturday and the other for Sunday. Click on the two maps above for the planned routes.
The Saturday route summary can be downloaded here.
The Saturday route directions can be downloaded here.
The Sunday route summary can be downloaded here.
The Sunday route directions can be downloaded here.
Printed copies of all of the above will be available to particpants at the start of each tour.
All members are most welcome to join in the weekend which will also include suitable evening socials.
10/7/12 So earlier this year we commissioned a batch of fifty Tenth Anniversary CD's (which grew into DVD's!) containing all 36 of our Magazines produced over our
first ten years as a Register, plus the five Yearbooks that have been produced over that time. I was planning to bring a number of unsold copies
to our Summer Rally, but 49 sold and I am keeping one for our archives. But I just visited our printers and they have agreed to run off a second batch
of 50 disks for us, and also get them to me before next Tuesday when Jayne and I fly to England for the Rally!
Our print shop is going crazy right now - they will be delivering our Summer Magazine (M 142) by Friday so it can be enveloped over the weekend to bring with me,
they are printing the Rally Programmes which will be ready by next Tuesday and they are also going to be printing the Scenic Tour Handbooks which I am
going to give them the artwork for tomorrow after finishing the master off tonight! Meanwhile, VMR HQ is in a state of near bedlam with countless
last minute items to be sorted. Among other things, we will be very pleased to welcome Peter McFadyen to Pre-War Prescott once again this year.
Peter penned a very nice report on Pre-War Prescott 2011 for The Automobile, and will be doing so again this year.
But this time, in order to more fully appreciate the spirit and excitement of the day,
he is bringing his recently-acquired Lea Francis Hyper to have a crack at the hill!
Anyway, if you are coming to either the Summer Rally or the Northern Weekend and would like a copy of the Anniversary,
I will have some with me. Now to chase up the car badges which I am also very much hoping will be delivered in time!
10/7/12 Our good friends at Hereford Vintage Auctions have graciously offered to run a no-reserve auction of spares and automobilia at Pre-War Prescott.
All of the proceeds raised will be donated to the RAF Charitable Trust at the end of the day, and will be accepted by Air Vice Marshal Rick Charles who is one
of the Trust's trustees. All entrants are invited to bring along any suitable items and drop them off in the morning at the VMR tent - thanks in advance for your support!
This fine rendition of the Skinner Special was painted by Graham Abbott and shows Mark Burnett at speed at Pre-War Prescott last year.
(Needless to say, the SU boys and the Skinner will be joining us again this year, and SU is once again our headline Pre-War Prescott sponsor.)
We are delighted to announce that Graham has very generously donated this painting to the auction.
Graham will be joining us again this year. If you would like to commission him, either speak to him on the day or visit either of his websites
at www.4aphoto.co.uk or www.4apainting.co.uk.
10/7/12 The June Newsletter was distributed over the ether last night, and a copy may be found in the Members' Area.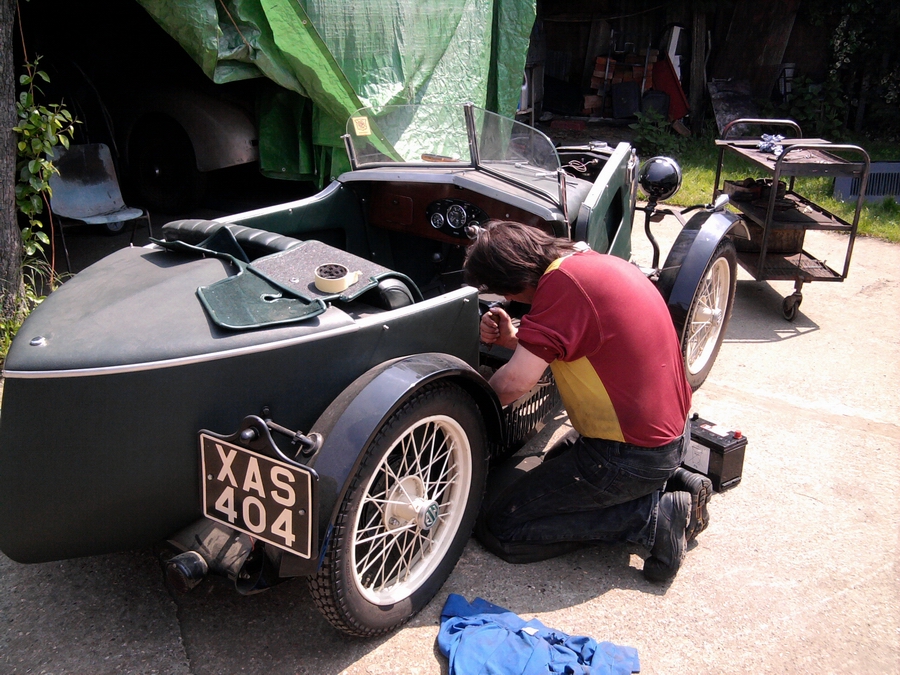 9/7/12 Welcome to Christophe Lack of Knaresborough, North Yorkshire who joins the Register with his M Type XAS 404 (2M/3308).
Christophe tells us that the car has been in the family for many years but has recently been re-commisioned.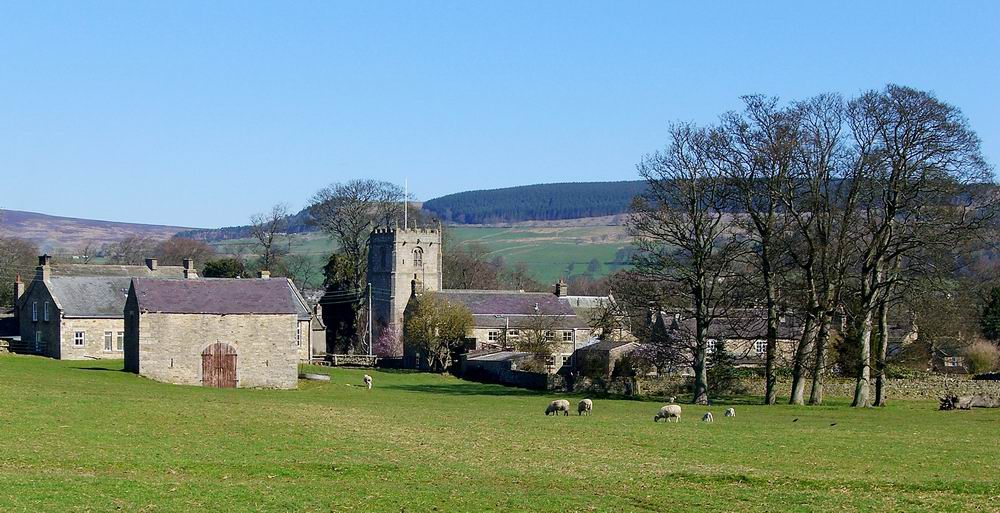 28/6/12 Our inaugural Northern Weekend is now just a month away and the Entry Form may be downloaded here.
There is no entry fee for this informal weekend of touring the Dales and socializing, but we do need to have an idea of numbers before we finalize the pubs, etc.
John Pallister and Peter Brock are doing wonderful work putting a great weekend together for us all.
Jayne and I will be in the Dales and are looking forward to meeting as many of our northern members as possible, but of course southerners MIGHT be accepted!
Feel free to bring your Minor, M Type or modern. OS map 192 would be useful, but not absolutely necessary as route instructions for the two tours will be available each morning.
If you are planning to attend, please either post the Entry Form back (quite quickly - we leave for England on the 18th July),
or fill it in, scan it and return it electrically, or just e-mailthe pertinent info.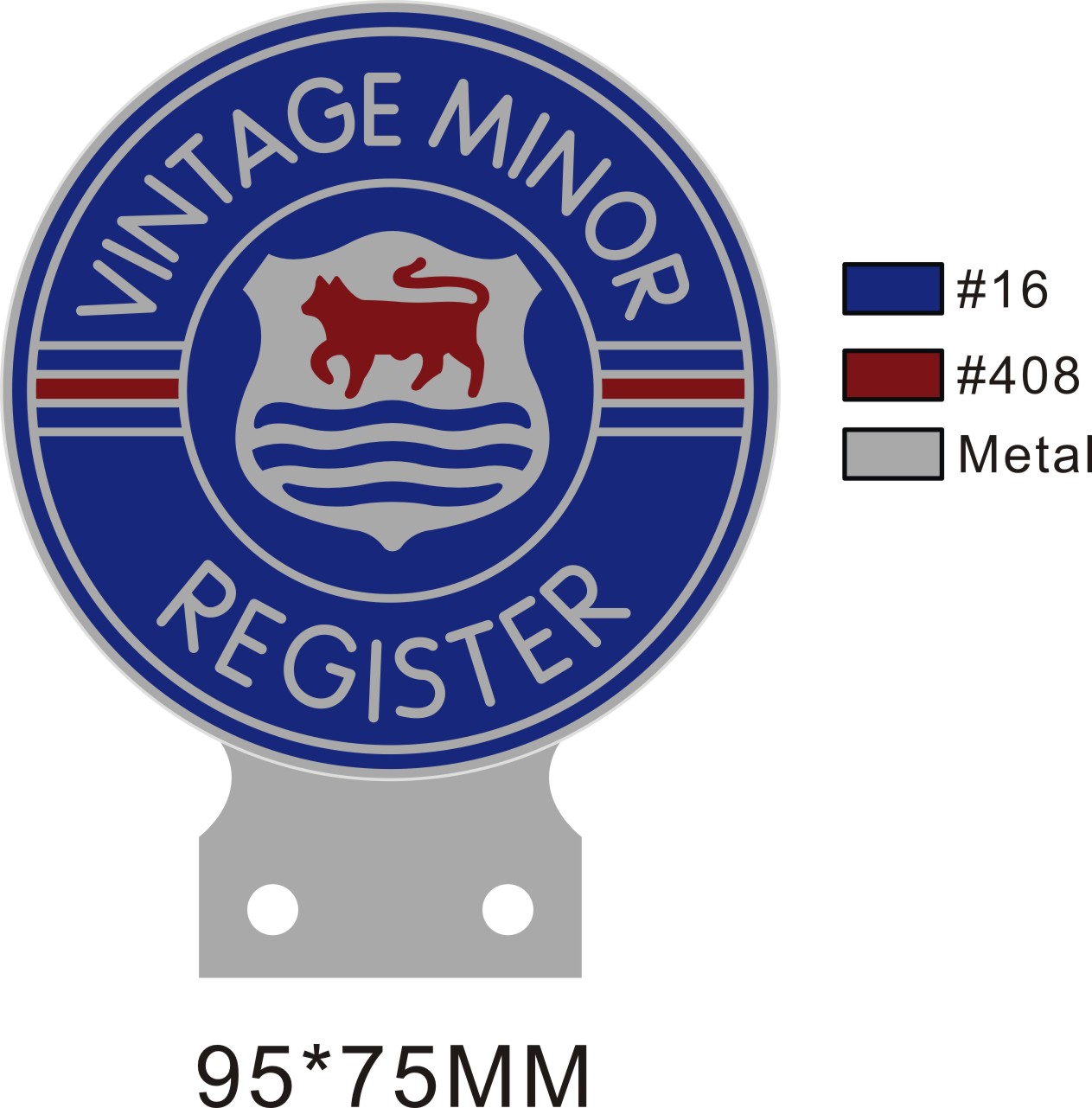 12/6/12 We are delighted to announce that we have commissioned Premier Badges to produce a limited run of enamel on chrome car badges for the Register.
The badges produced by Premier Badges are of the very highest quality and come with a strong recommendation
from Frank Ashley who tells us that Premier manufactured the 50th Anniversary badges for the MMM Register.
I was able to inspect one of these on Frank's M Type last year. The badges come with the standard badge bar clip two-hole fixing
and feature the VMR logo. The artwork for the badges is shown above and we have ordered a batch of badges
which will be available in time for the Summer Rally and Northern Weekend next month.
To order your badge (or badges), please return the order form. It would also be very helpful if you would also
respond by e-mail, letting us know your interest.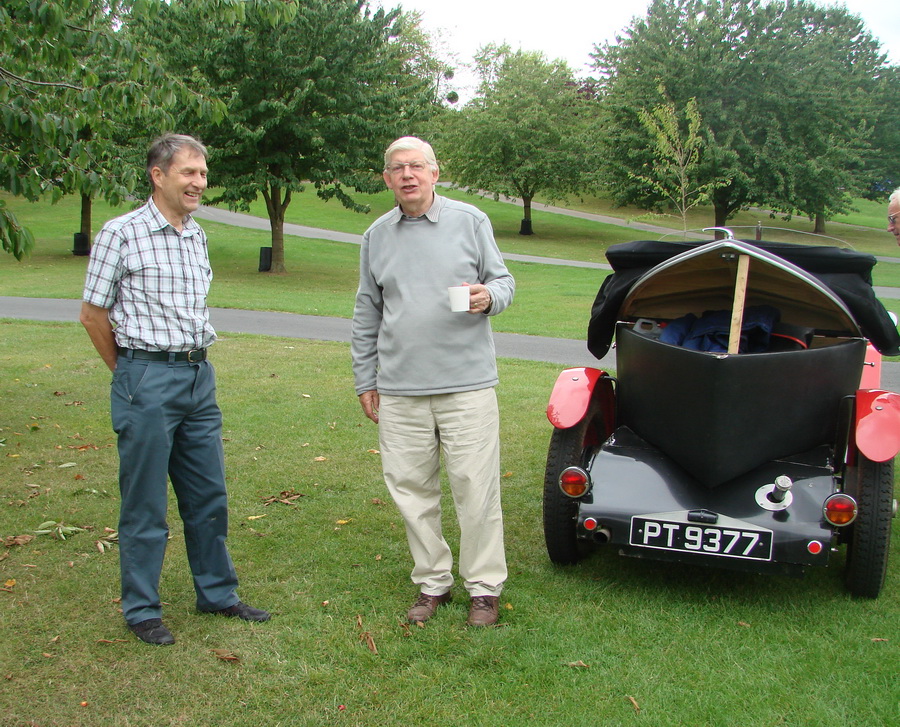 10/6/12 We are delighted to announce that Chris Dunster has been appointed an Honorary Member of the Register. Chris has been
closely involved with Morrises for many years and joined the Morris 8 Tourer Club as member number 131 in 1962,
since when he has been a proponent of the Minor at every opportunity and a firm background supporter of the VMR
since its founding. The photo above shows Chris (left) with the late Bev Hicks at VMR Prescott 2010.
Congratulations, Chris!
6/4/12 Today we welcome Alice Sears (any relation, Toby?) to the Register with her 1933 saloon JB 861, chassis SV15337.
Alice lives in Uckington, near Cheltenham. This saloon is new to the chassis register, so watch this space for more information.
5/4/12 The June Newsletter was launched into the ether today and a copy can be found in the Members' Area.
5/4/12 The Discussion Forum is back up and running again!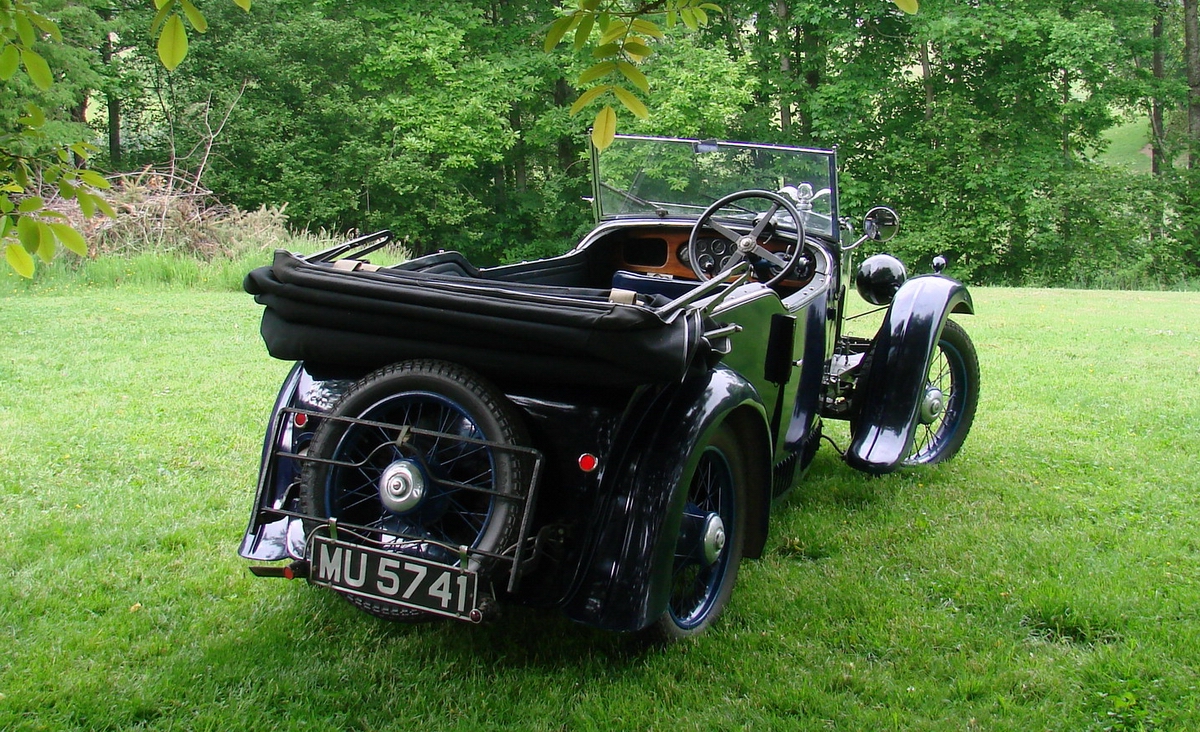 1/6/12 Longtime member John Seddon lives in France and after many decades of ownership is now offering his extremely rare 1932 OHC Cunard Calshott Special for sale.
The car is very original, has history from the first owner, including photos, and the car has run less than 500 miles since a £4,500 engine rebuild.
The car is to be sold with Cunard archive photographs, advertisements, other literature and spares - see The Automobile for August 1997 for an article on this car.
For more information e-mail John at seddonjohn@orange.fr
25/5/12 After getting Magazine M 141 and the Anniversary DVD's in the post today, there was time to pull out the ex-Olive Willats Minor fabric saloon
and fire her up for the first time in 38 years. With just 4,000 miles on the clock since new, this car is virtually new mechanically.
Here is a video of the first engine run taken earlier today.
21/5/12 Our Summer Rally is TWO MONTHS TODAY! So far, we have eight Minors and 6 M Types booked in, but would like to see many more.
In particular, we only have three OHC Minors booked in to date, so if you are intending to come along, please send in your entry, or at least drop us a quick e-mail!
In other news, Magazine M141 goes in the post tomorrow along with the Tenth Anniversary DVD's. We are STILL working to get the Forum back up again.
And today we welcome Graham Taylor to the Register. Graham owns the very last Scuttle tank Minor car, chassis SV5535.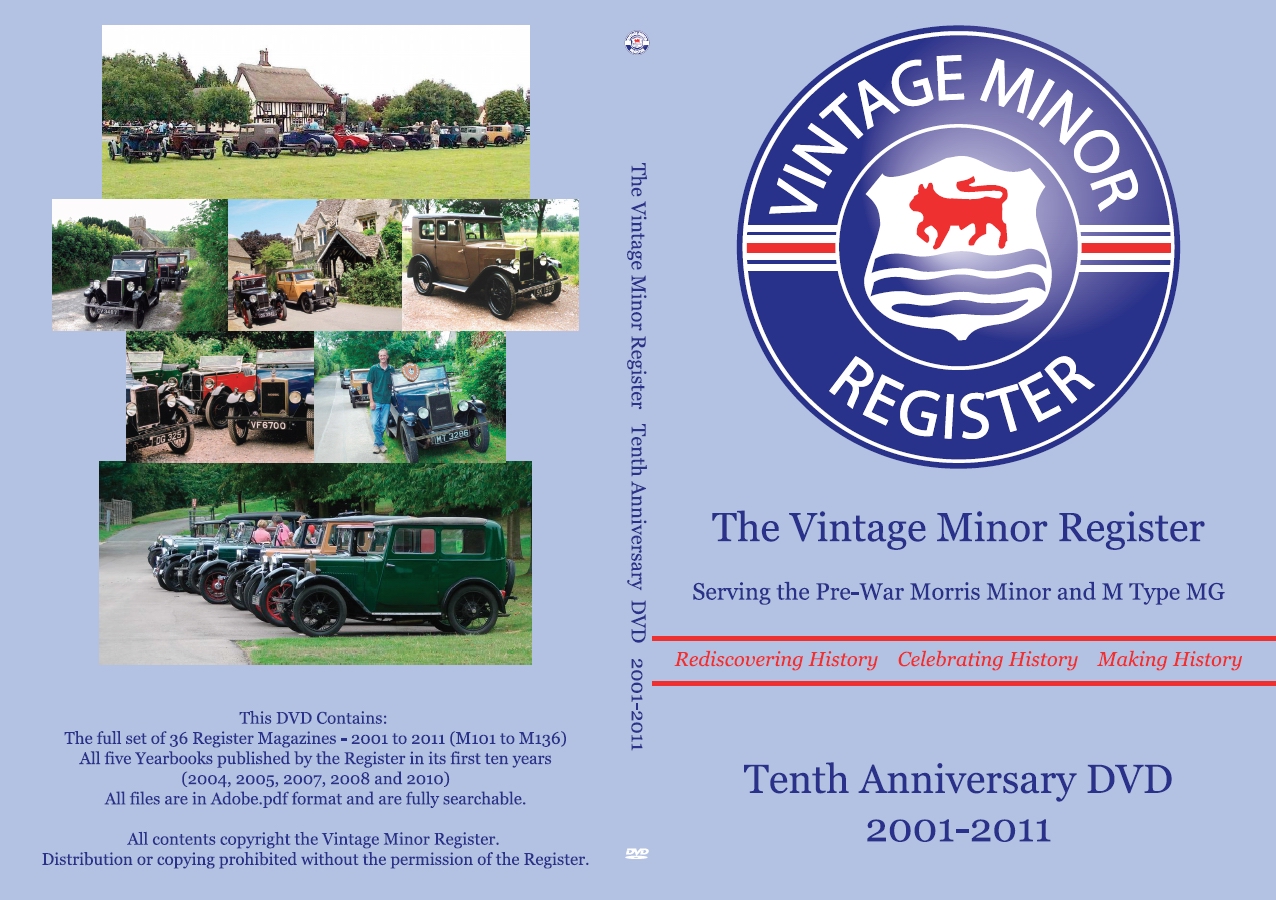 15/5/12 We just received this proof for the Tenth Anniversary CD sleeve - actually a DVD now, as a CD wasn't big enough to contain all the content!
If you would like a copy, we have just SIX left! Contact us immediately!
The DVD's and sleeves will be ready for collection by the end of the week which means I can pack them with the Magazines over the weekend
to post worldwide next Monday. Meanwhile, we are STILL fighting to recover the Forum - if you cannot access it, it is NOT your fault!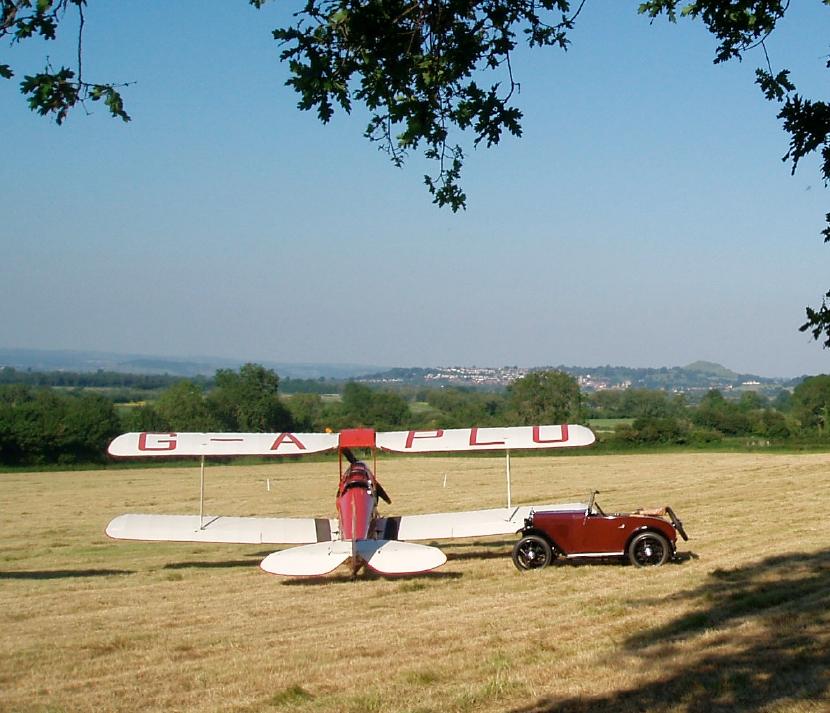 13/5/12 Big news just in from the operators of Cotswold Airport (the old RAF Kemble) this morning.
Pre-War Prescott forms just a part of our Summer Rally in the Cotswolds and we have a Navigation Rally and parallel Scenic Tour on Sunday.
This year, the route will be taking us to the south - down towards the old RAF Kemble. We will gather there during the day, along with a collection of vintage aircraft
that will be offering pleasure flights to the pre-war car crews with all proceeds going to our designated charity - the RAF Charitable Trust.
If the formula for the day is a success, this charity fly-in and pre-war car gathering may well become a firmly established feature of our Summer Rallies!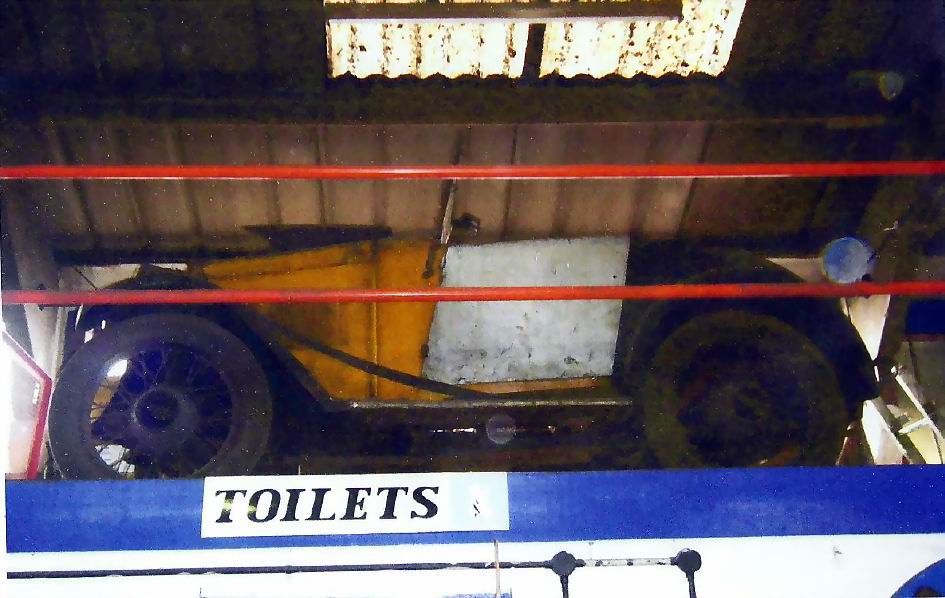 10/5/12 And still they keep turing up. Today we welcome Neil Carpenter of Bliss Gate, Kidderminster to the Register.
Neil is collecting this 1933 season 2-seater tomorrow from a factory where it has langiushed on the roof of the factory toilet block since 1964!
We wish him well with the restoration.
23/4/12 Tony Gamble is selling his 1930 Minor fire tender replica.
Full details of this charming and unique vehicle may be found in Marketplace.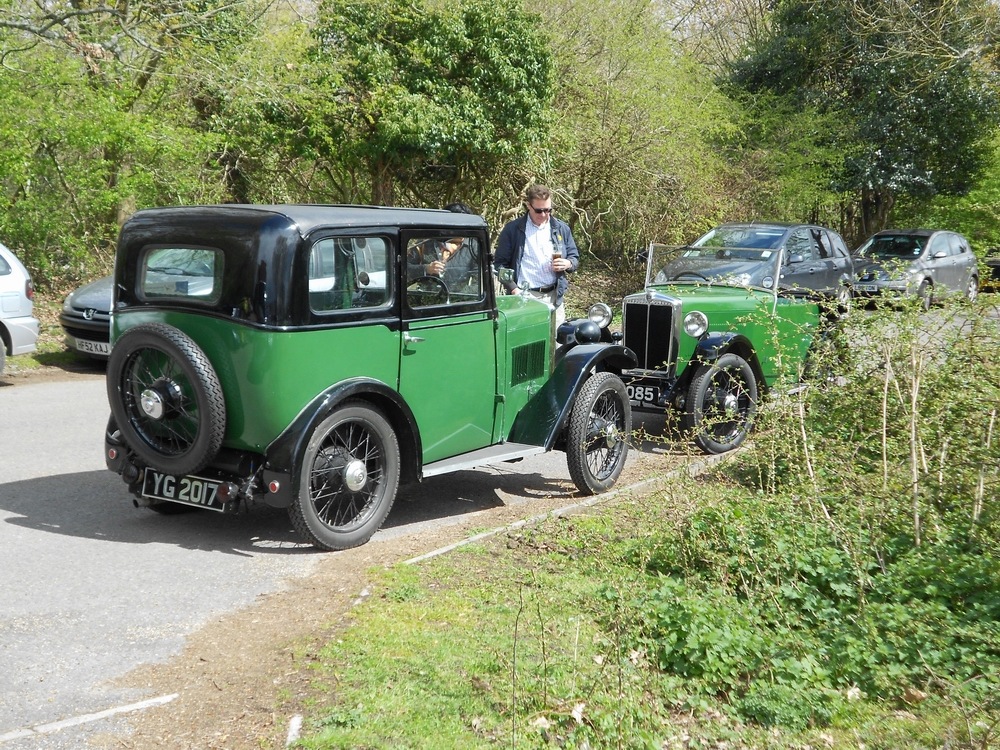 23/4/12 Minors were out and about all over the country yesterday, attending our spring pub meets and other Drive-It Day gatherings.
Here we see the Minors of Toby Sears and Mike Rose with appropriate spring green coackwork attending our meet in the New Forest.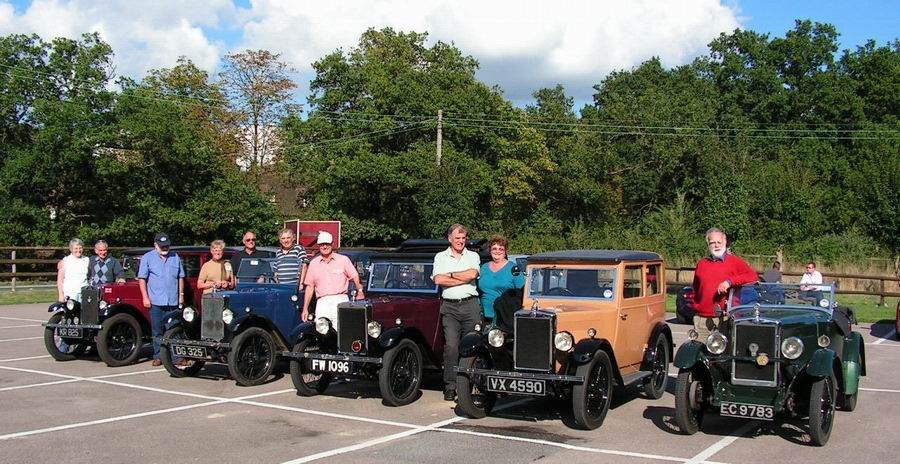 17/4/12 Our spring pub meets are THIS WEEKEND! First, the Hatchgate Meet is ON!
There were just two takers for John Nagle's Land's End Run - one from the VMR and one from the Morris Register, so the run is CANCELLED.
This means we will revert to our usual pub meet THIS SUNDAY at the Hatchgate at Bramshill.
Our other meets this Sunday at noon are at the Alice Lisle, Rockford Green near Ringwood in the New Forest
and our inaugural western meet at the Who'd Have Thougt It, Milton Combe, Yelverton in Devon.
Full details of these meets may be found here.
Please do try to make it in your Minor, M or modern, if you can, and please remember your camera!
Cheers!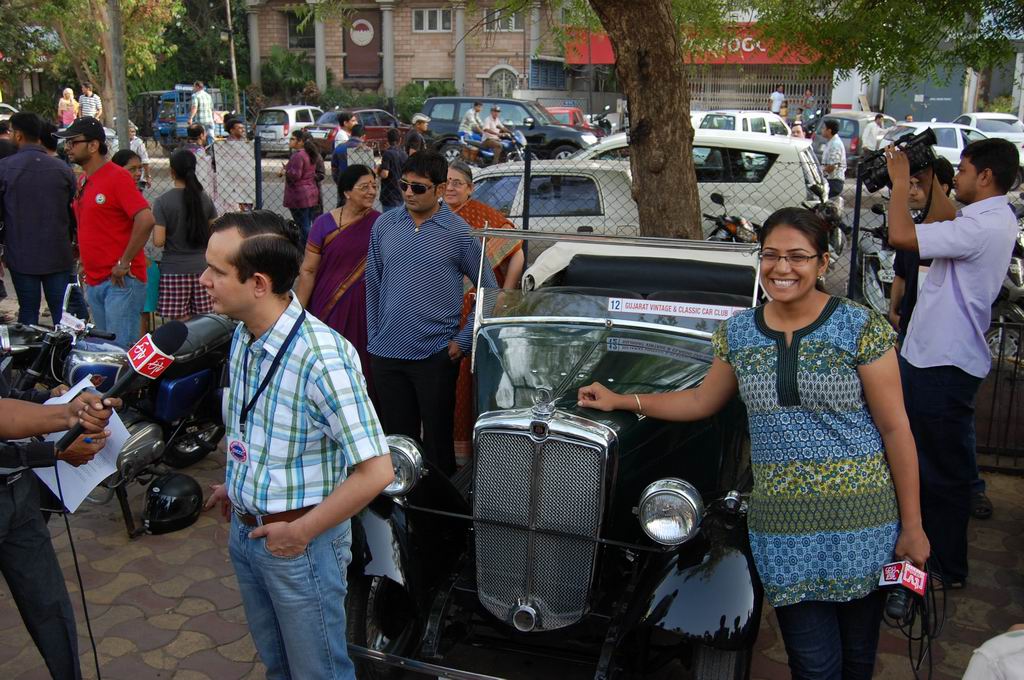 Parth gives another interview to the media while the next reporter waits.
17/4/12 VMR member Parth Medh got together with three of his friends in Ahmedabad, India last weekend for a Sunday morning drive.
The word got out and resulted in 29 cars participating, national media coverage including a front page story in the Times of India and thousands of spectators lining the route.
The result is that the Gujarat Vintage and Classic Car Club has now been well and truly founded!
Well done Parth!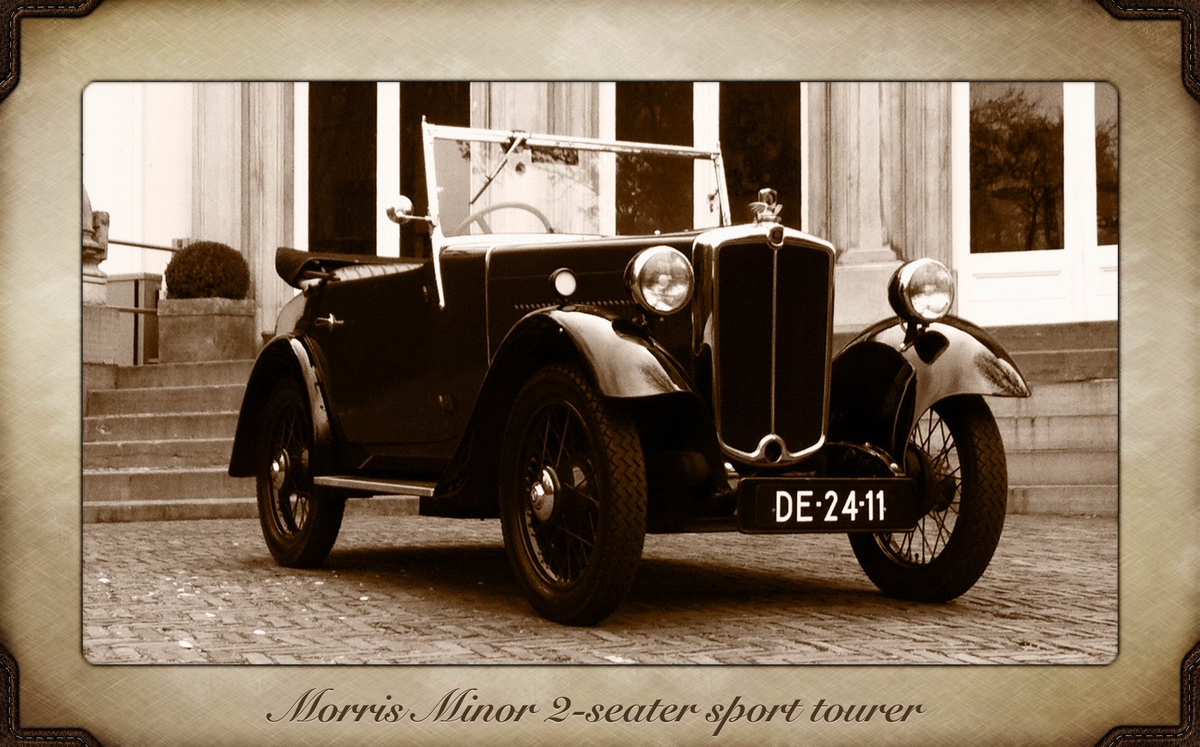 11/4/12 Today we welcome new member Ronald Trumpi from The Netherlands and his 1934 season 2-seater DE-24-11 (SV36604).
We also welcome Michael Banfield who has acquired Steve Johnstone's 1932 5 cwt. van (see 31/3/12 below)
and Richard Cox with his 1933 Minor 2-seater OY 4962 (SV20057).
11/4/12 The April Newsletter was launched into the ether yesterday and may also be accessed in the Members' Area.
Update on the forum - more snags have emerged, the final fix will take a little more effort yet.
9/4/12 The Forum is in the process of being re-hosted on our new server right now.
The forum baseline is accessible, and the original database, including all the original content
should be in place later today.
31/3/12 This weekend five Minors are attending the VSCC Light Car Section's annual Welsh Weekend.
The four saloons and a tourer were captured by David Hinds at the lunch stop today.
Left to right - Paul Rogers, Lee Robertson, Clive Hamilton-Gould, Colin Lee, David Rolfe.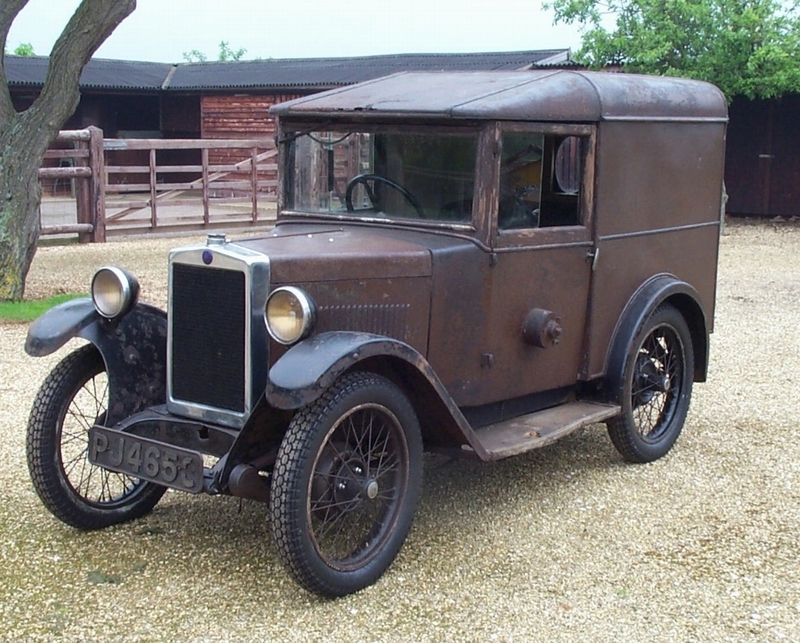 25/3/12 Member Steve Johnstone is selling his rare, charming and highly original 1932 Minor 5 cwt. van PJ 4653.
Saved in 2006 by Tony Gamble working on a tip from fellow van owner John Twinberrow, Tony reported that the
condition of the vehicle is apparently not as good as photos suggests, but it is unrestored, and, for it age, it is quite amazing.
The passenger door needs replacing (weight of spare wheel has taken its toll!), and seats are not original (bench seat for two!).
The front central roof panel has suffered badly from wire worm at the front and needs replacing (which poses a problem in itself -
to keep restoration to a minimum - without incurring major 'incompatible' panels in the roof.)
Nevertheless a superb original Minor for someone at a time when the worth of unrestored vehicles is finally
being recognized. Find it on eBay here.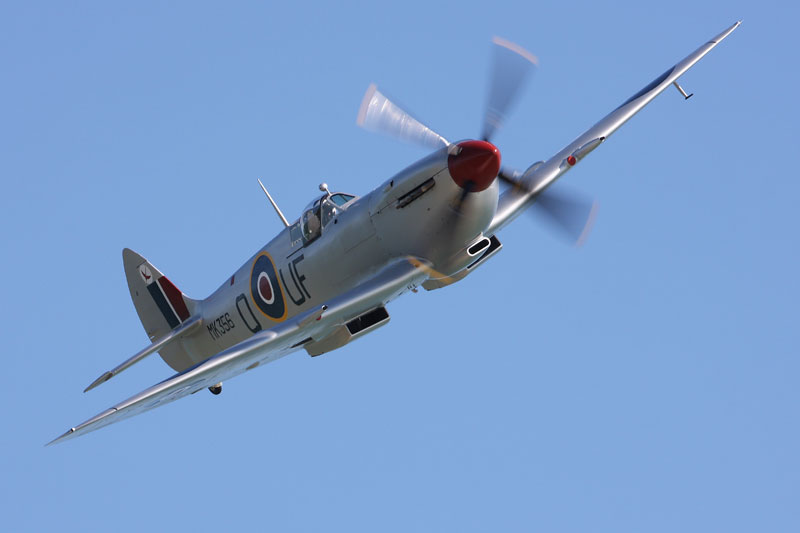 20/3/12 Today, we received a letter from the RAF Events Team at RAF Northolt, bringing the splendid news that we have been allocated a
Battle of Britain Memorial Flight Spitfire display for our Summer Rally. Last year, we were extremely lucky to have the BBMF Lancaster,
the arrival of which was undoubtedly the highlight of the day. The appearance of a Spit over Pre-War Prescott
this year will no doubt be an equally heart-stirring moment not to be missed.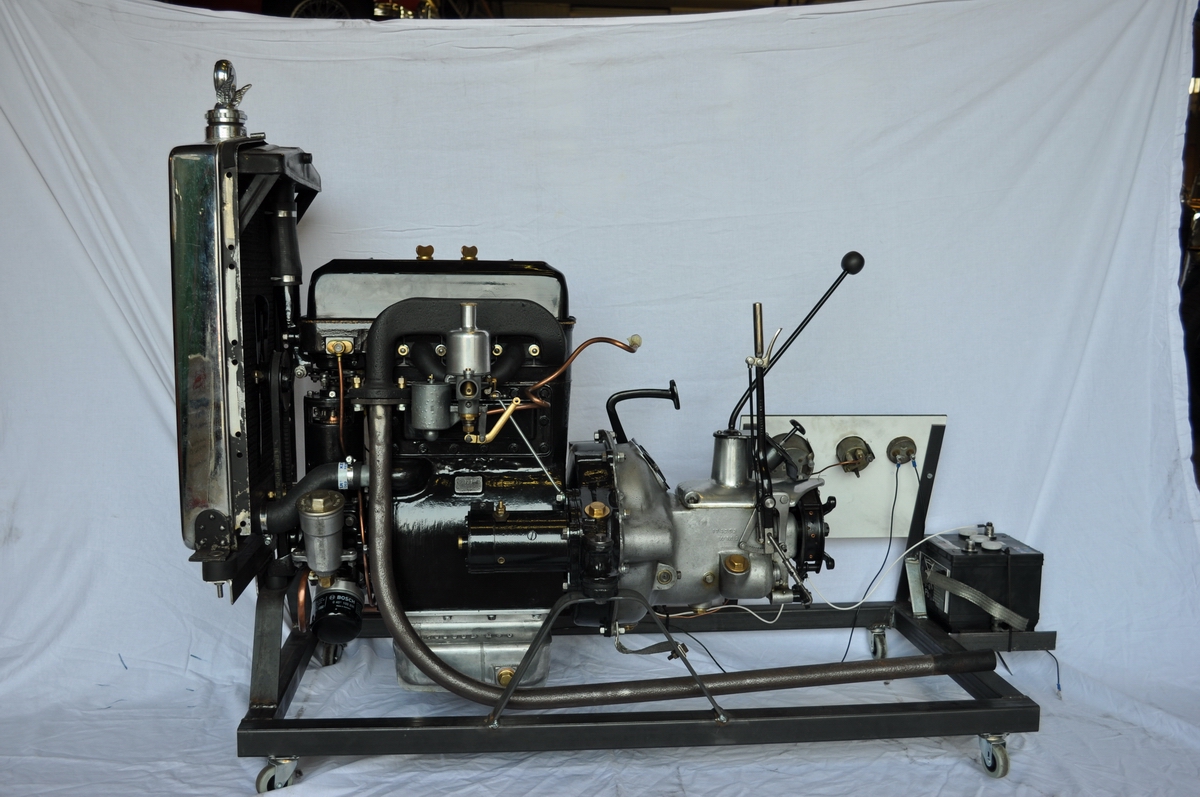 16/3/12 Still life. This remarkable photograph shows the restored radiator, engine and gearbox for Halbe Tjepkema's 1929 fabric saloon.
Finished, tested and ready to re-install in the chassis. We look forward to seeing this highly original car back on the open road before long.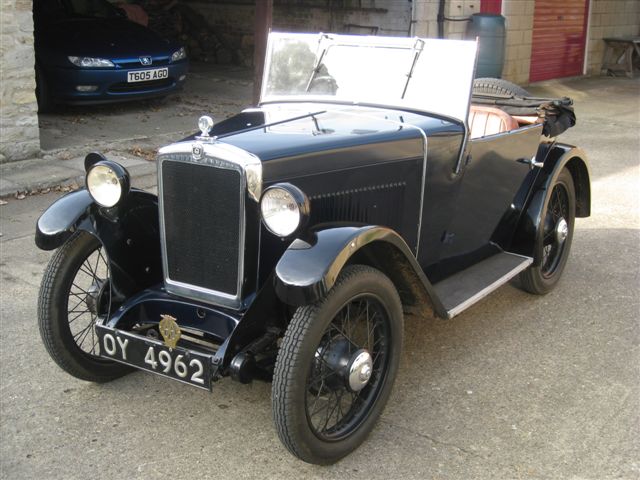 14/3/12 Today we welcome Richard Cox to the Register with his very tidy 1932 Minor 2-seater OY 4962 (SV20057).
Richard lives in Oxfordshire.
14/3/12 Good newas regarding the forum. The SQL database has been recovered by TalkTalk, but it will take some time to
re-host it and get the forum up and running again. With any luck, none of the content will have been lost.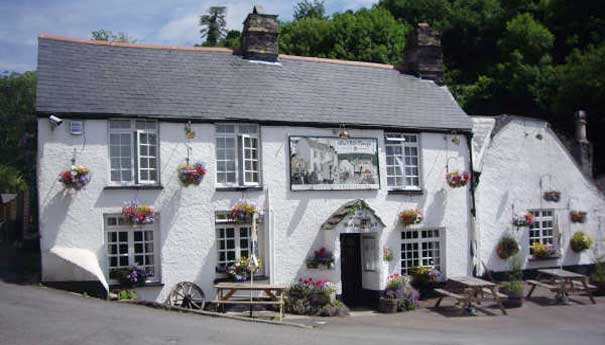 The Who'd Have Thought It, Milton Combe, near Yelverton, Devon
12/3/12 It is nearly time for our spring pub meets once again. This year, we have two meets and a short rally,
all to be held on Drive It Day, Sunday 22nd April. We will hold another meet at the Alice Lisle, in the New Forest,
a brand new gathering for our western members at the Who'd Have Thought It, Milton Combe, Devon and another brand new event,
The Land's End Rally for our members in the north Hampshire/Berkshire/Surrey area.
Full details of all these events may be found on our 2012 Events page.
12/3/12 The March Newsletter was distributed by e-mail today and a copy has been placed in the Members' Area.
4/3/12 Testing, testing, testing! It looks like the website is up and running on the new server.
There are some teething problems to sort, chiefly the non-appearance of the forum.
Hopefully everything will be back to normal very shortly.
27/2/12 Yes, its a vintage Minor! Chassis number M10057, this chassis was exported to Austalia in 1929 and is now being auctioned in Australia.
The car has a fascinating history. A great example of Aussie ingenuity, the Bedmore single-seat racer came into the world when William Jolly
crashed his 1929 Morris Minor at a Lobethal race meeting in 1948. It was a decent accident, a rollover on the second lap of his first motor race,
but Bill came away with an idea. Unable to afford an MG motor, he found an old Bedford truck block in a wrecking yard.
It was modified to fit the retained four-speed Minor gearbox, while the Bedford's rear hydraulic brakes were also adapted.
This was all slotted in to the remains of the Minor chassis. The finished hybrid couldn't fit the drivetrain and Bill in, so the engine was offset
to suit and Bill sat on an aircraft seat with a rear-mounted fuel tank, also from an aircraft, being installed. The new machine was christened the 'Bedmore'
('Bed' for Bedford, more for 'more Morris'), and it was bodied as a single-seater and taken off to compete in local events, modifying the car to suit.
An example of this was when he took inspiration from the Dunlop disc brakes and created his own version of them,
ensuring excellent stopping capabilities for the time. After several years of competing with the Bedmore,
Jolly sold it to motoring journalist Tony Lucas in 1953. The rest of the car's more recent history
can be found on the auction site here. Wouldn't it be splendid to see this car at Pre-War Precott in July?!

26/2/12 A monumental effort is under way to reproduce the entire collection of our first ten years of Magazines and Yearbooks in full colour
and to capture them on a single Tenth Anniversary CD. This is what M 113 - our Autumn 2003 issue - looks like in full colour.
The covers will be added before the entire issue is converted to .pdf format. All 36 Magazines are going through this process
which includes enhancing many of the original images and numerous formatting and typo corrections.
The Anniversary CD is to be professionally assembled and will be presented in a professionally designed CD box.
This is a unique opportunity for members who have joined since the Register was founded to obtain a complete set of back issues of our publications.
A limited run of 50 copies is being burned, and there are now just 16 left, so if you have not yet reserved your copy,
please contact the Register without delay. The Anniversary CD's will be distributed with our Spring Magazine (M 141) next month.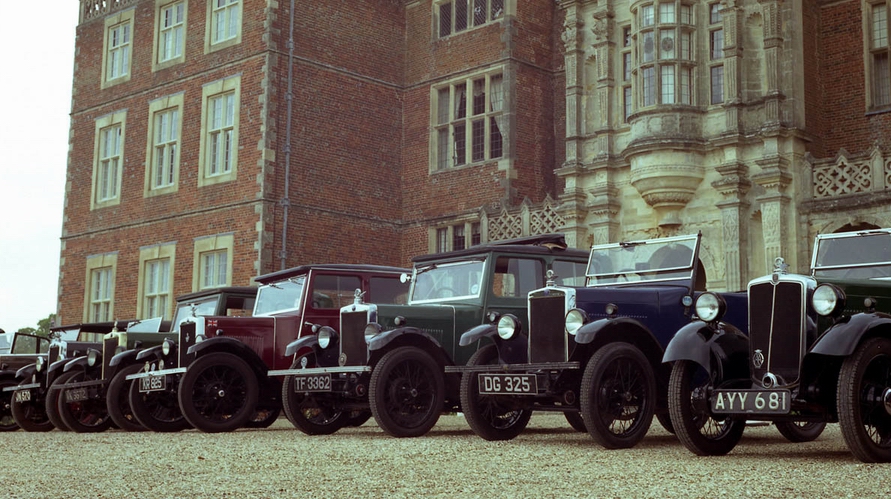 26/2/12 With spring hopefully just around the corner, it is time to gear up for the new events season.
First up will be our spring pub meets on Drive It Day - Sunday 22nd April, and this year, our Hatchgate meet is being replaced
with a Land's End Run!
You are invited to enter the Lands End Rally, incorporating a trip to a brewery, a pub crawl, and to go in search of a Maharaja.
The start will be just south of Reading at 12 noon and the finish will be at Lands End - TWO HOURS LATER.
(Hint - the finish is just east of Reading!)
John Nagle has put the run together and interested parties should contact John for further details.
A location map can be found here.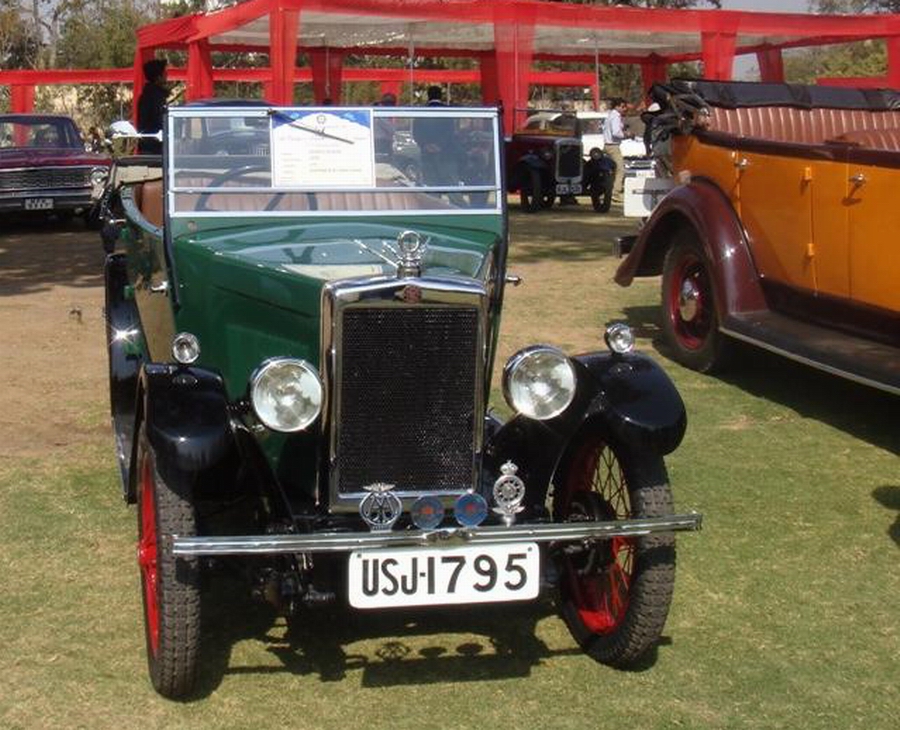 4/2/12 Hearty congratulations to Kartikea Lunia in India who took his 1930 tourer to a local show today.
What makes this such a huge achievement is that his car was not much more than a pile of bits only weeks ago.
In the last seven days, the car has been assembled, rewired, painted, upholstered and all the myriad finishing details sorted,
with work finishing in the small hours this morning. A full report on this record-breaking restoration will be published in our Spring Magazine.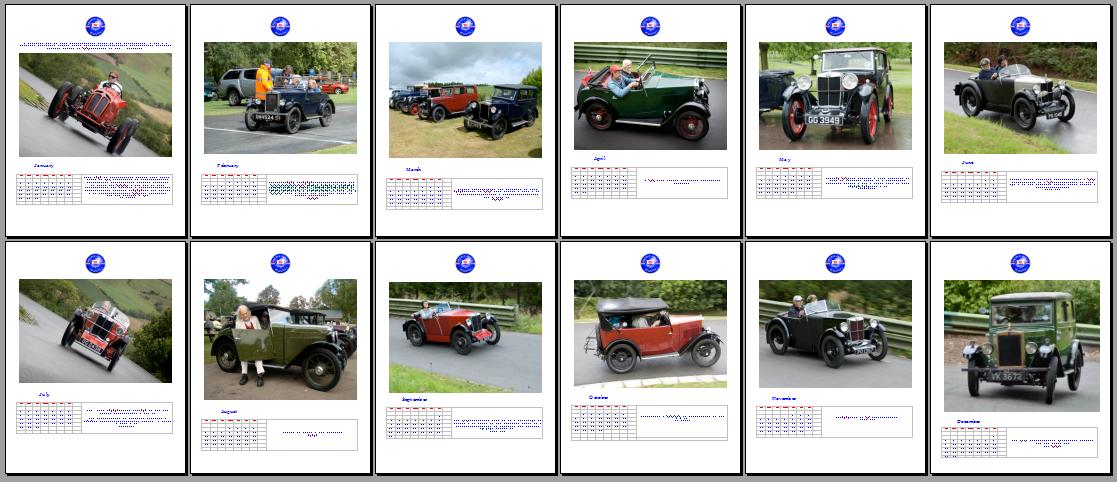 24/1/12 The Register's 2012 calendar is now available for download in the Members' Area in both A4 and 8.5" x 11" formats.
The theme of this year's calendar is our 2011 Summer Rally.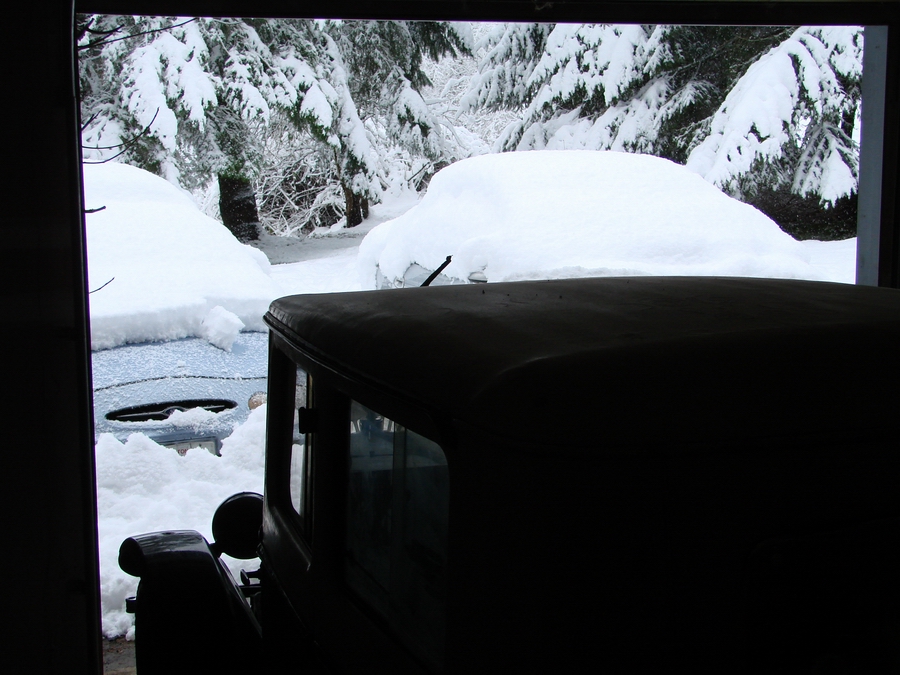 19/1/12 VMR HQ is battling the worst Pacific winter storm in living memory. Two feet of snow has now given way to
freezing rain and an ice storm that is bringing down hundreds of trees, and power lines with them.
The city of Seattle has ground to a halt. I'll try to post a few more images on the Forum.
Roll on the spring!
16/1/12 The 2012 Pre-War Prescott website has been launched at www.prewarprescott.com and includes an online entry form.
Keep wathcing the website for all the latest event news and it breaks.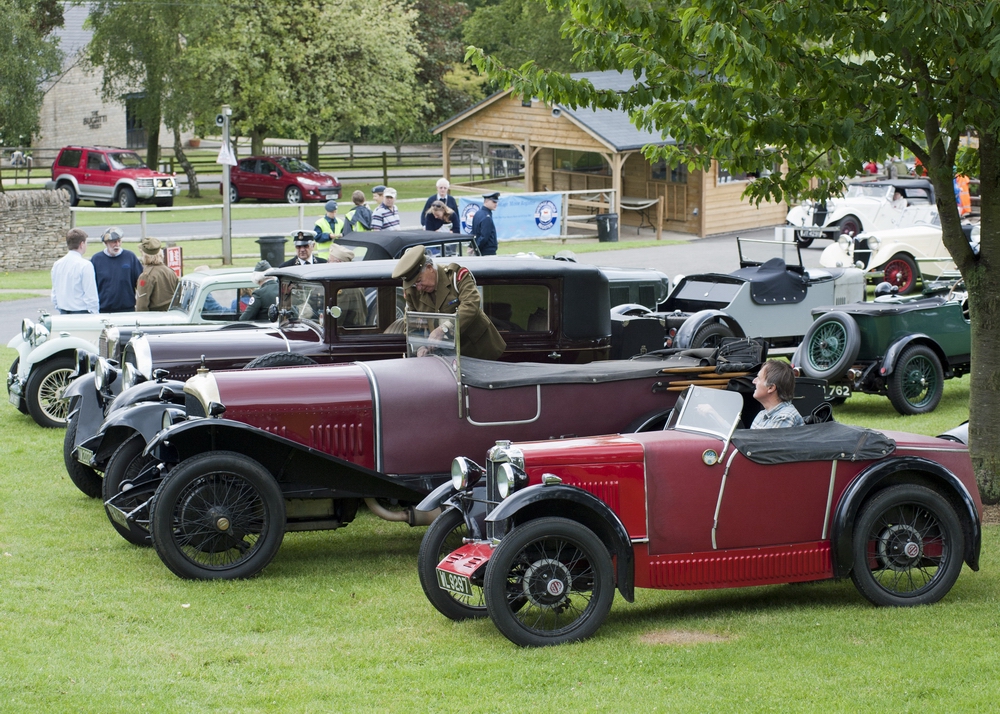 8/1/12 The start of the 2012 vintage motoring season is here and promises to be the best yet!
The 2012 Summer Rally website has been launched today and can be found here,
and the entry form can be downloaded here. Once again, the highlight of our Summer Rally will be Pre-War Prescott.
The following weeked will see the inauguration of our Northern Weekend in Teesdale,
details of which may be found here. In addition, we are planning a number of new pub meets and short runs this spring,
details of which will be posted here shortly.
3/1/12 The January Newsletter was distributed by e-mail today and a copy may also be found in the Members' Area.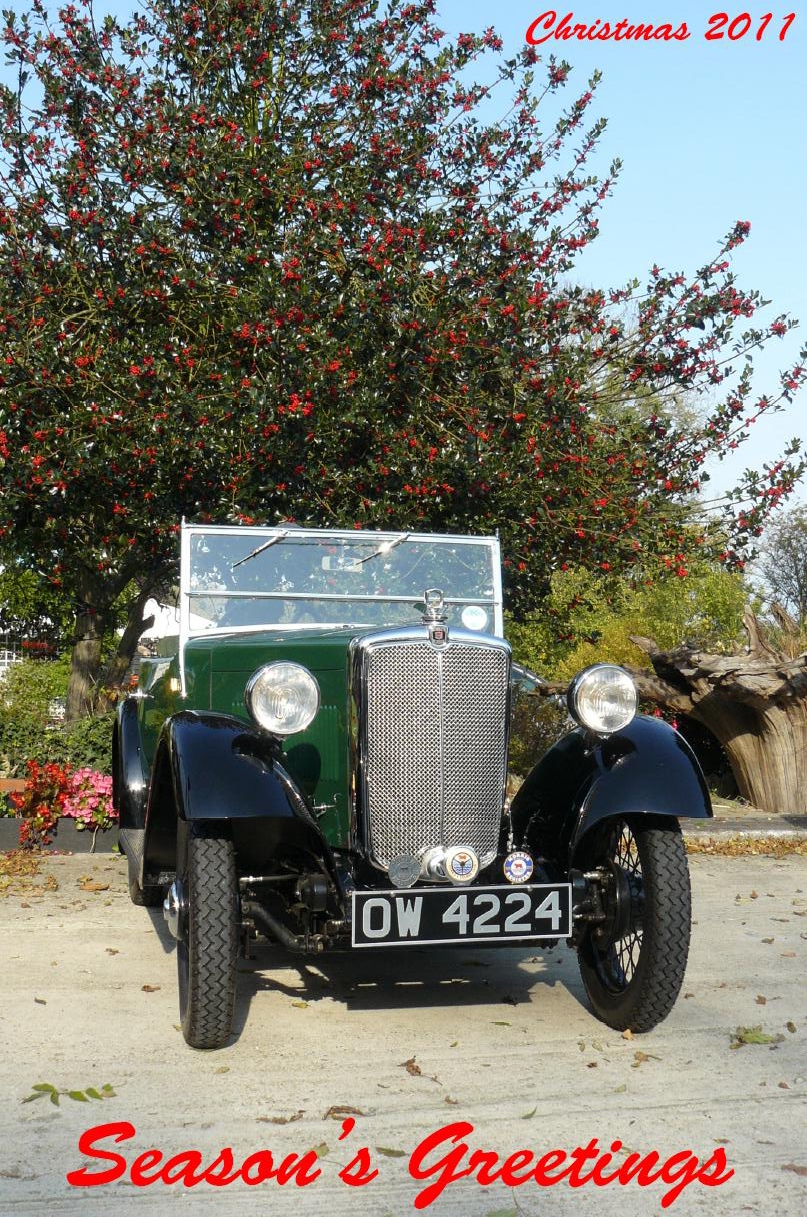 John Nagle's recently-restored two-seater in festive setting.
24/12/11 We wish every member across the world, their families and friends a wonderful Christmas
and a happy, peaceful and safe New Year.
Please visit our virtual Christmas pub meet on the Forum for a virtual pint with friends!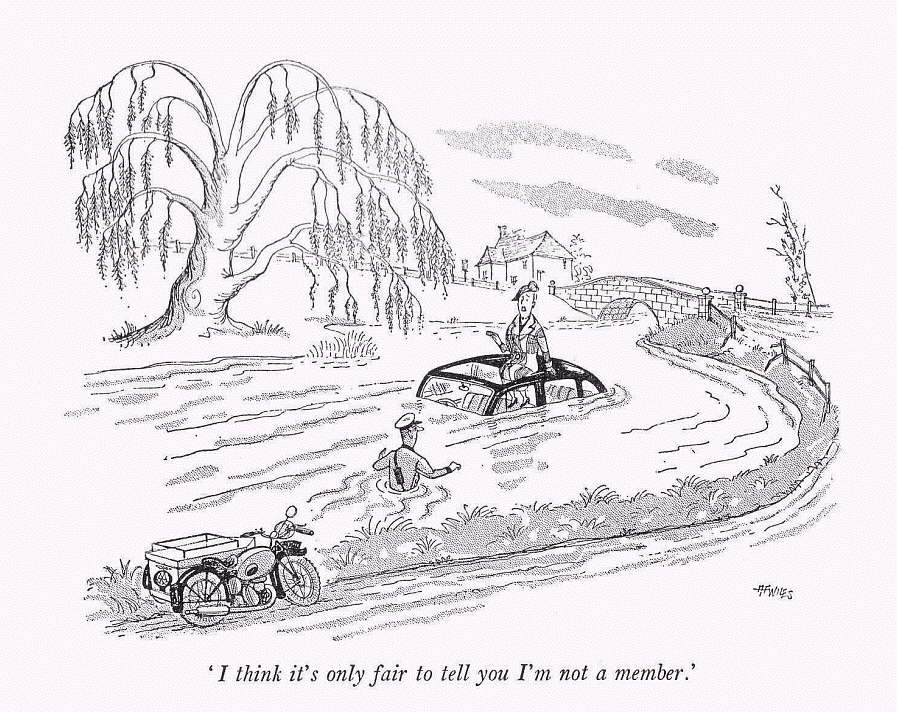 If you are considering joining the Register, December is a great time to do so, as you will receive the Winter 2011 Magazine
plus four quarterly magazines next year for the price of your 2012 subscription.
Download the 2012 Membership Form here.
8/12/11 We extend a very warm welcome to the following new members who have joined us in the last two weeks.
Paul Meeker (1934 Minor 2-seater), Andy Tullis (1934 Minor 2-seater), Doug Spooner (1933 Minor 2-seater),
Lee Robertson (1929 Minor saloon) and Tony and Debbie Slattery in Queensland who are looking for an M Type.
Welcome one and all!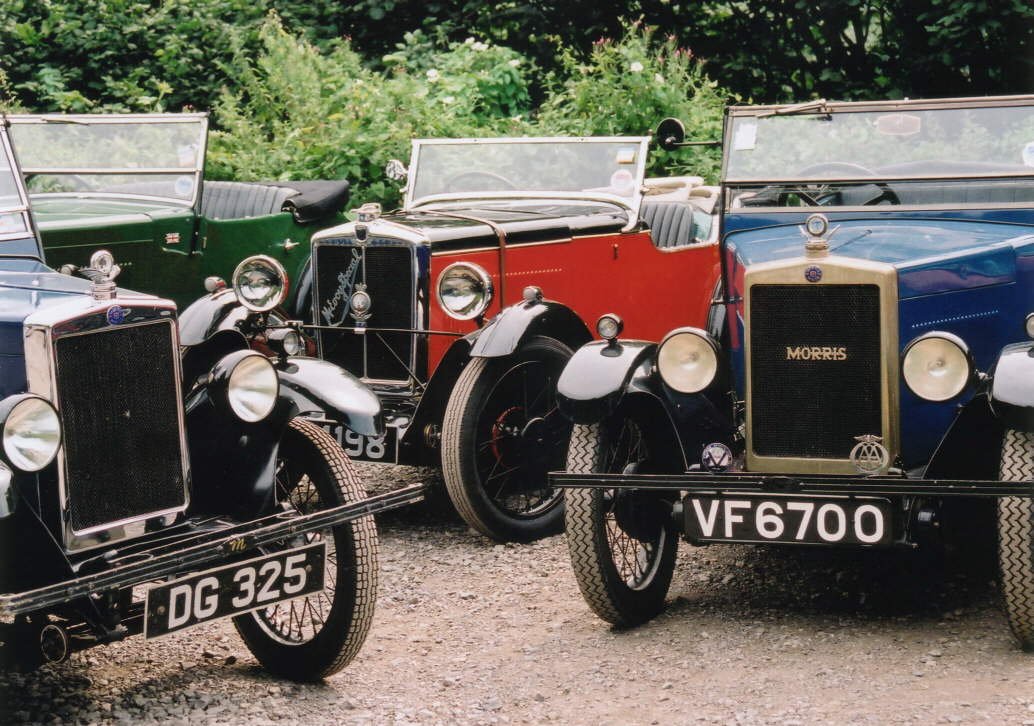 7/12/11 The Register website is once again operational after the successful transfer to TalkTalk.
Numerous updates will be made in the next few days, but the first major addition was uploaded this afternoon.
It is the first part of the SV Minor 'Genome' - a table listing the body type fitted to chassis SV101 to SV18330,
as well as the full build data for all known surviving SV Minors within this production run.
This, and the full OHC Genome may be found in the Members' Area.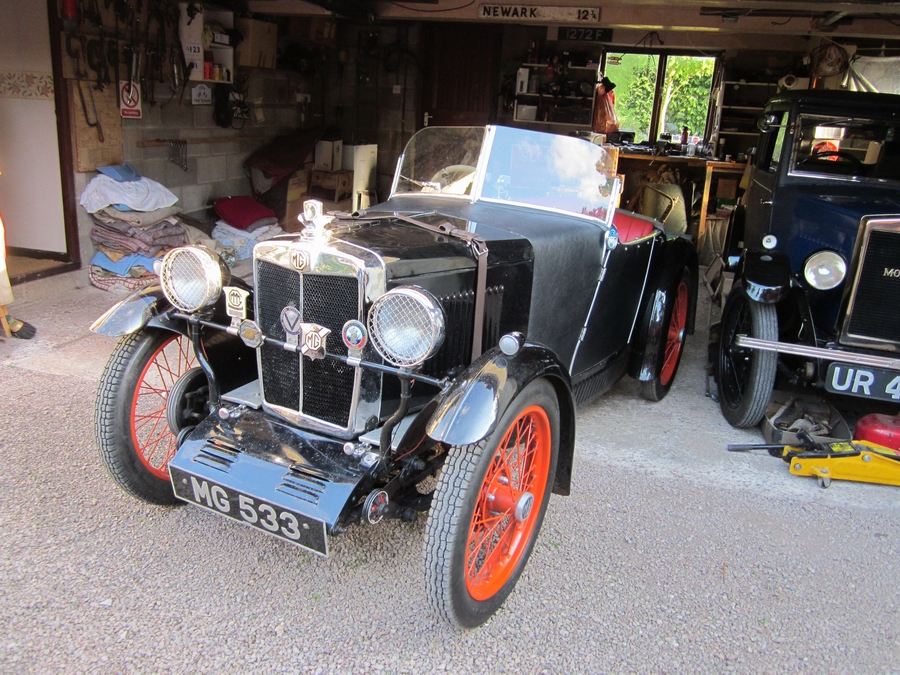 20/11/11 One out, one in. Bill Piggott has sold his 1929 fabric saloon UR 4313 and acquired this very smart M Type which he plans to use
for LCES events. As the M is currently in 12/12 trim, Bill is looking for a 3-speed box and standard single carburetter and manifold.
Please contact the Register if you can help.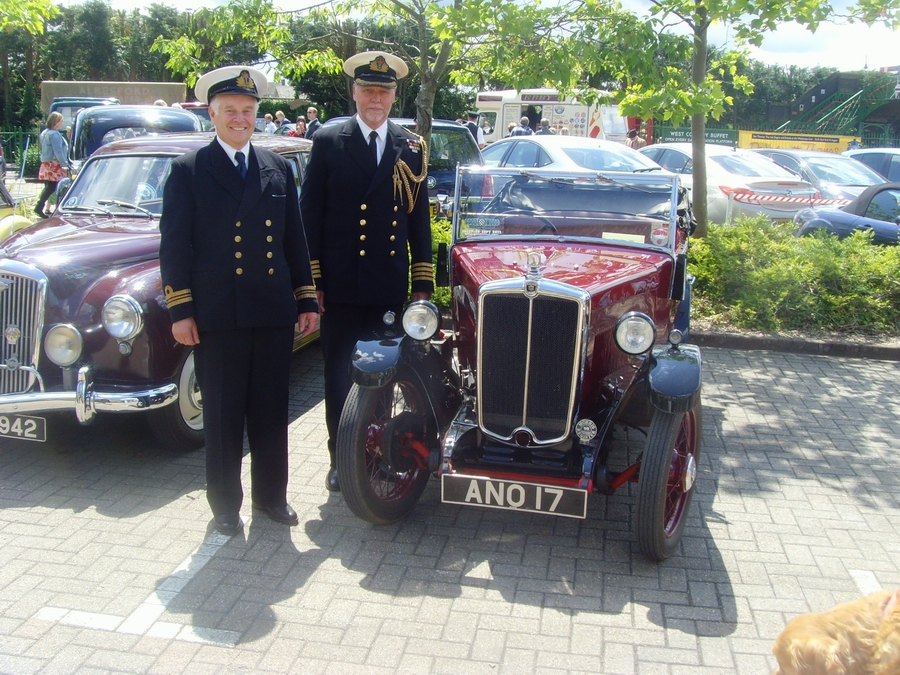 ANO 17 all present and correct at the Alresford Watercress Line annual 'War on the Line', the 2011 weekend event.
Lt. Cdr. Holland on the left.
18/11/11 Welcome to new member Clive Holland who owns this rare 1933 4-seater tourer.
Regular readers may recall that Clive's car played host to a very special reunion last year.
And next year, Chris will be doing us another great favour when his Minor will play the role of HF 8547,
the Minor tourer that Cameron Gilg and Walter Kay drove from Liverpool to Capetown in 1933 (see 3/11/11 below).
ANO 17 will form the centrepiece of the Gilg and Kay exhibition at Pre-War Prescott next July.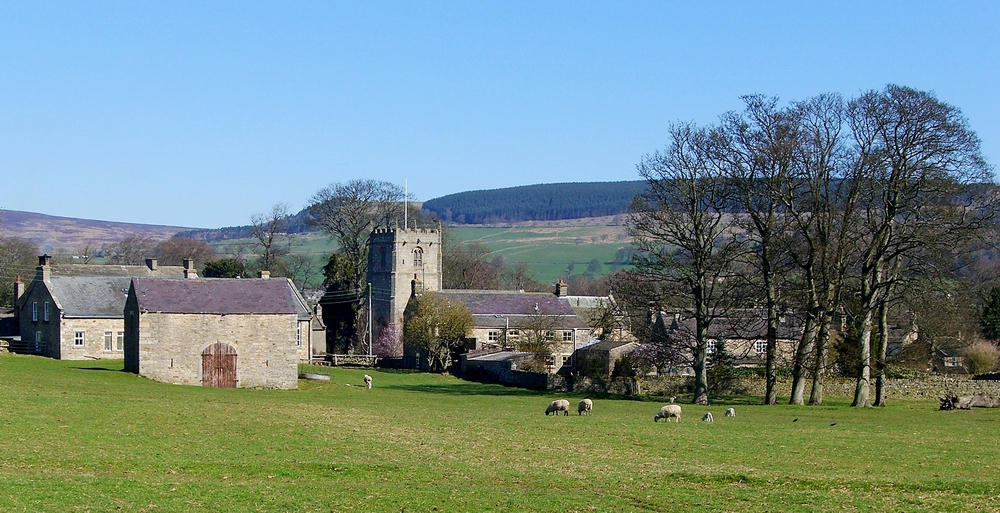 The picturesque village of Romaldkirk at the foot of Teesdale will be the weekend's headquarters
13/11/11 Provisonal details of our inaugural 2012 Northern Weekend are now available here.
Start making your plans now.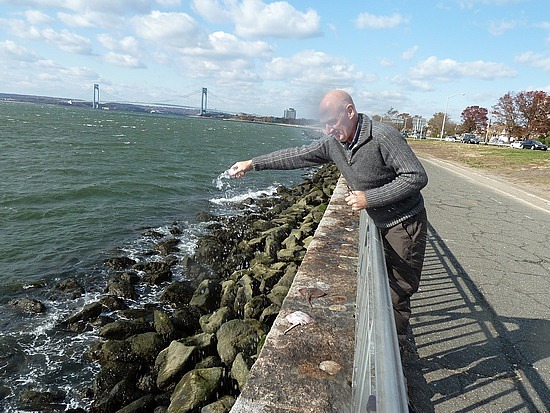 Near the Verrazano-Narrows Bridge which marks the gateway to New York, Martin Redmond sets Pacific water free in the Atlantic.
12/11/11 14 countries, 80 cities and 15,000 miles. Tonight, Martin Redmond and Roger Gaunt reached New York city
on the final leg of their epic round-the-world drive in their 1938 Morris 25 'Stanley'.
Congratulations to you both on a truly magnificent, once in a lifetime achievement!
Many of you have been following their progress online, but if not, here is their final daily blog from the Big Apple.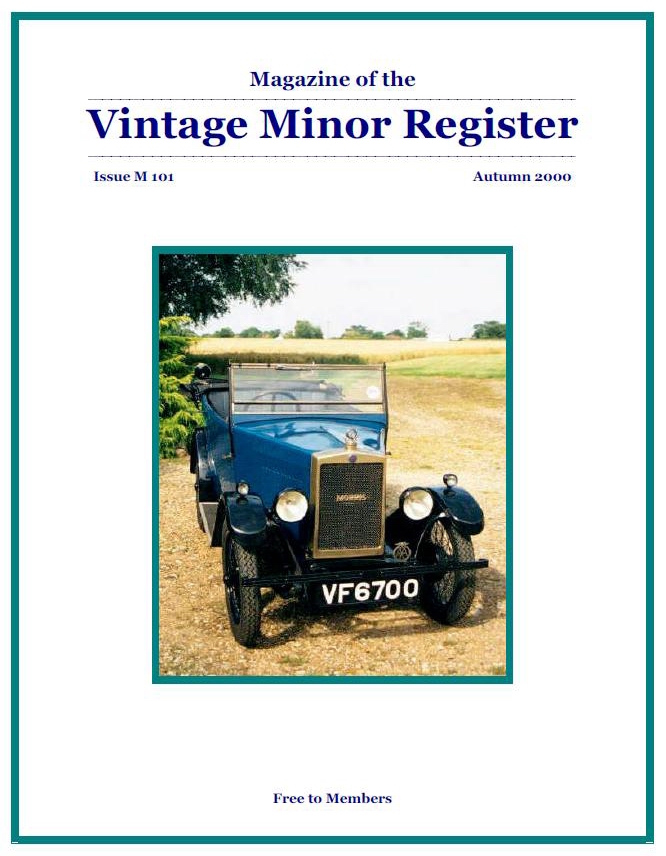 Our first Register Magazine was published in the autumn of 2000. Just sixty copies were printed.
11/11/11 Last year we celebrated our Tenth Anniversary as a Register, and we have certainly come a very long way in that time
since our very first Magazine was distributed to about sixty founder members back in 2000. Just how far we have come becomes clear
when one looks back at some of our early Magazines, which make fascinating and sometimes poignant reading today.
In our first decade, we published 36 Magazines. These have now been tidied up and converted to .pdf format files and are available as a full set on CD.
The Anniversary CD also contains all of our Yearbooks and a wealth of other fascinating material and comes in a very smart
commemorative presentation case. All of the files are fully searchable for names, registration numbers, etc. and all of the
Magazines and Yearbooks are presented in full colour, high resolution graphics – unlike the black and white photocopied originals.
So this represents a tremendous opportunity for members who joined after 2000 to acquire a complete set of the Register's publications.
A one-time limited run of fifty Anniversary CD's are being prepared by our printers – Northwest Fine Art Printing.
To order your copy of the CD, please use the order form, or simply add £25 (or $Au45, $NZ50, $US40) to your 2012 subscription payment.
By purchasing this CD you will be supporting the Register, enabling us to make even more improvements
in our publications and services for you as we head into our second decade.

The wild moorland above Teesdale's picturesque and historic villages affords some of the most spectacular vistas in Britain.
10/11/11 The Register is delighted to announce that we will hold an inaugural Northern Weekend the weekend after our Summer Rally next year.
The date for our Summer Rally is 21st/22nd July, so the Northern Weekend will take place over the weekend of 28th/29th July, and will be
based in Teesdale in the northern Pennines, a region of Britain famous for its quiet lanes and dramatic scenery.
This brand new Register event is designed to offer our northern members the opportunity to meet and enjoy a relaxed weekend
of touring and socialising. However, southern members will be tolerated - if they promise to behave themselves!
Two days of gentle touring and visits to places of interest will be planned, with a slightly special Register dinner on Saturday night.
A hotel will be selected with safe parking and plenty of space for trailers for those traveling from afar.
There will be no competitive aspect to the weekend (except getting to the bar first in the evening!),
so it should be a very family-friendly weekend. So far, at least eight of our northern members have expressed an intention to gather
and more expressions of interest would be most welcome. Please let the Register know if you might be interested, so that we can secure
sufficient accommodation and hopefully negotiate an advantageous group rate. There will be NO rally entry fee.
For our European members, there is a DFDS car ferry from Amsterdam, and ferries from other European ports to Newcastle,
which is only about forty miles from the Rally area. Keep an eye on the website and our publications for more information
as plans for this exciting new Register weekend develop.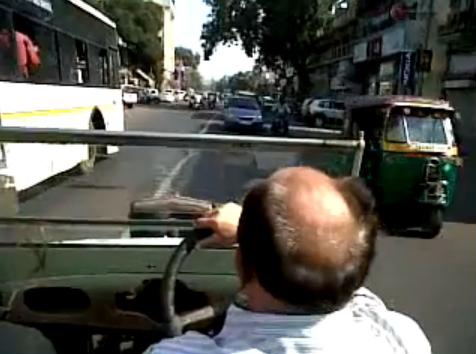 6/11/11 Over in Jaipur, India, Kartikea Lunia's 1930 tourer (M22335) was driven for the first time in forty years today.
He recorded the momentous event on these fascinating videos.
http://www.youtube.com/watch?v=aPKDO8Ldmlc
http://www.youtube.com/watch?v=Vf1BEa2ieK8
Congratualtions on returning another vintage Minor to the open road, Kartik.
4/11/11 Martin Redmond and Roger Gaunt have reached Madison, Wisconsin on the trans-America leg of their round the world drive.
In Madison, Martin and Roger met up with Register member Peter Caldwell for a chat and a look at Peter's workshop
and classic British car spares business. Also in attendance was the President of the local British Car Club.
Next stop for Martin and Roger is the windy city - Chicago.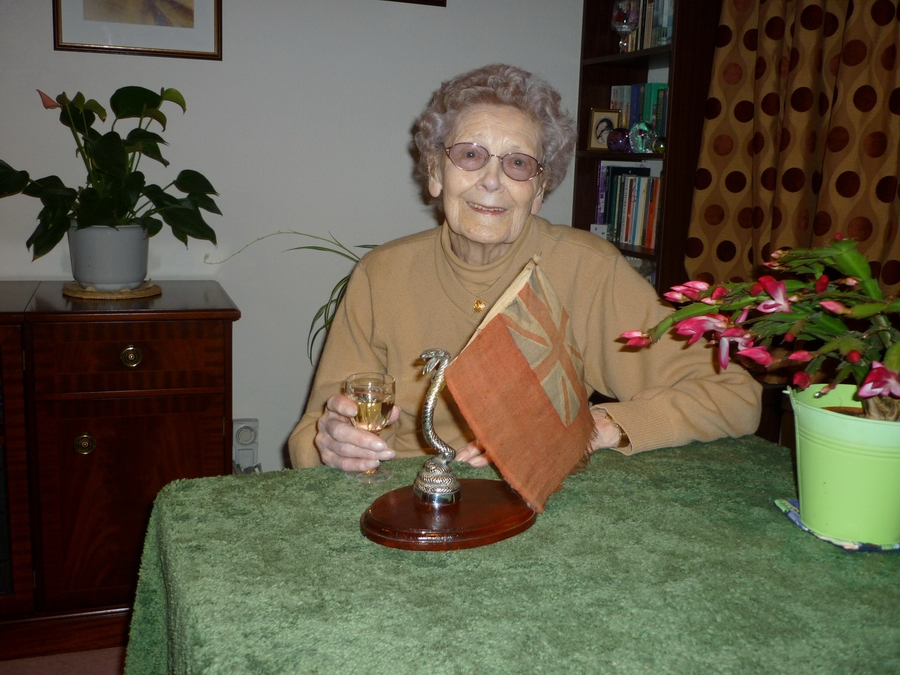 3/11/11 In 1933, Cameron Gilg and Walter Kay drove their new 1933 Morris Minor from Liverpool to Capetown,
thus achieving the first ever crossing of the Sahara in a light car. For the trip, the car was adorned with a
serpent radiator mascot and Red Duster. Here we see Cameron's wife who still has her late husband's radiator mascot and duster
from that adventure. The family will be our Guests of Honour at our Summer Rally next year,
where long distance adventure will be a major theme of the weekend.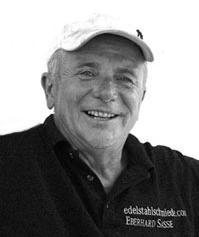 1/11/11 Today we warmly welcome Eberhard Sasse to the Register. Eberhart lives in Schwerte which is near Dortmund in Germany.
He runs a firm of architects - Schlosserei Sasse. He has always wanted a Mercedes SSK or Blower Bentley,
but has decided that what he really wants is a Morris Minor! We wish him well with his quest.
1/11/11 The November Newsletter was e-mailed to members last night and is available in the Members' Area.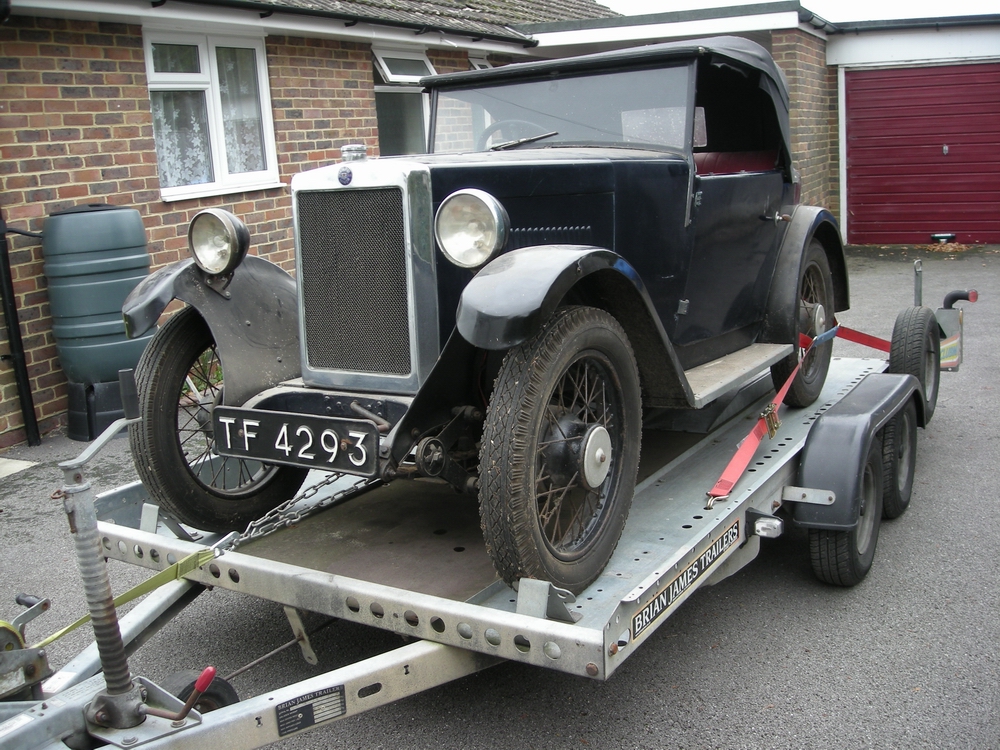 31/10/11 Just how we like to find them. As mentioned below, new member Philip Butland has acquired a Hundred Pound Minor
which he collected from Surrey today. TF 4293 (SV802) is a very sound and quite original early two-seater which Philip
intends to recommission rather than rebuild. The car is currently sitting on 18" wheels, but Philip has already sourced
a set of correct 19" Magna wheels. We very much look forward to seeing another Minor out and about before long.
The Minor will join Philip's very smart Morris 8 tourer.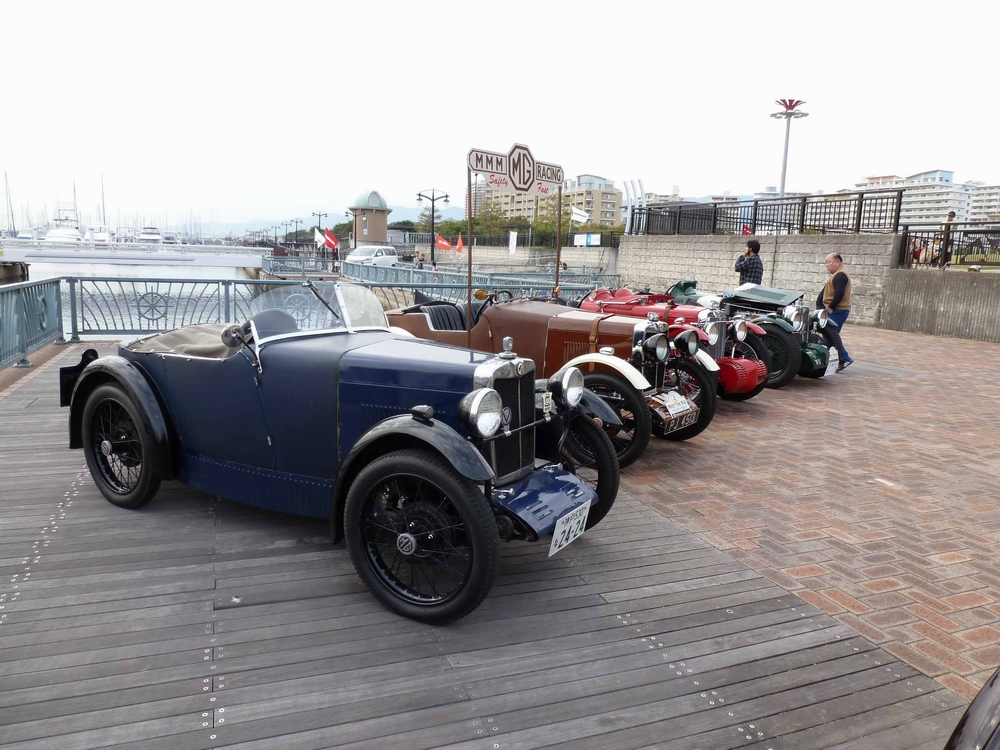 30/10/11 Meanwhile over in Japan, the Meet the MG 2011 event was held at the Shin-Nishinomiya Yacht Harbour yesterday.
Front and centre is Kenji Matsuoka's ex-Dave Cooksey 1930 M Type WH 2424 (2M/886), behind which can be seen
Shinichi Nagatani's recently-completed 1930 Double Twelve PJ 4513 (2M/1342). Shinichi has spent the last seven years restoring his M.
Completing the lineup is a C Type and a K3.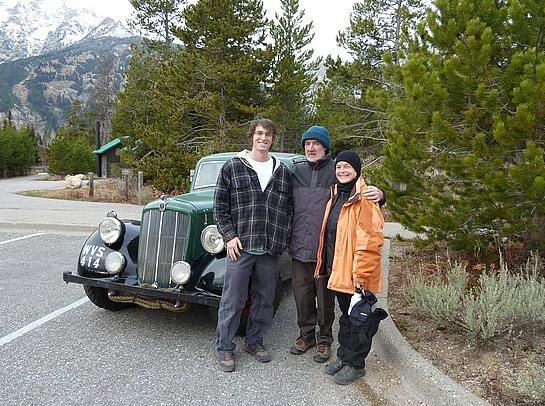 30/10/11 VMR member Martin Redmond (centre) has reached the Rockies with his friend Roger Gaunt
on their trek across the USA as part of their round the world drive in their 1937 Morris 25.
The Badlands await them over the next few days as they head east towards Chicago.
Last night they stayed close to Yellowstone. You can follow their journey each day on TravelPod,
and you can easily sign up for their fascianting daily e-mailed updates.
29/10/11 Today we welcome Mark Morris to the Regsister. Mark is looking for a 1929 nickel radiator
fabric saloon, and has discussed the two cars below with the Register. However, if anoyone else has one
that they may be interested in parting with, please let the Register know. Mark is the Registrar for the
Bugatti Owners Club, and so is no stranger to Prescott. We very much look forward to seeing him there
at our Summer Rally next July with his Minor - whichever one he acquires.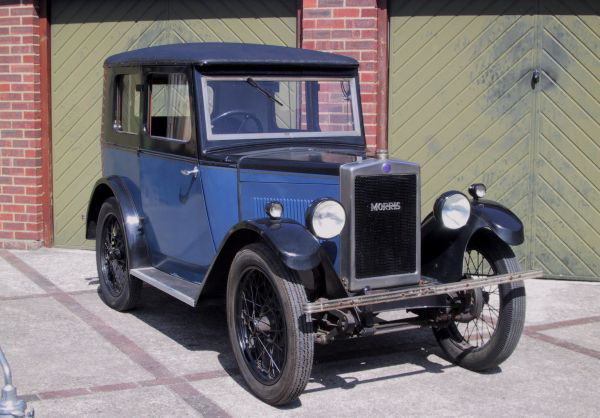 28/10/11 And here's another vinatge saloon for sale - to be auctioned by our very good friends and sponsors
Hereford Vintage Auctions on 23rd November. This OHC saloon, chassis M12504, started life on 12th August 1929
as fabric saloon and was exported to New Zealand. Re-imported to the UK in 2007 after an estate clearance,
in New Zealand, it was sold by Orchid Cars in May 2008, but is now for sale once again.
The car has been steel paneled at some point in the past. It is fitted with a 1931 OHC engine with large dynamo.
Smart, sorted and with a realistic estimate of £5,000-£6,500, it is ready for the coming vintage motoring season.
Find more photographs here or contact the Register for more details.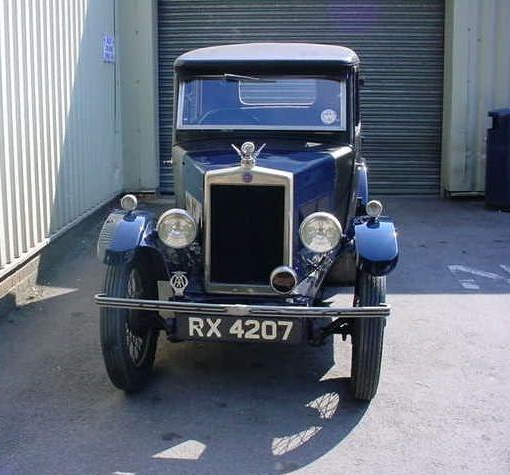 24/10/11 This very fine 1929 Fabric Saloon RX 4207 (M4322), first registered in Berkshire on the 10th April 1929
was auctioned at the Goodwood Festival of Speed back in July (see 15/6/11 below) and is now being offered for sale again
by Jaguar dealers Arun Motors of Pulborough, West Sussex. It formed part of the Bunn Collection in Dorset
prior to being auctioned. Here's the sales blurb:
"This fabric-bodied example of a now rare Vintage-era Morris comes with a report dated April 1983 written by noted automobile
historian and author, Michael Sedgwick, who found that it was a good example of a now very rare car.
The car was refurbished quite some time ago and is now offered in excellent condition both inside and out.
Documentation on file records a complete engine rebuild in 1975 by St Christopher's Garage, Dorset
while accompanying photographs appear to show the Morris undergoing a full 'body off' restoration in the 1970s
with in excess of 300 hours labour spent (at £2.80 an hour!!). The car has obviously stood the test of time as it remains
in superb condition both inside and out - an unusual opportunity to purchase a great looking little car
and is nice to have something apart from the usual Austin 7."
We agree that this would make a fine vintage light car and is definitely worthy of a closer look.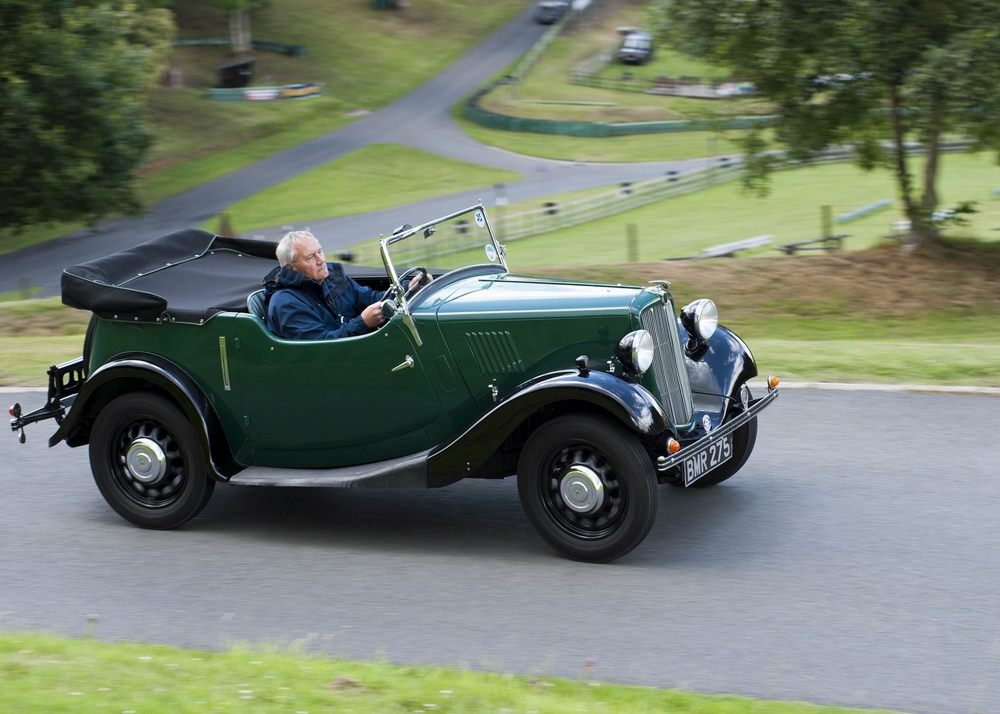 23/10/11 Welcome to new member Philip Butland of Hailsham, East Sussex who joins us with his 1938 Series 2 Morris 8 tourer,
seen here rounding the Semi-cicrle at our inaugural Pre-War Prescott event in July. (Photo: Graham Abbott)
Philip writes: "Loved Pre-War Prescott, had four runs up the hill and am now besotted. Have been looking out for a Minor for
some time and now think I may have found one. Anyway, whether the Minor happens or not, it's time I joined the Register."
Welcome, Philip.
UPDATE 25/10/11! Congratulation, Philip, on your purchase of a Hundred Pound Minor today!
23/10/11 The contents of the Members' Area of the website is currently being overhauled and expanded.
The first upgrade was to add wiring diagrams and lubrication charts for most OHC, SV Minors and M Types.
These diagrams have also be uploaded in French, Spanish, German and Dutch from original overseas Morris Minor Handbooks!
The remaining missing diagrams are being sought and will be added in due course.
Emphasis is being put on providing more technical information, sources of spares and providers of services.
If you have any material or suggestions to help with the upgrade, please contact the Register.
Similarly, if you find any information on the website which is out of date or incorrect, please let us know.
23/10/11 After a few months of snags including a chewed-up oil pump, John Nagle has nearly completed the restoration of his 1934 2-seater
OW 4224 (SV37955). John had OW out today in fine fettle in the autumn sunshine. Congratulations on another high quality restoration, John.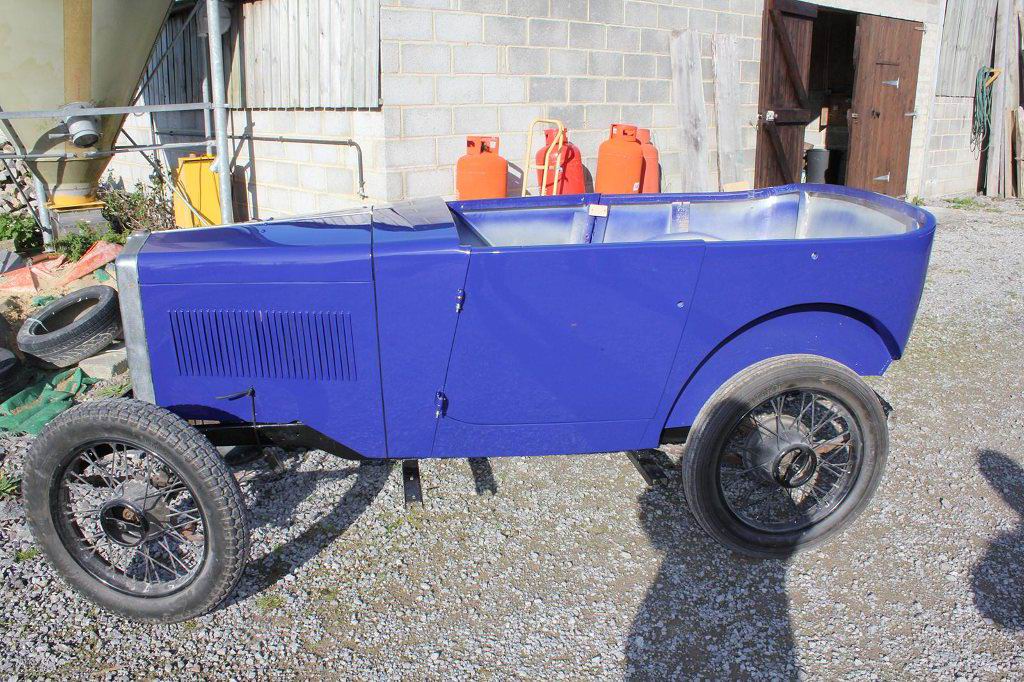 21/10/11 Jeff Body has completed the new body for Toby Sears' 1931 (1932 season) four-seater tourer
(UX 9251, chassis SV 6690) and the result is spectacular, as can be seen above. Hereis what he started with.
This was the car that Toby won in our Register auction two years ago, after it was found as part of the estate
of the deceased owner. It has been off the road since the 1960's. We look forward to seeing this rare SV tourer
out and about once Toby has completed the restoration.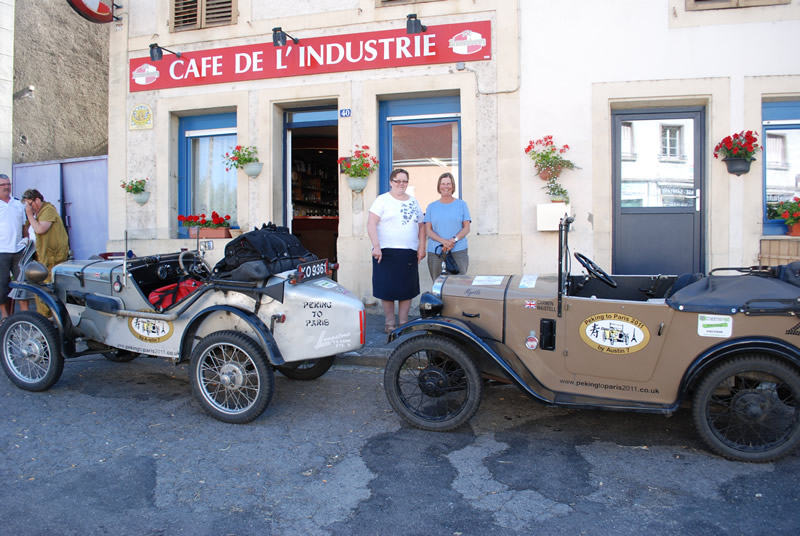 19/10/11 During the summer of 2011 Kip and Carmen Waistell drove, unsupported, from Peking to Paris.
Unfortunately they used two vintage Austin Sevens! However, they had an epic journey. The purpose of their journey was
to raise funds for SmileTrain, the charity that treats children in developing countries with the dreadful affliction of cleft lip and pallet.
They will be giving a slide presentation of their exciting cross continental journey in
PEMBRIDGE VILLAGE HALL, HEREFORDSHIRE ON WEDNESDAY 2nd NOVEMBER AT 7.30 pm.
Tickets in advance price £7.50, to include light refreshments, may be obtained from David Hinds, Garage House, East Street, Pembridge, HR6 9HA.
Please make cheques payable to D. Hinds and enclose a sae. All profits to SmileTrain.
There will be a number Minor Register members there, perhaps some of them will be inspired to make this journey in a Minor.
18/10/11 Our Summer 2011 Magazine has been made available online here as a sample copy of our quarterly Magazines.
It replaces the old-format Spring 2009 Magazine. Our quarterly 48-page Register Magazine is now professionally printed in full colour
and distributed to all members. So, if you are not currently a member, and you like what you see, you know what to do!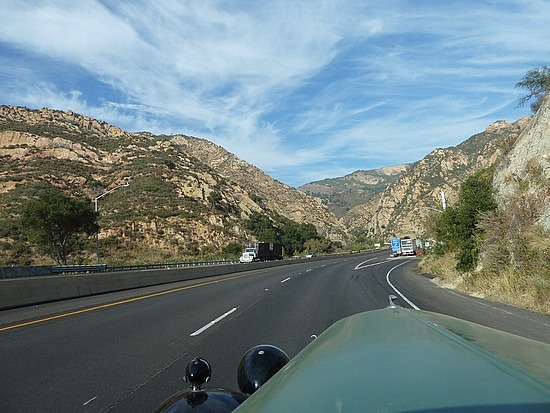 16/10/11 Register member Martin Redmond and friend Roger Gaunt are driving their 1937 Morris 25 around the world.
From Bedford in England, they drive across Europe and Asia to Vladivostok, where they shipped the car to Los Angeles.
They have now left Los Angeles for the east coast. Here we see them headng for the mountains yesterday.
You can follow their progress on TravelPod, where you can also sign up for e-mail updates.
14/10/11 The October Newsletter was distributed by e-mail today and a copy may be found on the Members' Area.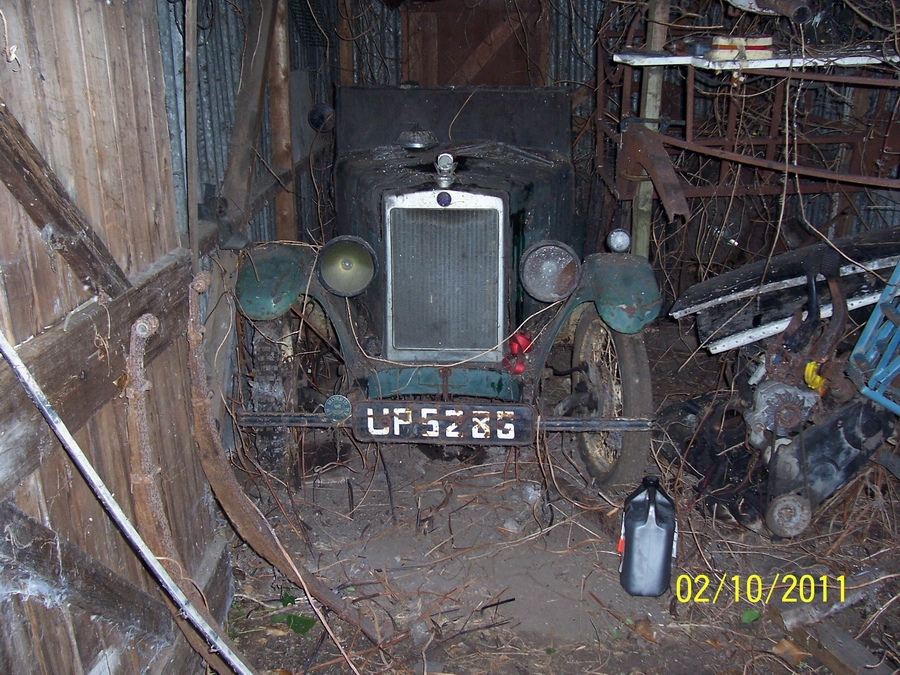 5/10/11 Just how we like to find them. UP 5286 is an early Hundred Pound Minor 2-seater, chassis number SV910.
It has been laid up in this shed since 1986. It belonged to Paul Palmer's father,
who died 25 years ago, but the family have now decided to restore it for their sons and daughters.
The first step will be to try to recover the registration number.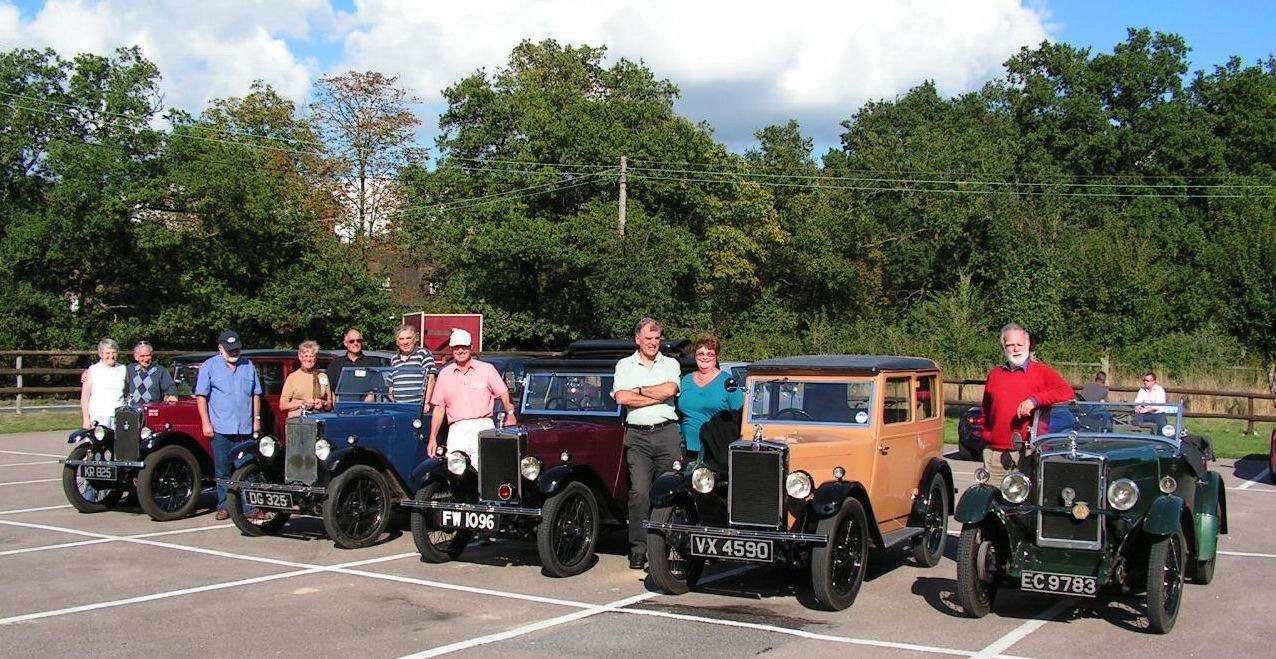 28/9/11 Once again this Sunday we will be holding our founding autumn pub meet at the Hatchgate, Bramshill, Berkshire.
This was our very first pub meet and we met regularly at the Shoulder of Mutton at Hazeley. In more recent times, the meet has moved
to the Hatchgate at Bramshill which has proved very popular, and we are now joined by our friends at the Morris Register and the Bean Car Club.
So DO PLEASE see if you can come along to the Hatchgate this Sunday 2nd October at noon and help mark
this auspicious Register anniversary with a record muster of Minors and M Types!
Full details and directions may be found here.
Cheers to one and all, please invite your friends to join us and please bring your cameras too!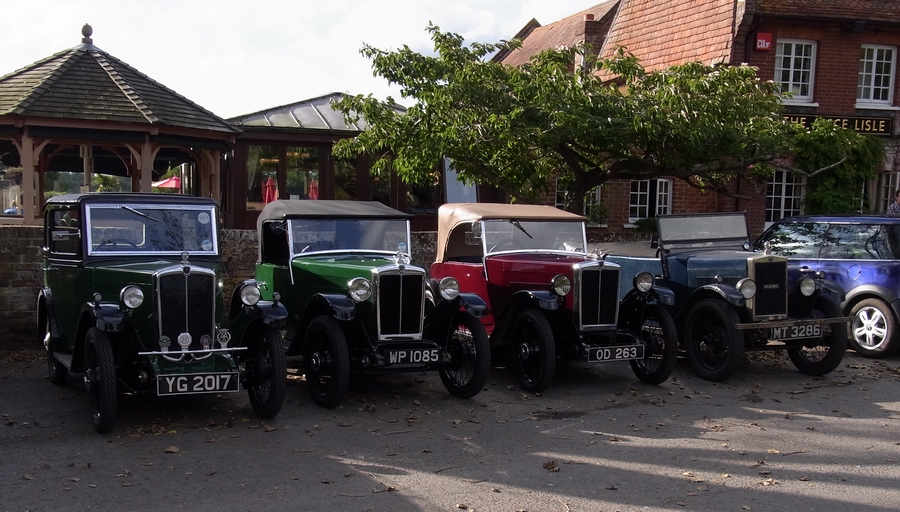 25/9/11 It was a beautiful autumn day for our Minor muster at the Alice Lisle earlier today.
Next Sunday is the Hatchgate, Bramshill.
(Photo: Toby Sears)
21/9/11 A reminder that our New Forest Autumn pub meet will take place THIS SUNDAY at the Alice Lisle, Rockford Green, Hampshire.
Details here. All most welcome!
21/9/11 The September Newsletter was distributed by e-mail today. A copy may also be found in the Members' Area.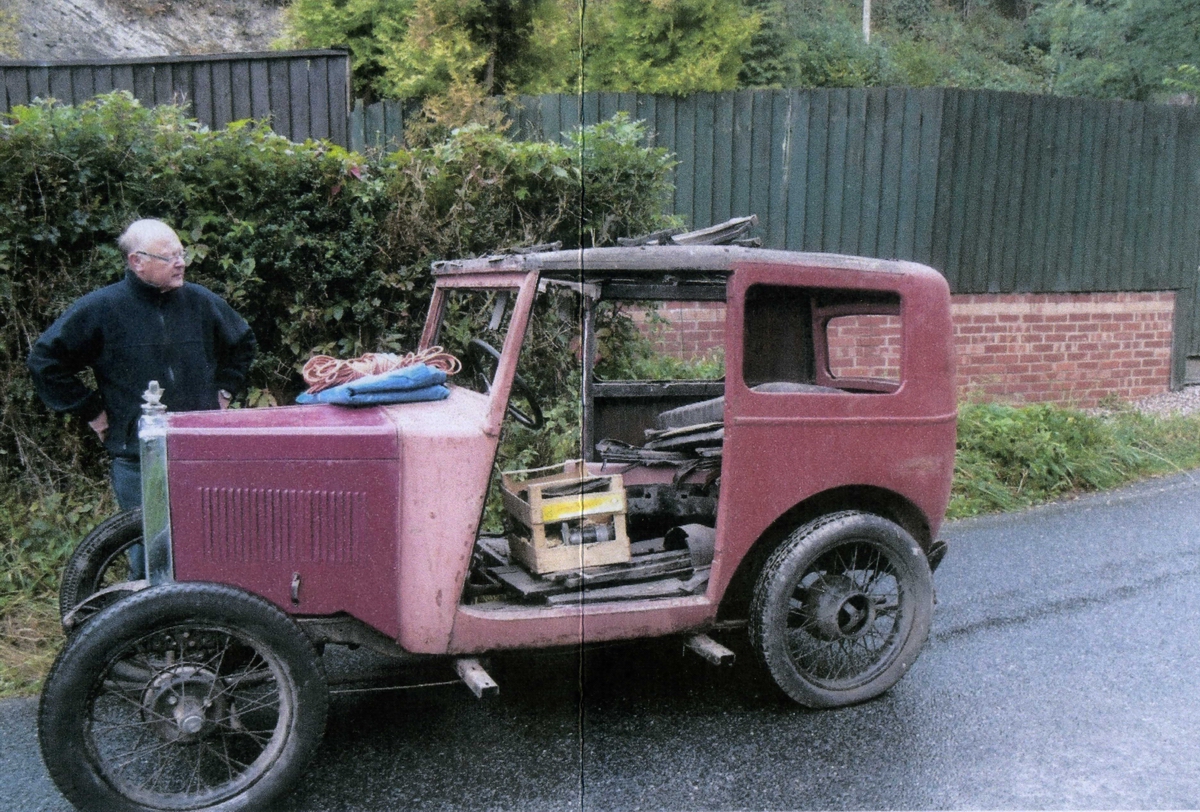 30/9/11 And today we also welcome Michael Norrey to the Register. Michael recently acquired this
Stewart & Ardern-registered 1930 Minor saloon MU 2165 (M28983) from Newtown in Wales.
Incidentally, new members joining the Register between now and the end of the year will receive
membership through to the end of 2012. The Membership Form may be downloaded here.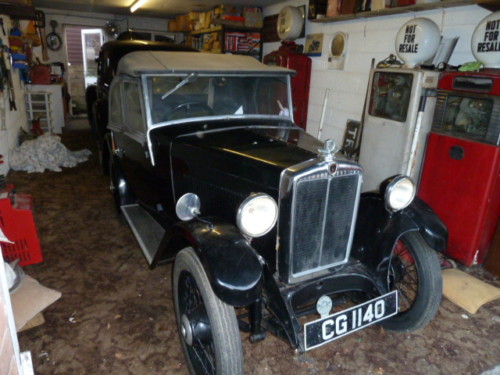 16/9/11 Today we welcome John Newell to the Register.
John has acquired this 1932 2-seater CG 1140 (SV15401) which was offered for sale earlier in the year
and also auctioned at Castle Combe in March. Good luck with the collection tomorrow John, and welcome aboard!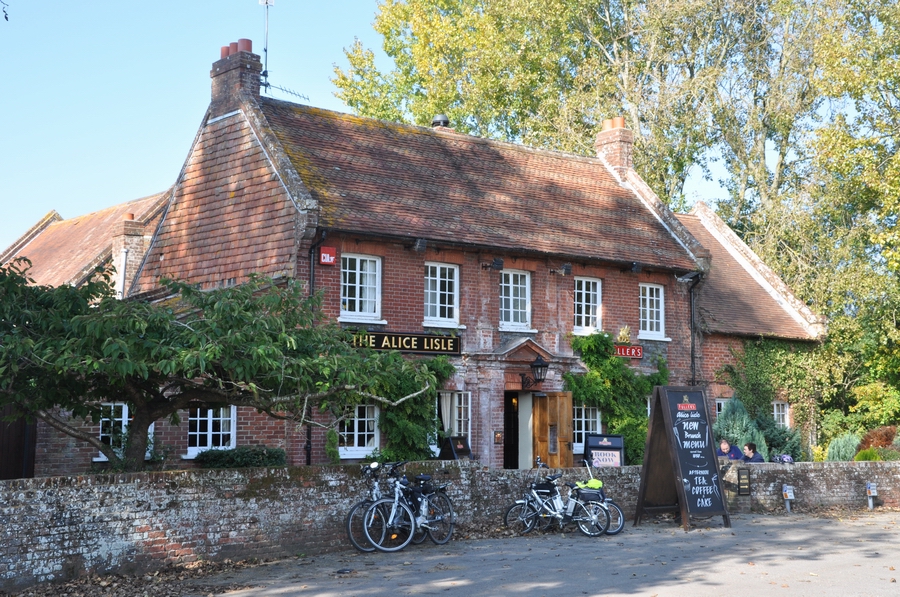 30/8/11 Our autumn pub meets are almost upon us. We will be holding two meets this autumn.
Our traditional meet at the Hatchgate at Bramshill, Berkshire will take place on Sunday 2nd October
in conjunction with the Morris Register and Bean Car Club.
Our other meet is our roving New Forest meet, taking place this time at the Alice Lisle (above),
which is a superb country pub. All are most welcome at both meets, which start at noon.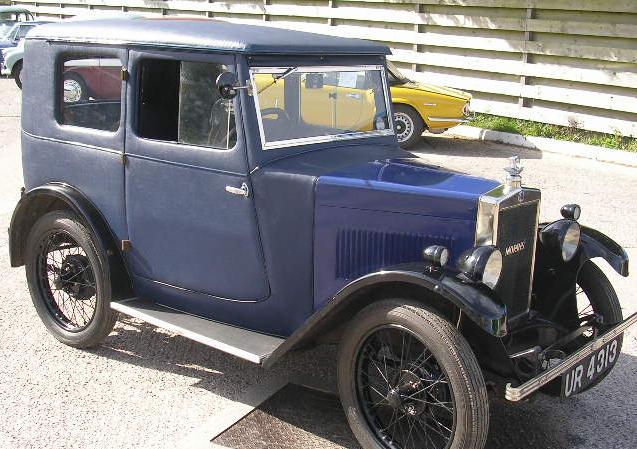 22/8/11 Bill Piggot is offering his very tidy 1929 fabric saloon UR 4313 (M11538) for sale.
This is an excellent opportunity to acquire a vintage Minor that is ready to be enjoyed.
Contact Bill for further details.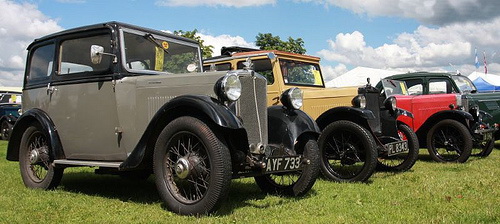 3/8/11 Welcome to new member Andy Pocock of Birdham, West Sussex who recently acquired this 1934 saloon AYF 733.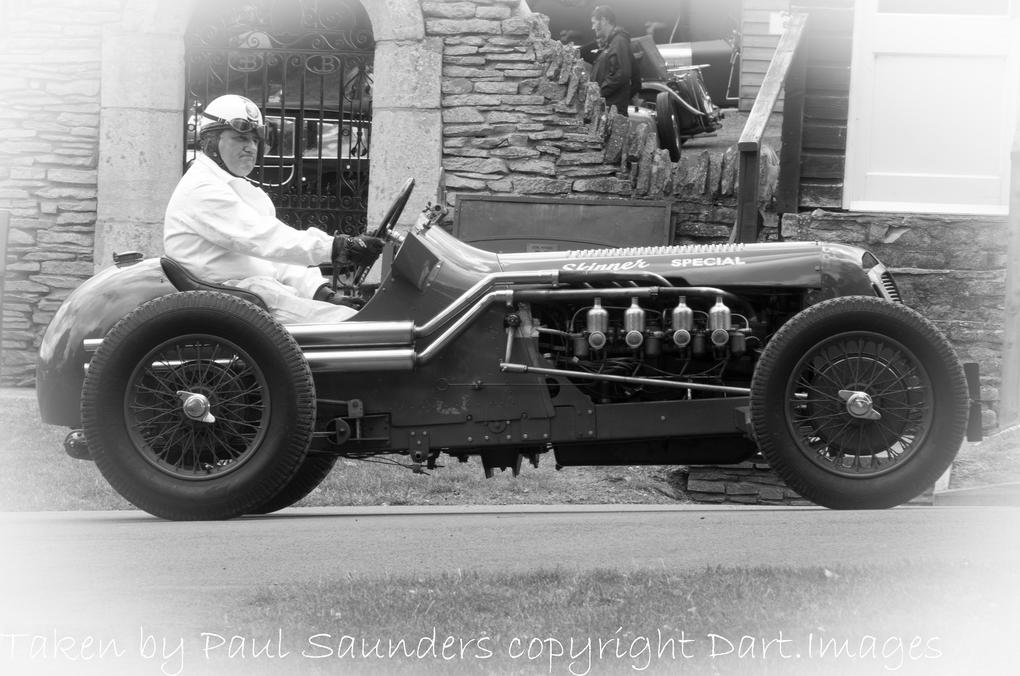 22/7/11 A number of superb Pre-War Prescott photosets are appearing on the web.
Paul Saunders (Dart Images) can be found here (including the one above).
Peter McFadyen's images can be found here.
Allan Rhodes (Track Car Photography) has posted his images here.
Hereford Vintage Auctions has posted a selection on their web page here, which include shots of the Navigation Rally on Sunday.
Nick Williams has posted a good selection here.
David Southcott (Bonzer Photos) has posted more here.
Finally, there is a lovely video by the Bowie contingent here that sums up the spirit of the day and includes shots of the Lancaster display.
I also hope to be posting some of the GoPro onboard videos to YouTube shortly.
If anyone posts any other online galleries of the weekend, please let us know.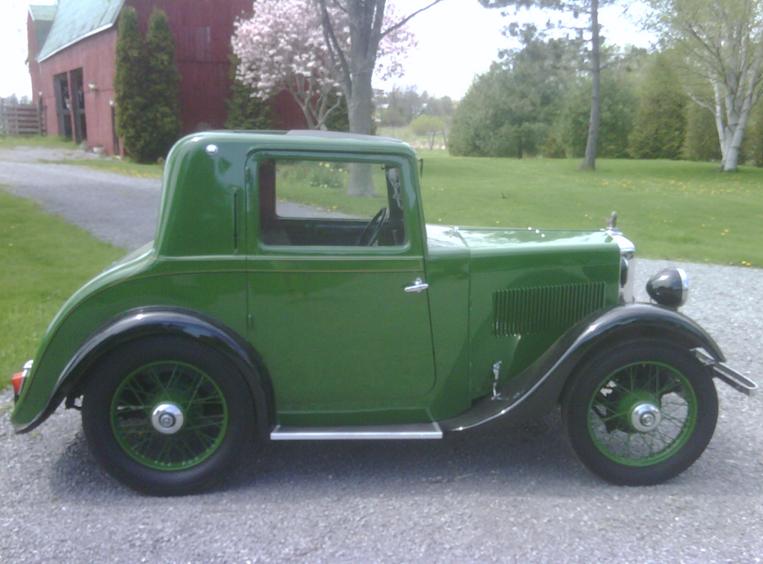 22/7/11 Over in Picton, Ontario, Ian Samuel is offering his unique 1933 Maddox Coupe Minor for sale.
It would be good to see this car repatriated. If interested, please contact the Register for further details.
20/7/11 Just back from a superb weekend in the Cotswolds. Here's the Triangle Special ready for its first run in the hands of the boys from SU.
Photo sets are starting to appear on the Internet. Peter Mcfadyen's can be found here, and Paul Saunders' here.
Also check out this YouTube video which nicely sums up the day. I'll be posting a selection of GoPro onboard videos to YouTube shortly.
Thanks to everyone who worked to make the weekend a huge success.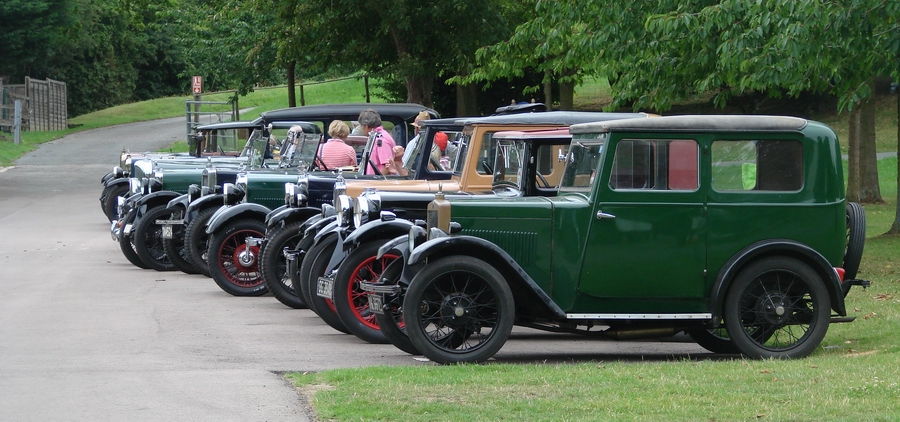 12/7/11 Just signing off before flying to London tomorrow, arriving Thursday mornning for the Summer Rally.
We have 99 advance entries and are expecting many more on the day, so a super weekend is in store for everyone.
I will be running around the navigation rally/scenic tour route on Friday after calling in at Prescott in the morning to check on
final arrangements, and then I'll be at the Gardeners Arms, Alderton on Friday evening for our reception.
I am also bringing Magazine M 138 with me, so if you are attending at any point over the weekend, I'll have your copy for you.
See you there!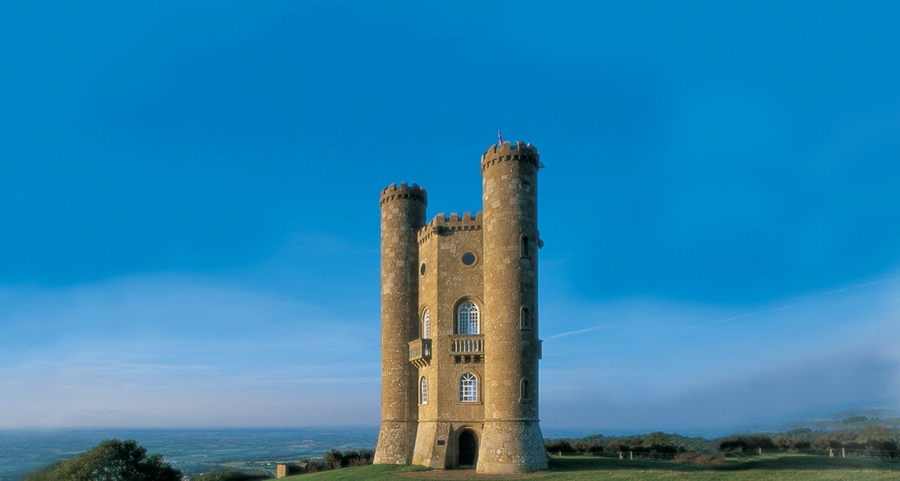 28/6/11 With just over two weeks to what will undoubtedly be our best ever Summer Rally, planning is in its final stages,
and we already have over a hundred cars booked in over the weekend. On Sunday we will be holding a Navigation Rally
and spectacular Scenic Tour across the glorious Cotswolds. Meanwhile preparations are virtually complete for our
inaugural Pre-War Prescott event on Saturday. The incomparable and historic Battle of Britain Memorial Flight's Avro Lancaster
is booked to arrive over the hill at 1445 hrs precisely, and we heard today that it may also be accompanied by
a Spitfire and Hurricane from the Flight.
Definitely a weekend not to be missed, and there is still time to enter.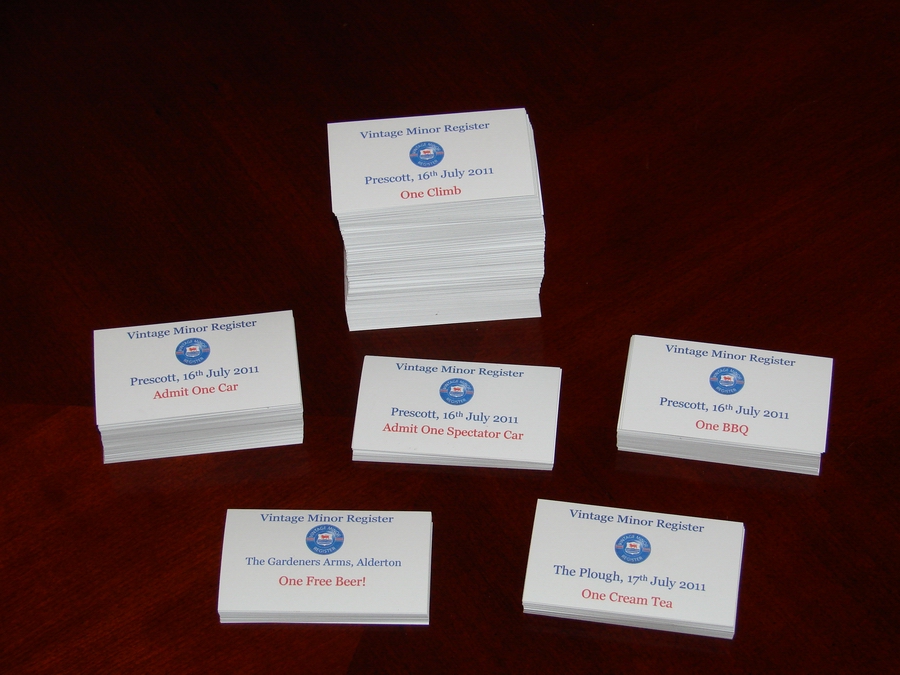 19/6/11 With just four weeks to our Summer Rally, have you booked yet? Your tickets are waiting for you!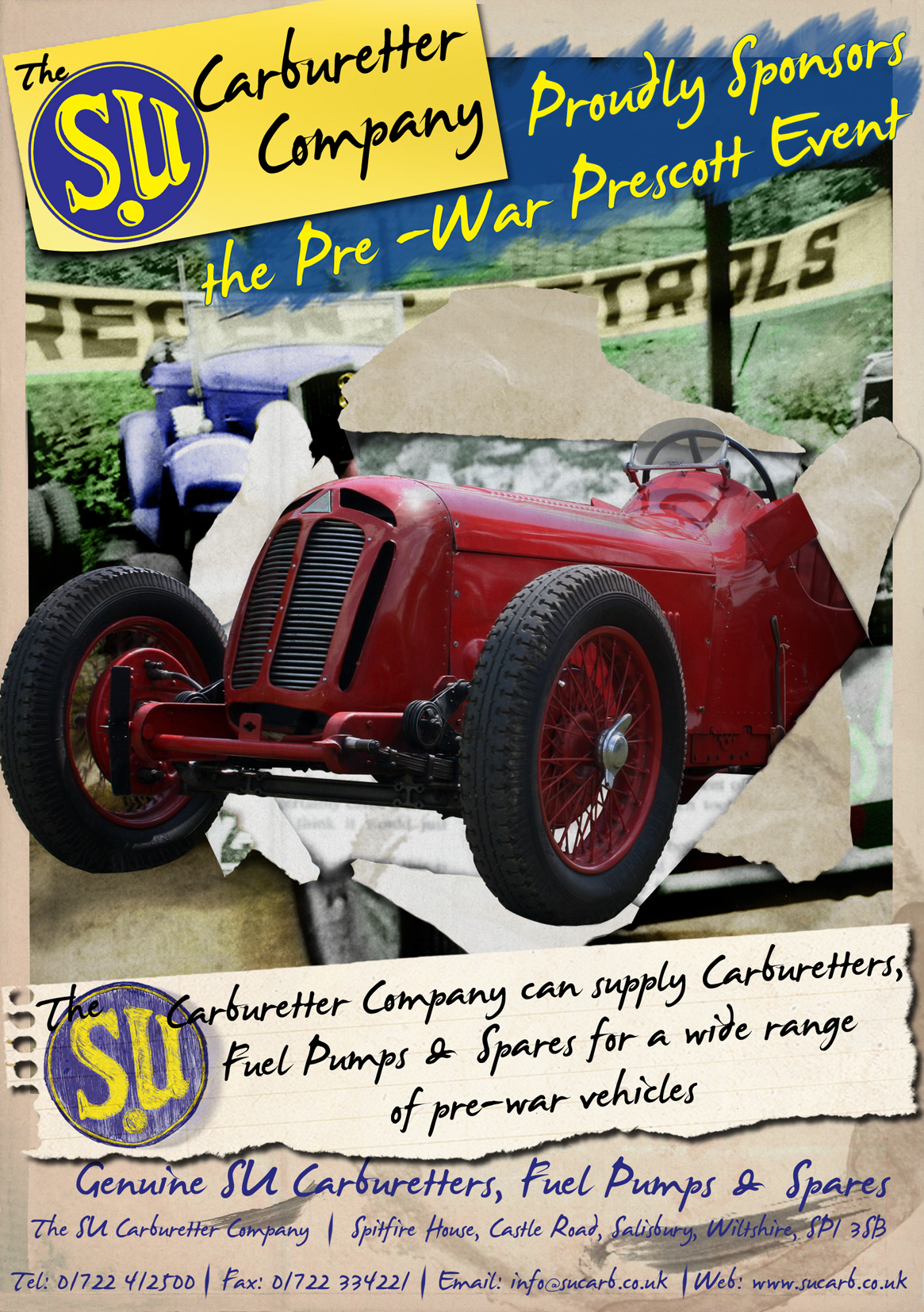 16/6/11 This stunning advert will be published in our Pre-War Prescott Rally programme.
The SU Carburetter Company is the event's main sponsor and the advert proudly highlights their recent acquisition -
the Skinner Triangle Special which will be attacking the hill on the day.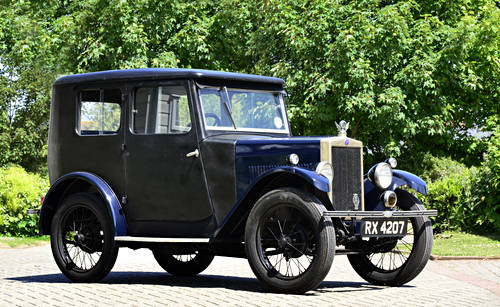 15/6/11 More auction news.
The Bunn Collection, comprising two Bentleys, five Rolls Royces and this very sound Berkshire-registered 1929 Minor fabric saloon
RX 4207 (M4322) is being auctioned by Bonhmas at the Goodwood Festival of Speed on 1st July.
Thanks to Dave Aston for spotting this one.
View it here.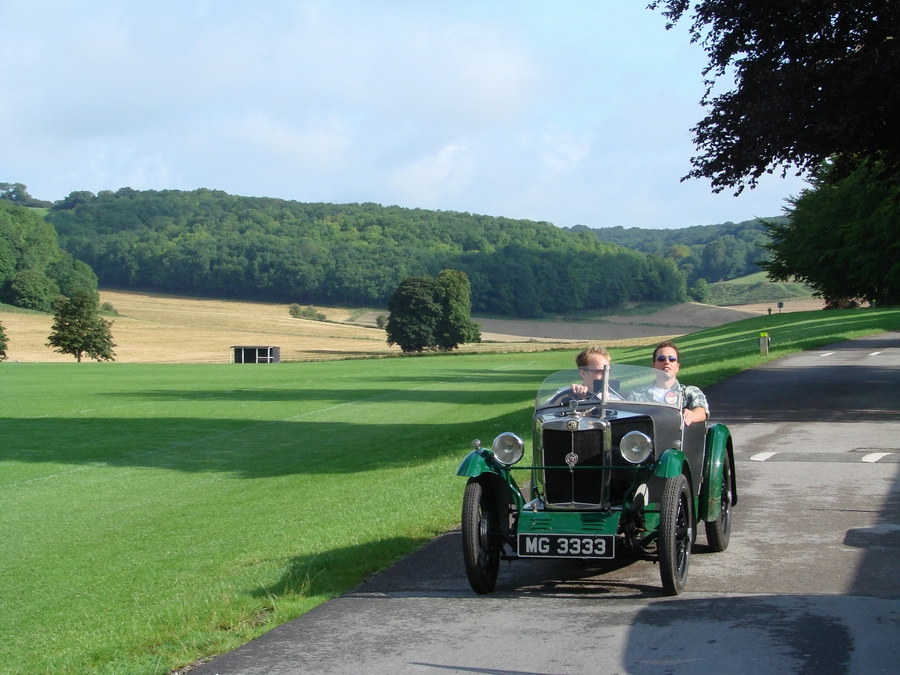 Gavin and his M Type seen here arriving at Milton Abbey School on our 2007 Summer Rally.